COVID-19 MICRO CONTAINMENT ZONE: At Dempobhat in Tonca in capital Panaji life came to a virtual stop when a Covid-19 case was positive; here is "milk boy" Ramdas Dongrekar bringing in the milk bags for distribution for those isolated at home for 14 days; the Bolero is distributing ration packets; speaking to locals affected are mamlatdar Rahul Desai and official; milk and rations were passed across the barrier put up
By Tara Narayan
A first-person account of what happens when suddenly one wakes up in the midst of a Covid-19 positive case scare… except that it was no scare, it was for real.
JUST the other day a friend Facebooked that the people living opposite his house in Bengaluru had become Covid-19 and he was wondering what he should do to protect himself. I had cheerfully replied that the large joint family living opposite the Goan Observer offices at Dempobhat at Tonca in capital city Panaji were also coping with Covid-19 fears and traumas of day-to-day living! It proved to be just a glimpse of how the rising figures of the pandemic in Goa is being tackled by State powers-that-be — as best as they can and much of it I realized is playing it by ear, depending on complaints by various complainants and ground realities.
For me it all started when Manisha, the daughter of my neighbor Deepa Mayenkar who stays opposite where we stay at Dempobhat. She had married a year ago and now lived in Ponda but had come to Panaji for some work and decided she would come home to visit with mother and family over the weekend. While here she felt sick with cough and cold symptoms and at the local clinic she was given a prescription for routine cough and cold and told to take it easy, she would be fine. But on July 21, Tuesday night, her symptoms deteriorated dramatically enough for the family to call for help.
She tested positive for Covid-19 and soon the grapevine alarm went off in the area amongst residents (some having installed the Arogya Setu app on their mobile phones which keeps them informed about Covid-19 cases around them) and some witnessed the special Covid-19 ambulance which came quietly in the middle of the night and whisked the patient away to one of the State government's Covidkars' care centers near Ponda (since her sasural was close by there). Ponda is contagious with the infection so Manisha must have picked it up from there before she came to her visit her mother's place in Dempobhat.
THE next morning everyone woke up to see these heavyweight yellow barricades being put in place, the Collector's office had decided to seal off a huge chunk of the area, putting an estimated 70 to 80 residents including the small migrant population of Nepalis who rented space here on home quarantine. While Deepatai's affected family stretches to some 17 family members, they also have half-a-dozen Nepali domestics renting as well as working for them.
While privileged family members went and got themselves tested at the Panaji Primary Health Center, others who didn't have vehicle were advised to go for testing on their own at various places including the Taleigao Community Center. Some did, some didn't. Whether they tested voluntarily or not they all had to stay indoors till they got the green signal that there was no more infection in the area, a micro containment area actually. Dempobhat is quite a large sprawl actually.
In the days which followed it was like time had come to a stop and life itself on hold as we awaited test results positive or negative; reportedly there was a huge backlog of testing going on with thousands waiting for their results positive or negative and the wait extended to anything from three to 10 days (allegedly 20% of the time the tests could be false positives). In any case test results are being notified on the mobile phone of whoever is concerned. The week dragged on as we lived with our hearts in our mouth, all kinds of anxieties filling the mind about the wretched, wily viral infection.
IN THE meantime local Panaji mamlatdar Rahul Desai got his act together to ensure the quarantined folk got their morning Adityaa milk packets (sometimes one, sometimes two), ration packets to cook their own food, local bread, etc. Only those quarantined were entitled but they had to come up to the barricade threshold to collect their sarkari donations. Needless to say it cannot be anything but tough for the Dempobhat residents are packed in small spaces with indifferent toilet facilities, especially in the case of the Nepali migrants who're a feisty lot. At the local well here buckets and containers of water are filled and carried away for various purposes. Mercifully, water was not a problem.
This whole area of Dempobhat is low-lying having been paddy fields at one time but which now in reclamation comprise of kacha-pakka homes, further extending into miserable room spaces for renting out to migrant workers (mostly Nepali now but also a few Kannadiga migrants) at Rs5,000 or so but if they further wished they could share their cubby hole spaces with others if they wished to lessen their rent burden). Cops were placed on duty in the area to prevent anyone from moving in or out of the messy, rain-filled terrain here. Never mind that escape is possible if anyone had a mind to run away post-midnight via an adventurous route, and out on the main road and beyond!
I mean, who wants to voluntarily hang around in a slum proliferating with litter, perennially un-cleared closed gutters and with a stretch of the St Inez nallah in the background thrown in and which everybody is busy encroaching on to build some extra dwelling space to rent out! But to continue with this blow-by-blow containment of the affected Covid-19 area it was finally on July 27 that Deepa tai's family, main source of the Covid-19 scare at Dempobhat, got the news on the mobile that their tests were all negative. Hurrah. Except for the reports of son Rohit's wife and their child! Local councilor Shubhadra who called says that until all reports come in clear the micro containment people must stay put and maintain the status quo. Or until the first covidkar, that is Manisha, is cleared to go home from her quarantine center near Ponda centre. To a query her brother Rohit says, "She is not getting any medicine except Crocin, they're just observing her and she is the only woman there at the centre!" Of course none of them can go and visit her.
And what about the Nepali workers living cheek-by-jowl, some had gone to get themselves tested, but many had not? No one knew or cared except that there was one sentiment circulating and that all bhaile in the area should go back to their own State or in this case their own country. Who is spreading the infection to whom is a bone of contention with many Goans happy to blame migrants and vice-versa.
In any case it's a clearly a case of let's be absolutely sure that no one is infected and so another five days home quarantine was further imposed. The police hung around sitting on their makeshift chairs and dodging the rain when it descended – not a great duty for them either especially when many of them too have been victimized by the virus too. While police were around no one dared to sneak out of the area wearing masks or not wearing masks!
I watched with some amusement as one of the cops, one senior cop, scolded resident Mary Monteiro for making enquiries without wearing her mask. I quickly retreated indoors to put on my mask. So it goes, this small time story of a Dempobhat Covid-19 case observation, so many were quarantined courtesy one positive case. Despite all the hallabaloo about going here and there to test themselves very few residents bought the bait. Even as news came in of positive cases in Panaji detected here, there and everywhere in high rise and low rise buildings. I keep my fingers crossed with a prayer in my heart – please let the coronavirus bypass me and the hubby, for we have enough health problems. Did we do the swab test? No. Since I was feeling fit and fine I didn't see the need to do the test, and generally speaking reply to queries, "I'm educated enough to recognize the symptoms of Covid-19 and if I feel any symptoms coming in then I will go test myself!" Touch wood on that, my friends.
WHAT A HALLABALOO ABOUT TESTING?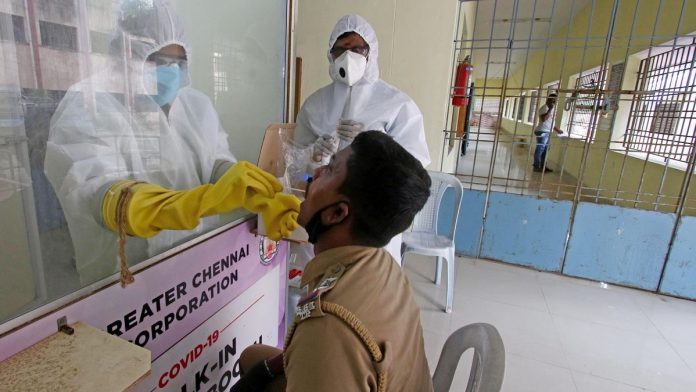 GOA and capital city Panaji are definitely in panic mode with Covid-19 positive cases emerging here, there and everywhere. The panic means the moment an area is sealed in micro containment just about everybody wants to be tested to see if they have caught the infection! Adding to the confusion is nobody knows about what Covid-testing is all about and how it works. What is all the most common test to do with "throat or nasal swabs" all about and what does it entail? Is this just one test or a dual test?
Before the testing a little information to allay fears is warranted. Reportedly, the fear-mongering going on about the deadly contagion has set in and more and more people are flocking in to do Covid-19 test just for peace of mind! However, it is not so simple. There are two kinds of Covid-19 tests – viral tests and antibody tests and both are complicated enough to give one a headache understanding them.
For instance, a viral test tells you if you are currently infected. An antibody test tells you if you had a past infection but it may not show if you have a current infection – for it can take one to three weeks after the infection for your body to make antibodies. Having antibodies to the virus that causes Covid-19 infection might provide protection from getting infected with the virus again. If it does, we do not know how much protection the antibodies might provide or how long this protection might last.
So it goes. No wonder these panic-stricken Covid-19 times everybody is urging everybody to go and have this corona test done and then begins the long wait to know if one is negative or positive. According to Dr Utkarsh Bethodkar of the Urban Health Center they're testing 3,000 people daily who're coming in to be tested. Such is the fear and panic amongst the Goan people. Clearly, the quick turnover of testing is not commensurate to quick efficient results for the system is overburdened and time passes insidiously and torturously. With the most common test called RC-PCR swab testing results are 14 days maximum to come in and symptomatic infected folk are quarantined at home, hospital or quarantine center allotted to them. All depending on how symptomatic they are!
There is news of the introduction of quicker testing, namely the Standard Q Covid-19 Ag antigen kits tests of 30 minute duration, which now the Goa government has mandatory for all visitors travelling into the state. They are being charged Rs2,000 (never mind that this rapid antigen test kit price has been capped at Rs450 by the ICMR).
Then there is much talk of the Innovaccer partnership whereby Goa has become the first state to adopt technology solutions to tackle Covid-19. This is India's first automated self-evaluation assessment test which revolves around an app to be downloaded and one may test oneself making payment online presumably. The general advice going around is please don't do this online test on your own for it is more bogus than for real!
Some of course are unable to make up their minds whether to get themselves tested or not, just because one morning they find they're living in or next door to a sealed containment zone. Overnight someone in the area has tested Covid-19 positive and either they have been taken away to a covidkar's center or with other residents quarantined for a fortnight at a stretch until the green signal is given…from the sound of the swab viral test entails a swab collecting tissue from throat or nose but the swabs have to be kept in low temperature conditions until tested in designated laboratory – one wonders if there are any dead or live coronaviruses in a sample going under an electron microscope?
A busy Dr Bethodkar (doctor in charge at Panaji Urban Health Centre) in a brief conversation dismissed all talk of swabs going under electron microscope as one imagined. The ignorance is huge even in the media! He said there are now four or five kinds of tests available in Goa for SARS-CoV-2 (official description) but they are using the RT-PCR swab testing at government centers, which should actually take only three to four hours to give result – but there is such a backlog of tests awaiting results due to the rush of people anxious to get themselves tested. The system is overburdened and near collapse. The fear-mongering and panic in the minds of the general public needs to be eased.
Interestingly, some learned patients tell me that the RC-PCR virus test should not be commonly used for testing for Covid-19 – for it is more correctly used for gene sequencing!
Until someone works this out private players in healthcare have been given permission to conduct Covid-19 viral and antigen/antibodies tests. It is anyone's guess of course how much doing the Covid-19 tests will cost privately but perhaps this will ease the chaotic burden currently being borne at government health centers and other Covid-19 hospitals and facilities.