The sumptuous Onasadhya of Kerala Onam celebrations… one of the country's life-time feasting experiences! Did you know some bananas contain tumor necrosis which fight malignant cells in the body? Eat a banana everyday!
By Tara Narayan
THANKS to neverending coronavirus scares celebrations are at an all time low key nowadays but of the two festivities of Chovoth and Onam I can't make up my mind whether I prefer Chovoth or Onam more! Onam of course with its floral phookalam and onasadhya feasting, with the children enacting skits of King Mahabali and his legendary life and times, and the women taking pride in their auspicious Kerala creamy silk sarees with loud plastic or real gold bordering (this is the famed hand-woven Kerala kasava saree with Buddhist history I'm told) — the real gold zari is has a soft exquisite morning sunshine gold shine while the plastic zari can be hurtful and hard on the eyes! The young girls doll up in the two-piece set mundu or sttika…and of course everyone will sport fresh fat buds of maligi in their hair whispering a dulcet scent…and all that.
I remember trips down south India wandering through the flower market in Mysore, savoring early morning breakfasts in quiet tucked away lane eateries where one may find piping hot idli/medhwada/set dosa/appam three to a plate with lashings of two kinds of chutney and sambar and nobody charged you extra for more…served on fresh green banana leaf naturally, the best leaf to feast off a happy meal!
Coming to the Onam banquet called Onasadhya it always amuses me that at the end of it someone gracious from the family will come around offering a tiny thin-skinned yellow banana or a thick red-skinned one to eat for final winding up of the meal or to take home for later relishing. The banana stores in Cochin and Tiruvananthipuram and Mysore will be festooned with dozens of varieties of bananas ranging from the giant size ones to the itsy bitsy elaichi. More delicious than any mithai I can think of.
WHAT I looked forward to more of on my Onasadya banana leaf meal would be the crusty ginger spiked banana candy nuggets and also the plain salted papery yellow banana wafers (deep fried in coconut oil)…and by way of the inji puli or ginger relish I invariably asked for more of it, it's the tamarind flavors I fall for in the southern cuisines. The hint of incredible dark sour tang in the sambar, rasam and inji puli…if one follows some tradition one would savor rice with rasam first, then rice with sambar and finally a dollop of their sadam or curd-rice with its hint of curry leaf and mustard seed phodni (but this is a Tam Brahm tradition and not Mallu I think). The spicy boiled lemon pickle can bring a plain curd-rice come deliciously alive with shocking flavor.
Funny or not funny, one is supposed to enjoy the sweet offerings of the feast somewhere in the midst of all the eating, competing with all the other item numbers of such things memorable as big fat red rice (choru, topped with parippu curry and hot liquid ghee); then comes sambar with the ever favorite drumsticks, rasam with whole peeled tomatoes swirling in it; kootu curry, olan, kalan, erissery, puliserry, not to forget aviyal which is one of my Kerala favorites…vendakka pachadi (a sort of ladies finger dry sabzi), maybe cucumber kichadi. And crisp papadum…have more of the white and jaggery brown payasam (of seviyan, jackfruit or some cereal)…oh, also leave space for the cooling, digestive sour buttermilk with a curry leaf or two floating in it. Come the Kerala nendran or banana (Kerala must surely have the best bananas in India)!
Most grand Onasadhya could be nine-course meals with anything from 24 to 60 tantalizing item numbers doing the cuisine of Kerala proud…I have eaten many ona- sadhya simple as also complicated affairs to remember, as long as there's inji puli, sambar and aviyal I'm thrilled. Aviyal with its medley of veggies from green plantain to elephant yam, drumsticks, white or yellow pumpkin (mathanga, butternut squash), and yellow cucumber, also snack gourd (pada valanga) is worth learning how to rustle up as perfectly as possible and it's an art to cut the veggies just so in julienne or with certain fine chunkiness.
I must say it, I've had my best Onasadhya at the late Capt Krishnan Nair's Leela hotels in Mumbai or Goa. An ardent traditionalist, if he saw me he would always generously say, come on go have breakfast or lunch or dinner at his restaurants…of course I also did a few write-ups for him during my Mumbai years. Now he's gone with the wind, a memorable man. Some of my favorite memorable men have really gone with the wind and hum bhi qatar mein hai I suppose.
Sigh! No ona-sadya meal for me this year but maybe I'll make some inji puli one of these days in memory of all the Onasadhya meals I once enjoyed!
WHICH reminds me I was treated to a Chovoth meal on a banana leaf right here in Dempobhat where I currently reside, courtesy neighbor Deepatai who has been keeping Lord Ganesh for five days for all the 40 years of her married life or so she tells me. A chovoth meal in most homes would comprise of wet and dry gravy sabzi, maybe a khatkhate, moogache ghati, a vatanache ross, assorted pickles, papad, pais and unfailingly the mirsangche bhoji which everyone will eat more of…her daughter-in-law Chaya had made an unusual arbi roast with a thin crusty covering outside and pure cooked arbi within, very nice. Well, the women got flower veni to tuck in their hair and maybe some turmeric leaf redolent pais to take home for whoever.
So now Chovoth and Onam are gone, what next! With all the feasting around I've been doing and not too reluctantly I can't say I'm stricken by coronavirus fears…touch wood please. In any case Goa is opening up coronavirus or no coronavirus and soon the tourism season may take off and the slender scented white flowers of the akash neem are falling and hopefully cooler days coming in – and I wonder if there'll be an International Film Festival of India this year? To be honest after the Sushant Singh Rajput suicide mystery I don't feel like seeing a single Bollywood film. All I want to do is see the films of old and those from Sweden, Japan and even China!
Go corona, go please, I beg of you. So many friends have gone with the wind these last couple of months that I'm feeling very lonely in Goa these days….you notice how we all communicate on Facebook and have forgotten to call up one another? Wish I'd called up my gone with the wind friends more often than exchanging sweet nothings on Facebook. This is no way to live if you're asking me.
Just a few unusual recipes from down south India from vintage cookbooks….
PANNEER RASAM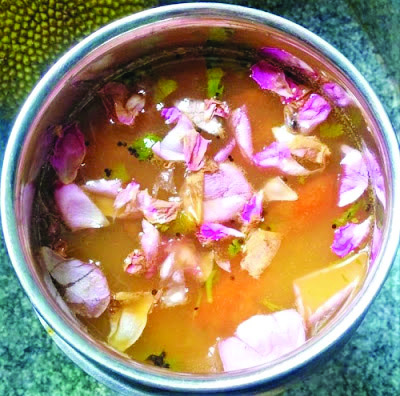 (Rose Petal Rasam, Servings: 4)
This rasam is served separately (as a drink in cups) when the rasam and rice is served during weddings. It can be served as a welcome drink before a emal. Use the larger petals from an Edward rose (panneer rose, a cultivar of damask rose); discard pollen and small petals).
Ingredients
Quarter cup red gram dal/tuvar dal; quarter cup water; quarter tsp turmeric powder; half tsp ghee or castor oil; two and half cups water to mix with cooked dal; 10 g tamarind; 2 cups water; half tsp salt; 1 sprig curry leaves; 1 tsp rasam powder; 1 inch asatoetida powder; 1 sprig coriander leaves, chopped; half tsp sugar; quarter cup rose water; rose petals from 1 Edward rose (panneer rose)
Seasoning: 1 tsp ghee; quarter tsp mustard seeds
Method
Wash tuvar dal and pressure-cook with turmeric powder, ghee or castor oil and three-quarter cup of water for 4 whistles. Mash dal in a blender and mix with two and half cups of water. Reserve. Extract tamarind juice using 2 cups water. Place a heavy-bottom vessel over medium heat. Add tamarind juice, salt and curry leaves. Boil for a few minutes. Add rasam powder and asafetida powder. Boil till the raw smell of tamarind disappears. Add reserved dal and simmer till it foams up. When foam rises to brim remove from heat. Heat ghee in a vanali. Splutter mustard seeds and pour over rasam. Add coriander leaves. Add sugar and cover vessel. Before serving just warm the rasam (do not boil). Add rose water and the large rose petals. Pour into small kinnam/katori (small bowls), garnish with a few rose petals and serve hot/serve with hot rice.
SEERAGA KOZHAMBU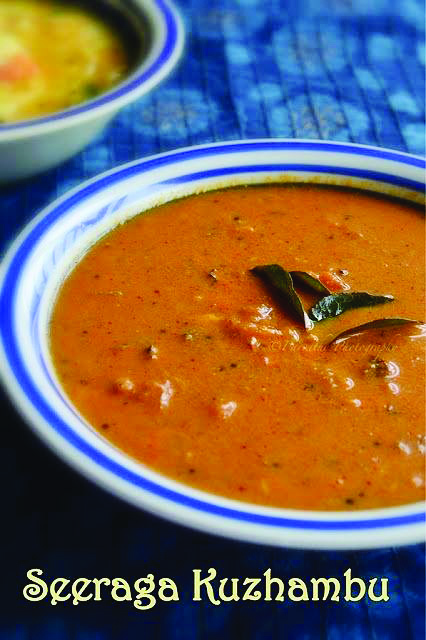 (Tamarind cumin curry, serves 5)
Ingredients
1 lime size ball of tamarind (soaked in water; 2 tsp cumin seeds.
Temper: one and half tbsp. sesame oil; 1 tsp mustard seeds; 1 tsp split black gram dal; 12 curry leaves; 6 flakes garlic; 1 large onion chopped; 1 tomato (chopped); 2 tsp chili powder; 1 tsp coriander powder; half tsp turmeric powder; 1 heaped tsp salt; 2 tsp powdered jaggery
Method
Extract juice from soaked tamarind. Dry roast cumin seeds. Powder them and keep aside. Heat oil in a kadhai, and season with mustard seeds and when they bust, add black gram dal, curry leaves, garlic and onion. When the onion turns brown add tomato and sauté for a two minutes. Add the chili, coriander and turmeric powders. Add the tamarind extract, 2 cups of water, salt, simmer the curry on low heat till it thickens. Add the jaggery and simmer for five minutes. Add the cumin seed powder, mix and remove from heat.
PALADAI PRATHMAN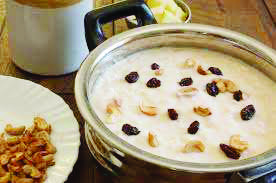 The Ultimate Payasam, serves 10
Ingredients: 1 cup rice flour; 2 tsp sugar; 2 tsp coconut oil; 12 banana leaf strips 8" wide; 3-2and half cups water.
Ingredients for Payasam:
10 cups cow's milk; 2 and half cups water.
Garnish:
Quarter cup ghee; 10 raisins; 10 cashewnuts
For making adai:
Mix rice flour with 2 tsp of sugar and 2 tsp of coconut oil in a bowl. Gradually add 2-2 and half cups of water and stir to make a semi-thick batter.
Dip banana leaves in boiling water for a second to make them pliable. Spread rice flour batter on the soft banana leaves with the back of a ladle evenly. Roll leaves tight and tie with strings made of banana leaf fibers so that the batter does not leak out.
Bring 3 liters of water to a full boil. Drop leaf rolls in the water for about 20 minutes, till the batter in the rolls turns translucent and the leaves start floating. Remove leaf rolls from the boiling water and place them in cold water. Untie the rolls, remove the cooked adai (dough) from the leaves and chop them into small flaky pieces. Set aside.
For making payasam:
Boil milk in the uruli/heavy-bottomed bronze pan. Add sugar and stir continuously over medium heat, till milk has a thick creamy color, which is the payasam. Add adai pieces and keep stirring for 10-15 minutes. Remove from heat. Heat ghee in a vanali. Fry cashewnuts and raisins over medium heat, till golden. Add to payasam and serve.
Note: Ready-made adai made from white flour/maida is available in the market (but apparently not as desirable as what you make at home).
Inji puli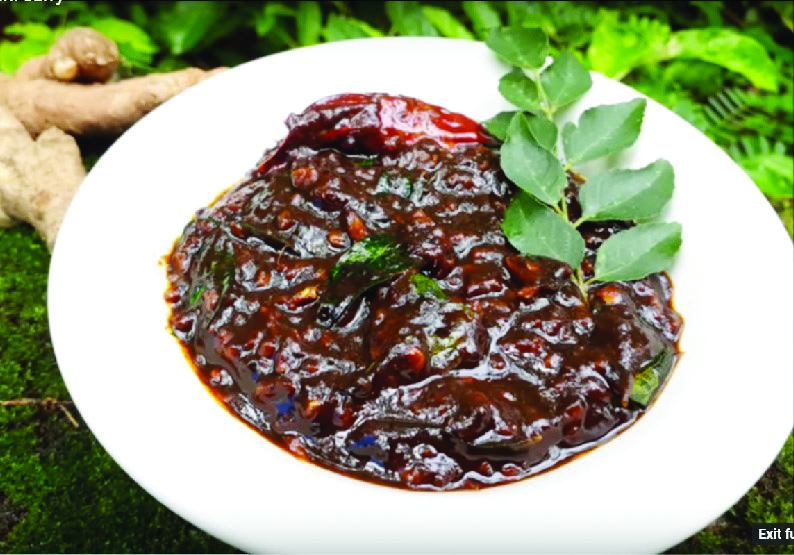 A tangy ginger pickle, great digestive!
Ingredients
1 cup ginger finely chopped, 5 nos green chillies finely chopped, 1/8 tsp fenugreek seeds, 1/2 cup tamarind, 1 tsp jaggery syrup optional, salt – to taste
To temper:
4 tbsp oil, 1 tsp mustard seeds, a sprig curry leaves, 2 nos red chillies
Method
Soak tamarind in 1 cup of warm water,set aside.Wash ginger, peel off the skin and chop it finely.Then trim the edges of green chillies and chop it finely too.Dry roast fenugreek till crisp and powder it,Set aside.In a pan heat oil – add the items listed under 'to temper' let it splutter.
Then add ginger and green chillies and fry till nicely browned.Then filter and add tamarind water.Add required salt.
Allow it to boil for few mins until raw smell leaves. After it starts to boil simmer and allow it to thicken more like a thokku.
Once it starts to thicken add jaggery syrup and let it boil until oil seperates.Finally add fenugreek powder cook for 2mins then switch off.
Allow it to cool down then store in a clean bottle.
Parippu curry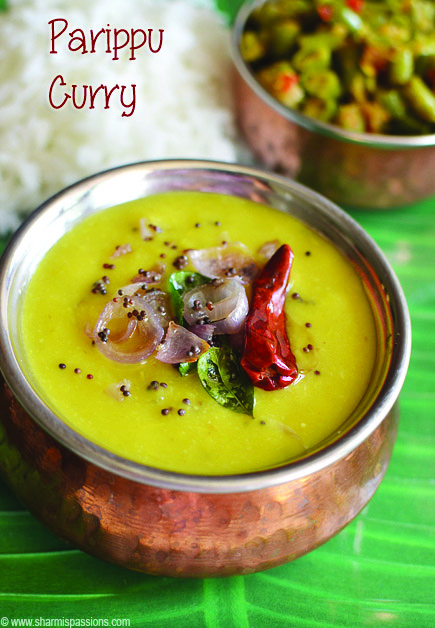 A much loved Onam Sadhya side dish
Ingredients
1/2 cup moong dal (cheruparuppu), 1/4 tsp turmeric powder, water as required, salt to taste
To grind to a paste:
1/4 cup coconut grated, 1/4 tsp jeera, 1 no green chilli,
To temper:
2 tsp coconut oil – 2 tsp, 1/2 tsp mustard seeds, few nos curry leaves
1 no red chilli, 6 nos small onion
Method
Dry roast moong dal till golden or until nice aroma rises.Then transfer it to pressure cooker and pressure cook it along with a pinch of turmeric powder , salt and required water.
Once dal is cooked mash it up once, set aside.Grind the ingredients listed under 'to grind' along with little water to a fine paste,Set aside.
Now transfer the dal to a pan and let it boil for 2mins.Then add coconut paste and let it boil for a good 5mins in low flame.Adjust salt at this stage.
Let it boil once the raw smell of coconut paste leaves, switch off and set aside.Now prepare your tadka – in a tadka pan heat oil add mustard seeds,curry leaves and red chilli let it splutter then add finely sliced small onion and fry till slightly browned.
Now transfer the prepared tadka to the dal, drizzle ghee give a quick mix.
Serve hot with rice and papadam.
Note: Make sure you grind coconut to a fine paste.Add little water while grinding.
While serving drizzle ghee and then serve with rice.
Roasting the dal before cooking gives a nice flavour to the dal.
The curry thickens with time, so switch off when its in flowing consistency.
(Some of the recipes have been selected from Prema Srinivasan's traditional cookbook Pure Vegetarian' and Sabita Radhakrishna'sAnnapurni, Heritage Cuisine from Tamil Nadu')