Wow MOMO Parlour down 18th June Road: Steam veggie momo (99, but adds up to almost160 with GST added), try the Darjeeling veggie momo which is very popular; there are other interesting momo variations too including a chocolate momo
By Tara Narayan
EVER since the Goan Observer became online.in I feel like I'm neither here nor there, if you understand me. Virtual online lifestyle of stay at home glued to your smart phone and computer all day long is not my idea of living life. This Covid-19 imposed stay home, stay safe torture doesn't jell with me and of course with my mask on with a few drops of what I call Malaysia's Chinese pharmacy "Ipoh oil" scattered on it, I venture out in a cloud sanctified air and feeling perfectly protected.
All in the mind or not my Ipoh oil on a hankie to inhale reassures me I'm safe from this predatory Count Coronavirus of Chinese fame and fortune. Oh, what shall I do when my Ipoh oil is over; I have a brother in Malaysia but I don't think he is coming over to India any day soon so that I may ask him to get me more of this Ipoh oil and Tiger Balm which Malaysians so love, and so do I having grown up there!
This Ipoh oil is much like our nilgiri oil with eucalyptus and other medicinal oils mixed in, but the Chinese formulae is special. Dab some of it on hankie or tissue paper and inhale and it clears nasal channels like little else (except jalneti practice with warm mildly saline water).
COVID-19 chatter and food for the mind over with let me tell you I've a long standing love for the Tibetan or Chinese momo, steamed dumplings with various vegetarian or "meatarian" fillings in them…originally I think rice flour was used for the cover or a combo flour mix of rice and tapioca flours, but I discovered Wow Momo parlour last week down 18 June road when I went to meet my friend Sufal Talkar of S.G. Enterprises the caju and wine shop here; next door is WOW Momo and I couldn't resist taking a dekho of the menu – they also have veggie momo with wheat flour but I ordered my usual favorite Veggie Momo (135 per portion of five momo). The dumplings were large and wrapper pretty thin and delicate, packed with mix of minched veggies – chili sauce a little too sharp. May I get some of your tomato garlic sauce, I asked, and the guy here said, "No, for that you will have to order from the pan fried momo…" But give me the sauce, I said, and charge me for it, but it was nothing doing. Obdurate service. Then I asked what are these Veggie Darjeeling Momo (most economical buy at99) and was old the filling was only cabbage, ginger, garlic and green coriander…sounded good, next time. Chicken is high on the popularity list with several kinds of chicken momo and there's prawn momo too, don't know what this pan-fried momo affair is like; they have combo offers but I don't take Pepsi combo offers. Sizzler momo, butter masala momo, fried momo, sizzler momo, baked momo au gratin, tandoori momo and momo burgers, chocolate momo platter…what not and what do you know! I was learning since primarily I love steamed momo with radish or mustard green in them – can't find these or mushroom momo anywhere unless I do them at home and I don't like to eat food I cook anymore, don't ask me why. It's too complicated.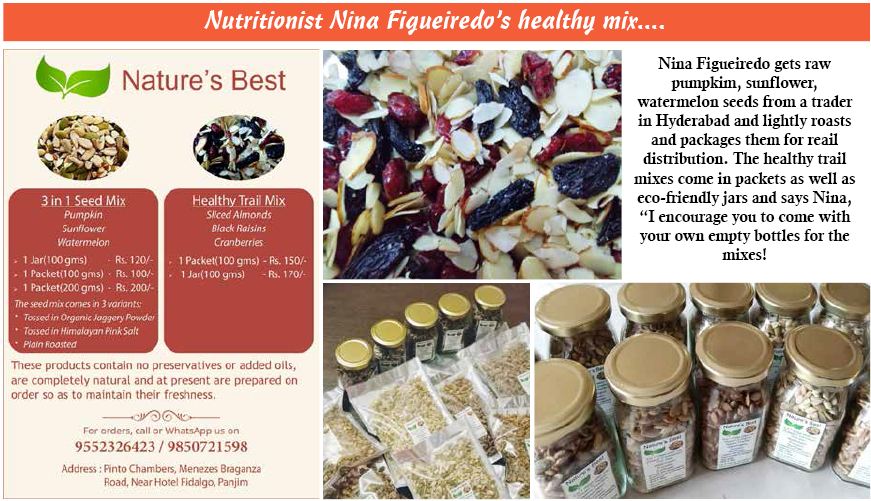 But see what I mean, the Oriental or Tibetan momo is going places in urban India with several chains running all the way to the bank. Nobody is boycotting them in them in the name of HindutvaI, thank Lord Rama. I wonder if Prime Minister Narendra Modi has discovered steamed momo or fried momo or soupy noodled thupa momo…
THEN courtesy my friend nutritionist Nina Figueiredo I was overjoyed to savor the flavors of Stephen Swamy's Curry Kolam (small bright parlour around the corner of the still shut Fidlago enclave of restaurants)… it does some delectable hard to find niche Chettinad cuisine item numbers such as Mini Podi Idli Varuval (`150 per 15 button stir-fried in molhapodi or chutney powder), my personal favorite which comes with lashings of flavorful tomato chutney and vegetable kurma.
Nina's a great fan of Curry Kolam and raves about other fare — chicken milaku varuval (chicken pepper fry, varuval means "fry"), Chettinadu chicken chili, mutton kola urundai (meat balls), chicken ghee roast, ney meen varuval (kingfish fry), eral milaku varuval (prawn pepper fry), vazhaipoo vadai (interesting banana flower fritters),… some more, ney meen kozhambu (kingfish curry and ghee rice), parotta and vegetable kurma, one of these days I'm buying the Chettinadu vegetable biryani (which comes with raita and kurma, Rs190). Pricy of course but then what isn't pricy these days! Funny, they present the bill wrapped in a bit banana leaf with packet of chewy seasoned betalnut; nice touch, I said, but give a betal leaf instead, can eat betal leaf, can't eat banana leaf! Stephen smiled brightly and said okay, madam, come again. I've become a more or less daily friend of Curry Kolam.
AND Nina gives a bit of good news on the organic business which is retailing very well in Goa now. The times are so stressful this year, she confided, that she has decided to meet the need for agreeable ragi porridge and nutrient dense seeds like sunflower seeds, pumpkin seeds and other seeds, which she imports au natural from Hyderabad. Then she roasts the seeds with bit jaggery at home and packets them, gives them out to whoever wants to stock them at retail pricing of course. But it's such good stuff – scrumptious they are.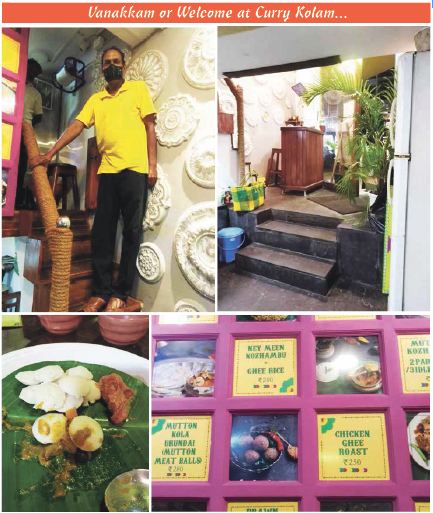 As for the ragi porridge, she says it is ideal for ailing patients getting their feed through a tube. After all she is a most caring healthcare person and has seen life close up with patients suffering for want of sustaining feeds. I listened in vicariously as she spoke to a nurse on the phone explaining about the lack of sustaining feeds for invalid patients, "The porridge has to be thin enough to move easily, if it is too thick it will clog up the tube and nothing will move!" Which made me think I hope I'm never reduced to being fed by tube, before that someone come give me arsenic and put me away. I don't care if it called mercy killing and if you remember there's a film called "They shoot horses, don't they?" When an animal is injured beyond healing, out on farms in the countries of West, they just shoot them to put them out of their agony. Makes sense, no?
This is to say Nina is doing her seed offerings in packets of 100/200g at Rs100/200, respectively. There're also glass jars you pay Rs20 extra for. One of these days I'll go see how Nina Figueiredo goes about her home-based project with her two little ones seeking her attention, it can't be easy. Do you know that if you work from home at a home business, you need pay no taxes? Maybe I should think along these lines too to earn some money before I go under!
THEN a bit of good news. The Taj Group of Hotels are coming back to life and I've got a press release telling me it's time to focus on health and wellbeing. Thank-you. A lot of it is to do with how much cash one is rolling in of course. Everyone high and low have been hit hard by the Covid-19 terror and lockdowns. But this just to say if you can make it you might want to go patronize the Taj's Jiva Spa wellness premises offering a slew of healing, holistic therapies to perk up mind and body, heart and soul. The Jiva Spa is attached to the Taj hotels and may choose from these interesting ideas being created or recreated to banish the blues of Corona-19 menace.
Hey, they're having this ritualistic Shanti Havan at Rishikesh, that is a fire ceremony performed by resident priest to the chanting of shloka for life, longevity and health, it's some kind of psychic and spiritual body invocation…presumably to revive dull energies!
The other ideas being promoted by Jiva Spa are Conscious Cooking in Goa – learn from chefs how to cook to be healthy and happy; and at their Coorg Taj property they're doing something fancy like Aroma Dressing. From the sound of it, it's an engagement with self-love and self-love (very important, sometimes I hate myself badly) using aromatic oils to evoke the energies of the body and reform them along positive lines. Something like that, I liked the sound of all that but can't run away just yet from Goa…to restore the lost energies of body beautiful! But if you have a mind to you go and come back and tell me all about it. Enjoy. The Taj and Leela properties are really my favorite. For more information you may visit www.tajhotels.com
MORE good news. I'm told out at the hospitality and catering institutions they're celebrating Chef's Day (Oct 20 annually). At the Goa-based VM Salgaocar Institute of International Hospitality Education (VMSIIHE) they have a very inspirational Chef Sebastian Breitinger (professor of culinary arts) who's put out a notice inviting young chefs to submit recipes in a competition to show off their culinary skills and knowledge of healthy ingredients.
The theme this year was to submit recipes using two ingredients, namely carrots and flax seeds. We know doctors recommend a glass of carrot juice daily and to eat flax seeds (alsi seeds, a superfood seed). Anyway, the competition offers students to do some homework in superfoods and an opportunity to create nutritious, healthy meal options, which in turn promotes healthy eating habits, or so says Chef Breitinger.
Wish them luck! Submissions for the competition are invited from Class XII from Goa as well as states across the country. Submit to Sebastian.breitinger@vmsiihe.edu.in on or before Oct 24, 2020. Or contact 0832 6623000 for further details. All of which makes me think the one good thing the Covid-19 pandemic has done is made more folk conscious about what they're putting in their mouth – local, from farm to table is best. Cooking to retain nutrient values and flavors is also the in thing to do to stay fighting fit, as Baba Ramdev would say chew your food a hundred times, 200 times, 500 times and likewise do your yogasana as many number of times! His morning classes online are hilarious, catch up with them. They are my morning smile a while moments before the day begins on a brighter note. Not joking.