The Nustecar mobile van parked here and there in Panaji on some days… Sunday and Wednesday mornings at Caranzalen; retails a variety of fresh fish big and small; the boy here also cleans and cuts the fish for you on order.
By Tara Narayan
NEVER mind that I will always swear by vegetarian and vegan if not raw fooodism (to coin another word for cuisine) forever if pushed in a corner or with my back to the wall. Ever since my dear Bengali friend Mita Sen of Kolkatta introduced me to fish and more fish in various combinations I've a perennial soft corner for fish preparations like doi machh, shorshe machh, fish paturi…although you have to be a real West Bengali to be able to eat the bone-filled illish or hilsa fish with one clean sweep of the teeth! Mita also introduced me to the bitter sweet shukto, aloo posto and the sweet charms of mishti doi sweetened with sugar or noton gur (date palm jaggery grated or in syrup form) and available in terracotta matkena…. if I were not a Gujarati born in Viramgam I'd be a Bengali or so I like to imagine!
Of course I also welcome such fishy item numbers as tuna fish sandwiches, cod fish croquette which my friend Anastasia Mendes once cooked to perfection and of course lately after I tasted some of my friend home cook Ajanta Burman's fish paturi (chonak laced in mustard paste and steam cooked in banana leaf) I've been pining to return to more fish eating. In the meantime I'm back to looking for the perfect fish cutlet at such places as d'Silva's at Miramar beach (this old and tried foodie outlet has undergone a pleasing makeover) or Café Ave Maria or at the Magson's counters offering a whole range of cooked and semi-cooked freshly made temptations in meat, fish and bakery …yes, they now also offer fish cutlets (Rs15 each but I haven't tried it out yet).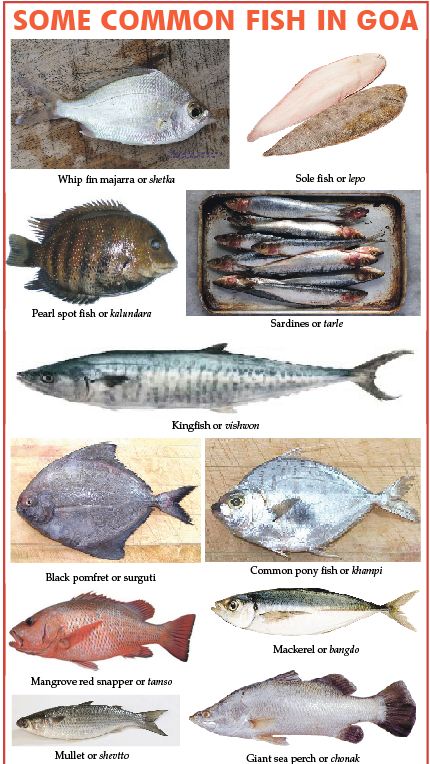 A few Goan home-spun bakeries keep decent fish cutlets but not too many of them, I wish Mr Baker's would put them out. In the Panaji market inside lanes one may find someone stocking fish cutlets or croquettes but I hesitate to buy them. My problem with Goan fish cutlets is that if they've got fish in them (usually mackerel, presumably a good fat fish) the cutlet would be highly or over-flavorful with garam masala); most run-of-the-mill fish cutlets will be mackerel fish cutlets but there'll be more bread crumbs or potato/onion mash in them with fish just a whisper of a taste…might as well call them potato or onion cutlets killed to death with a heavy dose of garam masala.
I mean is Goan food supposed to be so big on the usage of north Indian garam masala? Of course not. I mean Goa has its own range of fresh ground wet masala which go by the names of recheiado, cafreal, xacuti or shagoti, ambotik and so on. Garam masala is just a north Indian migrant rub-off or influence if I may think so and say so. The ubiquitous garam masala is everywhere reducing all food to stereotyped flavors in everything meaty or veggie.
But to stay with fish cutlets I've always been fond of a good potato or veggie of fish cutlet quite simply because I prefer to use them as an in between filler to relish a Gon poie or stuff into a sandwich, sometimes I also put in a cutlet in my morning scrambled egg or oatmeal egg scramble – but invariably the high spice of the fish cutlet puts me off, even if love the fragrance of the generous amount of chopped green coriander leaves which some caterer may bother to put in! One must be happy with small joys, if not this, that is okay with me like freshly chopped up green coriander leaves.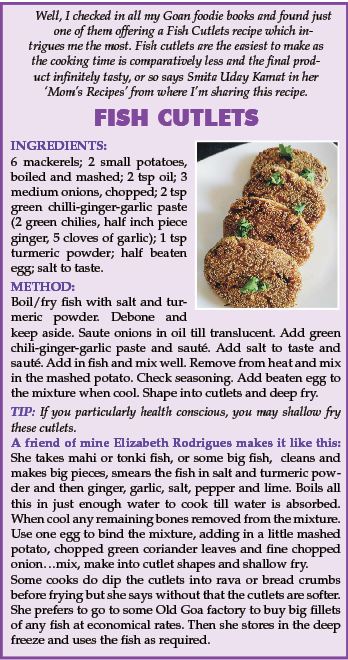 To date I haven't found a fish cutlet really worth buying, the d'Silva fish cutlet is decent as far as fish quantity is concerned but here again the cutlets are small and expensive at Rs25 each, and of course too much garam masala. Fish cutlets in Goa are more or less similar most places where you may find them! As if no other fish other than mackerel is economical to use…and in any case I don't think garam masala is originally inherent in Goan cuisine non-vegetarian or vegetarian, Hindu or Catholic homes. As for fish curries most Goan fish curries are over-spiced too and my favorite is the ones done caldin-style only, influenced by Portuguese cooking which I don't think will ever dream of garam masala infusions!
MAKE my own fish cutlets at home? I may love to eat fish poached or in tantalizing Bengali-style curries but I still have to learn how to shop for good fish and how to clean and fillet it for easy use. One of these days I'm going to look for these Directorate of Fisheries (government of Goa) Nustecar mobile vans which park themselves at different spots to retail freshly caught fish. It's scheme sponsored by National Fisheries Development Board and on Wednesdays and Sunday morning one may see them at Caranzalem with my fish loving friends lining up to buy the reasonably priced kingfish, chonak, prawns, etc. I have to catch up with the grand world of seafood in Goa, that is if I want to learn how to do fish at home! That's the only way to be happy, do it at home.
Note: I hear Chef Xavier Francis and team's new start-up company Indian Bake House is also going to make and deliver premium fish cutlets to your home on order, along with whatever else you order from their crème de la crème menu. A friend of mine is awaiting with baited breathe the pancakes of alle belle fame…alle belle, in case you don't know are the softest velvety pancakes with a choon of fresh coconut and jaggery tucked within, dessert pancakes. Where are they, Chef Sunil Soni?
MAKE WAY FOR OHHH IDDLY…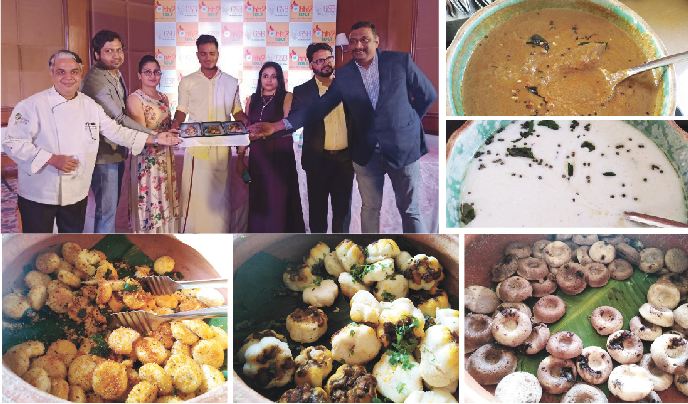 I MUST say press conferences are back to what they were and with curious eating me I decided to catch the Ohh Iddly press conference at the Goa Marriott Resort & Spa ballroom on November 30, 2020. Hey, I mean this is the humble south Indian or specifically Tamilian or even Tam Bram idli I'm talking about. Not as in plain off-white idli as we generally recognize it or it its various traditional avatar of rava idli, kanjipuram idli, gundu idli (jackfruit leaf wrapped steamed conical idli) and some more traditional versions. Lashings of creamy white coconut chutney, tomato chutney, other chutneys and of course the piping hot sambar of drumsticks fame which I adore the most!
These here were come lately "ohh idly" being promoted as India's first non-vegetarian idli by Gourab Sarkar of GSB Research and Consulting Pvt Ltd with woman entrepreneur Mrs Gargi Chowdhury of Kolkatta and others including Chef Sunit Sharma who's seen life and times at the Cidade de Goa, Taj Vivanta and Marriott kitchens Panaji and elsewhere. He is now consultant to start-up foodie ventures like this Ohh Idly one which is going to offer anything from 30 to eventually a hundred varieties of small bite or mini done up in varying vegetarian and non-vegetarian flavors. From the sound of it it's a foodie start-up venture like no other and I'm sure there'll soon be any number of copycats!
To a query Chef Sunit Sharma said replied, why not? Fun food is in the news nowadays and this is their fun food, "it's your mindset which needs to change, if you can have a hundred versions of pizza, why not a hundred versions of idli?" Yes, why not, indeed. They are going to have their kitchen in Siolim and it will turn out hundreds and thousands of itsy bitsy idli in varying flavors, shapes and colors to offer a razzmatazz experience or so speak…they will be packaged six or eight or ten or more in a serving and retailed at places like Magson's, via home delivery courtesy Zomato and Swiggy. All you have to dial for an Ohh Idli from a menu yet to be designed and presented.
Anyway, we got to taste the first three Ohh Idli beauties by way of "gunpowder idli' (mini idli tossed in the famous molhapodi powder chutney), "chicken idli" and what do you know "chocolate idli" (see pics here). There're so flavorful on their own the chutneys are really redundant! My dears, it's a marketing idea which may very well catch on, the promoters are also going to have these kiosks selling their Ohh Idli beauties in mindboggling presentations…the marketing has just begun. It's a squeaky clean business start-up as I understand it and soon all the other food item numbers become so popular in the home-delivery mega business currently – just about anything from kebabs to biryani to pizza to Chinese menu and Goan and Bengali curries and much more by way of Goan fish thali, vegetarian thali, etc – will also feature the Ohh Idli snacks, appetizers, hor d'ourves, whatever!
Pricing? May be Rs100 a pack. Hell's bells, this is my much loved humble idli going upmarket with vengeance. My morning idli and medhu vada at Kamat Hotel already costs me Rs50 something respectively and alogn with that I get some decent "sukha chutney" and aromatic sambar…nothing can beat that surely? Still, I dare say the over-50s will huff and puff, but the PYT or pretty young generation will go goo gaa over these Ohh Idli!
I'm thinking I might as well do a dahi-bhat start-up of my own to earn some money. Hey, plain yummy dahi-bhat, also with grated carrot or grated cucumber or mixed exotic veggies and …er…some day come and taste my apple or orange segment dahi-bhat! Anyone keen to bankroll me, contact me. For I'm sick and tired of the bankruptcy of print and even online media companies trying to inform and educate and enlighten about the hard sell of our times which is so ruinous to the pocket and palate…no, noooo?
This is to say watch out for this Ohh Idli upstarts and try to control your temper if you're 50 years plus, plus, like me! I don't want to eat like the way I've been eating for the last 50 years and nor do I want to eat futuristically with fun food making nonsense of my slender wallet. I want to go down Tamil Nadu to find the best Udipi presentations on banana leaf at temple kitchen daily mass feeding to worshippers for free (you may leave behind a donation if you wish)…Sadhguru's kitchen at Coimbatore ashram I'm told serves the finest prasadam meals twice a day and you may not want to leave for the sake of the food served here, you may even lose weight joyfully and mindfully while eating here for a month! Or so I am told.