By Tara Narayan
THERE is no end to my forlorn search for wintertime's piece de resistance amba haldi or mango turmeric! The creamy white amba haldi generally comes along with the peeli haldi or yellow turmeric which we are more familiar with in Goa, golden yellow turmeric now enjoys such a high rating as a super health food. In fact yellow turmeric's virtues as a super food are so manifold that many are marketing "golden latte" (turmeric infused milk-based drinks).
But it's my current search for amba haldi or mango turmeric which is driving me nuts! Last week it took me all the way to Siolim to say hello to Tanya Fernandes of Adricia farm where there's a large spread of farming joys. It was my friend Elizabeth who's got a car and a driver at her disposal who too got intrigued by my talk of mango turmeric and said let's go find it; Elizabeth and me share some common green passions and she is forever looking for plants to turn her balcony into a garden of paradise!
Whereas, me of course, I want to turn my mind into a garden of paradise. Anyways to go on, we got to the Adricia farm where because of the Covid-19 menace, Tanya said sorry, we may wait at her gates and her gardener will come out with the two kg of amba haldi which I'd ordered, "and I hope you have brought a bag, I'm also giving you a bunch of Ceylon spinach!" Elizabeth wanted to buy the heliconias, red and pink growing everywhere, but it was not to be. And I was in for a shock for the amba haldi which I thought was amba haldi was not amba haldi but a different variety of white turmeric, I scraped a root piece and inhaled, popped a bit in my mouth only to spit out bitterness! Amba haldi this is not, I tell Tanya, amba haldi has a fresh flavor of tender green mango to live for. She shrugged, take it or leave it. This is a may be a medicinal turmeric and some of her friends are happy to take it to turn it into pickle. Well, so this was not the mango ginger I was looking for even if this one was a close look-alike and had medicinal values in Ayurveda! I packed up the medicinal ginger in my cloth bag and wondered about doing something with it later. It was Rs50 per kg, we took two kg.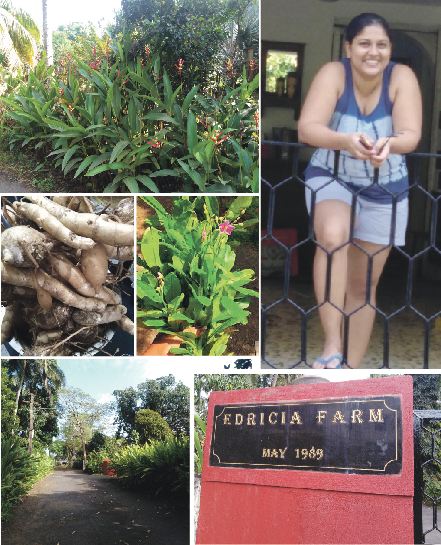 FUNNY or not funny. This medicinal ginger or white ginger is still in my kitchen looking intriguing. Medicinal it may be but it's not as edible as the edible gingers of the yellow ginger we know, the Thai galangal ginger, or amba haldi or mango ginger…what is the difference between ginger and turmeric? I found myself delving into the world of the ginger family and discovered what a vast world it is…and gingers and turmeric varieties are like kissing cousins of the Zingiberaceae family — something like 1,300 species, 56 genera. Only a few of them are culinary delights but oh such lovely the flowers of this family of plants are…what we call sontaka flower are also called butterfly flowers, pristine white and fluttery. Yes, that's a ginger lily if you please. Other floral beauties in this family – Alpinia, Costas, Hedychium, Zingiber (which is our familiar ginger of culinary delights). Google and see and you'll be zapped.
But I'm only smitten by amba haldi and peeli haldi and how the two make for a terrific tango once scraped, julienned, salted and dressed with lemon juice…store in a see through glass jar and put it on the dining table. It will be the cynosure of all eyes and all I need is a pair of chappati and a tablespoon full of tangy amba and peeli haldi relish to be happy!
Anyway, the long and short of this adventure out at Tanya's Adricia farm is that I didn't return with my amba haldi. I wanted to loaf around interesting Siolim but Elizabeth had too many errands to run so we returned to Panaji – take some of the medicinal white ginger and Ceylon spinach home I urged her, but she said no, no. For a week I didn't know what to do with this very lovely Ceylon spinach with its itsy bitsy flowers, then I started chopping it up to stir-fry rice, garnish my egg or tomato omlet, etc. Still have to make a soup of the matt slightly glutinous fresh leaves…like vavchi bhaji but not quite.
One thing I noticed is that almost one week lying around in a stainless steel bowl in the kitchen this Ceylon spinach did not wilt or wither! Stayed as fresh as ever and it was wow, then I wrapped it and popped in the fridge where some of it still awaits tender loving care. Out in the organic farms doing so well in Goa nowadays one may buy bunches of the usual palak or spinach we know, baby palak, Thai spinach, Malaysian spinach, Sri Lanka or Ceylon spinach…I keep falling in love with greens all over again and don't know what to do with them! No, I think most greens are best chopped up and stirred in whatever as last minute stir-in garnishing…to make for a pretty picture of beauty and flavor.
But (sigh) I'm still looking high and low for my amba haldi at the Panaji "gauti" pavement market every morning! This year none of the vendors are displaying it. Fresh peeli or golden yellow turmeric there is in plenty but amba haldi with its exquisitely ambrosial taste of tender sour mango can't be found for love or for money.
In my old days in Bombay that is Mumbai I used to get this amba haldi or mango turmeric (Curcuma manga or Curcuma amada) from the Juhu or Vile Parle west and east markets, along with Indian gooseberry aonla or amla. Needless to say these trio of winter time gifts are terrific immunity boosters! Down south India they put amba haldi to good use…as in mangai inji pickle or maa inji thok which is a delectable blend of urad dal, mango ginger, tamarind, mustard seeds. The south Indian chutneys are something delicious and pack an exciting range of flavors with their wondrous use of dal, usually roasted urad or chana or even moong. Call it the protein touch if you wish!
This is also to tell you do not over eat on the au natural things which enjoy a super brief! More is not better. Just enough to go a long way is better – be it gingers or turmeric or vitamin C or lysine (an amino acide) or creatinine or chromium … some of it "prescribed" by "experts" for weight loss. Here's some news. An overload of vitamin C (no matter how magical it is) can lead to oxalate stones in kidneys. Hogging on some natural perceived goodies can lead to renal failure if you hog on them!
So take it easy, don't go overboard or to extremes. Get your information bases covered before you enjoy a dozen cups of golden turmeric latte — nobody eats kilos worth of anything without rhyme or reason without paying a price for it. Creatinine is used for muscle building by sports persons – hey, you can damage your kidneys and need dialysis to get back to normal life if you're lucky.