At the Hunar Haat inaugural… Chief Minister Pramod Sawant taking a pleasure in some of the stall crafts like the dry flowers from Assam. (Inset) At the press conference briefing CM with Union Minister of Minority Affairs Mukhtar Naqvi (blue scarf) and other dignitaries.
By GO Team
Confluence of craft, cuisine and culture
This is the old laid back Lok Utsav being re-presented in a more patriotic avatar! A more expensive package but better presented because it is part of Prime Minister Narendra Modi's call for a Atmanirbhar Bharat and in Goa Chief Minister Pramod Sawant has been waxing lyrical about "swayampurna" Goa. At the inauguration of the Hunar Haat at the Kala Academy at Dayabandodkar football and Darya Sangam grounds on March 27, 2021, he also appealed to Indians including Goans to make it their business to see their own country first and generally speaking let there be unity in diversity.
Reportedly the "empowerment exchange" is featuring more than "5,50,000 artisans and craftsmen" from Kashmir to Kanyakumari and the work of many master crafts persons. At the Goa Hunar Haat one may find many of the traditional crafts of one's childhood, from terracotta ware to handlooms finely woven sarees in silks and cottons. There are about 200 stalls with a few from Goa too and here folk may be seen making a beeline for the tailored outfits, ornamental flowers from Assam, leather handbags and Kolhapuri chappal, spice masala, pickles and handmade soaps from Gujarat…ornamental furniture, rugs, chattai, wooden kitchen utensils and much more.
Cultural troupes perform in the evening on the stage put up here although audiences are thin (for fear of Covid-19 infection is still in the air and some say like other celebration engaging large crowds this one too should have been cancelled). It says much for Indians from all denominations of society though that few are scared! On the stage put up here cultural troupes perform their dances and drama skits.
At the adjoining Darya Sangam grounds whole families are flocking in to tuck into the food prepared by the ethnic food stall folk from out of Goa. Don't miss the huge terracotta kettle as the central leitmotif of the food court! Needless to say Hunar Haat is a travelling market being hosted in various places around the country by the Ministry of Minority Affairs (government of India) with Union Minister of Minority Affairs Mukhtar Abbas Naqvi taking a personal interest in it.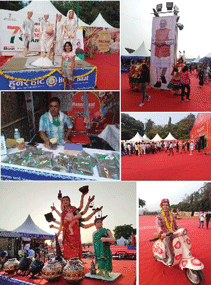 Clearly a lot of effort has gone into reaching out to the rural folk of the country who are hard hit by the Covid-19 lockdowns and scarcity of income to make ends meet. Courtesy the government they get the stalls gratis and travelling expenses from home state to Panaji are paid for; one stall owner also mentioned "we get Rs1,000 per day allowance." Nobody is sure however about how much "public" will come to buy their arts, crafts, home goods, pickles, spice masala, hand-made soaps with essential oils of mogra and sandalwood, natural cosmetics, the toys, cosmetic jewelry, all kinds of interesting and junk trinkets!
Being an ethnic bazaar one would like it to be also an eco-friendly one but alas, most of the produce and products come packaged in plastic wrappers, including the food stuff. Perhaps Union Minister of AYUSH Shripad Naik would like to do something about this for he also features up amongst the posters of the political godfathers taking an interest in the Hunar Haat to reach out to the people of the country with economic benefits!