DIAMOND JUBILEE: Real Cafe was the first venture of the Real Group and will be celebrating its 75th Anniversary in August! The name Real
was coined by its founder, the late Gajanan G Shirodkar (inset).

By Rajan Narayan
If any restaurant deserves the title of being the icon of vegetarian restaurants in Goa, it is Real Café in Panaji. A café which was the first enterprise of Gajanand Shirodkar, the founder of the Real group of companies. A café now 75 years old and on its way to completing its Diamond jubilee.
The reason why Café Real is an icon is because it is more than just a restaurant or a café. Its an institution. For more than 75 years it has been a meeting place for people from all kinds of background. It reminds me of the famous Coffee House of Connaught Place in Delhi where writers and artists and politicians and lawyers, used to meet to discuss the affairs of the country. Or, Samovar at the Jehangir Art Gallary down town Bombay at Flora Fountain, which too was a cultural hub for artists and creative people. Café Real too is a favorite breakfast or tea-time break place of Panaji in Goa.
I first went to Café Real way back in 1983 when I first came to Goa with my patrao, the late Antonio Caetano Fernandes, the owner of the OHeraldo, who also owned a stationary shop called Casa JD Fernandes nearby. Real Café was the favorite of businessmen with shops around the Municipal garden here. Just about everyone turned up here, the lawyers too after the courts closed, very often with their clients to further discuss what could be done.
To Café Real came politicians like Babush Monserrate and the late Mummy Dearest with their workers for a refreshment break. Doctors including the late senior BJP leader and NRI Commissioner, Wilfred Mesquita, used to wait at Café Real until it was time keep his dental appointment with Dr Shetye (an icon himself) whose clinic was located across the road. You never knew whom you would run into at Café Real ranging from theatre people to artists to school principals to bureacrats and some very ordinary people. All enjoyed a seat at Café Real and were politely treated like VIPs.
Café Real has always been comfortably but never opulently furnished. Its main attraction was the menu of typical Goan snacks like patal bhaji which you eat with hot puri or pao or undo. Or the batatvada which were always fresh and hot and larger than anywhere else in town. Other attractions include what I was very fond of and that is sheera and kanda bhoji and my friends ordered the perennial Goan favorite of mirchi or mirsang bhoji, where the big fat green chilies were dipped in spicy besan batter and deep-fried to a crunchy delight to go with a hot cup of tea. There is also the flavorful mushroom xacuti, a monsoon time favorite, which many also order to take home for family. A unique drink I remember liking very much is piyush, sweetish flavored lassi, available only at Café Real.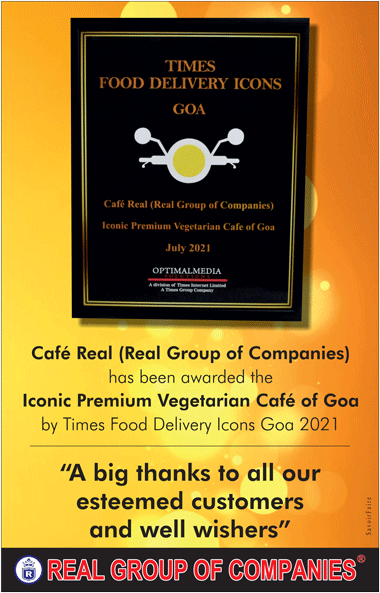 The food is made fresh and served piping hot. The service is meticulous. In my view Café Real is always concerned with both appetite and purse of its customers and price is reasonable. When the government decided to impose a surcharge on air-conditioned restaurants, Real Café decided to remove its air-conditioning instead of raising its prices!
Café Real is my favorite icon as much because of its congenial atmosphere as its people-friendly food. We look forward to celebrating its 75th anniversary which coincides with the 75th anniversary of India's independence. And hope on the occasion Café Real Café will start serving a regular lunch thali of the highest Goan quality! At present Café Real works from 7am to 7pm with a siesta break from 1pm to 3pm, an old tradition. Café Real is above all an iconic Goan snacking experience and the objective of the patrao is to satisfy hunger pangs and also offer Goans a place where they may relax without fear or favor…or be pressurized in any way to leave in a hurry. I would count this as a big achievement and service.