AT THE EAT RIGHT MELA: A warm welcome for those seeking to make lifestye changes on how to eat right! Most of us in our fast paced and stressed out lives have little time to invest in cooking fresh food from scratch and end up eating inferior food from packets, tetrapacks and cans!
By Tara Narayan
Eating is Fun / Eating is Yuck! – A variety food column
Lots of good food to think about and switch over to…healthy food stalls, live counters, nutrition workshop and talks, demo!
IT is of course great news to know that the government of Goa is finally conscious about how eating right is part and parcel of being fighting fight as also preventive healthcare! Towards this end it is trying to do a few things to raise consciousness in the public mind that if we eat right we would suffer from fewer health problems of the degenerative kind. The not so simple problem is we have forgotten how to eat and drink right and now have to start from scratch.
As far as I am concerned it's not just eat right, eating right is not enough – along with eating right one must also feel right, think right, act right in time for it to make a difference for the better! And better is never too late if you can swing it. Put aside age factors, state of mind factors, state of livelihood factors – even if you're down and downright broke, make a small beginning somewhere.
First write down what you eat and drink day in and out, maintain a diary – then ask yourself if you're eating a balanced diet and drinking water instead of tetrapack, bottled juices in lieu? Are you eating out of packets more and more – oily, salty, spicy foods which may taste good because you have got used to them and they easy to eat, you don't have chew them! Are you suffering from stomach problems off and on, putting on weight, feeling blues like you know in your heart of hearts what the problems are but are unable to help yourself?
The government with its AYUSH events have been doing a good job of giving previews of how one should eat – as au natural as possible, a variety of clean cut salad veggies and greens daily, liquid food as in savoury soups, something sweet but with dry fruit or the many natural sweeteners we have in the market now instead of sugar, sugar, white refined deadly sugar in most everything we eat. Just avoid everything with refined sugar, fat and too much salt in it and see the difference after three months in the quality of your fitness and energy!
A hard thing to do is eliminating industrial refined sugar-fats-salts. First of all it means doing away with a slew of bakery produce which we in Goa are so fond of — white breads, chocolates, mithai, etcetera. It will be a big victory for you if you succeed in cutting down on refined carbohydrates with their high glycemic indexes. Find out what the complex carbs are and fall in love with them!
Today the message going out loud and clear on the get well soon front is let food be your medicine – eat your fruit, don't drink it so much. The good juices are few, drink 250 ml of pure freshly squeezed fruit juice of pomegranate, pineapple, any fruit depending on the fruit concentration – even better still are the thin green juices of cucumber, celery, beetroot, kale, and so on and so on, many combos, find one you find refreshing to drink every morning pre-breakfast. Drink small portions of wheatgrass juice, aonla juice (aonla or Indian gooseberry are in the market currently)…grate, squeeze, get 50 to 100 ml of juice, drink up. Wonderful fresh vitamin C to help you heal up quickly. Fresh vitamin C is better than the prescribed synthetic vitamin C tablets.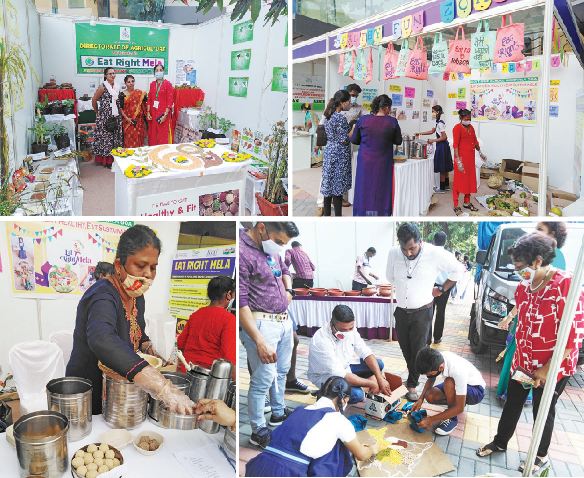 DON'T FORGET GREENS
Eat avocado, eat pineapple, mangoes — all our herbs, greens, veggies and fruit have medicinal values, okay. Eat a small amount of sprouts daily, micro greens, a cut salad, season it with lemon juice, olive oil or any cold pressed oil you like, honey, pinch of rock salt and black pepper. Simple and wonderful. Eat what requires chewing to give your mouth a workout and for the sake of oral hygiene…when it comes to body beautiful it is always a case of use it or lose it.
TO return to the Eat Right Mela where I started off here, the healthy food festival and cultural program was organised by the Directorate of Food & Drugs Adminsitration (Goa) at INOX courtyard only for a day on Oct 23, 2021. I went too early at about 11.30am and things were still being set up. The Directorate of Agriculture had a spread of plants to get familiar with, and I ended up spending maximum time at the stall put up by the enthusiastic students of the Government High School, Morpirla, where there were some interesting veggies on display and sale, as also cloth bags, and an array of ladoo selling at Rs10-Rs20 each, here were laddoo of rava, nachne, moog, besan, rice, plus they had patollyo, dhone, mogya vodye, tousolli/toushya bhakri…if they were sweet with sugar I guess I wouldn't describe them as poustik or healthy!
But mostly ladoo are healthier. It is true that ladoos have little fat in them but if it is not desi ghee it must be the dreadful vanaspati or dalda fat — hydrogenated fats — on the top of the list of fats to avoid and shun. Some of the ladoo tasted good so I couldn't resist buying up a whole of them for distribution at home and to friends! The Integrated Child Development Services (Tiswadi Block, Panaji) too had besan ladoo which is one of my favourite ladoo to catch up with protein deliciousnesss! Learn to make besan and moong dal (lentils) ladoo at home with good desi ghee and unrefined sugar/palm sugar/jaggery — they're easily made and children love them as much as adults and seniors who have a sweet tooth.
The Amoncar Classic Catering Services were offering chaat numbers of paani puri (guava, orange, khatta-meetha), sprout and corn bhel, seasonal fruit kulle, fruit khullad, Agra fruit kachori chaat, healthy cornflakes bhel, bhuna shakarganji chaat …sounded mouth-watering but it was too early for them to get their act together, I couldn't hang around forever.
So I moved on to the Indian Hotel Management Institute (IHM-Porvorim) stall where the menu listed such inviting stuff as Kulith Dal Khichdi, Brown Rice, Mediterranean Platter, Jowar Idli, Roasted Sweet Potato, Vonn — I ended up savouring the scrumptious kulith dal kichdi served in an eco-friendly pudi, overpriced at Rs150 though. I wanted to walk around some more and come back for the other mini-combo meals, but sorry, couldn't do that. Bought home a Mediterranean platter but whoever was at home refused to eat it, it was too chewy, I popped it in the fridge and enjoyed it the next day.
Life is like that only. Goa is so replete with sweet potato and I don't know why we don't eat them more at home and out of home – boiled, cubed and tossed in something, baked. Well, catch the clicks here, but I can tell you straightaway that most folk would not be able to afford the food featured at this health mela, only the ladoo at Rs10 may be! The monied classes can afford anything of course and eat themselves gross with too much food bad or good…so it goes.
The facts emerging on our collective ill-health and sickness of mind, body, heart and soul is if we have too much money we eat too much of the good as well as bad things of life, we eat too much non-vegetarian (to the detriment of our health and environment), vegetarians eat too much refined carbohydrates (contributes towards our diabetes highs)…and yes, many us are too stressed out to enjoy our life, we are dying for want of enough love and affection and genuine oxytocin!
So it comes back to a full circle. Who is going to teach us to feel right, think right, act right and eat and drink right? Work on it and we may yet get there where kalyug ends and satyug begins! Hope I am around to see the new dawn that is blowing our way courtesy Mamata-didi of the Goa Trinamool Congress – she is promising good governance in Goa and in India if we vote for her. Think about it seriously. It would be nice if some political promises come true, especially when the one about Rs15 lakh in every Indian pocket hasn't come true yet!