THE KONKAN CUCUMIS MELO: Monsoon season fruit, relish it neat or jazz it up a bit, just a bit!
Eating is Fun / Eating is Yuck! – A variety food column
By Tara Narayan
SUDDENLY out in the early morning pavement market of Panaji I couldn't take my eyes of the chibud (sometimes chibber)– the pale streaky green or cheesy yellow fruit with thin skin and are mildly, refreshingly sweet or salty to taste. Skin, remove the central cache of slippery seeds, dice and serve tossed in sugar, lemon juice, crushed black pepper in transparent glass bowls if you like to look at a pretty picture of pale beauty. I do better, I toss in honey, lemon juice and fine grated black pepper…it's a very cooling treat for the eyes and palate.
There are these hefty, eye-catching chibud temptations in the monsoon month of late August turning into September, more or less when it is time to say goodbye to the monsoon rains. Pricey. I bought a medium sized one for a Rs130 and it is rusticating in the fridge till such time as I undress and redress for serving at the table some indulgent moment. A nice change to papaya if you're asking me and more seasonal, while hothouse papaya or the original gauti papaya is more or less available around the year.
The chibud is a variety of mushmelon and we know there's quite a confusing line-up of melon varieties. But the chibud is special to the Konkan coast and the large oblong or oval beauties usually feature in the matoli wild fruit showpiece of Lord Ganesh at most pandal during Ganesh Chaturthi or Chovoth in Goa. Close relatives are the deep peachy musk melon or kharbuja of northern India – thick, netted skin, exquisitely green and naturally sweet. Sometimes called Persian musk melon.
But to stay with the Konkan's musk melon or chibud it can go from the ivory cream in colouring to streaky green beauty and within pale green to pale pink. I'm told the thin pale thin skinned chibud are sweeter while the thicker skinned chibud are almost flavorless so you can add your own favoured flavors. The sheer melting fleshed chibud are melons of Ayurvedic rasayana fame and chibud is a Marathi word. I love all versions of this velvety musk melons which may be served neat as vitamin C rich palate cleansers, or as some will dress it up spiked with honey/sugar, lemon juice, freshly grated pepper and more. Check out chibud on one of these final rainy days to cheer yourself up, can even puree it and enjoy as sorbet or sherbet on the rocks. Pinch of pink salt brings out exquisite flavors to live for.
Some say the chibud is tasteless! I say not really. It's exquisitely flavorless. A friend of mine even dices chibud and tosses it in sweetened coconut milk along with jaggery grating, cardamom, lemon juice along with coconut meat thin slices…but don't confuse flavors too much or there will be a fight. Yes, eat more chibud this auspicious season coming in. The vitamin C which is a water soluble vitamin will help prevent infections and strengthen immunity. Cheers for chibud or Cucumis melo botanically!
In America all musk or mash melons are loosely called cantaloupe…all cantaloupes are muskmelons, but not all muskmelons are cantaloupes, something like that. Muskmelons are not watermelons, cucumbers, pumpkins or squashes although species do inter-cross freely, whatever that means!
Musk, I have learned, is a Persian word for a kind of perfume if you please! While melon is French, and the Latin melopepo means "apple-shaped melon" and derived from Greek vocabulary. The musk melons are native to Persia (Iran) and nearby areas of trans-Caucasus with secondary centres in northwest provinces of India, Kashmir and Afghanistan. Muskmelons date back to an Egyptian picture of the period around 2400 BC and there are wild forms too yet to be recognized and listed presumably.
This is to say anew go buy a chibud one of these days and enjoy it!
FOUNTAIN OF YOUTH COOKBOOK!
IT'S a long time since I've picked up a one of my real cookbooks having switched over to quick googling most times. I castigate myself for this! It's absurd that once upon a time it was like my cookbooks are so sacred and to be consulted gently…and now there's this lazy ease to go tap, tap tap to research on Sir Google or whatever else you want to call the jhat phat eager beaver activity of googling for information.
It was on my friend Elizabeth's table, this intriguing copy of 'Ancient Secret of the Fountain of Youth Cookbook.' A hardcover, a quick browse and I found these simple, delicious recipes for health and longevity. Nowadays everything is about health and longevity no matter how old you are! Never mind that we continue to consume too much and too indiscriminatingly most times, especially me.
But to stay with my new find or rather Elizabeth's old find. Devanando Otfried Welse and Jenny Frederiksen's cookbook is so intriguing with its spin of timeless recipes and a couple of useful tips on how to stay ahead of others in the health and longevity department – this cookbook is a real fountain of some forgotten time-tested secrets from the old world and some from the new world.
I found myself absorbed in the collection of recipes in this outstanding cookbook and introductory chapters have some useful information on a series of five-simple, yoga-style exercises called the Five Rites and other fascinating tidbits, the kind which keep me glued…amongst guidelines to eating make a note of this: Never eat starch and meat at the same meal; if coffee bothers you, drink it black, using no milk or cream. If it still bothers you, eliminate it from your diet. Then chew your food to a liquid, and cut down on the amount of food you eat; also, reduce the variety of foods you eat in one meal to a minimum. These are the eating habits of Tibetan monks who live in an environment completely different than most of us but try to imbibe some of the habits if you want to live long in the pink instead of the grey of fungal health!
Amongst the 144 recipes listed I find a couple so seductive, I'm sharing them here, enjoy.
BORANI ESFANAJ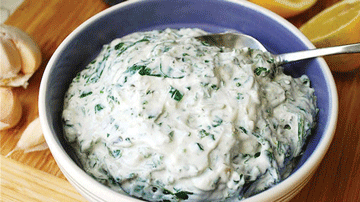 This salad is a delicacy from the southern coast of the Caspian sea, north of Iran. There rice and tea flourish in terraced beds, and spinach and mint grow like weeds.
Ingredients:
5 oz plain yogurt; 2 small onions, minced; 2 tbs cold-pressed vegetable oil; 1 clove garlic, minced; 1 lb or 16 cups spinach, washed and if necessary, cut into smaller pieces; herb salt to taste; pepper to taste; quarter bunch mint; 1 tsp clarified butter; half tsp turmeric powder.
Method:
Let yogurt drip through several thickness of cheesecloth or a very fine sieve for 2-3 hours or overnight. Fry onions in oil until they begin to brown. Add garlic. Sautee 30 seconds, add spinach and stir-fry briefly, just long enough to soften the leaves.
Transfer the spinach immediately to a bowl to cool. When it has cooled, stir in salt, pepper, mint, and drained yogurt very gently. You don't want a mush. Heat butter/ghee in a small pan, add turmeric powder and add this mixture to the salad.
Note: Clarified butter is ghee, use a good desi ghee and we have no problems with a good turmeric powder, every Indian kitchen has turmeric powder. These days one may also find organic baby spinach leaves in some of the top notch fresh produce sections – check out the Magson's stores or Delphino's in Panaji.
SPANISH CHICKPEAS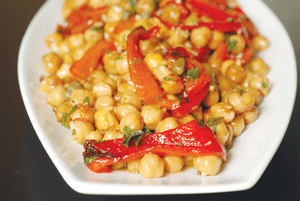 Why are they called chickpeas? Listen to the sound on the surface of the water in a bowl of chickpeas you've just put in to soak and you'll find out.
Ingredients:
A cup chickpeas; quarter tsp baking soda (optional); 2 medium onions, minced; quarter cup olive oil; 1 yellow bell pepper, diced; 1 green bell pepper, diced; 6 tomatoes, diced; half bunch parsley, minced, half cup green olives, pitted and minced; 1 clove garlic, crushed (optional); freshly ground pepper to taste; herb salt to taste.
Method:
Two or three days before you want to prepare this dish. Soak chickpeas in water with baking soda (optional) overnight. Discard the soaking water in the morning. Rinse chickpeas well and let them sprout. (Do not add water) Rinse three or four times a day and be especially thorough in warm weather. After two or three days sprouts will appear and the chickpeas will be ready to eat.
If you don't want to wait that long, soak the chickpeas and then boil them until they are soft. Of course, the sprouts are better for you. Saute onion in olive oil, and add bell peppers. When they are tender, add tomatoes and chickpea sprouts or cooked chickpeas. Season with remaining ingredients.
This dish is particularly good cold as an appetizer. It also makes a good hot main course. Serve with buttered whole grain baquettes.
AVOCADO SOUP from Kerala (India)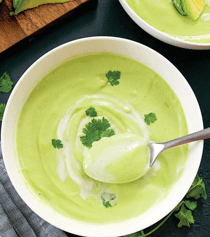 This soup comes from Kerala, a gorgeous area of lagoons and palms in southern India. Devanando thinks of it as the most blessed place on earth. Its opulent beauty, natural abundance and bustling population combine to create an unforgettable experience.
Ingredients:
2 cups water; 1 soft, ripe avocado, peeled and pitted; one-and-half cups shredded coconut; half cup plain yogurt; 1 chili pepper, minced with or without seeds (depending on how hot you like it); half tsp ground cumin; 2 tbs lemon juice; 1 clove garlic, crushed (optional); herb salt to taste; freshly ground pepper toasted; 2 tbs minced fresh coriander leaves (cilantro) for garnish.
Method:
Puree all ingredients and season with salt and pepper. Garnish each portion with coriander and serve immediately.
VITALITY DRESSING
Ingredients:
Celery, several ribs; 1 avocado; lemon juice to taste; pepper to taste; herb salt to taste; chopped herbs to taste.
Method:
Using a juicer, extract the juice from several ribs of celery, and puree it with one avocado. Season with lemon juice, pepper and herb salt. Add chopped herbs to taste. The consistency can vary from thick to thin.
If you wish, puree the avocado with water instead of celery juice. You can also puree the avocado with carrot juice and season with cumin, pepper and herb salt.
This dressing is made from raw ingredients and is therefore high in valuable vitamins, enzymes and minerals.
PS: Herb salt is any salt crushed together with dry herbs like oregano, rosemary, thyme, basil, etc.