Dr Manjunath Desai's family to whom the entire medical fraternity at the GMC offered sympathy with condolence tributes to wife Poonam (an MBA in human resources) and their 11-year-old son Dhruv.
By Dr Amit Dias
I have personal experience of the compassion and tender loving care of GMC's cardiologist Dr Manjunath Desai, who passed away prematurely on Sunday, October 24, 2021. He had many more lives to save before he slept and many promises to keep….
THE people of Goa woke up last Sunday to hear the heart-breaking news that our beloved Dr Manjunath Desai had passed away, in his village of Borim. The outpouring of emotions and messages on social media that followed, gave us the sense of the number of lives that he touched with his skill and humanity. He was one of a kind, reassuring, selflessly empathetic physician, who was just a phone call away. He put his heart in his medical skills and won the hearts of his patients and their families.
I remember Manju (as we fondly called him) as my intern at the RHTC in Mandur. He was always popular and surrounded by his friends. He was very witty and would lighten up any dull moment with his pearls of wisdom. His humaneness and passion to serve people was seen right from his internship days and it grew over the years to become his hallmark. He later went on to do his MD in Internal Medicine at GMC. His junior residents remember him with fondness, as someone they would look up to and someone who was very approachable.
Manju also worked as a resident under Dr Chicot Vas at the then newly established department of Neurology. He was always enthusiastic and ready to help. I remember once we had a neurology camp at Mandur and Dr Manjunath was the first to volunteer and spent the whole Sunday with the rest of the team, examining patients at the camp. I lost touch with him for a few years after that.
Some years later, my mother had a cardiac emergency and had to be rushed to Bangalore. I felt greatly reassured when I accidentally met Dr Manjunath and his colleague there, all ready to help. This was the time the Department of Cardiology was not established at the GMC and we had to take patients for angioplasties and cardiac procedures outside the State. He did his super specialization in Cardiology under Dr Vivek Jawli, consultant cardiologist in Bangalore. Hearing the news of his death, Dr. Jawli posted a message, stating "Manju, who worked with me at the Cunningham Road Fortis hospital in Bangalore was an affable person and a keen student and a down-to-earth cardiologist. He will be missed dearly."
After super-specialising and honing his skills in cardiology in Bangalore, he came back to Goa and helped set up the Thoracic-Cardiology department with Dr Guruprasad Naik, Dr Sirish Borkar and others in a team. Over the years the department, due to its extraordinary team, flourished and built a reputation for itself, for the yeomen service it provided. Dr Manjunath Desai was made the professor and HOD of the department of cardiology under whom the DM, Cardiology super-speciality training was to be established. Despite his position, he was always down-to-earth and treated everyone rich and poor with equal attention and compassion.
Speaking at a condolence meeting in his honour at the GMC Dean Dr S M Bandekar said, "The loss of Dr Manjunath is a huge loss to the GMC. The very presence of Dr Manjunath in the Cardiology department would make people comfortable — we need to imbibe his virtues." Dr Guruprasad Naik said, "It's impossible to pay complete tribute to all the work he has done, the care he has provided to the people of Goa and beyond its borders." Dr Jagannath Kolwalkar, his colleague, described him quoting the artist Pablo Picasso, "The meaning of life is to find your gift and the purpose of life is to give it away…. Dr Manjunath found his passion in cardiology and gave his service to the people of Goa." Dr Anupama Borkar, consultant oncologist, fondly remembered Dr Manju's other side – he was a voracious reader, movie buff, trekker and his spiritual, "We feel like we have lost a younger sibling."
Cardiologist Dr Michelle and his colleague also emphasised how he would always inspire everyone to be the best version of themselves. He had keen interest in paediatric cardiology and had performed several complex procedures at the GMC and saved lives. Dr Mimi Silveira, former paediatrics professor, mentioned how he helped develop the services in paediatric cardiology, helping a lot of children who otherwise would have to go out of the State for management. "Knowing Manjunath, he would not like us to mourn, we need to celebrate the fact that we were a part of his life," she said.
Dr Manjunath was one of a kind, a gem of a person, a skilled cardiologist, a great teacher, mentor, inspiration for young doctors and above all a wonderful human being. His colleagues describe him as friend, philosopher and guide. He had a comforting smile and was always ready to help. His many patients share anecdotes with one of them about how he got down from a flight to attend to an emergency. He would be available round the clock and even when he knew he was not well, he continued with to meet his patients. He knew his own diagnosis when he fell ill being a doctor he also knew the implications. He fought his battle well with his characteristic smile. "I know my time is coming but I have to work," he would say. Dr Madhumohan Prabhudessai had the last word when he described Dr Manjunath as a "karmayogi."
I extend my heartfelt sympathy to his family, specially his wife Poonam and son Dhruv. May his soul attain sadgati. Dr Manjunath's life though short was very meaningful, he was a superhero, he will live in our hearts forever. In tribute to him we must ensure we adopt his values and work ethics. We need to continue his mission to establish the DM Cardiology department at GMC as the best. Dr Manjunath will surely continue to inspire us as a role model for students and he will forever continue to live in our hearts.
SOCIAL MEDIA MESSAGES: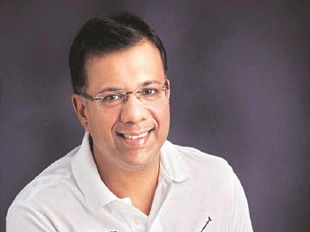 Deeply saddened & shocked to hear about the demise of Dr Manjunath Desai. It is not only a loss to Goa Medical College & Hospital, it is a personal loss to me. He was an exceptional and wonderful person inside-out who has touched so many lives & saved many precious lives. A great loss for the state of Goa.
— Shri Vishwajit Rane, Hon. Health Minister, Govt. of Goa