AT A CONGRESS PRESS MEET: Familiar stalwarts (L to R) Alexio Sequeira, Digambar Kamat, P Chidambaram, Girish Chodankar and Reginaldo Lourenco… old is gold or something like that, we are for Goa, by Goa and of Goa 100%!
By Pankajbala R Patel
THIS past week in Goa we've seen it all. Politicians of various political denomination have been rolling out the red carpet for the seemingly deaf, dumb and blind aam aadmi electorate (for only migrant slums and aam aadmi vote in this country, khaas aadmi bribes big-time)! A fascinating phenomena of "politricking" is on the rise with every political chota mota party desperately seeking to make the people believe in their promises and freebies which may prove to be real if they're lucky or half real or unreal if they're not so lucky.
Arvind Kejriwal of the Aam Aadmi party has been working hard for a piece of Goa for some years and his AAP is in aggressive mode (even welcoming aging corrupt Goan Romeo politicians into its arms). Then came West Bengal Chief Minister Mamata Banarjee who is liked a phuljadi spreading lovely light all around and distributing rossogolla promises of ushering in a new dawn and a "Goenchi navi sakaal" for Goans. It sounds very Chinese to me! But I'm truly half in love with her and think she would make for a far, far more decent prime minister than Narendra Modi!
But how can we forget the adventurous, sporting, fighting fit Congress leader Rahul Gandhi, who was here for a hard day's political campaigning. In between he happily accepted a motorbike pilot taxi man's offer of a ride, paid Rs500 instead of the Rs300 for the ride from Bambolim to Azad Maidan where he was scheduled offer floral tributes at the freedom fighters memorial…Congress workers, Santa Cruz band baja, waiting media…all waited for two sweltering hours, but it was no problem, life's a ball! I rather like Rahul Gandhi for all his Prince Charming ways he has come a long, long way. Never mind that his mama Sonia would like him to be the next prime minister (if Mamata-didi would be so kind as to allow in Delhi come 2024).
Last but not least of come to the unforgettable AAP's superman Arvind Kejriwal, on his third visit to Goa this year, waving his magic wand of tantalizing freebies. He is super salesman, truly politician extraordinary. After announcing 300 units of free power, waiver of old electricity bills, Rs3,000 to Rs5,000 doles to the jobless until they get jobs…this time around at his press conference at a five-star hotel venue on November 1, 2021, hold your breath, he announced Kejriwal's Teerth Yatra Yojana whereby the religious-minded in search of peace of mind, may go on free pilgrimages by A/C train with hotel accommodation laid on, all complimentary AAP generosity. Take your choice: Ayodhya to say hello to Lord Ram, Vailankanni to introspect, or Ajmer Sharief to book your blessings in jannat after life is over, or there is always the saint of Shirdi to go to cry one's heart out! Kejriwal said, don't knock it, 35,000 Indians have already taken advantage of these free pilgrimages courtesy the government (you mean the public treasury surely).
Sorry, I don't mean to be glib. But this is surely the first time in political history that a politician is offering such religious temptations in exchange for…er…votes! Call it whatever you like: religious blackmail, emotional bribery, political gimmick in poor taste, just brilliant desperate hitting below the belt. Who's not vulnerable to their bloody gods and goddesses in this country?
Of course most of us, we, the people of sensible intelligence, are sick, frustrated, angry with the ruling Bharatiya Janata Party as exemplified by Chief Minister Pramod Sawant (whose own former Governor Satya Pal Malik blew the lid of corruption scams during Covid-19 lockdown times and otherwise too, he and his ministers, this time corruption in Goa government made national news, everyone knows it now including Prime Minister Narendra Modi even if he wants whitewash it).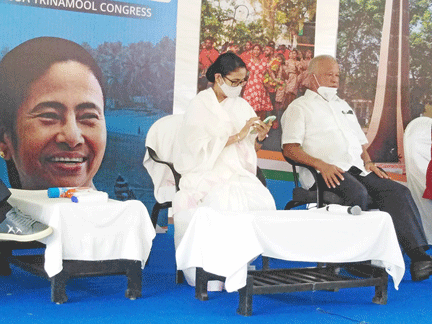 Also, many of us are not amused any more by a flamboyant prime minster who doesn't think twice before squandering several crore on statues of Sardar Vallabhai Patel, Adi Shankaracharya (at Kedarnath up in the ecologically mountains of the Himalaya), promoting his own aggrandizement with happy vengeance, constantly fuelling a run-away inflation in the country. On top of that how does it sound when his Home Minister Amit Shah is quoted around saying to hell with a country of illiterate people who are a burden on the public treasury or something like that (the cheek of that irony in our poor beleaguered, otherwise wonderful but long-suffering, forgiving country)?
For the last ten years the BJP government has been engaged in an orgy of filling up its own coffers as if it is a by the BJP, for the BJP and of the BJP private government, currently operating on a borrowed accounts. At a recent Congress press conference at the Congress House in Panaji a disgusted senior Congressman P Chidambaram (Union minister of Finance four times) described the BJP "as a party of defectors" and one cannot but agree with him, he is absolutely right.
The BJP in Goa is a party of defectors given the smartarse politrics of Manohar Parrikar and what happened in 2017. The Congress for all its shortcomings, including corruption, has a qualitatively superior moral conscience if I may say so. Corruption is one thing. But corruption, plus diabolical, subterranean communalism igniting the lowest common denominators of hatred for the minority communities of this country is a hornet's nest raising trouble big-time. Can this country afford it both financially and environmentally?
'SABSE BRASHTACHAR BJP'
— Delhi Chief Minister and AAP High Command Arvind Kejriwal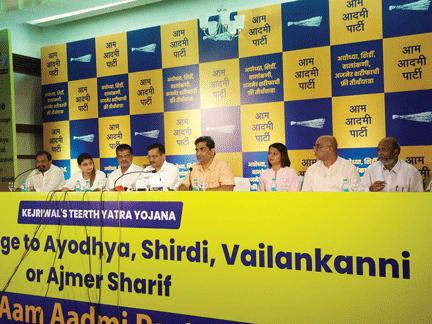 WHAT is likeable about Delhi CM Arvind Kejriwal is his easy to understand Hindi which even most Goan may understand. At his latest press conference in Panaji on November 1, 2021 he didn't mince words about BJP corruption driving inflation in the country. After wishing media people Diwali good wishes he concede that it was a bleak festive season with "zabarjast rozgari here to stay."
But there is no shortage of money, he said, when his government comes to power, the corrupt will be punished and there will be money enough to distribute to the poverty-stricken people of India – amongst other things he has already promised he now offered a third guarantee: comfortable free pilgrimages to the people who want to go on a tirth yatra to Ayodhya or Valannkani or Ayodhya or Shirdi, all expenses paid for, another freebie from AAP.
Do people fall for these freebies? You'll be surprised, he educated, In Delhi where the scheme was started three years ago (although it stopped during the Covid-19 lockdowns) they had financed 35,000 pilgrims who wanted to pay their respects to various famous shrines of this country. For AAP treating the people to such pilgrimages is "puny aka kaam" and Goans too may now take advantage of it the offer and start registering with the party. For the other freebies AAP has been offering "75% of Goans have already registered with us…out of this 30% is for berozgari." That is people seeking financial help to put together their broken lives.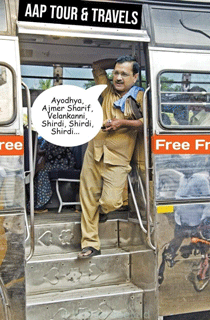 He promised an honest and government of integrity if AAP comes to power in the forthcoming Assembly elections, "Has the BJP punished anyone on corruption charges in the government for the last ten years?" According to Arvind Kejriwal the BJP tolerated Congress corruption as the Congress tolerates BJP corruption in high places, but if or when AAP comes to power it will put up all these cases of corruption and the guilty will be punished and put away. Something which practically never happens in this country!