A FIND AT CARANZALEM, AT THE CAFE A & C PEARLS… old fashioned Continental-styled baked potato spud and much else to beguile the palate!
By Tara Narayan
Eating is Fun / Eating is Yuck! – A variety food column
MY goodness, it was so good. This cheese spud which was put before me by a meticulous Anthony at Café A & C Pearls sometime recently…his wife Antoinette peeled the potato, brushed it wee-ly with butter and then baked it just so. The potato was crumbled gently while hot and a dollop of cheddar cheese stuffed into it, before it was packed back into a ball, a twirl of lemon basil sitting on it. I ate it like I'd never eaten anything like this ever before!
What is it? "It's a baked cheese spud and I first ate it in Germany and some places in Europe….you know how they are crazy about potatoes in some parts of Europe?" Yes, I know, I said as I looked into this perfect picture of an open window with sea surging in peacefully as if I was out at the beach on a hot afternoon, dozing off and on drunk on sunshine, wind and swaying coconut trees.
Café A & C Pearls has a comfy pub styled atmosphere and both Anthony and Antoinette do the honors with their selective menu in the evenings. A small pub then but they do not serve alcohol, they only serve a beetroot power juice, hummus platter, falafel with Lebanese or Greek yogurt dip (call it labneh if you wish, it can also be Turkish), a very flavorful and nutrient pack yogurt. Other things but talk to Anthony and he comes up with surprising suggestions based on his can do menu.
But for me it was the cheese spud all the way and after that I went back to get more of them – slightly redolent of butter baked potato, grainy, cheese oozing out, you may eat it hot or warm and dream of whatever you want to dream of. The spud bakes which are like but not fried are something desirable too, don't dare to call them French fries and Anthony will correct you gently, these are baked not fried please. I can't stand French fries but these spud fingers I relish on a lost evening very often these days…cheapest at Rs49 a portion. They have some Turkish coffee served up hot with two dates, you bite a bit of the date and sip your coffee as if to the manner born.
Instead of the lighter pitta bread he serves a filling fresh poie from the all-Goenkar bakery nearby…with the hummus platter laced with chopped tomato/cucumber/olives…drizzle of virgin olive oil. It's a bit heavy for me but I also love their poie stuffed sandwiches. The scattering of pickled beetroot livens up most everything to cleanse the palate in between whatever. Of course they do takeaways courtesy Swiggy, check out Café A & C Pearls pronto if you wish. It's my latest haunts these days and not just because I just want to sit besides the window painting of the sea! Check it out. How much the cheese spud? Rs115. Worth it, sometimes when very, very hungry.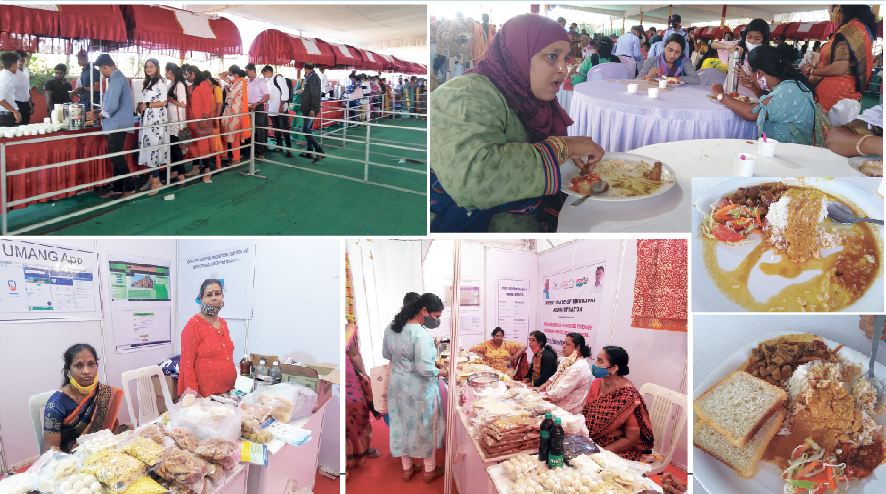 WHICH reminds me how potatoes are the most popular tuber veggie the world over including Goa and India. In Goan eateries everything begins with puri-bhaji, potato-bhaji dry or patal (with gravy). It's a standard dish. I can think of many people who're happy eating potatoes morning, noon and night – think German potato omlet roesti, think potato baked in jacket and topped with butter/baked beans/cheese, think of all time much loved mashed potatoes, think of a well made jeera-alu, alu paratha spiked with dry pomegranate crumble (as a friend of mine from Bihar does it), think batatvada, think rava-encrusted batat kapam, think potato kheer and potato halva. The problem is most of us can eat potatoes forever and I just love to lace my potatoes with chopped greens…be it fresh green coriander or fresh green dill, or fresh green parsley and nowadays baby herbal greens are all the rage of sweet pea, mooli, celery, etc. There is even potato cake and I wonder why nobody has held a competition with only potatoes playing kingpin or queenpin!
THERE is also a lot of history associated with potatoes if you think of the famine which drove the early Irish people of Ireland to leave their land and migrate to the new world of America…and the potato come to remember it, comes to us all the way from its native Peru where the Inca Indians first cultivated potatoes around 8,000-5,000 BC. In 1536 Spanish Conquistadors conquered Peru, loved native potato flavors and took them to Europe; reportedly, Sir Walter Raleigh introduced potatoes to Ireland in 1589 on 40,000 acres of land near Cork! After that of course potatoes never looked back and went on to become one of the worlds's staple foods.
AND now after my discovery of cheese spud at a local pub in Caranzalem I am thinking it's not a bad idea to adventure with baked and steamed potatoes (real name for slang spud) every day instead of eating rice and chappati! No more rice and chappati for me. Only lots of baked potatoes jazzed up with butter or olive oil or healthy greens….I've become a potato addict too belatedly at the tail end of my life.
Interestingly potatoes are called spuds in slang vocabulary. But by definition spud refers to a "sharp, narrow spade" used to dig up large rooted plants…and so spuds are colloquial slang English while potatoes are …er…more aristocratic language I suppose. In Scotland potatoes are also called "tatties" and in Ireland one may hear them as "praties, purdies or pirries." Irish history is very educative, my friends, make time to go read it up. The history of potatoes too is endlessly beguiling. Okay, no more.
I CANNOT do better than leave you with pictures of what all was worth buying out at the few stalls Goa@60 national parliament venue out at the Dr Shyama Prasad Mukherjee Indoor Stadium for five days, I'd just gone out to listen to the women's sessions and…when I got a headache listening to all the woman and some man talk, I cheered myself up at various government set up outside on the grounds. There were something like 3,000 to 5,000 women in attendance from Goa over and although food ran out lunch time on the first day, Chief Minister Pramod Sawant got to hear about it and the next day assured all the women there would be lunch served right up to tea-time the next day, so nobody is to go hungry!
Well, get an idea through some pictures here. Some women who were up in the gallaries complained that all they could hear was "double-double" talk and couldn't follow much of the talk, some said they didn't get their eco-friendly kit bags. Most had come by bus from faraway places Canacona, Sanguem, Quepem, Vasco da Gama, Margao …from the looks of it was a much needed picnic outing for many of them young and not so young.
Women's fraternity at its best, I dare say. I bought some amazing vegetable cutlets from one of the Self-Help Group stalls set up. And elsewhere discovered that indeed, there are lots of schemes which the Goa government has laid out for the people and women of Goa, if only someone influential would run interference for them to benefit from some of them! Given the sunlight, salt and time I have no doubt that women would do a better job than men at running the government. Would they be less corrupt? No, I suppose not, but that's really left to be seen, not all women are collectors like Jayalalitha or vain like Mayawati or there just because they're filmstars or wives, daughters, daughters-in-law or mistresses of male politicians and businessmen! So will women make for better politicians in our world? Take a look at the rest of the world in Germany and New Zealand and even when it comes to men, take a look at the lifestyle of the prime minister of Netherlands, Mark Rutte!