AT THE TARANG CHATURTHI BAZAAR AT DON BOSCO, PANAJI: The usual range of temptations to buy for the home as well as some new item numbers like foldable stools! There will always be Kerala stall with the familiar banana wafers, ginger-jaggery nuggets, Kerala halva… this time also some round biscuits called "khakra"! Women prefer to invest in nakli "gold" traditional design jewellery nowadays. The wafers in one of the pictures are called "caju" wafers in different flavors. Itsy bitsy fashion handbags are in vogue.
By Tara Narayan
Eating is Fun / Eating is Yuck! – A variety food column
WE as Indians I must say are great risk-takers. I mean the coronavirus of Covid-19 in all its deadlier avatar are abroad but we're all set to say boo to it! Curfew or not, tikka or no tikka, the usual air of getting together for the 9 to 10 days of Ganesh Chaturthi or Chavath in Goa is here, with Panaji in half or fully closed mode… Hindu Goa has gone off to its gaon or village homes for puja and other merriment, including catching up with near and distant relatives – for they will be all there in good times or bad times.
It wasn't much but this year there is some pre-Ganesh Chaturthi fever with several chota mota Chaturthi bazaar in Panaji and Mapusa. There was a Ganeshmahotsav at Kshatratej hall in Porvorim and one at the Don Bosco oratory over September 4-5 which was the easiest for me to go look, even if I wasn't shopping for much.
Things continue going from bad to worse and I hear of so many tragedies that I'm in no mood to celebrate anything! Still a little bit of me wanted to find out what's new in the Chaturthi bazars and every time I get amazed by the entrepreneurial spirit of folk. At the Don Bosco Chaturthi bazaar there were the usual glitzy gold costume jewelry (for those too scared to wear real gold these fearful insecure times, you never know kis ki nazar falls on your jewelry and I know a few women selling off their real jewelry for they don't want it any more. Then there were fashion garments along with the ubiquitous cotton batik house gowns-cum-nighties…there will always be self-help group women selling a slew of Chartuthi sweets and I always look for good desi ghee besan ladoo and a dry non-jazzed up chivda if I can find it; sherbats; matoli decorations which sometimes include artificial glitzy decorations and so on and so forth.
The Don Bosco Chaturthi affair was quite smallish this year and the one stall I was mesmerized by was the Kerala stall retailing freshly coconut oil deep-fried banana wafers (I always buy these and have seen the price go up from Rs20 to current Rs120 per quarter kilo but they're really buyable)…and then there's the tantalizing array of Kerala halva which I find so much more agreeable than the chewy Sindhi or Delhi halva (the first made of wheat flour the second of maida or so I think). Kerala halva is also done in coconut oil instead of dalda ghee which is terribly, odourously yuk if you're asking me. Give me Kerala halva anytime of badam and caju and pineapple, mango, dates and a few more. You'll be surprised how many folk in Goa love a good Kerala halva and I almost bought some but virtuously refrained, content to only taste what the Mallu boys here happily offered, "Taste karo, taste karo please, free mein!"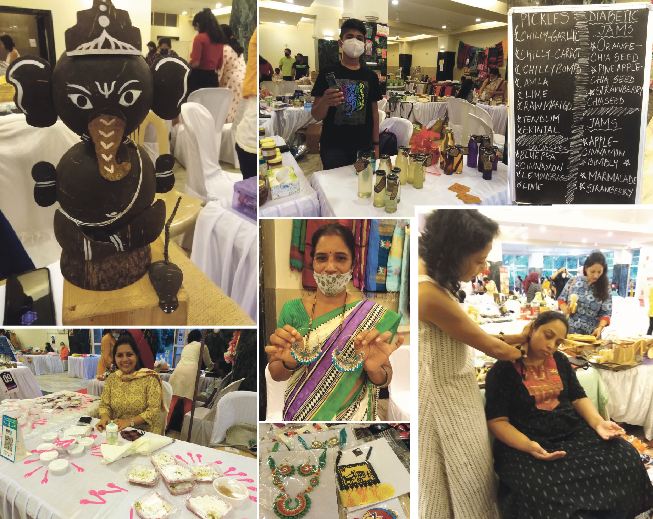 THAN friend agreed to ride out with me on my two-wheeler all the way to the much more classier sounding Chaturthi Bazaar organized at the Saffron Banquet hall in Duler, Mapusa by the Women Entrepreneurs Business Network (WEBN). Here was some interesting fare ranging from festive garments to hand-woven khun sarees, handloom silks, ethnic and trendy footwear or juti…handbags and accessories, personal hygience products, snacks and treats of Chaturthi time and what do you know if you got a headache because couldn't buy up everything, you could avail the services of Reiki healer here or learn some make-up tips from a cosmetics artiste there even hand Reiki healing for Rs50 an hour.
I'll come back, I said, and moved on with my friend Tasneem who seemed to know most of the women entrepreneurs here. This was a bazaar only for women so it had a kind of exclusivity and I was quite impressed and wondered if the women were doing good. Nilisha Ferrao of Narla coconut oil and products is doing very well and I love her organic cold-pressed coconut oil, the bottles are not ideal for pouring out judiciously though! I buy it because it comes in a glass bottle, wish its design would improve though for pouring efficiency for these expensive oils I don't like to waste through inefficient dribbling here and there.
Organic is really going places now promising no chemicals, preservatives, added colors and there's one more new label in the organic category: Rarearth. The label is retailing such things as khandsari/jaggery/brown khandsari sugar and natural honey, Rajma Harshil, Doon Basmati, Himalayan Masoor and so on. All of it first class stuff of course and to live for, yes, most of it from Uttarakhand.
Elsewhere there was make-up artist Nazneen Khan, she does bridal and party makeovers and it's amazing how a dull face can emerge as a glamorous one! Of course, looking good is part and parcel of feeling good. I am not for buying any of the pomace olive oils, they're really the dregs of olive oil production. Did you know there is something called reiki telepathic healing and there was Mitali Nath who was extending her healing touch to those in a mood to relax at this bazaar.
Divya P Walke was there with her costume jewellery featuring meenakari, pearls, kundan, bridal, temple, precious and semi-precious stones, silver, hand-made oxidised jewellery. The PYTs or pretty young things of today go for this kind of everyday jewellery. All this and much more: Did you know there is a Sarth Ayurveda Retreat in Sindhudurg now which offers the usual Ayurveda treatments of the monsoon time like Elakizhi and Sirodhara and full body massage with medicated oils called Sarvakaya Abyangam. I'd rather spend money on all this then buying trinkets and non-essentials for life!
Don't knock Ayurveda's benefits: It will help you reduce obesity, improve bold circulation, ease pain, relieve stress, improve skin tone, correct metabolism , recharge body and mind and more. I believe in Ayurveda as both a preventive healthcare system and a curative one overtime, even if it demands strict discipline.
What else at this most interesting of Chaturthi bazaars? I must confess I was impressed by this young 18-year-old Ashutosh Chari who is doing all coconut shell Ganesh presentation – most eco-friendly and outstanding. How much? I asked. Answer: Rs650. Shama Motiwala had some intriguing sweets I've never heard of before, have you heard of "kunefa" and "shlokum rolls"? She also had desirable gajar ka halwa and matka firni… and fresh milk cake.
A pity we went late and had to leave to return to Panaji before nightfall, I hate being on a two-wheeler on the highway after dark! And now there are these super flyovers and I misread one of the diversions and ended up on the Atal Sethu bridge for a long, long ride of madness…. missed the Panaji turning, and we had a hard time doing a U-turn to come back on the right route to Panaji.
We may have improved our roadways but have no sense when it comes to intelligent signage to prevent folk from losing track of their direction and destination. In most first world countries the signage comes up across the highway and there's no way one can miss it. With us it's become hi fi technology first, and gadbad gotala forever afterwards, if I may say so!
This is to say enjoy your Ganesh Chaturthi, eat a besan ladoo and don't forget to play it safe, we don't want a repeat of Kerala after Onam in Goa, do we? Remember Monster Covid-19 is still lurking around to harvest more good souls and it will be like that for some more time, don't take chances.