PRAKASH: In Andheri in Mumbai the slogan on everyone's lips was "Andhere mai ek Prakash, Jayaprakash Jayaprakash!"
By Anuja
It was Lok Nayak Jayaprakash Narayan who led the revolt against the increasingly dictatorial regime of Indira Gandhi. It may be recalled that when she was disqualified Indira Gandhi, instead of resigning declared an Emergency and jailed all Opposition leaders.
The tale of the two birthplaces, straddling a single village called Sitabdiara, sums up the forgotten legacy of JP, one of independent India's first pro-democracy heroes
Sitabdiara/Patna: There are no signboards on the broken stretch of road across the swirling Ghagra river to tell you that you are about to enter Lala Tola, a settlement in Bihar that claims to be the birthplace of Jayaprakash Narayan, commonly known as JP, the socialist leader who led a successful popular revolt against the imposition of the Emergency in India.
It's not the only such claim.
Less than 5km away, across another stretch of broken road, lies Jay Prakash Nagar, another small settlement, but falling in the neighbouring state of Uttar Pradesh. This too claims to be JP's birthplace and houses one of its biggest memorials to the man. While the memorial is maintained well by a trust, for the people in the area, it is no different from Lala Tola.
The tale of the two birthplaces, straddling a single village called Sitabdiara, sums up the forgotten legacy of JP, one of independent India's first pro-democracy heroes.
JP, also known as Lok Nayak (people's hero), is credited as the face of the people's movement, especially the youth, that sprang up to resist the Emergency rule imposed by prime minister Indira Gandhi on 25 June 1975. It grew to be the biggest anti-corruption movement in the nation.
A former Congressman, JP was at the helm of the anti-British Quit India movement of 1942 and founded the Congress Socialist Party (CSP). In later years, he was the dynamic figure around whom a young socialist movement coalesced in the form of the Janata Party, giving India its first non-Congress government in 1977.
Today's leaders in both Uttar Pradesh and Bihar, particularly current and former Bihar chief ministers Nitish Kumar and Lalu Prasad, claim allegiance to JP's anti-corruption movement.
But Jay Prakash Nagar and Lala Tola, standing in utter neglect, stand witness to the fact that JP has become a forgotten hero in a polity that rushes in to co-opt the legacies of leaders such as JP but shies away from developmental work.
"The entire second generation of leadership in Bihar has emerged from the students' movement during the Emergency. JP's movement marked a change in Indian polity. He worked for nation-building and here we have his so-called followers playing politics over his legacy and not doing enough in the name of symbolism," said Chakravarty Ashok Priyadarshi, a Patna-based social activist who was part of the Chhatra Yuva Sangh, the students' movement that worked closely with JP in opposing Emergency rule.
Two birthplaces
Sitabdiara is a large village, straddling two states and three districts—Chhapra and Arrah in Bihar and Ballia in Uttar Pradesh. Those who have known JP say that his house was near the banks of the flood-prone Ghagra river in Lala Tola, Bihar. Every time the river swelled, the house would get a little bit damaged, eventually forcing the family to move a few kilometres away to a settlement which is now known as Jay Prakash Nagar and falls in Uttar Pradesh.
But close associates and distant family members remain divided over the exact birthplace. While several national leaders have visited the memorial at Jay Prakash Nagar, former deputy prime minister Lal Krishna Advani chose Lala Tola to launch his rath yatra against corruption in 2012. Nitish Kumar has made regular visits to Lala Tola, especially on JP's birth anniversary.
Jay Prakash Nagar is home to an elaborate memorial for the socialist leader, including his restored house, a museum with his photographs and letters, a library named after his wife Prabhavati Devi and a mango orchard which caretaker Ashok Kumar Singh says has trees planted by JP. The memorial sits on 20 acres of land and is run by the Jayaprakash Narayan Trust which was founded by Chandra Shekhar, former prime minister and first president of the Janata Party.
"Everyone is bothered about their politics, their vote bank and their gains. People assume that we live in JP's village and so it would be a developed one but that is not the case. Every big leader has visited our village for photo ops but no one commits to develop the area," said Santosh Kumar Singh, a 32-year-old resident of Jay Prakash Nagar, who migrated to Assam for a job in the defence sector.
Lala Tola, which most people associated with JP say was his birthplace, has a bust of JP, his dilapidated ancestral home (overseen by the Jay Prabha Trust) and nearly five acres of barren land donated by the Bihar government. A memorial is supposed to be built on this piece of land, but all it has for now is a blank signboard.
The connectivity by road is poor and one of the only signs of development is the recently built set of public toilets.
"No funds have come here, neither for the village nor for Lok Nayak's memorial. No one in our age group stays back, everyone migrates to the big cities. I could not because my family did not have enough money for it. I don't think JP would have imagined this village in such a state," said 27-year-old Munna Yadav, a daily-wage worker who works in other people's farms.
The state of neglect is such that even the premises of the Mahila Charkha Samiti in the heart of Patna, the place where JP died on 8 October 1979, is facing an acute water logging and garbage crisis. Almost the entire neighbourhood dumps its waste at its front gates. Kiran Nath, in charge of the memorial, has approached almost every politician and the municipal corporation, but there is one thing she cannot get rid of—garbage.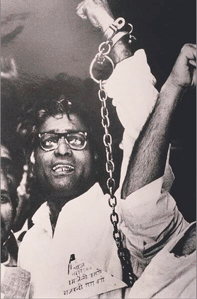 King without the crown
"There are several letters which JP wrote to Indira Gandhi and they all began with 'Dear Indu', except the one he wrote after the Emergency in which he said 'My Dear Prime Minister'," said Razi Ahmad, secretary at Patna's Gandhi Museum, summing up the relationship between JP and Indira Gandhi.
JP was 15 years older than Gandhi and, according to Ahmad, played with her when she was a child at Anand Bhawan, the Congress party's Allahabad headquarters. His "deepest regret" was that it was she who eventually got him arrested, an event which became the turning point of his career as a political activist.
Born on 11 October 1902, JP, also called the "king without the crown", spent most of his life in Bihar, barring a few years in the US, where he studied sociology and from where he returned to India as a Marxist. He joined the Congress party during the freedom struggle, was mentored by Mahatma Gandhi and spent a lot of time in the company of Jawaharlal Nehru, who went on to become India's first prime minister, and socialist leader and intellectual Ram Manohar Lohia.
His wife Prabhavati Devi was also a freedom fighter and spent many years in Mahatma Gandhi's Sabarmati Ashram. "JP was a very emotional person, extremely attached to his family. He sacrificed a lot, for his family and for his country and never saw his own interests," said Mitra Prasad, 65, who is JP's niece and is based in Patna.
Eventually, JP formed the Congress Socialist Party, a left-wing offshoot of the Congress party and played an active role in Mahatma Gandhi's Quit India Movement.
"After Mahatma Gandhi's death, JP used to hold a meeting in Sitabdiara in memory of Gandhi's work and values every year on 12 February. He was a very different person. He chose the date as it was the 13th day after Gandhi's death (30 January 1948—the 13th day is usually marked with mourning by Hindus in north India)," said Hari Vansh, a Rajya Sabha member from the Janata Dal (United), a resident of Sitabdiara and a former journalist who conducted JP's last recorded interview—for the Hindi weekly Dharamyug.
In 1974, when Indira Gandhi was in power, a number of political and social activists accused her government of fuelling corruption, unemployment and price rise of essential commodities. These culminated in a series of protests that JP led under the slogan of "Sampoorna Kranti" or Total Revolution—a call that caught the imagination of a generation of idealistic Indians.
On 25 June 1975, JP, addressing a massive rally at New Delhi's Ramlila grounds, thundered the iconic lines from a poem by Hindi poet Ramdhari Singh Dinkar: "Singhasan khali karo, ki janta aati hai" (vacate the throne, for the people are here to claim it). He was arrested on that night.
Recounting that day, Prem Prakash Verma, a retired engineer and nephew of JP who is based in Ranchi said, "The day he was arrested in Delhi, there was a complete blackout. I remember my father (JP's brother-in-law) calling almost every associate of JP to find out his whereabouts but people either did not know or did not speak up. We could trace him only after five to six days."
JP led one of the most powerful pro-democracy and anti-corruption movements in Indian history despite an illness that needed him to be constantly hospitalized. Besieged by the growing popularity of the mass movement led by JP, Indira Gandhi revoked the Emergency on 18 January 1977 and announced elections, which she lost, making way for the first ever non-Congress government in the country.
Courtesy:www.livemint.com