MORE EATING OUT PLACES IN PANAJI! Check out Copperleaf Taleigao which opened recently for business…spaciously designed and here's some fine dining. Extensive menu but fish thali meal deals are popular and you may choose your fish be it visvonn (kingfish), modso (lemon fish) or chonak (perch)! Don't forget to stop and look at the madhumalti blooms at the entrance.
By Tara Narayan
COVID or no covid every now and again I slip into my old habits of eating out as long as there is money in my pocket or bag. And it constantly baffles me how much eating out offers there are in life – like everyone thinks the fastest way to make money is to open a foodie operation to tempt people eat something or another and more and more. Be it common place but desirable or exotic and desirable or not desirable at all and yet we will still eat away like there may be no tomorrow.
Of course not all new eateries do well for the competition in this area is tremendous. Nowadays more folk are just opening kitchens to put to maximum use for catering up all kinds of dizzy-sounding snacks and meals for those who want only home-delivery. Just about everybody is into home deliveries and pay extra, no problem.
One wealthy friend of mine (I have many wealthy friends courtesy my profession as a lifestyle journalist) tells me she hasn't stepped out of her huge penthouse flat for the last two years except for going to hospital occasionally – otherwise she enjoys life with books, friends, doggies and feline cats, the husband lives his life in his own quarters, they meet over meals! Staff is all stay-in with their own quarters. They go out on errands sanitised and masked with orders to behave while out. The friend cracked over the phone, "It's better to be safe at home than run the risk of catching covid roaming out of doors like you!"
Mercifully I haven't caught covid yet, thank you my Lord; or maybe I think I caught in in fleeting symptoms a couple of times but it was nothing serious enough to make me rush off to the hospital. Some salt water gargling and jal neti saline nasal cleansing works for me fine. I dare say I'm blessed enormously for life is a daily miracle for those who are left high and dry…or so I blithely told my friend with my tongue well in cheek. These days I'm trying to learn how to make a fine art of being nasty to whoever upsets me without any justification!
BUT to continue with my return to eating out one morning after my 8am market trip down town Panaji, I gave in to the temptation of Kamat Hotel at Church Square where the shutters had just gone up by 8am or so…ah, this is an old favourite for catching a quick meduvada with sukka chutney, ignore the sambar, it's too spicy (it's hard to find a perfect veggie rich sambar except in my own home if I feel like making it). The Kamat Hotel waiter remembered me and gives me what I want for breakfast, never mind that a plate of medhuvada is now priced at Rs66.67, add on CGST and SGST at 2.50% (Rs1.67 plus Rs1.67) and round off to Rs70 – per plate of two meduvada.
But these meduvada are the best in town and the only ones in which you may find itsy bitsy coconut bits which I love to crunch into! (Sigh) I've seen these Kamat Hotel meduvada fluctuate in quality over time with changing times and cooks…but currently they're best value for money. I must not go there too often though for the weight is piling up in my mission to eat myself to an early and much deserved funeral.
THEN a friend told me one of my old favorites, namely Copper Leaf was in town Panaji at the Taleigao main road turn which I take every morning. Actually, I've seen this Copper Leaf coming up at this turn and once stopped to look closer at this exquisite version of fragrant madhumalti or Rangoon creeper perking over the entrance gate archway. It was not yet bursting into full bloom but I clicked a pic anyway. Later took a friend and went to check out the famous fish thali but found it not up to the mark as at the Porvorim Copper leaf. You have a choice of three fish thali meal deals at differing prices.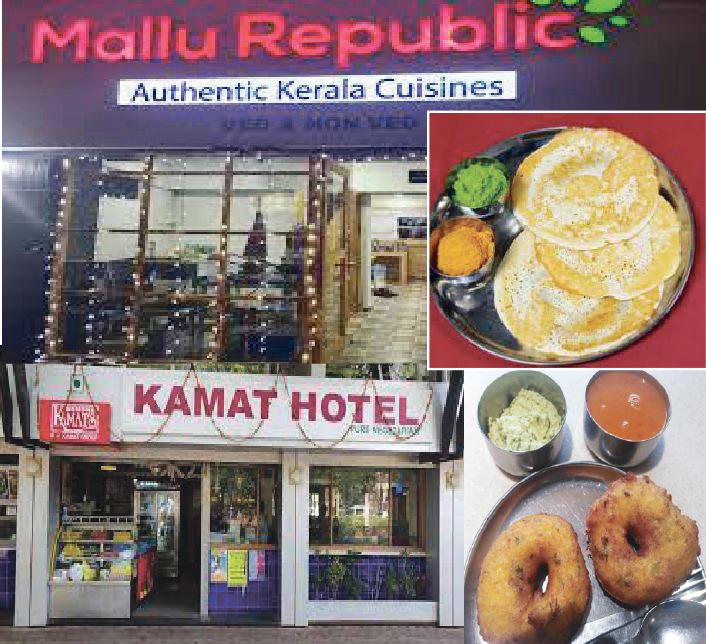 The Taleigao Copper Leaf is very nicely appointed and spacious and hey, the menu comes as a paper leaflet coaster at each table – really innovative and you can lost in the extensive menu forever! There's lots of seating place and one may rest and recreate with friends if not too crowded over meal times. It's open only for lunch and dinner (11.30am to 3.30pm and 7pm to 11pm). Must go again on my own for a better dekho…hey, those are very lovely wall décor flowers of paradise here. Go see if you take a shine to such things.
THEN I recommend my friend Golda Gonsalves' new eatery Yepah which does good tandoori fare by way of a whole lot of tikka and kebab non-veg and veg. Yepah is located in line with Hindu Pharmacy opposite Garcia da Orta Jardin….she is promoting chole-bhature these days and I found excellent tandoori roti here, and desirable corn cheese balls (Rs250 per eight large balls). Meat lovers have a choice of "special house kebab, chicken tikka, baano kebab, murgh kalimirch ka tikka, murgh malai tikka, reshmi kebab, chicken seekh kabab, chicken haryali kabab, murgh lasooni kebab, mutton seekh kebab…" and much more. There's vegetarian from the tandoor too, "paneer tikka, khandari paneer tikka, garlic cheese corn balls, dhahi ke kabab, veg seekh kabab, dahi ke shole…kathi rolls, tandoor platter, fish tikka, tandoori prawns, tandoori fish…." and "French Fries," of course. It's best to order in advance seeing how these days most of these foodie caterers are running on a tight budget and have no room for waste.
Golda is a great girl for chatting and cluing up, warm and ever welcoming. Which reminds me she makes some utterly desirable dark chocolate cookies. This is to say Yepah Tandoori is the best new place in town Panaji, check it out. Golda tells me, "Everyone is eating at home now so we are on Swiggy…this covid is a real pain!)"
Yes, people are afraid to go out eating (exceptional me). The five-stars are different, they have their own terribly upmarket clientele.
WHERE else did I eat out in my recent rebellious burst of eating out? Well, you may try the dahivada, tomato omlet, fruit custard at Sanyog – a favorite Udipi down town Panaji; Café Real is always welcoming with its batatvada and Goan samosa and high seating arrangement so no one may peep on you if you're hogging on puri-mushroom shagoti…and oh yes, have you discovered Mallu Republic at the Madhuban Circle at St Inez?
Mallu Republic is a bit of a brightly lit hole in the wall eatery with lackadaisical attention to too many finer points … but it does me fine. It's a popular for taking away "authentic Kerala cuisines." My favourite is the Kerala thattu dosa served with fresh coconut chutney, also the large usual slimmer dosa, and some flip flop appam-avial…I'm not into eating spicy fish curries of Kerala origins. I stop by here only when I think I have to catch up with thattu dosa for breakfast. No frills, you have to ask for service like "Give me a spoon, give me some tissues, give me some water to drink…more chutney please." Smiling young men, that's enough. Oh yes, on a good day here is the best sambar in town, lots of veggies in it!
Which reminds me I've been indulging in some of the best fresh toddy drinking, courtesy a newly made friend — but this I shall tell you about next week any time here.