GOA PRADESH MAHILA CONGRESS CELEBRATE INTERNATIONAL WOMEN'S DAY ON MARCH 8: With a get-together to honor the power of women! The women had a good time exchanging notes, sharing secrets for better grooming, a skit on how prices are making it difficult to cope with life…and much more as you can see here.
By Tara Narayan
THIS International Women's Day in Goa at least one hears it everywhere from women! Women are growing up and seeking financial independence from money at the very least. Their song is "I want to be financially independent, financially independent, financially independent first…." So that they are more or less free from men whose only agenda in life may be to just walk a woman up the aisle — to paradise or hell!
If it's paradise and life moves along "loverly" familiar patterns of benevolence, count yourself lucky….if not, there are any number of women now willing to speak over the table about how so many years down the road they feel more exploited, more lied to, more cheated, more robbed, more sexually abused, more tortured verbally if not physically and rest of it.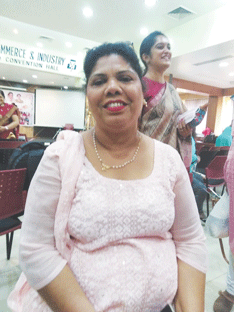 The culprits? Men naturally, although we also hear of horror women. The fact is most women who feel trapped in a myriad complex situations want out of misery, escape, freedom from situations which may be sad, bad, hellish in various degrees…nothing and nobody is perfect in life but when push comes to shove, all we seek is courage to walk away. Providing we have the only ingredient which is salvation – money or vitamin M or whatever else you want to call it. A home of one's own and enough financial resources to be happy are the only keys which help woman in trouble reclaim their life and to be free from accusations, guilt traps, emotional blackmail, what we hear over and over again from women increasingly on trial for choosing freedom over imprisonment in a suffocating marriage!
Nowadays it is not always death do us part either for men or women. One's heard it all before and this International Women's Day on March 8, at half-a-dozen various women's meets in Goa, where women and a few men got together to celebrate women, we heard several real life stories rooted partially or impartially in hidebound patriarchal rules and regulations. Here are some triumphant victories of survival to find happiness and peace of mind. At least there is some kind of a level playing field for women or so one hopes — not only in the letter but also in the spirit of the law.
Your parents are on your side. The law is on your side. The government is on your side. What more can women trapped in unendingly difficult, hellish situations and scenarios ask for? Yes, the question arises: Women have come a long, long way in the department of change for the better, but what about men? Have they too changed to keep pace with women as they demand enough equality, liberty, fraternity? Or will they continue to fret and sing equivalent male swan songs of I-want-a-woman-to-be-my-slave and no questions asked, please!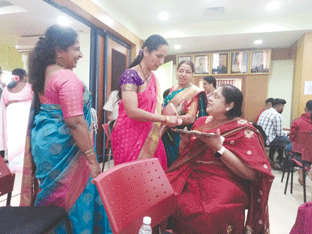 WHAT happens to a society when relationships between men and women break down, sometimes irrevocably? Is it fun for women and men to go their own way without impunity – men rarely have problems replacing women! Or is this just a modern myth? Women find it harder to replace men — if this says anything about the waxing and waning warfare between the sexes.
USUALLY, on International Women's Day it is mostly women talking to each other and listening to each other. This year there were a dozen odd events in Goa with women on the agenda and it was hard to decide which one to catch up with to find out what's happening in the world of women! A lot of good things are happening, at least in urban areas.
The Goa Trinamool Congress (whose patron guardian angel is the feisty West Bengal Chief Minister Mamata Banarjee) attracts many women members and TMC was celebrating International Women's Day at the Gomantak Maratha Samaj Hall in Panaji with lunch thrown in afterwards for good measure. Chief guests were retired SP Goa Police Anita M F Rodrigues and ex-chairperson of Women's Commission, government of Goa, Vidhya Gaude. Reportedly the function witnessed awards being given to several women who've broken the glass ceiling by aspiring for their dream professions as in hitherto predominantly male bastions of sports, aeronautics, science and research, etc.
I decided I was better off with the more earthy women of the Goa Pradesh Mahila Congress led by GPMC President Beena Naik, who told me, "This year I told my block presidents we don't want to do the talking. Let us do something different. Let us listen to successful women's stories from the women themselves…the women who hardly talk! We will encourage them to talk and listen, award them, celebrate in our own way."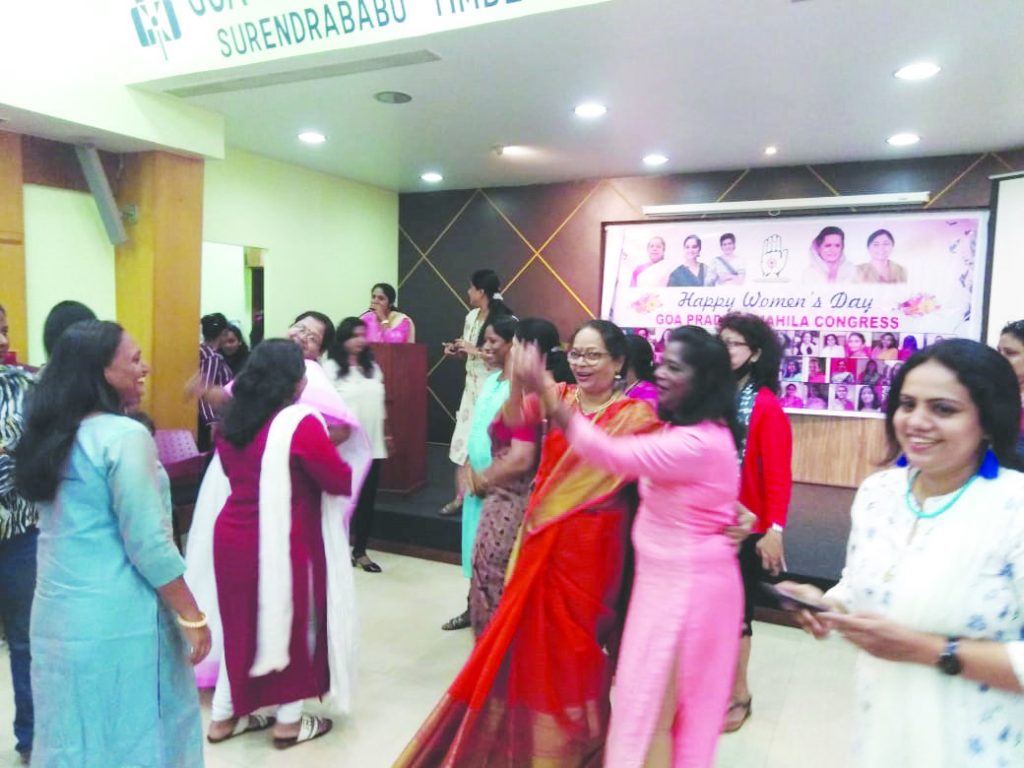 The Goa Pradesh Mahila Congress celebration at the GCCI hall was more or less an informal affair cheerfully on the lines of "Let's honour the power of women." The hall was packed with young and senior women of the Congress mahila wing, some of whom happily shaking a leg at the end of the function before lunch was served.
There was some talk too of a very agreeable kind. It was a story of "Today is my day" all around with chief guest Dr Seema Fernandes from Bangalore keeping it short and sweet, urging women to concentrate on finding their identity, she said, "Forget struggling! Remember Lata Mangeshkar? She made it through such hard times, remember the song, Naam goom jayega, ye chehara badal jayega…(from film Kinara)…' She too had to struggle! Another song to remember isAjeeb daastan hai yeh…'" Her message for women is life is full of twists and turns we don't understand but we must each find an identity of our own, meaning and balance in life. Women tend to live more for their families first and in the process often times get treated like doormats!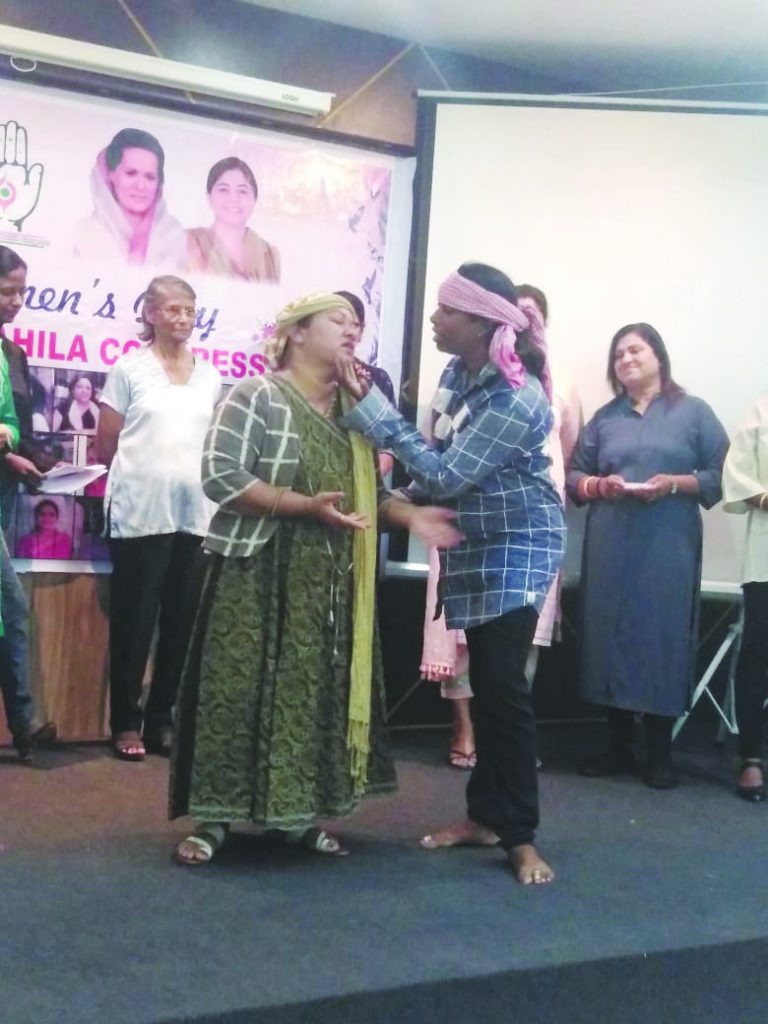 A most fascinating tribute must go to Carmelina Vas from Fatorda (Congress South District president), the proprietor of popular Cuts & Care Salon. Carmelina speaking from heart, reluctantly first, confided how she was married at 20 years, got her first child at 21 years, "My husband didn't want me to work outside the home and laughed at me…" But she used to hang around at a friend's beauty parlour helping her out sometimes and so she dreamed that she too could run a beauty parlour.
It was a struggle to train and raise the down payments for a place of her own, her elder son sworn to secrecy (her husband must not find out!). "My friend Rena was my teacher and we went into a partnership on a 50:50 basis, I told her you take the cash! At first I couldn't think that I could do anything to be financially independent…but soon I was able to give my husband money!" Today she has two salons, six staff and "and I am proud to say we get a clientele from respectable homes coming to us …madam or maid, we call all Ma'am and treat them to our best treatments.""
By the time Carmelina was 40 years she was a lakhpati several times, and "Now my husband is very proud of me! He says, Be proud of yourself Caarmelina!" In fact several of the women in the Congress mahila wing call on her for tips on how to present themselves better. Yet another speaker, again a cosmetologist, said: "It is important women look good, dress good, smell good – these are the three points of acquiring confidence. No woman is ugly in a mirror, she is beautiful but must do self-grooming. Smelling good is very important!" Some of her tips had many laughing, "You have dark armpits, apply lemon!" Also, coconut oil is good but apply it before you go under the shower.
There was an all-women skit presentation about the cost of living going up, a dance performance, and Roshan Desai recited a poem along which women may take inspiration from: "Mein ladki hoon, laad sakti hoon/Nahi samajenge hum aadhe aadhure,/ Mein khud mein hu poori,/Saath chalna hai to/haath badhana,/Peeche hatna muje manzoor nahi,/Main ladki hoon, mein laad sakti hoon,/Wakt aane se,/khud koh sambhal sakti hoon!" Awards were presented and the women were happy when GPCC President Girish Chodankar joined them later on in the half day celebrations and felicitations event.
The Congress president in his brief address congratulated the mahila wing for coming a long way. He said the government of Goa may be spending a lot of money on advertising but the Congress doesn't believe in advertising. It would rather spend money on empowering women! The function was very well moderated by Saee Volvoikar and one got to meet several other women who take their Congress membership seriously – there was Fernanda Colaco (state general secretary, mahila), Liberata Madeira (block president, Saligao), Rama Amonkar (vice-president, Madgao block), Pratima Bandekar (president, Madgao block), Deepa Dessai (block president, Cuncolim), Berta Cardozo (block president, Velim), Rekha Parab (block president, Mandrem), UrsilaCostas (block president, Canacona), Arlinda Laceerelar (block present, Quepem block) and many more including my dear friend Linda Diniz Braganza who is a fund of information.
The Congress Mahila wing is at least 1,500 to 2,000 strong, she offered to a query, "although nobody can tell the exact figure for it is constantly evolving!" It was time to say goodbye to catch up with more women's celebrations in town. There was the celebration function of the Azadika Amrut Mohotsav women empowerment, through traditional skill development programs, attended by Governor of Goa P S Sreedharan Pillai and First Lady of Goa advocate Reetha Sreedharan. These programs are conducted under the aegesis of the Dattopant Thengadi National Board for Workers Education & Development of the Ministry of Labour & Employment (government of India). Present at this IWD celebration were Regional Directorate-Goa Aruna Vishnu Wagh (regional director I/C) and Prashant Dyaneshwar (education officer).
ELSEWHERE there was the dynamic Gowomania celebration at ITC's Fortune Miramar where young women entrepreneurs shared their secrets of success in various business enterprises. Gowomania is reportedly one of the largest women entrepreneurs platform offering women start-up help to get into India's fastest growing retail company — "Naswiz retails pvt ltd." Women are into offering self-grooming products like lipsticks and decorative nails, some running playschools and a few of the women had put on exhibit and sale their products ranging from eco-friendly sanitary pads to classy cosmetic jewellery to eco-friendly cloth bags and some more.
Altogether one may say with satisfaction that it was a hugely happy International Women's Day celebration in capital city Panaji– in which women from a cross-section of Goan society participated!