OUT AT THE GOVERNMENT POLYTECHNIC: Observers, party representatives and media awaited with bated breath for the results of the polls on March 10, 2022
NEVER have I been so disappointed in political elections in Goa! This year's assembly election victories and defeats come across as a hotchpotch mess to me with several old venal faces, several unheard of names and new faces seeking to be public faces now…don't know about you, my dears, but I'm in the blue dumps of depression. For I think Goa's electorate was really looking forward to a fresh new dawn and winds of change all around. Congress deserved to win this time but the BJP will probably win till doomsday now!
So forget a fresh new dawn for Goa – which Mamata-didi's Trinamal Congress promised and better still Arvind Kejrival's Aam Aadmi party promised. A government free from corruption offering everyone a level playing field be they black, white, yellow or red, Hindu, Christian, Muslim or Buddhist, or agnostic, atheist, pure Mother Earth worshippers worshipping trees, flowers, stones, the rest of the residents of the good earth. You get the idea. As far as I am concerned Mother Earth comes first and Father Sky second.
It looks like corruption and unimaginable corruption is here to stay as former chief minister of Goa Laxmikant Parsekar told me while sitting outside one of the counting rooms at the Altinho-located Government Polytechnic College in capital city Panaji, where all the EVMs were carted up to be put on counting mode by a huge army of personnel moving to and fro. Said Parsekar who I find very approachable amongst politicians, "An unimaginable amount of money has changed hands. I don't think either the voters care or the political parties. Democracy is dying!"
(Sigh) To reiterate I too was looking forward to a sweeping change in the political scene, the kind Mamata Banerjee or Arvind Kejriwal promised but alas, it was not to be. These elections have been the same rancid pickle (as the late Manohar Parrikar would say) or maybe I should say old wine in new bottles and new wine in old bottles. No refreshing new dawn for Goa. Nothing is going to change except more development of the land grab and vertical construction kind till smart city Panaji starts falling into the Arabian sea half-a-dozen years hence….something fishy going on?
Of course, even in the media my friends think the AVM boxes could have been tempered to arrive at the fine margins of victory! When the electoral system starts stinking you may be sure we're on our way to become an oligarchy, an aristocracy, a dictatorship — like Russia or China or one of the banana republics of South America. Where a few obvious and not so obvious trillionaries or zillionaires with money bags stashed away pull and control the reigns of political power.
Who cares if the common people have decent potable water to drink or not, decent food to eat or not, a decent home to live in or not, decent roads or not, decent public transportation or not, decent gardens for rest and recreation or not, how the seniors of society are faring…all that is secondary, tertiary or further down the ladder of who you are, nonentity or VIP, VIIP or the Almighty Himself or Herself.
Well, this is to say, I don't know what the small non-godi media of Goa is going to do. Die quietly I suppose.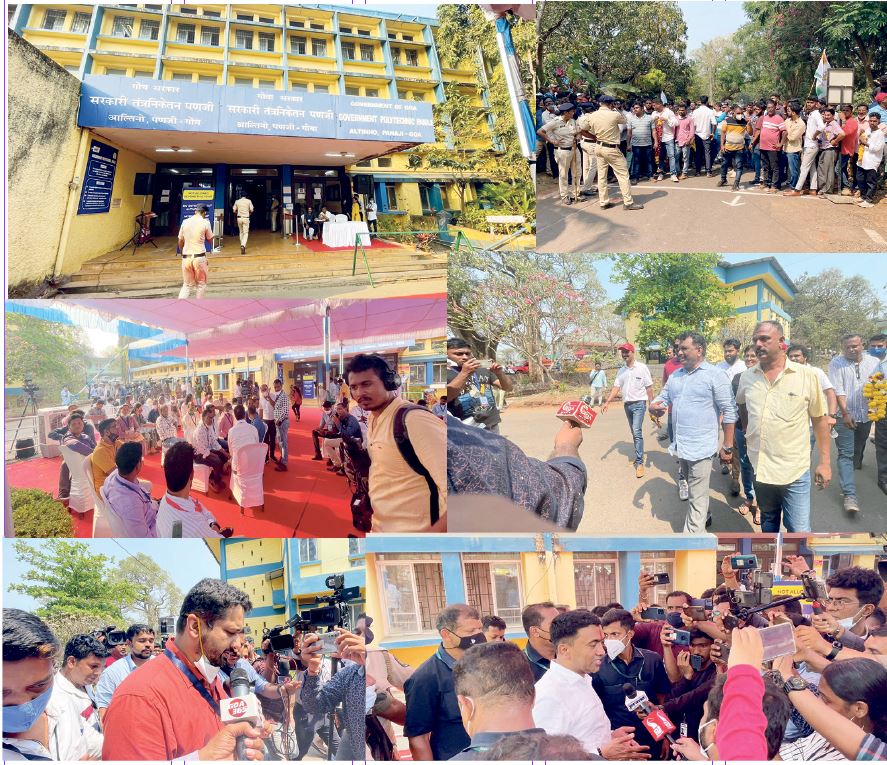 WINNERS ALL!
JUST to sum it up for you about who the winners are these elections for whatever it is worth (details elsewhere in this paper): The Bharatiya Janata Party just scrapped through with 19 going on 20 and this includes Pramod Sawant from Sanquelim, Atanasio Babush Monserrate from Panaji, Jennifer Monserrate from Taleigao, Mauvin Godinho from Dabolim, Nilesh Cabral from Curchorem, Vishwajit Rane from Valpoi, Divya Rane from Poriem, Subhash Shirodkar from Shiroda, Ravi Naik from Ponda, Premendra Shet from Mayem, Pravin Arlekar from Pernem, Rohan Khaunte from Porvorim, Ulhas Tuenkar from Navelim, Nilkanth Harlankar from Thivim, Daji Salkar from Vasco da Gama, Joshua De Souza from Mapusa, Ramesh Tawadkar from Canacona, Ganesh Goankar from Savordem, Govind Gaude from Priol, Krishna Salkar from Vasco da Gama.
The Indian National Congress winners are 11, namely Digambar Kamat from Margao, Michael Lobo from Calangute, Delilah Lobo from Siolim, Carlos Ferreira from Aldona, Altone D'Costa from Quepem, Kedar Naik from Saligao, Rudolph Fernandes from Santa Cruz, Rajesh Phaldessai from Cumburjua, Sankalp Amonkar from Mormugao, Alex Sequeira from Nuvem, and Yuri Alemao from Cuncolim
The Maharashtrawadi Gomantak Party's two winners are Sudin Davalikar from Marcaim and Jeet Arolkar from Mandrem, the Aam Aadmi Party's two winners are surprise duo Captain Venzy from Benaulim & Cruz Silva from Velim, Revolutionary Party has one winner in Viresh Borkar from St Andre, Goa Forward Party has winner Vijai Sardessai from Fatorda and Independent winners are three in all, namely Dr Chandrakant Shetye (Bicholim), Reginaldo Lourenco from Curtorim, Antonio Vas from Cortalim.
TMC went for a toss and I feel quite sad for I do salute Mamata-didi's spirit of never say die, a final press release from the Goa TMC says, "We accept this mandate with all humility. We commit ourselves to work harder to earn the trust and love of every Goenkar. No matter how long it takes, we will be here and we will continue to serve the people of Goa." Better luck next time, it's a long time away though as of now. I will miss some of the TMC folk for I had a soft corner for them!
FINAL blues: Indian political democracy is swiftly degenerating into family or biwi-bache politics. Three women have made it to the hot seats: Jennifer Monserrate, Delilah Lobo and Dr Divya Rane. It's left to be seen how much they liven up the proceedings of Goa's Legislative Assembly. Women politicians can make a major difference to improve quality of public life for the many but as we have seen our Jayalalitas and Mayawatis using and abusing power for their own narrow, petty aggrandisement with husbands and children treated with office of freebie profits and pelf only.
On that it is avjo, poiteverem, selamat datang, au revoir, arrivedecci and vachun yeta here for now.
—Mme Butterfly