BY THE SWIMMING POOL AT THE CROWN… in search of Shravan thali! No formal thali was served on Saturday and Sunday but we were happy with a la carte menu featuring a few Saraswat highlights like amadyachi udhamethi courtesy a gracious Executive Chef Kanchan Desai!
By Tara Narayan
DURING Shravan-ka-mahina many fasting folk try to catch at least one of the several Shravan time vegetarian thali meal deals offered at various celebrated and not so celebrated places across Goa. Naturally even non-fasting folk go along to enjoy or to treat the others who are fasting!
At one time several years ago when my friend Anjali Walavalkar, a most careful tried and tested garguti cook, pioneered the concept of a Shravan thali at the Royal Salute of the Grand Delmon in capital city Panaji; those days I used to fast and Mondays, Thursdays and Fridays and Saturdays would see me going along to enjoy my one meal a day with friends and colleagues, my treat.
Ah, those early days of the Rs100-Rs150 Shravan thali are gone and today the same thali are Rs350 to almost Rs500 affairs with add-ons. Some folk will add on a bottle of water before you notice it and charge you Rs100 for it on the bill. With time even the pious vegetarian thali meal deals are now hiked. My passion for the Shravan thali has dimmed over time but last week I couldn't resist pining for a bit of such timeless Saraswat cuisine classics as say mooga ghati or khatkhate or udidmethi this and that — and final piece de resistance, mangane sweet.
Going out to enjoy a Shravan thali meal deal is more fun but this season I hear most are ordering home, covid fears still in mind. My friend Sangam Dungat of Voltaire Suwadik Shravan meals usually posts me his weekly menu and Monday (August 10, 2022) I decided to order home. They were only doing deliveries, he said, and Panjim was on his list. So I ordered the Rs450 Shravan thali home and it arrived by lunch time, a bag full of half-a-dozen sealed aluminium envelopes (papad to say crisp) and another half-a-doen small and medium plastic containers – the day's menu featured "kelfull bhaji, moogagati, khatkhate, fodi,mangane, puri, amadyachi udhamethi, xit, waran, saar, sol kadi, lonche and papad."
The Voltaire Shravan thali meal was on the sweetish side what, I got just one measly small ambade (sour hog plum) in the otherwise generous amadyachi udhamethi!. Have hog plums become so costly this monsoon season? Anyway two of us shared with one eating very frugally and reluctantly and the remaining stuff popped in the fridge for me to enjoy for next day's lunch (in my lifetime of leftovers)! I don't mind, some leftovers do taste better the next day.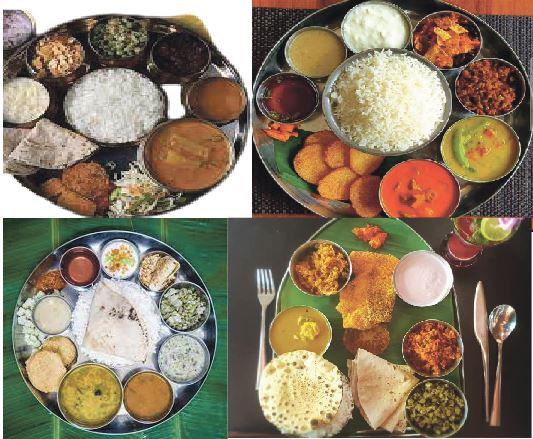 NOT quite satisfied with my Shravan thali meal home order, came Saturday I was in a mood to run away and decided to take my friends Barathi and Aparna and go have a bit of fun at my favorite place in all Panaji – the Harbour Café at The Crown which is perched high up overlooking the river Mandovi. They had advertised their Rs350 plus taxes Shravan thali and it looked most sumptuous in the picture. Except that when we reached there Sandip (who recognized me from the old Mandovi hotel days, what's happening to the now much run down historical Mandovi hotel these days, is it closed for good or selling out to the Big Daddy casino boss Gopal Kanda?) told me no Shravan thali. Why? They were doing it only for the week days and not weekend Saturday and Sunday! Then why didn't The Crown's telephone operator tell me this when I'd called to enquire about this? I guess I hadn't read the advertisement carefully enough either.
Anyway, all ended well on a high! For Executive Chef Kanchan Desai (also lately of the Mandovi hotel) is a good sport, he came to say hello and said, "Don't go away, there is no Shravan thali but I'm making ambade oodamethi for you." Chef Kanchan saved the day for us and we ended up with a Shravan thali a la carte with some Shravan highlights served including a most irresistible "ambade oodamethi" (the ambade or hog plums so tender they crushed easily in the mouth to release tart notes of deliciousness, yes, to live for). Accompanying stir-fried green peas sabzi, tamdi bhaji (red amaranth greens done Saraswat-style of course, tossed in freshly grated coconut) too were agreeable. I don't know what the veg caldin was doing on the table and thought it was a bit of too much but hey, altogether the lunch came together with hot phulka (three per serving, they could have done with a little more TLC though).
Bharathi realized she had a little dibba of mango shrikhand in her bag and took it out insisting we finish it as so much divine prasad, and forget about ordering dessert! We licked up the very good Punjab & Sindh mango shrikhand with a few extra phulka. So what is your regular Shravan thali, I asked Chef Kanchan, and he said they don't have a declared menu in advance but yes, Monday to Friday they're still doing their Shravan thali for lunch at Rs350 per head. It's over by end-August when Bhadrapad will be here with Chovoth. How about a chovoth thali? He smiled, there is no such thing. Everybody cooks at home.
THIS is to say it turned out to be a perfect afternoon out. The Crown venue is so appealing this cloudy, lightly rainy days, and I always like to catch up with the grand standing trees here, including a familiar much butchered imli or tamarind tree…my early days in Goa I could think of little else but coming up here for mint tea and veg sandwiches sitting out at tables laid out on the lawns overlooking the Mandovi river. I'd say The Crown has the best backdrop to click pictures and now there's Manoharbhai's final coup de grace bridge, the Atal Sethu in the near distance!
Remember how proud he was of his bridges and how he loved to give IFFI parties on bridges come November? Sorry to hear the Atal Sethu is a dismal pothole scam with some people stealing the Victorian styled lampposts! But to wind up with Shravan thali special here there are several high class and not so high class meal deals you may like to follow up.
The real upper crust place to go to would be Sapna Sardessai's Kokum Curry at Candolim. I hear she rolls out a veritable sumptuous spread of veg and non-veg thali meals and also one featuring the monsoon classics of traditional Saraswat cuisine. Everything is served meticulously with good sense in mind…the Sunday thali lunch and dinner meals feature no onion or garlic so you may take your conservative seniors along for a Shravan thali treat.
Executive chef out at the Kokum Curry is none other than Anjali Walavalkar so I imagine you will find such fare to savor as "moogachyo gaati, red pumpkin raita, ghosalyachi bhaaji, cabbage koshimbir, papdachi kismoor, xeet, voddiacho ros, khutti kadi, lonche, papad, ambadeachi karam, capsicum pakodas, chapatti" plus, plus…sweet something of chana dal, rice, coconut, nuts, infused with the flavor of fresh turmeric or turmeric leaf.
More exquisite touches to beguile the senses and palate. Funny or not funny, I WhatsApped Anjali for some information but she couldn't or wouldn't talk pricing! (Sigh) I always like my pricing upfront before I go anywhere. Needless to say Kokum Curry is on top of the list of tourists desiring to enjoy and understand the Saraswat community's appealing traditional fare. At one time I remember the Taj Vivanta in Panaji offered a superlative vegetarian Shravan thali, but I guess they're not swinging it this Shravan, or are they?
IF you feel like it make it to this most austere sounding Priti's at Durgabhat, in Ponda, to savour Shravan thali (Rs160 only), sounds like a simpler but satisfying version with the usuals of "dal, rice, chapatti, moogachyo gathi, karatyacho kuval, sukibhaji, bhajji, papad, pickle, sol kadi and kelyacho halvo" (no onion or garlic, lunch time only).