A CHOVOTH MATOLI…. to celeberate the bio-diversity bounty of nature in the wild. The canopy is usually made up of grasses, flowers, fruits, vegetables, herbs and much more, perhaps to give an idea of Lord Ganesh and his habitat in the forest of India.
IN recent years I have truly outgrown Ganesh Chaturthi in Maharashtra or Chovoth in Goa. Forgive me if I think there's just too much of Lord Ganesh dramabaazi or hysteria oozing all around me…if you're asking me, even if some will say it's good business and so many live off it. One lot of people must sell and another lot must buy for all to be happy!
In the rat race of commerce something goes for a toss for sure – I don't know why we can't be more humble and minimal in our celebrations seeing how the rest of the world and especially in Europe the people are facing such a hard time currently with soaring temperatures, the Ukraine fighting and so much drumming up of war hysteria.
We don't give a damn about what's happening elsewhere as long as it is not happening at our doorstep! It's an ostrich-styled attitude with heads perennially sleeping in clouds of …whatever vanities! But (sigh) so many have a soft corner for the elephant god of the Hindu pantheon and the legend behind it. We have all this tall talk of the first head transplant and so on and so forth in mahaan Bharat! It's a bit much to swallow all this drumming up of the past without taking cognisance of what's happening around us in the present – hey, it's not ache din for a substantial lot of folk, I assure you.
Come another Ganesh Chaturthi festival and I must say I'm torn in two, between taking some interest and taking little interest! At least I don't want to go goo ga over worship and sweets good, bad or ugly offered to Lord Ganesh and then devoured by juniors and seniors in every household.
Okay, I don't want to be a kill joy but there must be some progress in the ways we weed out sense from nonsense surely? Granted some amount of eco-friendliness has crept in nowadays with many purchasing clay idols of Lord Ganesh but these are not always painted with eco-friendly colors! In most homes I see various folk get stressed out over expenditure and how much and no more after that…the children of course may have a rollicking time.
All that's fine but I wish we would either stick to community/Sarvajanik celebrations or ghar ghar Ganpati. Sarvajanik Ganesh Chaturthi needs to be weeded out for its origins are really rooted in political history – they were a political rallying point once upon a time during the freedom fighting days. These mega public extravaganzas have been taken over and are financed by politicians of various hue to this day. And I don't see why we can't do puja to the very same Lord Ganesh idol most of us have at home year after year after year? I do, quite simply because I want to cut the cost of environmental degradation post-Ganesh Chaturthi visarjan when I have seen tonnes of broken Ganesh idols with accompanying paraphernalia washing up with dead marine life on the beaches…do we even see the contradictory ways in which we worship so blindly?
IRONICALLY, the wild elephants of whatever forests are left in our country may be dying because of their dying habitats (taken over by farmlands and people actually throwing acid on elephants when they come to raid their crops)…but we continue to worship our elephant-headed god Lord Ganesh in every puja and come Ganesh Chaturthi. So much for disconnect and dumb charades of religious rites if I may say so!
I SAY this every time Ganesh Chaturthi comes around but who cares. We are too busy living the good life in all the ways we can afford with royal blinkers on! And then come to think of it what are we celebrating – in essence we're celebrating the biodiversity of a generous Mother Earth from hoary times gone by when there was biodiversity to write home about.
In retrospect it is true and this is reflected in the matoli canopy everyone works on diligently whenever Chovoth comes around in Goa…basically raiding the abundance of green biodiversity around us as depicted in the matoli bounty of leaves and flowers, vegetables and fruit, berries and grasses – edible or not, medicinal or not. Matoli is a cornucopia of education as still alive in the womb and bosom of Mother Earth.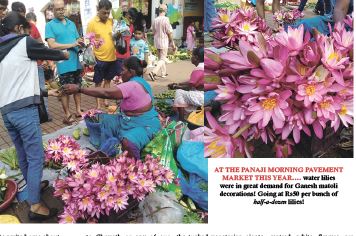 But Mother Earth's biodiversity is now under stress and we know it as our green jungles give way to concrete jungles and all we can do is remember out green water-food-life giving forests come Chovoth or Ganesh Chaturthi! I just wish much of the nonsense would go out of so many of our celebrations as a mark of respect and awareness of what's happening the world over. People at large are actually suffering and paying a heavy price in terms of life, home, freedom to live in peace and in abundance of what is essential….
So, make it austere, make it short, make it more eco-friendly. That's what I would say when it comes to Chovoth or any of our endless one after another celebrations. But who's listening when most Goans love to go home to their ancestral homes for ten days or so to catch up with family and Lord Ganesh stories and rites of feasting on different days of the festival.
A friend of mine has been cluing me up about the nitty gritty of a real educational Chovoth as a paen to worshipping Mother Earth (never mind the crass modern introductions)…in traditional country homes long ago she says, it's basically the agricultural community paying its respects to the bounty of the earth and the stories of mahadeo and the goddess Parvati and their son Lord Ganesh, Hinduism's iconic elephant-headed god without whose invocation nothing new may commence.
In the old days it was all about making riverside clay idols of Lord Ganesh and worship revolved around parents Parvati and Lord Shiva too as represented by bundles of leaves, some moulded into the deities. Enter the "patri" in every Lord Ganesh puja – essentially 21 leaves wrapped in a large leaf. The "patri" is a key feature of any Ganesh puja (in memory of the tusked vegetarian giants who survive on the verdant greenery of the earth) and all this is reflected in Goa's matoli during Chovoth.
Chovoth begins with the evocation of Lord Ganesh's parents, Parvati and mahadeo (Hartalika puja) and then the subsequent days recount other significant stories from the Hindu pantheon of divinity. In general I think mahadeo is represented by coconuts (the coconut being the fruit of the kalpavriksha or wish-fulfilling coconut trees of our tropical landscapes). Goddess Parvati may be a bunch of the bright yellow flowers of the sonki, very elegant graceful flowers redolent of sunshine…amongst leaves there will be the leaves of the mango tree, areca nut tree, coconut tree, tulsi leaves are of course mandatory and then there are other leaves and not to forget 21 durva grass sheaves which are considered so sacred to Lord Ganesh.
Anyway, 21 is the auspicious number and all things bountiful must be in 21 presentations or something like that. You better also know the 21 names of Lord Ganesh if you're performing a puja! Other leaves I can think of to take an interest are the leaves of the banana palm, the bilva, bramhi, waterlily, lotus, banyan, parijat or harshingar (such sand-papery leaves although the scented saffron-centred white flowers are precious in Lord Shiva lore), jujube, shami, kevada and some more, keep counting. Arjun and arbi and peepal, betal and turmeric and the exquisite leaves of the glossy hibiscus…so this is to say it is Goa's matoli presentation which really gives one an idea of what kind of biodiversity still exists at the bosom and womb of Mother Earth…the good earth, how fertile and therefore, how nutritious the food we grow in it which determines the quality of human health and indeed, all life on earth.
SADHGURU Jaggi Vasudev of the Isha Foundation is right, we better look at the conservation of our soil in Goa and in India. Remember all this while you're praying to Vighnaharta Ganesh (the remover of all obstacles) this year or it will be yet another one of our innumerable festivals we are losing track of in our speedy Gonsalves urban lives! It is time to get back to real respect, conserving, not squandering the wealth of life on earth.
ON that note it's avjo, poiteverem, selamat datang, au revoir, arrivedecci and vachun yeta here for now.
—Mme Butterfly