SHOCK: The demolition of the twin 40 storied supertech high rise towers in in Noida, in nine 12 seconds, has shocked the construction industry which never thought tht the state government will have the will to do it, demolish such huge illegal structures. Perhaps after this exampl there is hope that the Gera Towers at the Kadamba Plateau which came up allegedly against all kinds of flouting of rules will also be demolished with such high tech precision to warn the building boom going on in Goa; reportedly, the tallest building in Goa is coming up at the Patto Complex and it is likely to go up to 40 storeys and that too on what is primarily soft agricultural riverside land prone to flooding.
By Sukriti Vats
In the first ever scientific demolition of illegal constructions two multistoried towers in Noida weredemolished in 12 seconds in a controlled high tech manner. The demolition was carried out by Asgari Saifi who specialisesi n such precise pin point demolition of buildings without effecting neighbouring structures.
People who watched the demolition live believe that this would set a "precedent for land mafias". Noida Authority official said a boundary wall of a nearby society was alone damaged.
A cloud of smoke engulfed Noida sector 93A at 2.30 pm Sunday, but for barely a few seconds. With a loud bang, Noida's Supertech twin towers — Apex (32 storeys) and Ceyane (29 storeys) — were turned into rubble after months of preparations, 3500-kg explosives, and expenses worth Rs.500 crore. With this, a decade-long battle between the residents of Emerald Court and Supertech Limited officials came to an end.
Hundreds of spectators had come from in and around Delhi NCR to watch the demolition of the two towers. Some were delighted to witness the collapse of the two buildings, which were the tallest in India to be demolished, while others were disappointed that it didn't meet their expectations. But, there was one thing everyone agreed with: this will teach corrupt officials a lesson.
Ranjana Shrivastava, a resident of Divine Tower, which overlooked the Supertech buildings, was shaken by the blast as it was "quite loud" and "affected her ears." She had an affinity towards the two towers as she lived nearby and regularly saw it on her walks to the park.
"It was quite majestic. I felt bad about its demolition because I had got so used to its presence. But, this action was needed to teach all the builders a lesson, so that such a thing would not happen again," she said.
'A precedent for land mafias'
Naresh Singh from Ghaziabad, who is in the construction business, had come to Noida 93A to witness the once-in-a-lifetime moment, and was enthralled watching the building collapse. He believed that this incident would set a precedent for "land mafias."
"At least now, the land mafia will get a lesson because they make these illegal structures on government buildings that is not good. People living nearby and those living in smaller towers get affected. This demolition will put a restraint on that," he said.
For Asgari Saifi, the demolition of the building was nothing out of ordinary and was too uneventful.
"I had come an hour ago to see how the government was destroying the building because it was built illegally. People were saying heartbeat will shoot up; fear will increase, a lot of smoke will come, but nothing like that happened. The whole thing got over within three seconds and they were saying it would take 15 seconds. The smoke also didn't travel very far. It remained only closer to the building and in 15-20 minutes everything came back to normal state," she told ThePrint.
According to an Edifice official, no damage was caused to residential towers adjoining Emerald Court after the Supertech twin tower demolition. However, Ritu Maheshwari, CEO of Noida Authority, informed that a 10-metre-long boundary wall in a nearby society, ATS, was damaged after being hit by the debris.
"No information of damage from anywhere other than this has been received," Maheshwari said.
Why were they demolished?
Initially, the real estate giant Supertech was granted approval by the New Okhla Industrial Development Authority (NOIDA) to build 14 towers with nine floors each, along with a shopping complex, and a garden area in 2005. In 2009, it revised its project to add the controversial twin high-rise buildings. Despite the NOIDA authority giving it a go ahead, it was objected to by Emerald Court Owners Residents Welfare Association (RWA), who moved to Allahabad High Court in 2012.
The residents had argued that the construction was illegal and asked for its removal. The Allahabad HC, in 2014, ruled in their favour, and ordered for demolition. However, the Noida authority and Supertech approached the Supreme Court challenging this order, which was upheld by the apex court in its ruling given on 31 August 2021.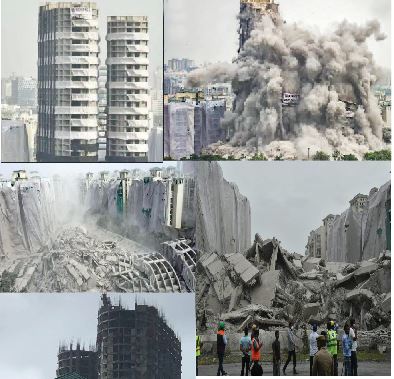 The court, while sanctioning the demolition and prosecution of officials involved, contended that the towers were built through "acts of collusion between the officers of NOIDA and the company" without adhering to the building regulations and fire safety norms. Additionally, the modification of the plan — removing the garden area was done — without the consent or knowledge of the flat owners, breaching the Uttar Pradesh Apartments Act, 2010, among others.
(Edited by Siddarth Muralidharan)
Courtesy: The Print