SHOCKING: Amish, author of popular Hindutva books, projects anyone with disabilities (including Lord Ganesh) as Naga!
By Rajan Narayan
Amish (Tripathi), author of `Raavan, Enemy of Aryavarta' insults people with congenital defects as Naga people, in his books they are depicted as monsters living in the forest of Dandakaranya.
3,400 BCE, Salcete Island, West coast of India. This is the setting of the latest book of Amish (Tripathi). He is the runaway successful author of stories seeking to justify the criminal acts of the Sangh Parivar! Author of the Shiva series and more recently the Sita series, the Pushpak Vimaan, supposed to be the bullet proof personal aircraft of the Sri Lanka king, Raavan and his brother Kumbhakarna.
Through some flight of imagination our author Amish landed in Salcete, Goa, in search of warrior god Parshuram. We hope he was not here to look for Radharao Gracias, the author of a new book on Goa titled "A Short Cut to Tipperary" (reportedly about modern day migrations to Goa).
The official reason for Amish's book "Raavan" is that we were searching for Ram and Laxman. Raavan had kidnapped Sita and Ram and Laxman are hunting for her. This Amish series are all about re-imagining Hindu mythology and its stories to fuel modern wish-fulfillments of the Sangh Parivar!
We find the most objectionable part of this series of re-imagined stories written by Amish is the claim that all those who were physically or mentally disabled were sent to the Dandakaranya as exiles of a lower order, the equivalent of present day Nagpur presumably. Or even further down to the Dravidian areas of our south India.
This reinforces the BJP claims that the northern states represents the Aryan states and that the southern states are second-class Dravidian citizens. While those who may have been born with defects at birth among the poorer classes, who were automatically killed or exiled as Nagas, the children of the richer classes were protected.
According to author Amish even Parvati, the wife of Shiva, was a Naga. Shiva himself is reported to have come to India from Afghanistan and acquired a blue throat because he drank some poison. We have here hoary mythology masquerading as brilliant writing to brainwash the stupid modern-day people of Bharatdesh.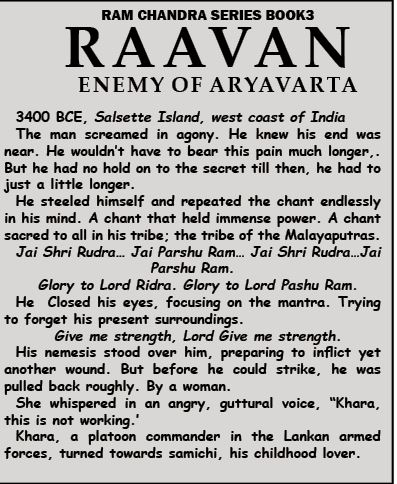 GANESH CHATURTHI
NOW that Ganesh Chaturthi is just over we should take stock of all this kind of writing being churned out for our youth to devour. We in Goa or in the Konkan states have to take note of the claim of mythology interpreter Amish that Lord Ganesh was a Naga. Narendra Modi may even if jokingly boast of Lord Ganesh as an example of the ancient Bharatdesh's first successful head transplant. Surely, it is an insult to Shri Ganesh to call him a Naga? Which effectively means that Naga are born with congenital defects. So much so the trunk of Ganesh and the head of Ganesh are not part of the divine benediction of Lord Shiva but a sign of defective birth. This is certainly an insult to Lord Vinayaka.
Amish makes it very clear that he considers everyone born with disabilities at birth as Nagas. This includes Sri Lankan King Raavan and his brother Kumbhakaran. The Sri Lankan king is supposed to have a band around his abdomen showing a major defect. As far as Kumbhakarna is concerned he is supposed to have oversized ears and a very hairy face. The Sri Lanka brothers of course, hide the fact that they are Nagas from everyone.
The hero or heroine of the latest fantasy of writer Amish is interestingly not Ram or Raavan but Sita. The book itself is titled "Raavan, the Enemy of Aryavarta." The entire plot is alleged to have been contrived by Rishi Valmiki. The new character introduced in Amish's latest book is Kanyakumari. She is supposed to be the most powerful of all the goddesses because she is a virgin. But she remains a powerful goddess only till such time as she retains her virginity.
IT is clear that Amish has no sense of geography. In the first place it is extremely insulting to call an entire community predominantly concentrated in the north-east as Nagas. What is worse is the claim of Amish that all the Nagas are born with birth defects. In Amish's book story the Nagas are not located in the north-east but in western and southern India. They have nothing to do with the northeast. Considering the incumbent President Droupadi Murmu, is a tribal herself, she should impose a ban on all the books of Amish which purvey such literary rehashes recycling the names we're familiar and fed with as religious mythology to promote political casues.
The latest Amish book has distorted Indian oral mythology/written history as we presume to know it. But this kind of rehashing is common in this writer's series of novels (fiction or non-fiction). Amish begins with an unknown Afghan coming down to India with a blue throat. Apparently the result of drinking some poison. He is projected by some local vested interests as the successor to Vishnu, who is supposed to be the king of kings. The Shiva series is all about how he finds himself accepted as the leading spiritual figure.
Though the first book makes a mention of Shiva falling in love and marrying Parvati, there is no mention of Ganesh. The Shiva trilogy is also a story of a war literally between the north and south in the sub-continent.
SITA SERIES
THE Sita series is relatively a new concept focusing primarily on Ramayana interpretations. I presume it is an offshoot of the demolition of the Babri Masjid and the building of a new Ram temple in Ayodhya. Amish, who is a smart marketing author, has now chosen to focus on the story of Sita and Ram.
What I don't understand is how he seems to have less regard for Ram than Sita. According to Amish the next Vishnu or the head of the trilogy of Hinduism, Brahma, Vishnu and Shiva, will be not Ram but Sita!