At the Youth Hostel Miramar in Panaji…Sports & Youth Affairs Director Ajay Gaude (second from left) tells the gathering of managers that youth hostelling is going to be upgraded soon! Looking on are Panaji Youth Hotel manger Anant Joshi with other office bearers.
A VISIT to the Youth Hostel at Miramar beach in capital city Panaji always stirs up memories of my once upon a time trysts with the National Himalayan Trekking Programs in the 80s when I lived in Mumbai that was Bombay. For 30 years I was a Mumbai woman and still am, whatever that means I'll share another time. It was thanks to these economical NHTP treks that I got to see lots of places in India from Kashmir (Dachigam wildlife sanctuary to see the last hanguls in the valley), to Himachal Pradesh (across Chanderkahani and other mountain passes) to Kinnaur another time to see the Kinner Kailash), to the Pindari glacier and Yamunotri…Uttarakhand, Rajasthan, Gujarat (a Lakhpat to Lakhpat trek across salt desert and ending up sleeping in sand dunes at the only marine life sanctuary off western Gujarat near Porbandar/Dwarka), and even Goa (where a trekking program took us across the Dudhsagar waterfalls to the Devil's Canyon)…mountains of the Himalaya trekking years were my happiest years in India.
Did you know that in India there is a sizeable network of hostels where young people (and also not so young people) on a shoestring or a limited budget may stay to enjoy their holidays? I have stayed in some of them at different times during my junketing around the country and have happy memories of the Youth Hostel in New Delhi and other places.
I learn now that the Youth Hostels Association of India is different from the NHAI which became an independent NGO some years ago. Nevertheless, recent homework brought to my notice that there are something like 83 government hostels in India which may or may not be affiliated to something like 5,500 youth hostels private and government-run in other countries for budget tourists.
The government-run youth hostels are very useful for young travellers and I have always been grateful to them; never mind that those come in terrible "bhoot bangla" mode for they're located in old mofussil areas and buildings. But I have always felt safe in them as a woman traveling alone very often, one got a clean enough bed, decent bathroom and food facilities…sometimes one also teamed up with other hostel travellers from abroad and learned interesting things from them. One German tourist I remember had a battery-operated fruit drier in her backpack and she popped some apple slices in it and out came perfectly delicious crisp apple wedges! I was zapped to say the least here.
I REALLY do not know what the state of India's hostels are currently but some of the managers at the venue of the Panaji Youth Hostel, here for training conference over Sept 22-23, 2022 were inspired by the motivational words of Director of Sports & Youth Affairs (Goa) Ajay Gaude, who inaugurated the Youth Hostels Managers Conference (West Zone) and clued them about forthcoming sports events happening in Goa. Youth Hostels come under the Ministry of Youth Affairs & Sports and whenever there are sporting events most sportspersons are put up in the State youth hostels.
Ajay Gaude commented that he didn't know if the Panaji Youth Hostel was an ISO-certified hostel or not but he has been talking to Chief Minister Dr Pramod Sawant and plans are on the cards to upgrade the Youth Hostel in Goa. The managers present welcomed this for presumably this will also apply to all other youth hostels of India!
The genial Mysuru/Tirupati Youth Hostel manager P Mohan Reddy, cleared some of my vague or fuzzy ideas about where youth hostelling stands in India today. Some hostels are located in beautiful locations and much sought after by budget travellers. He tells me that the whole youth hostels movement actually started in the old Mysore and here is still the oldest Youth Hostel in India, "The Mysore Youth Hostel is the first in India for it opened in 1949…and it continued to be the headquarters till 1977 when that status shifted to Delhi. We still offer accommodation to students and foreign tourists at Rs150 a day, you will be surprised to know. We have youth hostels in Mysuru, Hassan and Rameshwaram…you come visit sometimes!" Never mind that I am a young senior citizen now, I quipped!
Out of the 83 government run Youth Hostels in India some of them are much loved like the ones at Dalhousie, Puri, Shillong, Bhopal. A pity I didn't stay and talk some more to the YI managers or representatives here in Goa for the conference; according the Panaji Youth Hostel's in-charge Anant Joshi the conference would see discussions on such things as the "effective housekeeping practices, upkeep of hostel and entry records, the importance of basic fire-fighting equipment, maintenance of property and grounds, sales of souvenirs and some more things." A Sachin Sunthankar would be speaking on the subject of ISO certification and a Dr Renuka Honnali would be conducting meditation/yoga/shramdan at the YH premises.
Well, I wish the Youth Hostels of India well and hope they get what they need to upgrade themselves! The Youth Hostel at Miramar Beach can do with refurbishing, a better kitchen maybe and more staff, although I am not sure how well used it is despite its stunning location by the river Mandovi and wonderful garden compound, skating rink, and a fairly new Sports Stadium right next door.
In the meantime let me catch up with what's happening to the National Himalayan Trekking Program which hasn't come to Goa for quite some time. This was a program very dear to my heart. I still remember old-timers like NHTP chiefs Naresh Sharma and Harish Saxena later who were in charge of conducting the NHTPs for years on end in the 80s/90s…where are they now? Is Manoj Joshi still here in Goa?
I bumped into Naresh Shetty of Lighterature Photography and he confirmed that the NHAI is now an NGO in its own right and Youth Hostels of India (83 of them now in India) are a separate entity under the Sports &Youth Affairs Ministry. He was at the conference to talk on the subject of how the YI could do effective publicity through social media, website, You Tube, Twitter, etc. Naresh has also promised to clue me up some more about today's life and times vis-à-vis digital media on the go, I think I can do with some training in digital media myself!
TO MOVE on to another subject I am happy that my friend Parvish Andani Kamat has started her first eTechSkill Academy centre at Miramar and it was inaugurated by one of our most debonair and more likeable ministers, Minister of Information & Technology Rohan Khaunte, on August 29, 2022. The government itself is working on providing digital services to all strata of society, said Rohan Khaunte while congratulating Parvish on her new much-needed venture.
I have known Parvish for many years and consider her a friend, she's one of the best in the business of public relations, a professional to her fingertips…this is to say one of her new eTechSkill Academy programs is for senior citizens who feel challenged by digital technology and want to learn more about how to make better use of their smart phones. There is so much to technology and although I am for drawing a line on how much technology (I don't want 5G!), I guess the smart phone in hand is our first robot, and even then I prefer working on a computer.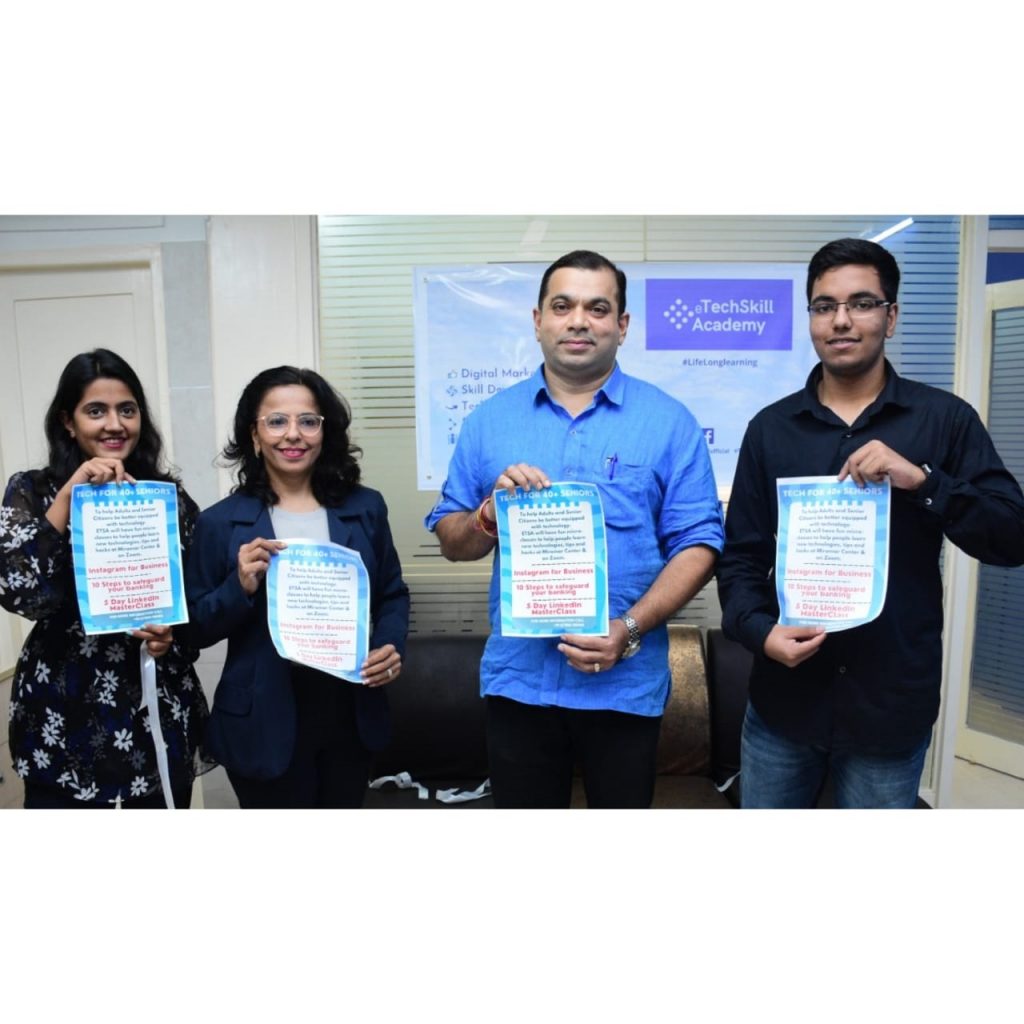 Still I think I will go do this "tech at 40+ senior citizens" smart phone use course she is offering, amongst other upskilling courses (digital marketing modules, LinkIn courses, study tours to Dubai and Singapore for Goa-based students/colleges, something to understand Amazon Web Services, Instagram for business and so on and so forth). Digital technology – software and hardware – is mind-boggling I'm discovering and today's pretty young smart things have no time to teach seniors anything!
I asked Parvish how much it will cost me to learn how to use my smart phone more profitably? She smiled, "For you, just Rs1,000!" I think I will take her up on this one of these days. In the meantime you might want to think about upskilling yourself too. Parvish is the best I dare say for she is experienced, seasoned, savvy and knows the ropes of many things….she also knows all the politicians.
ON that note it is avjo, selamat datang, poiteverem, au revoir, arrivedecci and vachun yeta here for now.
—Mme Butterfly