The nutmeg tree of the genus Myristica Myristica fragrans…an evergreen, offers two spices, mace and the nutmeg seed. The versatile fruit and spice has several health and medicinal benefits…can relieve pain, soothe indigestion, strengthen cognitive function, detoxify the body, boost skin health, alleviate oral conditions, reduce insomnia, increase immune system function, prevent leukemia and improve blood circulation! Check it out. Not for nothing did the old world take a shine to nutmegs.
By Tara Narayan
LORD Mahadeo's war is on to replace normal westernised industrial candy and Coco-Cola in Bharatdesh. Never mind what I mean by that, actually I should say the Goddess Sarasvati's war is on and this because what we put in our mouth has become such a much-discussed topic these days and I've got a nutmeg tree on my mind back from my convent school education on the island of Penang or Pulau Pinang (that's in Malay or Bahasa Melayu, "island of betalnut trees)!
Remember the English nursery rhyme from the 17th century when the British and Europeans in general were enamoured by the spices of their Eastern colonies? So I've got nutmeg trees and nutmegs on my mind…and came to mind, "I had a little nut tree,/Nothing would it bear,/But a silver nutmeg /And a golden pear….The King of Spain's daughter/Came to visit me/And all for the sake/of my little nut tree…" Go research it and you will find a fascinating account of a royal marriage which did not happen and the catchy rhyme came up making fun of the two people concerned with the "silver nutmeg" referring to "semen" and "golden pear" to ..er…golden pear maybe! They could be wicked, those rhyme makers of the hoary times even before of colonial history back in England and their marriages of material advantage with France, Germany, and the other European countries when daughters and sons were engaged off voluntarily or involuntarily in marital alliances.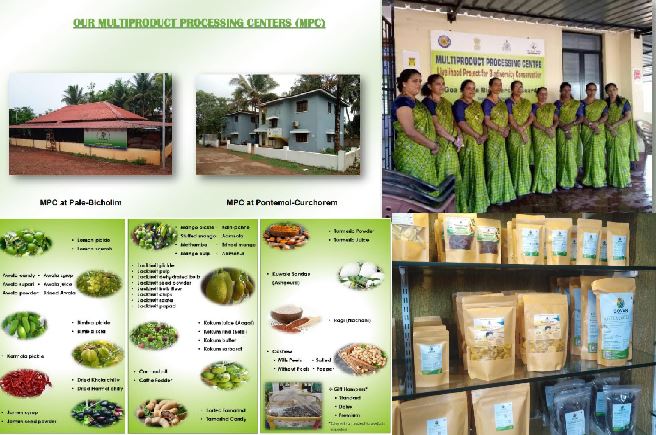 BUT come back to my nutmeg tree! Nutmeg we know is was one of the spices much sought after by the countries of West and that's what brought them East in search of spices and they were rewarded with much else. I've got nutmegs on my mind this week because I've been tasting this delicious nutmeg mace soft candy courtesy a few agricultural happenings involving ICAR research in what is being called signature foods – don't know if this most delicious nutmeg mace candy is patented yet or not but we got another sampling of it at a recent event organized by the Goa State Biodiversity Board member Secretary Pradip Sarmokadam to introduce the visiting "grandmama of food" Dr Vandana Shiva to Goa's wealth of biodiversity, recently.
Well, I've tasted this nutmeg candy (although it is not a hard candy but more like the made of unripe papaya multi-colored tutti frutti, much used in cheap ice-creams and confectionary as a filler to hike up weight). The nutmeg "candy" is like the aonla or avla soft nuggets which are also much loved nowadays (in lieu of hard boiled candies) and yes, I'm totally fida over it — nutmeg mace soft nuggets, from the sound of it they are made exclusively of the lovely dark crimson mace which hugs the brown nut shell enshrining the nutmeg. Mace itself is considered a spice on its own and has a lovely "nutmeggy" aroma.
The GoVan self-help groups at Porvorim are making up batches of these nutmeg mace nuggets and marketing them in Rs50 a small packet. Go find them if you are interested, I will say that they would make for a novel addition to custards, cakes, salads, whatever appropriate. I just pop them in my mouth and relish the aroma and flavour of quintessential nutmeg from the nutmeg tree of English nursery rhyme fame!
evergreen tree
SOMETHING about the nutmeg tree. It's a tropical evergreen tree of the family Myristicaceae – call it Myristica fragrans spice tree if you wish and at one time said to be a native tree only of the Banda Islands, from where it migrated to the Moluccas or Spice Islands, went to south India…later to the European countries of England and France, etc. Like I said before the nutmeg fruit offers both fruit, mace and a greyish brown furrowed nutmeg in its shell (after a bit of "cleaning" the nutmegs are dried out in the sun over a few weeks).
OUT in Penang where I grew up in the 50s and 60s the nutmeg fruit was grated, sugared and semi-fermented and dried out moderately in the sun…the result was a chewy shredded sweetish nutmeg fruit snack sold locally with vendors. It is delicious enough to get addicted to. This softly crisp, slightly chewy grated candied nutmeg fruit is yummy and as school children we used to buy it regularly in a hungry moment. I don't know why we can't do this in Goa! Hello, hello…all the powers concerned at ICAR and Spice Board! Before I forget the Chinese people out in South East Asia also loved the nutmeg fresh fruit sliced up and pickled in salt or lime water (much like our Goan salt water pickled torancho baby green mangoes).
Anyway, this is to say the nutmeg tree is considered one of our aromatic spice trees and is more or less akin to the values of cinnamon but cinnamon is stronger in flavor and nutrient values. The Romans when they got nutmeg around 1600 or so courtesy the Dutch East India Company treated it as useful incense; in any case the fruit was limed before it travelled in the ships of old, so that the fruit did not sprout!
THE nutmeg tree takes six to eight years to yield fruit and offers up its bounty for 60 years plus, plus maybe; the fruit reminds one a bit of the pendulous drupe fruit of the apricot, and there's much more which is interesting and beguiling. Like the nutmeg compounds are myristica and safrole may cause hallucinations if nutmeg is over-eaten (it is one of our hallucinogen spices), it can affect muscle control.
Say it is one of our narcotic fruits and you may not go bonkers over nutmeg offerings, which are also available in the form of oils and there is a nutmeg butter…nutmeg is higher in magnesium, phosphorus, zinc and copper if you're interested in these details but lesser in other compounds which go into contributing to fighting pink health parameters. And all this does not mean do not include a little nutmeg in your life now and again, okay, just be disciplined and subscribe to less is more!
Both nutmeg and cinnamon may be compared as similar spices but also not the same. In Ayurveda the prescription is add a pinch of fine nutmeg powder to a glass of warm milk and drink up for sounder sleep at night! Can also add pinch cardamom powder for plus sedative values…and what else? Nutmeg is antibacterial and fights oral pathogens, is anti-depressant.
YOUNGER MEDICAL FRATERNITY
THAT's it for this week, smoke on it. I wish I had a nutmeg tree to woo some folk back into my life! And a cinnamon tree and a cardamom tree and a sandalwood tree and a green pepper vine….in my life's end years or months or days or hours or seconds! At the GMC again last week with a patient, I couldn't help thinking what an arrogant bunch of young resident doctors and interns they have in their so called covid casualty ward, where young and old and older get treated with equally cavalier attitude – give me the older generation of Allopathy doctors any day. We must seek an exclusive hospital or department for senior patients, separate for men and women, and the medical staff attending to senior patients trained voluntarily in the art of being perceptive, sensitive and not combative or judgemental from the word go!
Hey, VIPs or perceived VIPs or non-VIPS are entitled to equal attitude and treatment no matter what the contexts, premises, medical histories — which differ from patient to patient. Medicine was a noble profession once upon a time, my friends!