AYURVEDA FOR HEALTHY LIFE!
9TH WORLD AYURVEDA CONGRESS & AROGYA EXPO: Chief Minister of Goa asserted that Ayurveda shows the path to live a healthy life, while speaking at the inaugural ceremony of the four-day exposition with the theme this year of "Ayurveda for One Health" at the SAG on December 8, 2022. While acknowledging that he himself is an Ayurveda practitioner, he noted that Ayurveda encapsulates the philosophy of wellness as defined by the ancient sages Acharya Charaka.
The CM welcomed everyone including the international delegates and said Prime Minister Narendara Modi will be here for the valedictory function, when he will detail the idea of an Ayush visa to facilitate those overseas patients seeking treatment in India in the traditional systems of medicine which include Ayurveda, Yoga, Naturopathy, Unani, Siddha, Homeopathy.
The CM urged Goans to take maximum benefit by visiting the OPD stalls set up at the expo which ends on Sunday. Present at the inaugural ceremony were Minister of Tourism Shripad Naik, Health Minister Vishwajit Rane, Art &Culture Minister Govind Gaude and many other dignitaries.  
HELLISH PANJIM ROADS!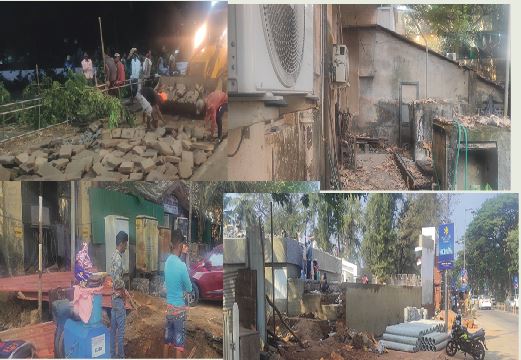 NOWHERE in the developed world you will find the kind of roads we have in capital city Panaji, Goa. Even before the monsoon rains stop the digging will begins with JCBs here, there and everywhere, digging out huge holes or more than three meter deep without exaggeration, and this continues with deep passages endlessly…see the areas near Municipal Garden near Cine Nacional, Panjim church, St Inez, Tonca, Lal Bhavan, Panjim cemetery, Taleigao, etc.
There is not a single road clear for motoring down with ease. When I plan to go shopping I have to plan my route so that I can avoid the dug-up roads instead of going half-way down them and being forced to turn back. Very often I am going down roads in vain only to turn back because the signage boards are so misleading and confusing about whether the road is closed for repairs and for how long. It has become a fed-up scenario in Panaji.
Waste energy, waste petrol, spoil your vehicle's suspension and brakes and by the time you reach home clothes are soiled red and dusty. This is Panaji city, so smart. Our government is so smart, PWD is so smart, road contractors are so smart…see the cables and pipes lying around in dug-up areas, lying there for days, weeks, months on end.
The digging will come to a stop some point of time but before you realize it they're back at it again for something or another has gone wrong. Goa is the best place for labourers from outside the state to spend to time pass…Goenkars of course have left for London and other parts of the world where roadwork begins in the evening and ends at dawn very often. The public is also informed about the work on a notice put up stating who is doing the work, what is being done, when it will end, thank-you.
The outsider workers who come to Goa search other options too to settle down and never go back to their home states. They look for places to rent and set up family and in the process also rob whenever they can from homes which are not protected. It is a stressful situation in Panaji. Panaji roads are damaged or half damaged all over the so called smart city.
.
And our Chief Minister Pramod Sawant is chanting biupachi goroz nam! See the pictures I have taken here!
–Stephen Dias, Dona Paula.
LONG LIVE SOCCER
THE performance of at least three to four teams (especially Japan, South Korea, Saudi Arabia and Australia) which have played in the group stage (including in the knock-out stage) of the ongoing Qatar World Cup was very much impressive. In fact, some of these teams were seen defeating mighty giants like Argentina, Germany, Spain, Portugal, etc, in great style for the first time ever and creating history during their group stage matches at the Qatar football world cup.
It would indeed have been nice to see our country representing Asia and playing at a football world cup at least once. India has the capacity of representing Asia at the football world cup in future. Well, this might sound like a big joke for some but why not when we have a second highest big population of a billion people in the world?
The other day I was just reading the past history of Indian football and was surprised to learn that India was once the most powerful team in Asia. In fact, it had won a gold medal twice at the Asian games in 1951 and in 1962 respectively in football. Now, if our Indian football team could do that marvelous thing in the past then why not now? Can't we guys with a big population of a billion people come out and put up just one strong team of 11 players to represent our country at a football world cup event in future?
If we Indians really want to see our country playing in a football world cup in future then instead of blindly dancing only after cricket, we should also learn to passionately follow/support football in a very big way and try to improve its standard/quality right from the grassroots level in India.
We Indians should realize that the world's most popular sport is not cricket but football as this sport alone is truly a highly competitive mega sport. It's a sport which is passionately followed/played by almost all the mighty nations around the globe, unlike cricket which is played (with the exception of England, New Zealand, Australia, South Africa, West Indies, Zimbabwe) by just a handful of mostly Asian-centric weak countries like India, Pakistan, Sri Lanka, Bangladesh, etc, to entertain a few unemployed fools (from these very same countries) for time-pass.
Long live soccer!
–Jerry Fernandes, Saligao
CAPITAL CITY SORROWS!
IN latest to Goa Prime Minister Narendra Modi should open his eyes to the reality of a BJP-run state. He should care enough to drive around an all dug-up Panaji which looks like a war-torn city. Narendra Modi should also take a ride on Atal Setu and see for himself how crores of rupees have been poured down the drain on that botched up bridge.
The current state of Panaji is despicable and is an unacceptable state of affairs. The authorities are racing against time to exhaust the Smart City funds while carrying out haphazardly unplanned projects. The contractors engaged are substandard, so will the works be while the people in Panaji are facing the brunt of this organised chaos.
Ironically, Panaji MLA Babush Monserrate, while in the Opposition had branded the Panaji Smart City Mission a massive multi-crore scam. All this changed overnight after he embraced the BJP while now acting like a greedy guest at a wedding feast.
Panaji is currently a city in crisis, in dire straits, an eyesore and a risk with unsafe roads, pollution and traffic jams. Babush Monserrate is too busy battling the infamous 2008 Panaji Police Station attack case and the rape case of a minor girl. He is the main accused in both of these very serious offences.
For now, the residents and those commuting through Panaji, are left in the lurch fending for themselves, while the city is being pounded out of shape by smart city contractors.
— Aires Rodrigues, Ribandar