A PLETHORA OF PLASTIC CONTAINER FOR FOOD TAKEAWAYS…..contributing to mountainous litter in the bin discarded. Now many eateries ask consumers to pay for the containers from Rs5-25 for food take aways. Is this legal? Will this encourage people to carry their own containers while doing takeaways?
By Tara Narayan
LIFE gets more grim. I'm thinking this week that I must make an effort not to eat out at my favourite places too often now, quite simply because there's been another round of price hikes all around. My favourite idli at Sanyog is hiked up from Rs47.61 to the latest Rs52.38 and this is before CGST and SGST at 2.5% and 2.5% is added on to make the total. The excellent filter coffee is up from Rs28.57 to Rs33.33. Even the Udipis in town are becoming expensive . And accounting on a receipt nowadays is impossibly to fathom easily at a glance. Some places I see that on the menu it is noted that prices are inclusive of taxes but when you get the receipt for payment the taxes are added on anew and we don't even realize it.
Now there's a new factor: Most of the eateries in town are charging Rs10 for containers for take-away food. The other day at New Sheetal at Caranzalem circle where there's a decent paneer pulao I had to pay Rs20 extra for two containers, one for paneer pulao and the other for butter paneer (mistake, now why did I buy another paneer dish, good paneer dishes are very hard to find) – anyway, when I queried about the extra charges for containers the guy here smiled like he was saying paneer, "Madam you bring your own containers, no charge!" I've decided to stop being lazy and wash out all the plastic containers I collect conscientiously and instead of dumping them in the dustbin, re-cycle them the next time I'm doing a take-away. Most times I do, but occasionally it's inconvenient when I'm moving around town and I forget to store a couple of empty containers in the dicky of my two-wheeler. Buying home food is usually a last minute decision.
I DO think the two problems which are making life hellish today for all of us is the mountainous problem of the kind of garbage we human beings patronize and the second problem is the cost of healthcare. Make the connections, my dears! I do not think litter, garbage, plastics are a government problem, it's really a problem in every home and the ball is the people's court. When nothing works I know for sure that boycott works. Take your own containers when food home or better still boycott plastic containers…try, try and try again. When nothing works boycott does in all aspects of life.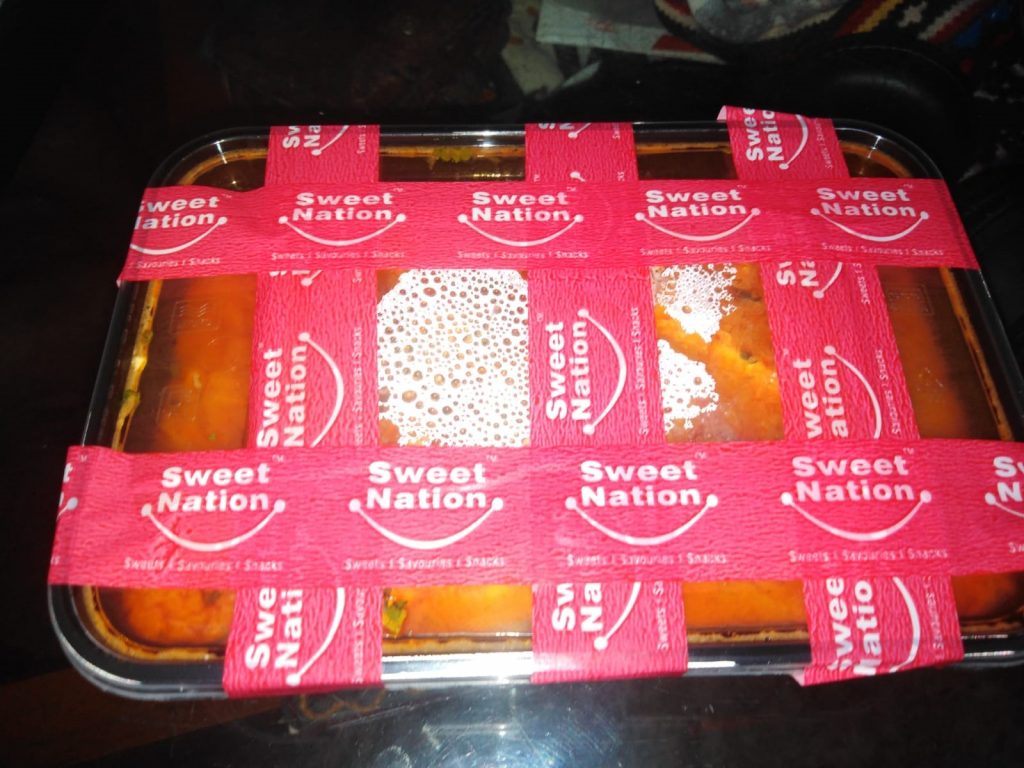 Then maybe you won't be charged for containers. Those with garam, garam pockets don't give a damn but I do give a damn. At Sweet Nation where I sometimes go to buy the paneer butter masala (which is nice if a little oily) or something else, at the cashier's I'm asked, "Do you want a bag?" I asked how much extra will it cost me? Rs5 or Rs10 depending on the pretty nice paper bag to carry away my plastic containers of paneer butter masala (211.86) and jeera rice (Rs101.69) and whatever else….I say no thank-you for the bags and vow to myself that I will re-cycle the plastic containers at least a couple of times next time around.
So this is a recent quagmire to take a call on nowadays if I want to buy home food from my favourite places! The bitter story is the more we eat out or the more we buy home food from our favourite places, the more the plastic containers litter we contribute to…so take your stainless or any other containers, please, and don't be embarrassed to tell everyone, please pack in my containers, also be sure not to charge me extra. Easy to say, hard to do for so many of us because none of us want to become unpopular! Be unpopular, you're paying for the food which may be good, bad, ugly. Everybody from top to bottom is cutting corners.
STILL, I'm happy about this new trend and hope in the long run most of us will take our "bartan" to end this proliferation of plastic container takeaways and food packed in cheap or quality plasticware. Funny or not funny, post-covid I find the fastest growing businesses seem to be eateries and chemist shops and women are going from home to home to sell clothes…nighties, gowns, plazo pants, underwear, etc.
Lately I've seen many new eateries opening all around in capital city Panaji and there are some amazing things like at one new eatery, I found the samosa came in deep freeze all the way from Indore – all they had to do is remove from freezer, deep fry and serve! Rs100 for two samosa. Now where was that? I forget the name of this new eatery which I had dropped in one fluke evening.
Of course it is much more cost-friendly to cook at home, but for a myriad sane and insane reasons I find myself buying food from out nowadays. Occasionally it's quicker to make rice or roti at home and buy a decent dal/veggie from an eatery which still believes in some standard quality. I prefer to pick up food myself from places which I am familiar with.
Which reminds me many of the home-deliveries by Zomato and Swiggy have become so complicated that not only is the food terrible but the scrappy receipts stapled on packages don't even mention where the food has come from and one is not sure if it is from the place from where one has ordered over the phone. Delivery charges in the vicinity are promoted to be free but ground level truth is delivery boy collects charges right or wrong. Delivery can be quite steep and one may not even be aware of it until the piece of paper receipt is checked which may be terribly faded and an utter con. Surely a mindful FDA would look into all these matters!
Also, if the Swiggy or Zomato boys have been doing half-a-dozen other home deliveries before they arrive at your doorstep, the order by the time it comes to your doorstep may well be as cold as stone.
(Sigh) There's no end to this business of eating to live or eating to die, whichever lifestyle you like to patronize with many choices or few choices. I keep telling myself I'll return to cooking with a conscience one of these days….but. But. No explanations needed for each one has their own taste in food and some like it hot, some like it cold, some like it spiced up, some like it spiced down, some like it cooked to death, some like it kacha pakka. Some like it floating in oil and salty enough to pickle the arteries straightaway – some say not enough salt, please give me some salt on top. And etcetera.
Being educated about what to eat and how to eat and when to eat and finally, finding a balance in eating habits is the hardest thing to do — and so what if I have been writing a food column for the last 35 years? Must I go around eating here and there just to check out quality and ethics of various eateries! That's my indulgent dilemma always since I don't do puff eating out reviews and sometimes friends call me up and say now why did you give this place such a glowing write-up, they've put up their prices again and cut down on portions! Déjà vu situations.
WHICH reminds there're two eateries which have been recommended to me lately to go check out! My fussy foodie friend Nandita Haksar (she's gone off to Delhi and I miss her so) who says she's half a Naga courtesy her Naga hubby Sebastian, loves all the pork stuff at Meiphung down Baga-Anjuna Road. It's Goa's first Naga restaurant founded by Livingstone Shaiza and his wife Ruth. Apparently, "meiphung" in Naga lingo means "hearth or fireplace where family and friends meet for food and a social life. Here you will find the finest cooked meats and vegetables and one of these days she says, if I go ask nicely if they can make me a "black sesame dal" (which I rave about constantly ever since I tasted it out in Meghalaya once upon a time)! But she goes there for the smoked pork and other meaty fare like beef with yam, pork curry with smoked chillies, fried chicken and Iromba chutney…all served in the special black pottery of Longpi village in Ukhrul.
Needless to say Nandita is a friend of Livingstone Shiaza who is also a Tangkul Naga from Ukhrul, Manipur, from where Sebastian hails. Meiphung has been around since 2015 and is very popular now for those who seek north-eastern food experiences in Goa! I must go check out Meiphung from my vegetarian point of view one of these days.
THEN I was so excited when I heard that there's another oriental eatery opened up at Assagao called South East Asia and it is doing authentic south-east Asian food. What is south-east Asian food, nobody knows it better than me, let me see if I can find say things like mee goreng or nasi pulut or ais-kachang or rojak or popiah or cendol at this new place run by a Domnic…actually, they doing Asian, Thai, Indonesian, Malaysian, Sri Lanka and some Indian food! Or so I hear. Must go.