A Women's Day-Holi opening for Gagan Sharma's Jambul Café Stay & Beyond on March 7-8, 2023…young and young at heart women of substance and style recounted stories, sang songs, read poetry; Kalika Bapat engaged in conversation with entrepreneur Asha Arondekar, while other friends indulged in a painting session with founder of Live Hive, Mitali Nath , Deepak Narvekar and wife Usha Narvekar were chief guests.
OF COURSE it was both Women's Day and Holi and then there was the inauguration of Panaji's newest café, the Jambul Café Stay & Beyond in Panaji. Go find it down a small gully and up a stairway to the first floor of what seemed to be a historic building – at short notice a friend told me to go check it out for there was a spotlight on poetry reading going on there (because she was there)…let's say that day I was a mood to listen to some poetry.
In the process I discovered the coffee served at this Jambul Café is the best ever coffee I've sipped since I was last in Mysore long years ago. Anyway, Jambul Café here offers the best filter coffee (freshly ground powder coming all the way from Coorg) and sip it and drown your joys and woes and by of a bonus they were offering these little boondi ladoo, motichoor ladoo, I hate most boondi ladoo (except for the Tirupati temple boondi ladoo) but these little motichoor ones were invitingly tempting and were so goo….oood, mildly sweet and absolutely to live for, not at all cloyingly sweet or greasy with fake ghee! Later I learned from Gagan Sharma who's in charge here that someone had brought them all the way from Haldiram's in Delhi! So no chance of getting them here, there's no Haldiram outlet in Panaji or Goa.
The Haldiram ladoo from Delhi are my find of the week and maybe Jambul Café will get them on a regular basis seeing how they have Delhi links. I won't say you'll find them every time you go looking for them here, but you'll get the filter coffee! This is to say both the motichoor ladoo and filter coffee made my Women's Day at least. In any case welcome to the delightfully brand new Jambul Café Stay & Beyond, whatever it means. It means, restaurateur and café connoisseur Gagan Sharma tells me, they do have dormitory accommodation for those seeking some economical bed-breakfast deal in town Panaji.
BUT opening day was for family and friends and since I was there I caught up with some old friends too along with a chance to say hello to the Sharma family whose baby the new Jambul Café is, mainly Gagan Sharma, doting mother Vaishali Sharma with painter-poet daughter Shivaani and imaginative hubby Sunit (chef who has seen high life in five-star hotels, one of these days I must tell you how Sunit came back from the near beyond after a tragedy).
The women making the afternoon and evening happen were entrepreneurial Asha Savardekar, imaginative Kalika Bapat, reiki teacher Mitali Nath…and chief guests, none other than Goa Tourism's Deepak Narvekar and wife Usha who decided to be an archer (another woman of substance and style to go and talk to). There were others too of course but most were new faces for me.
The Jambul Café menu is quite unusual and health-conscious with itsy bitsy platter bites from sprouts chaat tarts, green peas hummus/alsande hummus (served with local pau), beetroot sesame tikki, vegetable and chicken cafreal poi toasties and so on, all to be washed down with the timeless classic filter coffee of down south India served in these gleaming brass dabba-vati, a toast to such coffee (worth the price of Rs60 although I wish it was Rs50 only).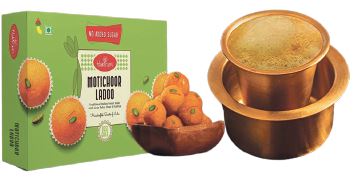 Needless to say here is a good place to sit down to moon moon with friends over just coffee. Forget Starbucks or even Coffee Day – fresh filter coffee is the real upper crust connoisseur's coffee for the day and I may tell you that a certain amount of coffee does have a health brief. I don't mean drink black espresso all day long, that will only add to the acidity in your stomach. And yes, a bit of fresh milk and a cube of coffee jaggery can make a filter coffee divine…but just a bit of sweetness to cut the coffee from too much dark bitters naturally. You add the sweetener yourself depending on how sweet you want to be on that day.
Well, this was an impromptu outing for me and the sensitive Shivaani read some of her poems, some dabbled in painting, Kalika Bapat (who's seen life with Marathi dailies Tarun Bharat and Goa Doot and is on her own now bringing our yearbooks)interviewed Asha Arondekar (a woman of substance and style) and in general the women – Rajani Raikar, Anajali Chitre, Mitali Nath (reiki teacher) — exchanged notes about women in general brimming over with creativity. I have no doubt a lot of women's creativity has gone into the designing of this Café Jambul.
The nature of such social cafes is changing I'm realizing, they're smaller, cosier and this one too has a spotlight floor space dedicated for entertainment – musicians, poetry reading, speakers, artwork demonstration…what not, and Gagan tells me they're expecting a Rajasthani troupe one of these days to entertain those who drop in. The young Shivaani Sharma, she's just over with her 12th standard is clearly wanting to spread her wings! Mama Vashali tells me she has a long way to go and yes, it's Sunit who's a seasoned and veteran chef who has designed the menu for their new venture in hospitality and accommodation for heritage lovers desi and foreign.
IF you're going looking for Café Jambul it is on the first floor of a lovely building on the first floor near Club Nacional…I dare say it will soon be a buzzing place, but mind you way upstairs, those steps can make your joints protest!
DO you know that at last count there are more than 3,855 hotels and guest houses in Goa registered with Goa Tourism? Ask my friend Deepak Narvekar…you can say tourism is booming in Panaji where in recent time more cafes have opened and these are bursting with young people…the flip side is more pharmacies too have opened. Don't ask me what's the connection!