On the dias (l to r) Dr Sapama Pelapkar, Nerlon Alburquerque (Deputy Superintendent of Police) and Dr Aamod Shirali
By Bindiya Vaval
Awareness about NDPS (Narcotic Drugs & Psychotropic Substances) Act, 1985 and Drug and Substance abuse was conducted by VM Salgaocar College of Law's Old Goa Free Legal Aid Cell for students of Government College of Arts, Science and Commerce, Khandola.
Awareness about NDPS (Narcotic Drugs & Psychotropic Substances) Act, 1985 and drug and substance abuse was conducted by the VM Salgaocar College of Law's Old Goa Free Legal Aid Cell for students of the Government College of Arts, Science and Commerce, Khandola.
DRUG addiction is increasing rapidly in the country. So is drug trafficking and drug-related crimes. College students are more vulnerable because of peer pressure amongst them. There is "Junk, Smack, Charlie, Nose Candy, Crystal, Speed, Uppers, Crack, Rob Ford, Blotter, etc" (and we are not just talking about some bikers belonging to biker clubs here and there or even for that matter cars) – these are some of the names of the various drugs making the rounds surreptitiously and a chain of anonymous protection.
Given how serious drug addiction is becoming a program on NDPS Act and drug and substance abuse, its many ill-effects, was conducted at Government College of Arts, Science & Commerce, Khandola. It was organised by the V M Salgaocar College of Law's Old Goa Legal Aid Cell on March 6, 2023.
During the year 2022-23, the Old-Goa Free Legal Aid Cell conducted programs on the "Rights of Migrant Labour" at Baiguinim, Corlim and Old Goa. Many migrant families were made aware of drug use and abuse and their rights, how they could get benefit from programs conducted in collaboration with the NGO Pravasi Bandhu. Health and awareness camps of government schemes under pro-bono were conducted in the village of Karmali, Corlim and Old Goa. There was a talk on "Career Guidance in Law" at the Madkaikar Higher Secondary School and Agnel Central School.
All this was an attempt to sensitise college students of the ill effects of drugs and substance abuse, and to familiarise them with the nature of offences punishable under the Narcotic Drugs & Psychotropic Substances Act, 1985. In this respect a program was organised at the Government College of Arts, Science and Commerce, Khandola.
Resource person and speaker was Deputy Superintendent of Police Nerlon Albuquerque who also is in charge of the Anti-Narcotic Cell in Goa. Neeyati Naik introduced the guest speaker and others on the dais included Dr Aamod Shirali (assistant professor, V M Salgaocar and Faculty In-charge of Old Goa Legal Aid Cell) and Dr Sapana Pelapkar (chief NSS program officer) who were introduced by Aditi Masurkar and Shubhshri Kundaikar, respectively. Harsha Pai and Rutuja Prabhudesai compered the program.
Nerlon Albuquerque in his talk started off by imparting and describing various drugs and how they affected the drug addict over time. He also explained the ways in which drug peddlers operate and influence youngsters or college going students to be both suppliers and consumers. Habitual use of drugs alters mood and emotions and they are even used to de-stress to relax the mind. Some of the most commonly used and abused drugs are ganja (marijuana), heroin, cocaine, LSD, hashish, MDMA (Ecstasy) with the latest and most notorious drug being ketamine which is popularly referred to as the "date drug." This is used by those who seek to catch their victims unaware.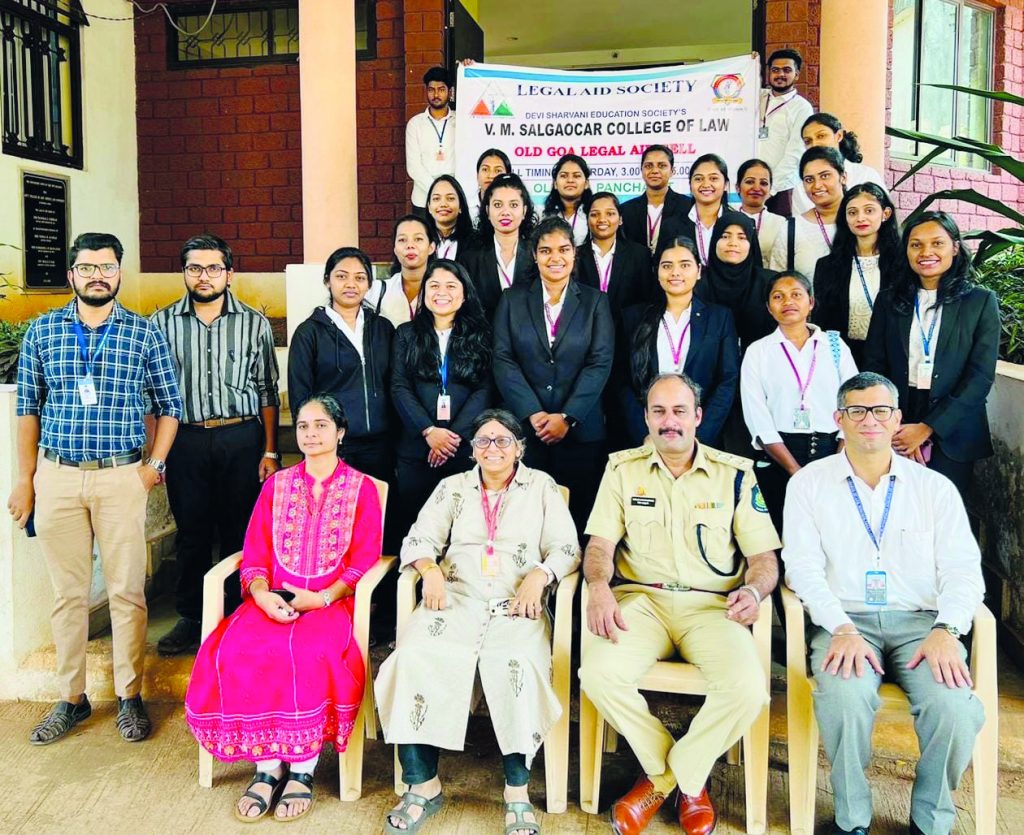 He further appealed to parents at home and teachers in school to be alert and observe a child or student's behaviour which may be out of the normal – like mood swings, sluggishness, irritation and so on. Teachers should be able to gain the confidence of their students and if possible guide them appropriately or refer them for professional guidance, "Sometimes, students are not aware about how the drugs look. For example, if someone gives you a Rs500 currency note, blotted with a drug to be given to someone else, one would never know and unknowingly may become a drug peddler." Citing another incident, about a girl who was told to transport six kg of ganja from Jharkhand to Goa (and paid Rs3,000 for doing so), she was unaware of the nature of her package and was nabbed by police officials.
At the various educational camps the different of drugs were shown on screen, the forms in which they came and also how they are used, along with the ill-effects after addiction sets in and prolonged use and over dosage situation leads to tragedies. The biggest question is how do students get drugs? In some cases, it might be people inside and outside the campus selling drugs. Sometimes one may consume unknowingly and at times the curiosity of knowing how it feels leads a young person to check it out and thus turning him into an addict over time.
In certain cases, a drug may be mixed into drinks during parties, and this may lead to overdosing and no memory of anything the next day! Once addicted there is no easy escape. Even if the drug addict realizes it on his own it is near impossible or very difficult to treat or de-tox and rehabilitate himself or herself – drug addicts need professional help and if they don't get it the results are often fatal.
"Students should be aware of what will happen if drugs are found in their home or on their personal body. The law says that even if parents are not aware of the child bringing drugs home and they are found during a search, they are equally responsible and liable for prosecution for possession of drugs and be convicted. So, its parent's duty to keep their eyes open and watch their children with hawk's eyes."
Nerlon Albuquerque concluded his talk on the note that Goa has been depicted in movies and on television as a drug hub. In reality it is just a transit point. People from all over come to Goa either to sell or consume drugs. He showed news clipping reporting how their police narcotics department nabbed peddlers who are mostly from outside Goa. After this there was a Question/Answer session and many of the students queries were answered patiently and with detail. A vote of thanks was given by Sr Armida Cruz and faculty of Khandola College, Dr Sapana Pelapkar.