ONAM is here for the estimated 2 lakh Malayalees in Goa…the traditional festival sees floral decorations called pookalam ( rangoli with colourful flowers insteads of powders) and the serving of the sumptuous banana leave feast called 'Ona Sadhya'. While about 13 Malayalee associations will be celebrating the festival you may look for the feast of Onam at Southern Basil restaurant at the Fidalgo enclave of resturants from August 20-31 2023. Others places to look for Ona Sadhya are Mallu Republic, Jeni Restuarant at Dabolim etc.
By Tara Narayan
NEVER mind who is suffering where we're a nation obsessed by celebrations, appearances, extravagances…even if there's less and less cash to pass around in an optimistic sharing spirit one is constantly urged to imbibe to reap the rewards of joy! These days I find a lot of advice comes from the top down and it is mostly for those struggling to get a life for themselves at the bottom rungs of the good life! One friend called to tell me their otherwise pristine well which supplied the entire colony with water got polluted by a break in ancient sewage pipes…and there was chaos all around. Reportedly the PWD had laid new pipe connections outside for potable water which they got from one tap in each apartment, the rest of their water needs were met by their well water.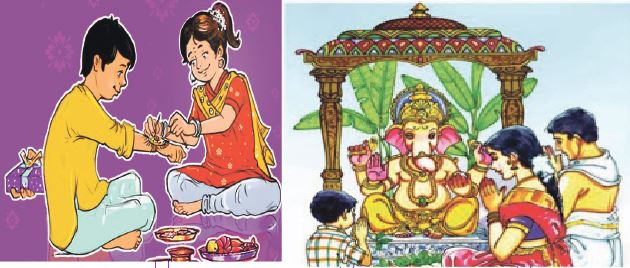 So a whole lot of experts were called in to solve the problem and of some may cough up and some may not cough up for various reasons bona fide and mala fide. Life is like that only. In the meantime the friend with a small kid is filling up on water to use in barrels, plastic barrels of course; the era of eco-friendly stain steel is almost getting over for household use (ever in search of the good life, the better life, the superlatively glorious life we're in love with the mod con plastics of our civilisation which is killing Mother Earth, we are too educated of course to stop buying anything and everything in plastics)…
Well, I tell myself this is a health food column and instead I should write about the sacred celebrations which are upon us from Raksha Bandhan to Ganesh Chaturthi to Onam and the feast if onasadya which comes along with it for the legendary King Mahabali of Kerala…all are celebrations come with fasting and feasting, some only feast. I try fast on one meal a day Monday, Tuesday and Saturday and believe it or not most times I succeed! It's just that I've lost the desire to cook what I want to eat (being health-conscious) and what others want to eat (being indifferent to the demands of what it takes to be fighting fit in mind and body, heart and soul or something like that).
The tragedy of life is when one enters one's final last-fourth phase of imaginary life it's the wrong time to be asking oneself such questions as: Who am I? What do I want? What is my goal? Am I more happy or unhappy or totally down into a sad depression at life's end? Am I grateful mostly or ungrateful mostly? How far have I come down the broad and lost paths of my life to reap my karmic rewards and losses? All that, it's a futile exercise I have lost patience with!
THESE days I take pleasure in going to neighbourhood khanavel (home kitchen) to get my own small needs by way of food I want to eat: say a couple of polle (the soft rice dosa of Goa, Rs15 each), maybe a "mulochyo bhaji" (Rs70 half portion, good for two to eat), puran poli sometimes (Rs25 each) and a whole lot of wholesome food, Hindu Goan style which I don't particularly think is healthy to eat but then again, how much does one want to eat! No, I won't tell you the name of this favourite khanavel is in Panaji, the food is expensive enough without me trying to make it more popular!
Since these are sacred celebrations days of Shravan-ka-mahina sometimes I find a Goan delicacy alled "muthli" or "Mootli"—basically steamed rice balls stuffed with seasoned cardamom-redolent grated coconut and jaggery crumble, just one is deliciously divine but the rice covering is far too thick for my delicate sensibility! I've never liked thick coatings for either samosa or batatvada or any such dumplings or potli in our Indian repertoire of snacks, light thin coverings means one eats less of refined flour although of course many of our snacks are fried affairs in contrast to the healthier steamed snacks of religious occasions. You notice that, celebration sweet something are usually steamed? Steamed is ancient, traditional, good for you; while fried is modern, industrial, junk food, bad for body beautiful if you prize it as a temple instead of a toy to use and abuse.
TO move on something else at the grand Goa Hospitality Show 2023 on at the Taleigao Community Centre till August 25, there I was thinking what a world of middle men and women we have become. The success story of industrial foods is detailed here in packages and very few eco-friendly bottles – eating has become really yuk although I must say some of the business houses are conscious of the vital need to be eco-friendly if not organic to begin with. In India at least I find we're going full steam ahead feeding ourselves on semi or fully readymade foods, snacks, sauces, confectionary. It's like we cannot cook from scratch anymore and we have a death wish in all the toxic or not so toxic colours, chemical additives, preservatives, seductive copy we all fall for (including me) – and no wonder we're all dying of cancer in more or less every home today! There's a foodie movement telling us to eat right to have a good immune system and healthy body beautiful but we're still far, far away from say some of the countries of the West where a kid's health is compromised right from birth with a score of vaccines.
USA's most dynamic, real candidate running for president of USA in the upcoming elections in 2024, E-mail inventor, MIT graduate several times over and scientist extraordinary Dr Shiva Ayyadurai, tells us and proves it with statistical graphs that in great America children are now dying before their parents – so compromised is their health status. He says it is the USA government policies which are filling private political pockets but backfiring diabolically on the working people of America – it's like the government's obvious and not-so-obvious politicians & company of gangsters hate the people, who keep demanding better every time from their so called "leaders" whom they get conned into voting into the easy freebies of "power, profit and control"…same story around the world in worse case scenarios!
But to stay in Goa and this hospitality show which I was taking a quick round of this weekend, amongst the host of interesting and not-so-interesting kitchen equipment, food and beverages, electronics, furniture and fixtures, housekeeping stuff and talks on how artificial intelligence is impacting the hospitality industry (by various concerned speakers) – film personality Pooja Bedi was chief guest making the runs on first opening day – I discovered that there are few things to really excite me nowadays. It's like once upon a time we had quality to endure for a lifetime, today all we have is quantity to use and abuse and dispose to add to Mother Earth's growing mountains of non-biodegradable and toxic packaging litter! We, the people of today, highly educated and show-offs extraordinary, most vile species of them all, live like we are neither accountable nor responsible for our messes…
Anyway, all that is a long story now. Today I find we're putting lemon juice in packets like we're too lazy to buy fresh lemons and make lemon juice at home, we prefer to take out a packet of lemon juice from the fridge and use as desired! The middleman hospitality industry is booming and taking a toll of our body beautiful from the inside out, go sit down somewhere quietly and connect the dots if you wish to.
I'm not saying go back to square one of the Stone Age but somewhere there we must decide how much mod con technology and no more individually and collectively to make a difference to the good earth which keeps us alive mind and body, heart and soul. In any case the other distinguished American Indian, Dr Deepak Chopra, says we're on our way to extinction and another thing — if we give a damn – the world is suffering from an epidemic of young folk committing suicide above all. Go check the suicide rate.
So, so all those intellectual geniuses at the top of the pyramid of the good life globally don't need to worry about how to cull the world of its human population of slavish poor and marginalized! The human population is already culling itself because life is no longer worth living for the many, only for the few arrogant who think they can play at being God Almighty. This is to say I still live in hope that a good revolution which will put us on the straight and narrow path anew with a difference will save humanity, but may it happen pronto.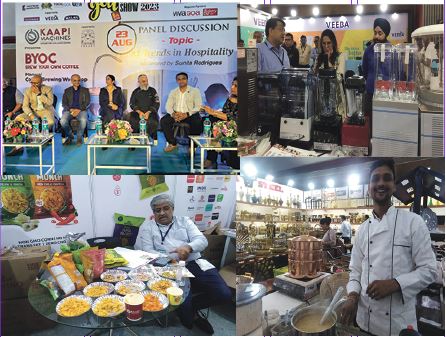 A FEW things to take an interest in at the hospitality show if you like! I fell for the "Kapee" people, serving south India's filter coffee, freshly brewed and available for tasting – best coffee to drink in India. I'm trading away my teas for coffee these days, but only "kapee." Actually, coffee is my first love. Which reminds me coffee for all the talk of it being caffeine-rich and acidic if you drink too much of it, does have a good health brief. Studies reveal it's both anti-carcinogenic and anti-dementia!
That bit of information I got from my friend Dr Deepak Chopra (whom I'm reading up ardently these days) who drinks two or three coffees before noon or so I understand, (sigh) wish I would afford to attend one of his wellbeing programs in California. Although reportedly being in his mid-70s now he has sold his high-end wellness business and retired joyfully in New York where he and wife walk 10,000 or 20,000 steps a day every morning, waking up early to do yoga, meditate and think about how he can give back to society with his growing interest in artificial intelligence — and how to stop American teenagers from taking the easy way out to add to the suicide rate…as high as a suicide every 40 seconds or so I read believe. Good-luck to him. If the young can't live, why should the older generation?
This is to say check out the coffee if you're going to the hospitality show, the quality frozen foods of BMS Enterprises (do you know that so many snacks are now frozen and go to all corners to be thawed and fried up for you in umpteen easy come easy go urban eateries nowadays, even momos are made in bulk and frozen for despatch here and there…check out Hungry Monk people), the Cremica mayos and chutneys and south Indian coffees and also Mohan Thakkar's "Recorn" range of Makino flavourful corn snacks and naturally flavoured peanuts – they're very good although I don't like the packaging!
All the way from Gujarat, in a brief exchange the genial Mohanbhai told me since Narendrabhai happened his small village near Nadiad in Gujarat has acquire great connections, and now villagers can get to the hospital superfast, unlike in the old days when it was by slow torturous bullock-cart to the nearest hospital in an emergency. I'm thinking maybe I should pack up and return to Gujarat where I was born to re-live my very early years there in my father's Bhadran village home or my maternal grandfather's home in Karamsad – but there's nobody there now and the once teaming homes are falling apart or taken over by caretakers and migrants. Story of life when your parents go away seeking greener pastures and also freedom to live in peace hopefully in pursuit of excellence. Think about it, my friends.