Since I was there like the butterfly I imagine myself to be, on the Marriott
lawns transformed into an illusion of both Hampi palace-cum-Gujarati temple in Saurashtra…I can offer a blow-by-blow account. Don't ask me how I happened to be there though, may because I'm a Guju butterfly when comes to my genes. Okay, forget the butterfly nonsense, I'm getting too carried away by it. It looked like the reception was more for both sets of the bride and groom's parents' relatives, friends, guests; Isheta's parents.  Dipti and Raj Salgaocar are familiar names in Goa. When a Saraswat Brahmin Salgaocar and a Gujarati Ambani (the original Ambani) get together what do you expect? I don't know and won't conjecture. An unusual alliance naturally and it's being repeated in the case of Saraswat Brahmin-Gujarati daughter Isheta Salgaocar and Gujarati Neeshal Modi, who interestingly is younger brother to diamond king Nirav Modi. This Modi family lives between Jamnagar/Saurashtra, historical western Gujarat and Belgium, or so my rumor grapevine tells me.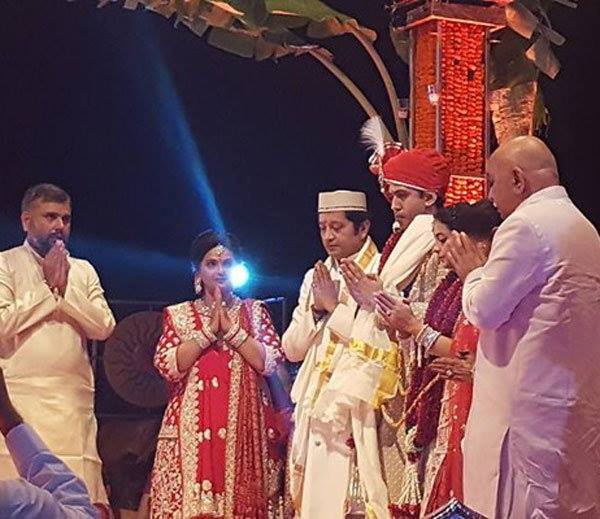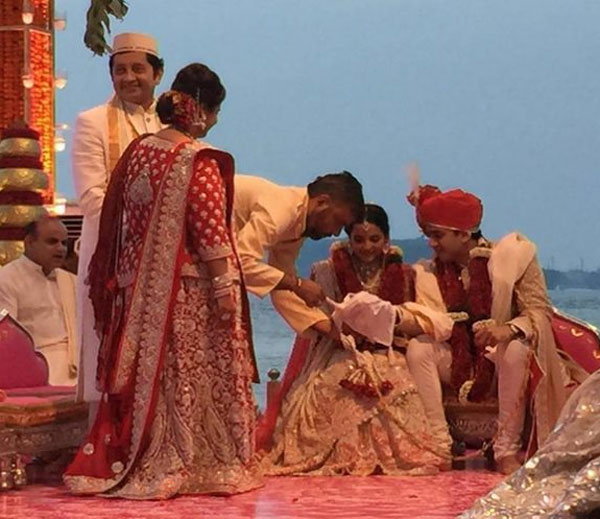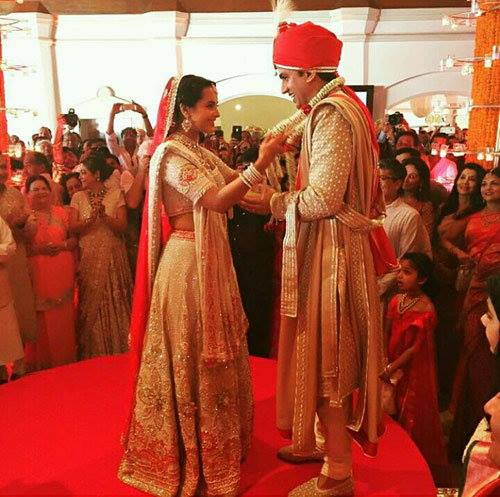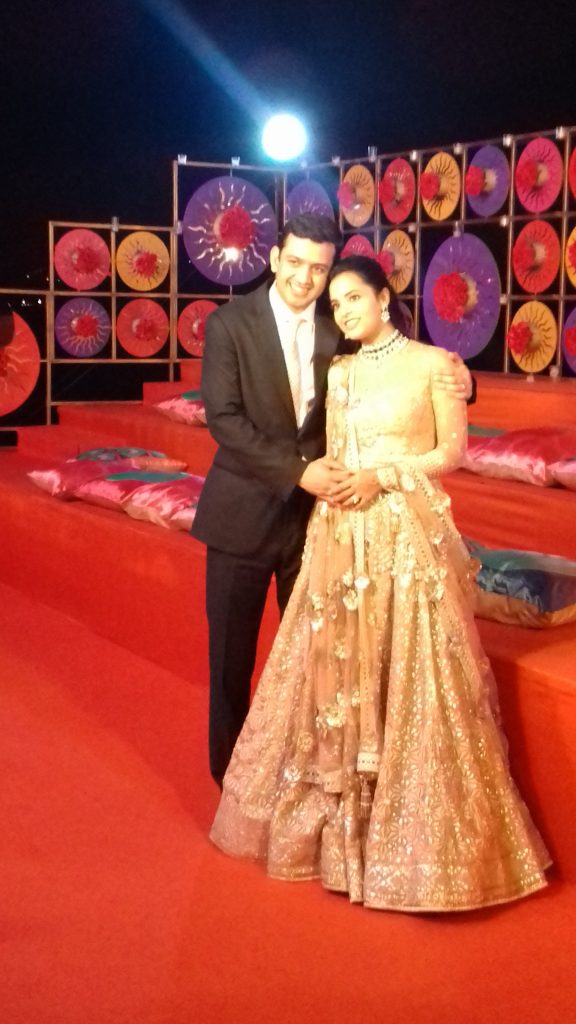 The Modis are said to be steeped in the best blue diamonds of the world with a royal clientele around the world, but the secret butterfly in me tells me the old folk prefer to live simply and reclusively in Gujarat, leaving life and times in Belgium for their sons and their families or something like that. I know from personal experience, my dears, that Gujarati communities live more conservatively abroad than in Bharatdesh, at least once upon they did.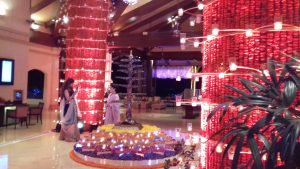 I WAS quite pleasantly surprised. I thought I'd be frisked from top to toe at the security set-up but it was more like all obvious security was dismantled for the occasion. One walked into a warm welcome and took the special stairway rigged up for the walk down to the lawns by the swimming pool of the Marriott, river Mandovi murmuring away nearby. Guests were already lining up to wish the newly married couple, suddenly I looked up at a drone closing in high up in the air and thought it was probably checking me out to see if I was really an asli or  nakli butterfly or what kind of a vermin! Clearly security was very tight although discretely and gracefully invisible, quite an achievement.
After wishing Isheta and Neeshal a dream life forever for whatever it was worth, it was time to flutter around greeting folk who recognized me or did not recognize me, and who I recognized or did not recognize…spied brother Anil Ambani with some foreign guests, presumably from Belgium; didn't see brother Mukeshbhai with his glamorous biwi Nita Ambani.  
THE men were overjoyed for some of the best whiskey (Single Malt and Blue Label) was being served in Patiala pegs (students of the Salgaocar Hospitality Institute were doing the honors with gusto) and oh, a steady stream of snacks ranging from molten cheese balls to fried baby prawns arrived. And chicken satay, paneer tidbits, lamb kebabs, what do you know…piping hot south Indian-styled parripu vada to dip in a tangy coconut chutney to savor, my favorite. Later, a stroll around revealed half-a-dozen cuisine stations serving timeless traditional food from Hyderabad to Kerala to Italy to Thailand…and Belgium waffles! If Dipti Salgaocar had not told me, I'd never have gone looking for the exclusive vegetarian/Jain Gujarati shaadi feast set up at the far end of the Marriott lawns…here peace and dreamy quietude ruled.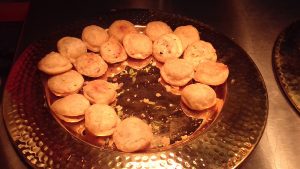 A dazzling range of Guju food was being served here. The Guju in me aroused I did a round or two of the delicacies and was enchanted by the take on traditional Gujarati sweet-stuffed puran poli or Gujarati "vedmi"…these were little baked morsels of pure temptation! I ate half-a-dozen of them to feel like I'd finally eaten a whole big puran poli as we know it! The original flavor of this classical sweet roti of Gujarat with its aniseed flavor was perfectly enshrined in the little puran poli, the traditional lacing with desi ghee was missing, that's all.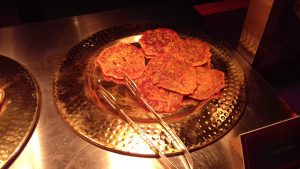 Then I sipped the dal redolent of things Gujarati, generously loaded with the plump  groundnuts of Saurashtra…and the spice cake of Gujarat called "handvo" which was transformed into savory pancakes, and the steamy, spongy Damani dhokla were to live for  several times over.
HEY, I could have spent the rest of the night eating in bits and pieces and chatting away here but up to a point I guess. While saying goodbye folk were drooling over the chocolate salon (Wan Ho turned into an amazing chocolate parlor) and here were a mindboggling display of hand-made chocolates of all kinds. Patisserie Chef Samantha Nunes confided they'd been staying up late making something like 6,000 to 7,000 chocolates "because chocolates have to be sent to all guests!" (Which reminds me the Salgaocar marriage invite came with a box of almond rocks and before I could make short work of them my hubby dear had happily distributed them to office staff!)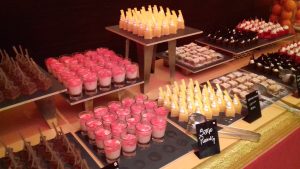 By the end of this shaadi I was feeling so satiated and jaded that I didn't feel like picking up even one chocolate at the chocolate parlor, not even piece de resistance Irish whiskey chocolate. I just watched the hubby, a chocolate junkie, feasting on the chocolates along with other chocolate junkies. Then just before going out I saw these  thin cuts of pale berry chocolate and reached out for a piece, ah, that was the best chocolate of them all at the Salgaocar shaadi extravaganza.
Say what you like, I feel at home at the Marriott and both Dipti and Dattaraj Salgaocar have an indulgent touch, my dears. The Isheta-Neeshal marriage reception echoed of both quintessential Saraswat Brahmin and Gujarati charms…a singer was crooning all kinds of romantic songs but none felt like dancing. A river breeze blowing,  golden slice of golden crescent moon sailing in the wintry night sky, reach out for another champagne…maybe there was dancing later on.
I don't know. The bridal couple looked pretty beat and probably retired early. Leaving doting father Dattaraj Salgaocar enquiring if I'd discovered the Surti roasted ponk or not (not I said, ponk is a Surti-styled chaat of sorts featuring tender green jowar and wheat, relished in a medley of crunchy sev, little sweet aniseed/mint balls and various chutneys (in Mumbai eating ponk during the winter months is a big thing and it comes all the way from Surat) and doting mother Dipti promising me she'll share her story of weight loss for her daughter's marriage "when all this madness is over!"
I WON'T forget this marriage reception in a hurry for my first real Guju marriage feast in 15 years of living in Goa, my dears! The feast was prepared by a Gordhan maharaj and his team from Ahmedabad, can't find this kind of food for love or for money in Goa and whether you believe me or not half the time these days I'm eating out of nostalgia. I guess it just means that my days as a butterfly are numbered! On that note it's another avjo, poiteverem, selamat datang, au revoir, arrivedecci and vachun yeta here for now.
–Mme Butterfly