ONE MORE U-TURN: INS Hansa naval air station serves as the Indian Navy's largest airbase and employes more than 10,000 people. It is also involved in dadagiri over civilian operations at Dabolim airport. The defence ministry is now seeking a naval enclave at Mopa too. Manohar Parrikar, as a state leader, had gone on record against handing over more land in Goa to central government agencies as the state was facing a land crunch. However, since his move to Delhi, the defence ministry in particular has sought land for the Defence Expo at Quittol as well as space and flying slots at Mopa
Goa's Defence base employs around three lakhs, including families and retired personnel. Under it is INS Hansa – India's biggest naval airbase that controls Dabolim airport,  the Coast Guard and Goa Shipyard Ltd. In Navelim, cadets were allegedly enrolled as voters. The army has a major presence in St Andre, Quepem, Calangute and Panjim with headquarters of the Signals Training Regiment, officers' mess and commanding officer's bungalow. The Election Commission should ask the Defence minister if he enrolled the jawans, sailors and airmen as voters and forced them to vote for the BJP
By Rajan Narayan
DEFENCE minister Manohar Parrikar is desperate to fulfil prime minister Narendra Modi's expectation that Goans would give him a majority to enable the central and state Bharatiya Janata Party (BJP) governments to deliver a comfortable Goa.
Never mind if Goans agree with Modi's definition of a comfortable Goa which means more bridges, duck boats, helicopters and rope ways for tourists' benefit so that Goa's chaiwalas can do roaring business. Unfortunately, Parrikar did not remind Modi – who considers him one of the navratnas of his court in Delhi – that Goa was not Gujarat and tourists come not for chai par charcha but daaru par charcha.
Parrikar, who has abandoned the defence forces for the last one month to campaign in the gullies of Mala, nevertheless used or misused his position as Defence minister to deliver a surgical strike against his political enemies, particularly arch rival Goa Pradesh Congress Committee (GPCC) president Luizinho Faleiro, who is contesting after 10 years.
Faleiro's constituency of Navelim has a large base of the Military Training Regiment (MTR). Parrikar is alleged to have got the over 2,000 cadets being trained there registered as voters but ordered them to support the BJP candidate.
This was not the only surgical strike carried out by the Defence minister in his anxiety to ensure a two-thirds majority for the BJP, despite the fact that the Catholics, particularly in Salcete, who embraced him in 2012 have been treating him like a leper this year.
Both Caitu Silva and Benjamin Silva have turned down BJP support this time. Archbishop Felipe Neri Ferrao has virtually told the minority Catholic community to boycott the BJP whom he supported with great fervour last time. To make matters worse Rashtriya Swayamsevak Sangh (RSS) chief Subhash Velingkar revolted and the Maharashtrawadi Gomantak Party (MGP) has decided that it will make a bid for the chief minister's kodel.
Desperate situations call for desperate measures. The former chief minister, who brought the BJP to power in Goa and Modi to power in Delhi, decided to use the considerable presence of the defence forces in the state to grab as many seats as possible.
The headquarters of the naval aviation wing of India's defence forces is in Goa. It is the navy which controls Dabolim Airport and the constituency. The navy has a very large number of officers, sailors, pilots and air craft technicians living in Dabolim. No Indian aircraft, let alone a foreign charter aircraft, can land in Dabolim without the navy's permission. Even now, between 8am and noon, the airport is reserved for only naval traffic.
The navy has got quarters for its staff in Dabolim and a school for the staff's children. Besides the navy, there are large numbers of people working for the Coast Guard, and for Goa Shipyard, which makes weapons for the Defence Forces through huge orders from Parrikar.
Parrikar is confident of Mauvin Godinho's victory because he expects all the Navy, Coast Guard, and Goa Shipyard employees to vote for the Congress veteran who joined the Sangh Parivar just before the elections. We are surprised that the rival candidates did not object to the non-Goan personnel of the Navy, Coast Guard and Goa Shipyard being registered as voters and participating in the election.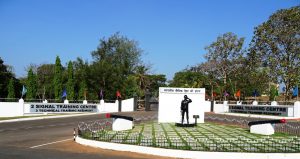 There are two, if not three other constituencies, where Parrikar has major influence. One of the reasons why he is confident that chamcha No 1 Siddharth Kunkolienkar will win in Panjim is that there are a large number of defence employees in the city.
The HQ of the Signals Regiment is next to the market and the office of the collector. The Panjim Municipal Council has repeatedly demanded moving the Signal headquarters out of the heart of the city. Additionally, not only does the commander and chief of the Signals regiment have his office in Altinho, the army has a swanky mess there too.
We do not know if the army mess observed the ban on daaru from February 2-5 as directed by the Election Commission. We are surprised they did not check if the Defence minister had the army personnel registered to vote in Panjim against independent candidate Babush Monserrate.
Like Dabolim and Panjim, Parrikar also has influence in Quepem, Bambolim and Calangute. In Quepem, the army has a very large presence. When I visited a unit there on the invitation of the commanding officer, I was informed that there were at least 5,000 soldiers. Many of the Defence personnel on retirement choose to stay in Goa. The commander of the Quepem military base managed to get a licence for a bar and also runs a security agency.
There is also a large army contingent based in Bambolim which falls in the St Andre constituency. It advertises itself with a real battle tank station. The centre also has places of worship for Hindus, Muslims and Christians side by side. We understand that many of the army drivers are trained at Bambolim.
They are not a danger to the civilian population as long as they remain at the base; but, they have been involved in accidents when they were practising their driving skills – or lack of it – on the Dona Paula road.
The Bambolim base has at least 4,000 soldiers who are bound to vote for the BJP.
Until a few years ago, there was a naval officers' training centre at Verem, which is part of the Calangute constituency. The unit, called the INS Mandovi, continues to be home to a number of personnel. It includes a central school and quarters for the staff, soldiers and officers. It is our estimate that there could be as many as 10,000 voters if you take into account their families.
It is not just the army, navy and air force bases in Goa which give Parrikar great influence on voters. The defence forces also have a garrison engineer responsible for construction and repair of the facilities of the armed forces. While every military centre from Vasco to Navelim and Bambolim has garrison engineers (GE), the HQ is in Panjim. GEs award hundreds of contracts, and thereby have control over the large number of migrant workers engaged in defence projects.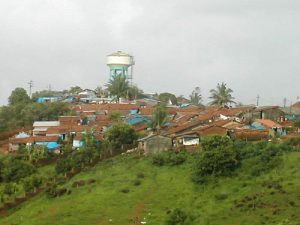 Goa Shipyard at Vasco is expanding at a very rapid rate thanks to Parrikar's generosity. They have received more than `10,000 crore in orders since he became Defence minister and the work force has increased five fold.
Similarly there may be an explosion in the number of employees at what used to be Goa Auto Accessories Limited (GAAL). Land assets from the now defunct GAAL, have been acquired for a helicopter maintenance, overhaul and repair (MRO) project that will service military helicopters used in India and foreign ones as well. The more central projects that come to Goa, the greater Parrikar's influence.
Migrant Majority
THIS election is also different from earlier ones for a different reason. For the last two decades, migrants have always played an important part in Goa's electoral politics. Many popular leaders have depended on their votes repeatedly.
Among them is Babush Monserrate who has a monopoly of the migrant votes in Panjim, Taleigao and Chimbel in Santa Cruz. Babush decided to put up a candidate in St Andre, the original Catholic stronghold, although many Catholic residents have migrated to Paris and their place has been taken by migrant labour from Karnataka. If Vishnu Wagh, the first Hindu candidate to win from St Andre was successful, it was because of the migrant vote. The candidate, Francis Silveira, is part of the Babush camp which believes in buying migrant votes, so they have both sides covered.
The migrants, particularly Kannadigas, have started asserting themselves. They are not content with favours from politicians in return for votes. They have been demanding tickets to contest the election.
One political party has given a resident of Belgaum a ticket for the Vasco constituency. In Ponda, where a large number of Kannadigas have settled, former chief minister and Congress candidate Ravi Naik printed his manifesto in Kannada.
Similarly, in Margao, the Muslim minority has great influence. Both, former chief minister Digambar Kamat, and Fatorda MLA Vijai Sardesai, depend on the Muslim vote bank. It is Moti Dongor which elects Kamat to power every time. He is looked upon as the patron saint of the Muslim community. When he was the chief minister, he would often be seen with a large number of Muslims who would call him baba.
Migrants from other states have also started demanding attention. For the first time, political parties brought regional leaders to woo the migrants. Central minister for Information Venkaiah Naidu was brought to speak to the Telugu population in Porvorim. Former Karnataka BJP chief minister Yeddyurappa addressed a number of meetings in areas with large numbers of migrants from Karnataka. There were Congress leaders from Kerala to take care of the Malayali population. This is not surprising as many estimates suggest that 45 per cent of Goa's population are migrants. We would not be surprised if a Bihari or somebody from Orissa or even the north east becomes Goa's chief minister in the near future.
The situation will become worse because Goans continue to go abroad. Even Hindu Goans are leaving as there are no job opportunities. Also, the natural reproduction rate among ethnic Goans is far less than the replacement rate of two per cent. It is estimated by 2020, the population of Goans will be less than 40 per cent.
Goa has been attracting migrants from both, the lower and upper classes. Many people from Delhi are sick of the pollution and are migrating to Goa. Similarly people from Mumbai and Bangalore are either relocating or acquiring a second home here.
Property prices in Goa are high because it has become fashionable for the bold and the beautiful to own second homes here. The Kapoors were the first film family to buy a house. Now everyone in Bollywood has one. Cricketers like Sachin Tendulkar have huge properties; industrialists like Vijay Mallya have holiday homes. All this has driven up the price of real estate with flats selling at `1.5 to `2 crore. But Goa is still cheaper than Bombay, Delhi or Bangalore.
I realised that Goa was no longer Goan on a recent brief holiday at a five-star hotel. It was like experiencing Jana Gana Mana. Staff were from Punjab, Sindh, Gujarat, Maratha, Dravida, Utakal and Banga!
The housekeeping employee whom we summoned urgently because we had broken a glass was a Reddy from Hyderabad. The restaurant manager was from Lucknow. The general manager was from Maharashtra whose parents have settled in Bangalore. There was a young trainee from Calcutta. The biggest fear is that by the next election in 2021 – if the government lasts for that long – migrants may occupy the majority of seats in the assembly.
Women Power
WE cannot ignore one other major factor in the recent elections – women power. The number of women voters in Goa is much higher than their male counterparts. This is particularly true in the south where there are many shippies who are away for eight months at a time, leaving their wives behind.
While parents encourage their sons to take up jobs outside Goa because of the lack of opportunities, they want their daughters close to them as they are afraid that they may fall in love and get married to non-Goans. Unlike earlier generations, most Goans marry late in their late 20s or early 30s and many prefer daughters to sons. The chief election commissioner decided to provide an incentive to first-time women voters by presenting them with a teddy bear and a pen.
To come to the question of which party will win the election, the answer depends on who you speak to. Parrikar may claim that the BJP will get 2/3rd majority, but senior leaders say they may not cross 10. Faleiro claims the Congress will get 26 seats, but again responsible leaders say they will get only 12 seats including those contributed by Babush and Vijai.
The worry is that the MGP alliance may get eight to 10 seats but not a majority. The Aam Aadmi Party (AAP) is not expected to get more than 10 seats. The surprise may be the independents, who may get 10 seats.