GREEN LIVING & LEARNING! Out in the balmy Ashwem beachside sessions under way to heal mind and body, heart and soul. It's all about connecting to earth and acquiring skills to live the green way
By Tara Narayan
HOW do you wish to live? That's a question that haunted me at the spirited Tanya Kewalramani-inspired See Sharp Festival at Ashwem in north Goa from February 24 to 26, 2017.
Such green, sustainable and fitness-consciousness retreats or camps are not new in Goa, except that it is mostly foreign groups that have been organising them. They hire a bit of wildly idyllic seaside property around the world (including Goa) and set it up for a few days for a retreat of the very best kind of a holiday.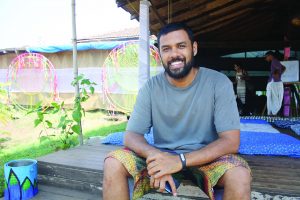 Notices are posted on various websites, dates and accommodation details are fixed and booked, interested participants register and turn up wherever it is to learn all about going green for a cause in the best sense of the word – some say also the worst but we'll leave that aside for the time being.
"I want to live a green life!" exclaimed Tanya when I finally managed to catch up with her. They're doing it abroad so what can't we do it in India? After all, we are an ancient civilisation and culture and have green genes in us too! She is conscious of how today's urban, industrialised mod con-driven civilisation has brought the green ever-giving Mother Earth to her knees. Many young people today, below 35, are conscious of this, be they rich or poor.
So we have a fascinating See Sharp Festival with its host of "teachers" who have lived the talk on how to go green and sustainable. This is within limits of course, but so what if that's just a quarter or half the battle won.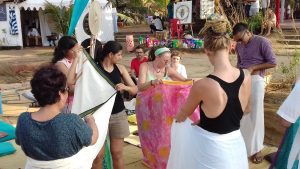 It has been unusually hot this tail-end of February but at Ashwem beach, a cool sea breeze was blowing in and various sessions were under way when I went out for a dekho. Participants Indian and foreign were listening ardently to Impresario Entertainment & Hospitality celebrity chef Gresham Fernandes, waxing lyrical about a fairly recent chain of 45 hot-shot restaurants in India's metros which offer novel cuisine ideas "like eating superb food out of doggy plates!" one Mumbai participant who looked up one of the restaurants called Social confided.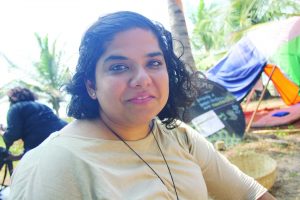 Everything with this chain of restaurants is dedicated to being authentic, sustainable and novel, or so one gathered while listening in to the presentation. Chef Gresham is considered to be one of India's most creative chefs. But being a chef is also a highly stressed out lifestyle, he said, and actually, "We come to Goa to party!" This is not to say he is not conscious of going green.
The venue was roughly divided into Air, Water, Fire and Earth zones. Others who orchestrated various sessions were mindfulness guru Amanda Bocci, who sounded very on the dot when it comes to what we can do when drinking and eating for wellbeing. There was organic farmer and celebrity TV host Bharat Arora conducting small-scale urban to large-scale rural composting workshops, as well as lessons in how to harvest water to tackle the very serious issue of the future, and how to grow organic food. Real food security is a concern these days seeing how farmers are committing suicide and nobody wants to be a farmer except a few young educated and enlightened folk.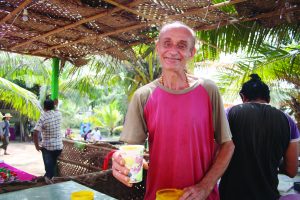 Zico Zook of Permaculture Design International educated everyone on the ultimate regenerative system in green agriculture that's been around for many years but somehow hasn't caught on in India. Kozue Phillips demonstrated how to make soap out of wasted or recycled oils. The soap was on sale along with other tempting things like organic cotton garments for adults and children; homeware, travel accessories, Piya Jain's Maha Mala jewellery, exquisite mugs at `450 each by the Bengaluru-based Nicobar company if you want to stock up on classy eco-friendly stuff. Never mind if it is fragile, it is better than plastic any day.
I bought two hand towels dyed with herbal colours for `150. I'm in love with them, but I don't know whether I should hand wash them each time. They're good. Finances permitting, I'd have bought a dozen more including a lot of other natural herbal and floral dyed products. There was a workshop on teaching participants how to extract natural dyes from flowers, herbs, spices and more.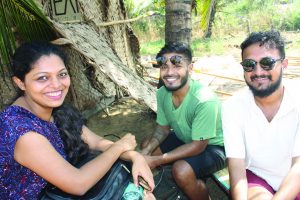 Gaurav Shorey too was all about retrofitting homes to make them more eco-friendly. In an amusing sunset session, he guided an eager group to wear a single piece of clothing – be it the dhoti or the saree – a hundred ways! Not really, nobody was counting, except that it came across as a good idea.
Who wants to give the tailored garments industry a miss and settle for a dhoti-saree wardrobe, to be draped in various comfy and stylish ways? It's a serious thought given our fashion-obsessed times! A few folk were already gliding around in dhoti or saree, not too overdressed given the summery seaside weather at Ashwem.
There was also something called mindful sound healing on another one of the three-day green festival but I only heard about it, not being able to go on all three days.
Back to festival director Tanya Kewalramani. Her ardent concerns make perfect sense. She sees life as a cycle, always coming around. Life shouldn't be linear, "It is all about living from cradle to cradle although nowadays we're living more from cradle to death. The quicker the better presumably!" It is one of the alternate lifestyle philosophies coming back into vogue.
Tanya is obviously influenced by her mother-in-law Charmaine Fernandes Sharma, who was also present at the venue and came across as a woman engaged with turning life into a meaningful, fruitful experience. Her company, quaintly called Observing, is based in Gurgaon and engaged in conducting sustainability audits, offering customised effluent treatment systems, designing and installing solar PV systems, bio-toilets with enzyme-based sewage treatment plants, fully automated self-cleaning toilets, water conservation and waste compacting, treating complex bio-medical and industrial waste and all kinds of energy recovery technologies.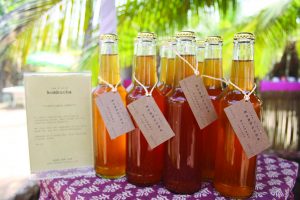 Her son and Tanya's husband Ashwin was at the entrance of the venue seeing to the needs of participants registering for the festival. On arrival, everyone got a jute paper band mildly aromatic with ajwain seeds, along with Ashwin's instruction, "After the festival is over throw, the bag anywhere, and ajwain (thymol seeds) will grow!"
Not unlike many other discerning couples today who are aware of the world around them and where it is heading, they seek a more sustainable way to live and contribute. In this case, a See Sharp Festival annually in balmy Goa makes sense. Why not? It's called combining business with pleasure and may it inspire many more for a green cause, for green is beautiful!