DURIAN MAN: Rahul Kulkarni of the ICARCCARI at the Konkan Fruit Festival….posing for the majestic south-east Asian fruit, still early days and the durian is an acquired passion!
By Tara Narayan
I WONDER who bought up all the durians at the Botanical Society of Goa's (BSG's) 14th Konkan Fruit festival this year at the Dr Francisco Luis Gomes Garden, heritage precinct, in Panjim, over April 21-23, 2017, this year! They're growing it at the ICAR complex estates and there were at least four of these tough thorny odorously ripe fruit on view and sale at `500 per durian, small or large.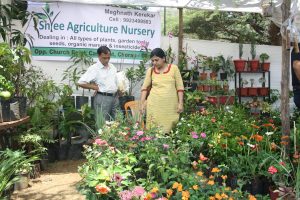 The durian is the much loved fruit of the Indo-Cambodian/Malaysian/Indonesian area and usually comes along with two other fruit, the mangosteen and the rambutan – the trio of fruit complement each other. The durian is "king of fruit" of course and much like the grand jackfruit of the Konkan coast, but the durian is very definitely and dangerously thornier in looks. It's a golden green football of a fruit, which when ripe fills up a room with its familiar strong aroma – an aroma which can turn you off or give you a high, depending on whether you're a durian lover or not. The people of Malaysia, Singapore and Thailand love it and often go on durian estate picnics when the durian is in season. The heavyweight fruit requires some deft handling and has to be split open to reveal compartments lined with creamy nuggets, the cream may be scraped off its seed and either relished as is or in confectionery and a variety of durian treats.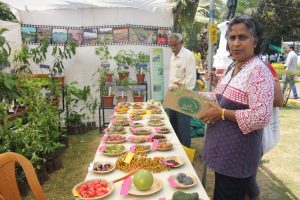 The durians were drawing considerable attention at this year's Konkan summer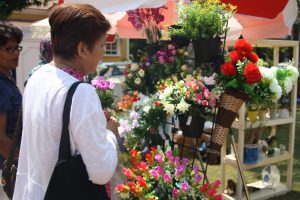 fruit festival along with the usual line-up of Konkan fruit submitted for BSG competitions or for exhibition. Here were a sea of mangoes of all varieties small and large, the richly maroon kokum, royal purple jamun,  exquisitely green-gold star fruit,  refreshingly jade green Indian gooseberries or aonla, vitamin C-rich guava, pineapple, papaya, a whole host of berries, etc. This year the love apples were plentiful, both ivory as well as unusual elongated pink fruit.
THE fruit of focus this year was the banana and how many varieties of bananas there are in the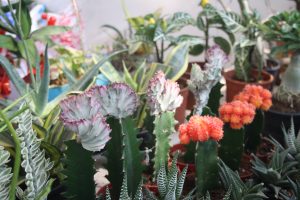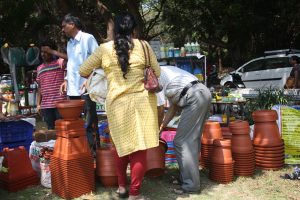 world, including south India! Doing bananas proud at this special interest nondescript stall were a group of girlfriends, namely Jyotika Parab, Varsha Gawas, Riddhi Naik and Nandita Akarkar of Mardhol who offered for tasting  half-a-dozen banana treats like banana halva/leather/jam, two types of savory chips and sukeli (sun-dried) banana nuggets tasting so much like delicious raisins.
The bananas on exhibit here were "vascie, hazari, velchi, sawarboni, rasbali, G-9 (from tissue culture), saldatti or poler, moira" and Nandita said they came from Ramnath Krishna Pai Raikar School of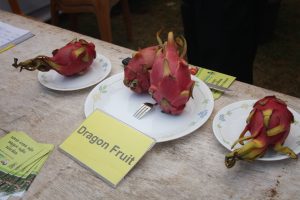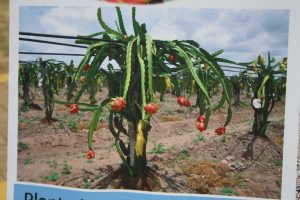 Agriculture at Savoi Verem in Ponda. Most of us may or may not know that bananas are a dream fruit – rich in food values and especially potassium-rich. A banana may be considered as a mid-meal snack all on its own. Some may sniff "poor man's fruit" but hey, bananas are going upmarket very rapidly and priced quoted nowadays are from `40 to `80 per dozen and plus, plus, depending on variety (unless one's buying in wholesale). The small "velchi" comes as highly priced and prized as the large yellow "moira bananas" from Moira, they are also called "moindoli"  and can cost `20 per banana, this variety is usually used for making piece de resistance banana halva in Saraswat Brahmin households and it's redolent of shudh ghee,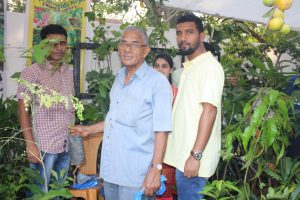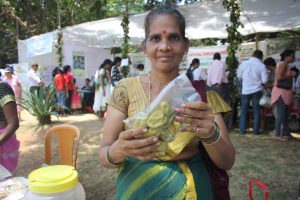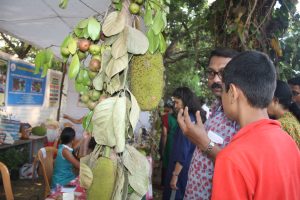 saffron and cardamom powder. The "harazi" variety is possibly the most economical buy. Schoolchildren in school should really get a banana to feast on daily! In Gujarati tradition one may make a meal of ghee-laced "rotli" with a clove-spiked banana halva (jaggery being used instead of sugar). Bananas are really forever.
NEARBY were eye-catching huge hoardings illustrating the curious waxy red dragon fruit which is native to Mexico. The fruit has found many lovers however and is now cultivated widely in Thailand, Vietnam, Malaysia, Sri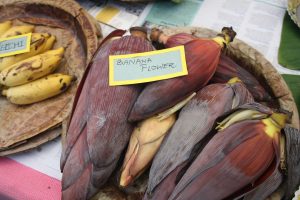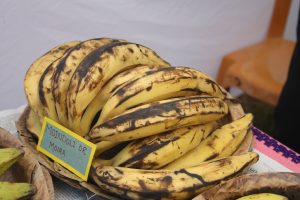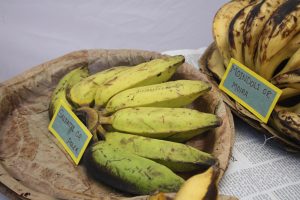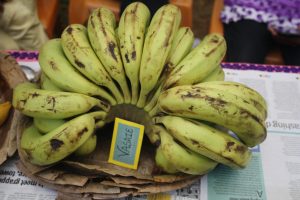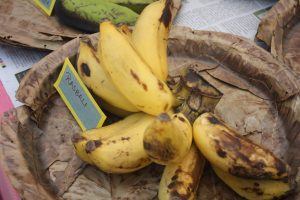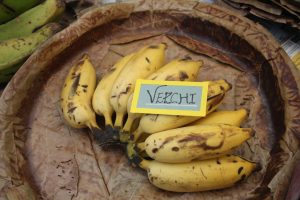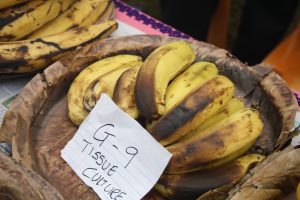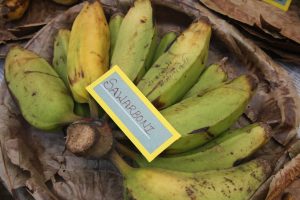 Lanka and India. Dr Yogeshwar Singh of the ICAR – National Institute of Abiotic Stress Management says, "It's a fruit which grows in hardy, barren, rocky ground with minimal water requirement. Yet this fruit is rich in calcium, iron and phosphorus and it has been found to enrich blood count. If you have dengue fever eat this fruit, it is next only to papaya!"
Expensive fruit, of course. All you have to do is to say this fruit or that fruit is anti-cancer or anti-malaria or anti-something and everybody zeroes in for the kill. As is the case with the thorn-studded sour sop or hanumanphal which Cagie Almeida of the magical green fingers made popular a couple of years ago. One nursery at the fair was actually selling a whopping sour sop at `1,000! I think we should stop spreading the word that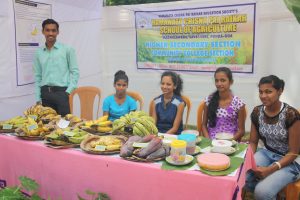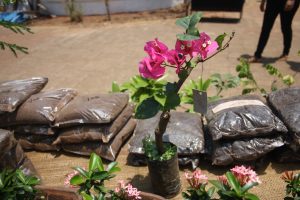 this or that fruit is anti-cancer. Let us all see all fruit of the good earth as pro-health, vitality and immune system-building. Mind you there are gullible folk who pay high prices for any fruit which is promoted as "anti-cancer."
Regarding the dragon fruit, Dr Pravin Bhimdeo Taware, ICAR senior technical officer here, said, "Let's say the dragon fruit is an antioxidant fruit." The dragon fruit is a fascinating cactus plant and its red fruit grows like dangling charms all around once it matures; also, it keeps good for as much as 10 days without any need to be refrigerated. Cut it open and be mesmerized by a sea of starry eyed grey seeds! Could be the eyes of the magical dragon to be fanciful! There are three versions of the dragon fruit and one of them is pleasantly golden coloured.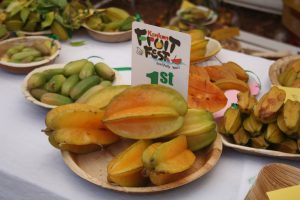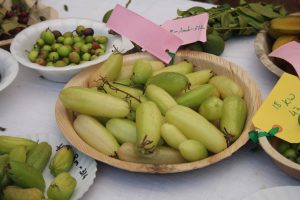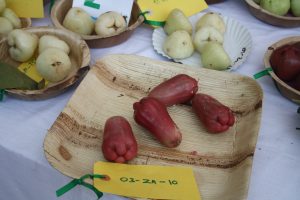 Needless to say the race is on to plant the dragon fruit, it may grow in desert-like conditions but make sure the soil is well drained, "It doesn't like to be water-logged!" Both enthusiastic scientists here were generously offering leaves of the dragon fruit plant on exhibit here for `10 with the advice: "Plant one quarter of the leaf in soil and don't overwater." Watch your dragon fruit plant grow from strength to strength. It will bear fruit after one-and-half years but reach full potential fourth year onwards, "and then once in year it will bear fruit five times from May to October!" Try not to be greedy while marketing your dragon fruit.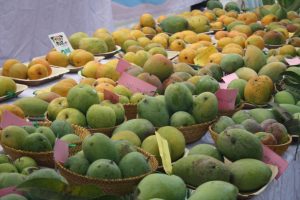 All this and much more at the BSG's Konkan fruit festival. After so many years I found myself in seventh heaven relishing some black mulberries. This was courtesy a passionately keen, farming couple, Rose and Tony Feegrado. They have mulberry as well as green gooseberry trees out in their garden at Defence Colony, Porvorim and were generously letting everybody taste the fruit they had brought along to the festival on a first come first served basis. Kokum king of Goa and senior farmer Srihari Kurade, was much missed. He is usually a familiar face at the festival and usually retails fresh kokum fruit, turmeric powder, "kasaya" herbal tea from his farms out in Canacona not at exorbitant rates but at very friendly, almost freebie rates.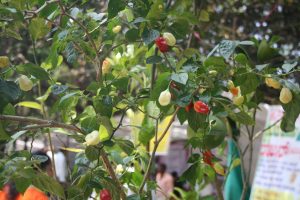 Elsewhere mankurad and afoos mangoes were selling at `300 to `500 per dozen; also pairi and totapuri mangoes; several nurseries did brisk business in fruit and herbal plants; there were all kinds of Goan pickles including baby mango chepnim, sherbet concentrates, virgin coconut oil and handmade soaps, bamboo rice (K P Bhat here swears by its medicinal qualities), jackfruit idli, banana stem sherbet, and a lot more to delight the palate, heart and soul. Come the Konkan Fruit Festival in Panjim and one is tempted to visit it morning and evening. Sorry, no one was selling traditional mud pots, they are rapidly giving way to plastic pots which are in one word — revolting!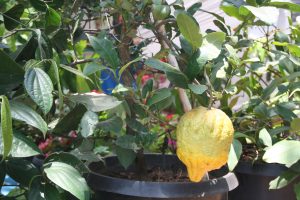 The festival usually runs down the Campal promenade by the river Mandovi but this year at the last moment permission was denied and it had to be a hastily put up affair at the Dr Luis Gomes Garden. Not that gardens are not ideal settings for festivals of this kind and this garden is a particularly graceful, old world garden. Shelter from the overhead summer heat is desirable though! The big-timers had shamiana stalls for their produce but the small folk shifted their home produce from morning to noon to evening in search of cooler corners beneath the garden's trees!