AYUSH NATURAL WORLD EXPO: Welex Ayurveda herbal supplements are worth finding out more about.  Mr Dhaval Patel and his colleague were very helpful
ALL ORGANIC: Complete herbal face clean-ups for ladies at the expo courtesy SSCPL Herbals. Organic beauty products free from paraben is the claim, all in plastic packing though
REALLY, I am convinced now that the age-old preventive health care system of Ayurveda in this country is increasingly becoming a rich and privileged classes' preventive health care! Ever since Narendra Modi's Ayush ministry started giving Ayurveda a boost and bringing it back to life – no problems with that – more and more Ayurveda companies are flaunting their miracle cures and they are only for khaas aadmi pockets!
Never mind that it is public money that the Ayush ministry spends on all its promotional exhibitions and trade show around the country.  It is more like any number of Ayurveda companies wanting to jump on to the band wagon to woo Russian, American, South East Asian clientele with herbal medicinal supplements and beauty products to be used in a range of treatments in spas big and small – beauty parlours have gone with the wind and now we have health spas everywhere – in three-star or five-star or stand-alone establishments, offering a gamut of health and beauty care. Even a plain hair trim by a fancily qualified hair dresser cleans one's wallet out by a few thousand rupees!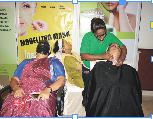 When did you last have a decent massage for `500? All massages now of Ayurveda vintage add up to a few thousand rupees. There are fancy masseurs who will come home to give massages for a price, but it is not worth it unless you live in a very well-maintained house fitted out with hot water bath, etc, and you probably have your own gym and spa at home. Most wealthy folk have personal trainers on their bank roll.
ALL these thoughts came to mind, my dears, while I was taking in the offerings at the three-day AYUSH Natural World Expo which took place at the Hotel Fidalgo in Panjim over the April 21-23, 2017 weekend. One got an idea of how extremely professional the Ayurveda companies of old are and so wholeheartedly committed to preventive healthcare, not so much in India but the UK, Singapore and Europe!
Oh okay, maybe I'm stretching it a bit, but then look at the famous Ayurveda places in Kerala – most of them are booked up by foreigners and we in Goa seek their patronage too, although there's very little Ayurveda and Yoga to wax lyrical about in Goa, unless one is thinking of the Devaaya Ayurveda & Nature Cure Centre on Divar Island off the Ribandar causeway. But Devaaya is akin to a five-star resort-cum-Ayurveda treatment centre (with some piece de resistance veggie meals thrown in). I'm always happy to run away to Devaaya!
The Raja Ramdeo Anandilal Podar Ayurveda Cancer Research Institute in Mumbai is part of the Central Council for Research in Ayurvedic Sciences (Ministry of AYUSH) and from the sound of it has an excellent OPD or so I'm told (here are options for cancer patients if they want relief from chemotherapy/radiotherapy which takes a heavy toll). They do cancer screening here for very nominal charges for anyone over 60 years and Ayurveda medicines are dispensed free of cost.
Companies doing organic produce are growing rapidly. Take a look at the Nature Land organic products list which is very extensive – covers cereals, pulses, cold pressed oils, health foods, dry snack foods, sweeteners, various rice varieties, juices, jams, pickles, rock salt and sugarcane vinegar. I couldn't resist buying some asafetida (hing), bay leaves, dry fenugreek leaves, thymol seeds (ajwain) and besan ka atta (gram flour to make quick fix vegetarian tomato omelettes). They have very good cow's ghee too.
Nature Land is from Rajasthan which is success story in organic agriculture. I only wish organic produce would go into glass or some eco-friendly packaging. At the moment it's plastic packaging with vengeance! I do believe that going organic must go hand in hand with being eco-friendly too and generally I resist buying organic food stuff in plastic bottles tacky or fancy. There was a lady representing Theo Organics and here were rhododendron extract and some wonderful raw Himalayan honey as well as herbs parsley, sage, marjoram, mint, thyme, rosemary, peppermint, chives, oregano, nettle, basil, etc. Theo also has little bottles of herb-infused rock salts. The honey came raw, creamed, smoked and infused with cranberry, blueberry, chocolate, etc.
The Rex Remedies folk were selling their tonics for good health and herb capsules, as also Welex Laboratories which is one of older companies doing herbal supplements. In fact, a friend in Malaysia swears by the Welex supplements and says they helped her with oral cancer recovery. Gurajat-based Welex was founded by the late Dr Yeshwant C Bhatt in 1979, he was quite a keen Ayurveda visionary from the sound of it, and his sons carry on the company's growth which is quite extensive abroad. The company enjoys a good reputation and has won all kinds of awards and distinctions.
I got talking to Dhaval Patel who takes care of Welex India operations and asked if he had anything for arteriosclerosis (inflammation and consequent hardening of the cardiovascular system), he replied, "Yes, but we are not marketing it in India!" Welex herbal supplements at a glance include Welartis (for arthritis), Welsama (respiratory problems), Welebes (blood sugar regulator), Weloderm, Welelax, Weloliv, Welorina, Weleslima, Welvigo, Welvita, Welartis oil, etc. Google and find out more if you wish. Pricy at `2,000 plus, plus.
I asked Kingshuk Chatterjee of Nanophyto Pharmacy (Delhi-based) if he would care to give me a sample of the "Varco" herbal oil they are marketing for leg health (a small bottle of it is priced `2,000)? I showed him my left foot and said, "See, I have some faint varicose veins coming up on my foot and I know it's part of my overweight problem – can this oil you're marketing help?" He assured my varicose veins would be erased if I patted some of the herbal oil onto my affected skin and legs, the oil would rejuvenate my entire capillary and nervous system. He also enlightened me about how untreated varicose veins could affect venous circulation and lead to cardiac emergencies.
He said I would have to do a course of treatment with their varicose vein oil, which means buying half-a-dozen  bottles of the oil in amber-coloured pet bottles at `2,000 each! Could he give me a sample of the oil? "After all if it works even marginally in easing my varicose veins, I'm your best testimonial!" Alas, there were no samples to give away and on a whim why would I invest so much in the oil which is being advertised big-time? They are also doing cold-pressed flaxseed/coconut which is being prescribed for improving immunity and omega-3 deficiency (remember coconut oil for all its wonderful lauric acid properties is still a saturated fat). Virgin cold-pressed flaxseed oil is usually recommended by nutritionists to vegetarians.   
Someone confided in me that Prime Minister Narendra Modi's yoga guru, Bangalore-based H R Nagendra (of Swami Vivakananda Yoga Anusamdhana Saunsthana in Tamil Nadu) was around at the AYUSH show, but I'm sorry I wasn't able to catch up with him. He is said to have been felicitated at a function at a Candolim hotel on the concluding day of the show. But I was intrigued by one Dr Vijay Kushvaha at the Ayurvita stall, he apparently does nadi pariksha or feels the pulse (an ancient science from the sound of it) to diagnose what holds you up from being in the pink of health.
There are several Ayurvita clinics in India and apart from nadi pariksha they offer such things as quantum diagnostics (whereby body scanning is done courtesy a Japanese analyser), they also do colon hydrotherapy, detoxification, colon cleansing therapy, fat reduction machine therapy, panchakarma treatments, etc. All to treat the usual list of degenerative diseases which plague so many of us today. I'm thinking maybe one of these days I'll go and do a proper nadi pariksha and find out all about it. It sounds fascinating.
This guy at the Aurvita stall at the Ayush show was quite imposing. I did diffidently asked him if he would do a nadi pariksha for me and he cursorily felt my left hand pulse point and said "You suffer from too much vata!" Scribbled out a prescription for my cardiovascular problems when I insisted! Usually nadi pariksha is done on the right hand but since my bypass a couple of years ago the doctors had removed a vein from my right arm instead of my left arm.
It seems Indian women suffer from narrow veins and finding a suitable vein to remove is dicey affair when a bypass is called for. Anyway my brief fling with nadi pariksha yielded a prescription which offers some standard printed do's and don'ts advice. For your edification the Do's — Full glass of warm water in the morning on empty stomach; enough water (minimum 12 glasses per day); enough fruits (two to three different fruits per day), enough green leafy vegetables (methi, palak, etc); salads (cucumber, carrot, onion, beetroot, etc); and finally, prefer vegetarian diet.
The Don'ts tell me to stay away from fried, spicy, red chili, tea and coffee, potatoes; no farsan, fermented food, junk foods and no bakery products, chocolates; cold drinks, fruit salads with ice-creams. You get the general idea and now to practice all of it as well as one can! In case you're interested in finding out more about  nadi pariksha there's an Ayurvita Healthcare outlet out in Porvorim (besides the Bharat Petroleum petrol pump).
ALL this to say Ayurveda may have a lot to offer by way of preventive healthcare, but what's the point if much of it is going upmarket and beyond the means of the aam aadmi?  If the government is going to bankroll AYUSH facilities the least it can do is make preventive healthcare affordable for aam aadmi pockets and not khaas aadmi pockets! Why should Ayurveda's massages, herbal supplements, oils or treatments be on par or even costlier than mainstream allopathy? After all AYUSH is a public-exchequer funded mission!
On that note, my dears, it's avjo, poiteverem, selamat datang, au revoir, arrivedecci and vachun yeta here for now!
– Mme Butterfly