LOST CAUSE: Currently at the Tonca Sewage Plant bridge, the St Inez Creek presents a deceptive green picture, but below it continues to rot and putrefy. Successive Manohar Parrikar governments (five terms, 25 years?) have squandered money on impractical projects while all the while encouraging encroachment by the creek's embankments for vote banks!
The 'dirty tricks' boys of the BJP government think that if you can't clean the St Inez Creek you might as well green it to hide the poisonous filth putrefying below!
By Tara Narayan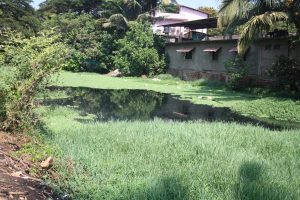 FUNNY! One may feel like rubbing one's eyes if one didn't know any better. Stand at the Tonca Junction St Inez creek bridge and suddenly you notice how green the St Inez ganda nallah has become! This is real live velvety fresh green miniature plant cover (salvinia or hyacinth weeds, algea maybe). But the green cover is just that, of  cosmetic value to fool the eyes! It doesn't quite manage to hide the thick filthy black water stuffed with garbage lurking below the greenery. Walk a bit along the nallah and one sees the brooding black toxic waste breaking to the surface here and there in huge ugly patches.
It's a hilarious farce if you feel like laughing. The green camouflage is deceptive and one wonders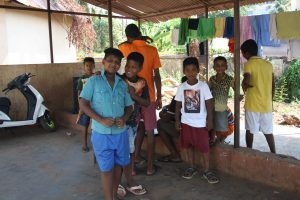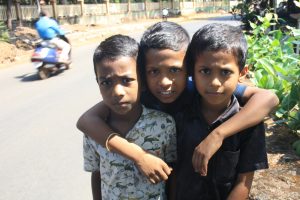 if this is the philosophy of Chief Minister Manohar Parrikar's government, Goa State Infrastructure Development Corporation (GSIDC) and civic fraternity: "If you can't get rid of a garbage-filled creek (which has become a monster gutter), let us at least hide it from view so that citizens don't complain so much!"  Most old-timers in Panjim have warm memories of the St Inez Creek as a sparkling flowing creek of water, draining the town of Panjim. Post-Liberation the St Inez Creek turned into a sewage and garbage gutter for we Indians in Goa appreciate neither fresh water creeks nor understand the practical value of a gutter system – we think all water bodies are for dumping our modern-day garbage in.
In fact, stagnant and virtually putrid as it is, the St Inez Creek or Panjim's most ganda nallah still performs if sluggishly the job of draining water from the Nagali Hills through Taleigao, Camara bhat, Tambdi Mati, Tonca, behind the Military Hospital, Don Bosco High School, ESG complex and into the Mandovi river come the monsoon. But do we care? Even if on paper this water body is officially described as a heritage creek dating back to Portuguese times when erstwhile engineers knew the importance of a water drainage system in tropical climates and maintained their fully or semi-engineering works for public good? We don't know and we don't care.
Presumably natural or man-aided drainage systems were maintained and protected from vandalism, encroachment and abuse in the old days (were there any rules in colonial times about fining or imprisonment if anyone was found abusing a water body, perhaps JC Almeida can tell us). The St Inez Creek which has turned into a ganda nallah of garbage, sewage and poisonous microfauna (only mosquitoes thrive on it) is still a  drainage system (no matter how dysnfunctional) of Panjim town-turning-into-a-city.
Post-Liberation migrant communities and real estate brokers made a beeline for the creek's embankments which are perfect places for encroachment, for here it is convenient to do morning ablutions and of course, dump all garbage in the creek/nallah! Do we Indians of all denomination have any civic sense or respect for our water bodies? To compound a lack of civic sense and appreciation of water bodies, migrants set up their shanty slum homes by the creek and for years they've been running their small businesses from here (for example, preparing the ingredients for the bhelpuri vendors' carts at the St Inez precinct which is now steeped in real estate development). Garages set up shop by the creek seeing how easy it is to wash cars and bikes and send all the water along with miscellaneous rubbish with one clean sweep into the creek.
The St Inez Creek ceased to be a creek of sparkling clean water offering rest and recreation for citizens and became a much-abused ganda nallah for sewage and garbage for Ponjekars. "They come in the middle of the night", the children here will tell you, "to dump plastic bags full of modern-day garbage into the creek". Nobody questions them, trashes them, or fines them, be they rich or poor. The poor who live alongside the ganda nallah surely pay the price for all the involuntary rest and recreation they do here.
Many are victims of malaria and dengue in the prime of their life and many have died. Ask CCP workers and they will tell you of various family members who succumbed to falcipuram malaria or endless relapses from vivax malaria. After sometime death is forgotten and life goes on. How many know what a source of ill-health and death the St Inez creek — presumably named after a saint — is? Even if they do, it's a case of que sera sera. Perhaps one may consider re-naming the St Inez Creek – re-name it after one of our city fathers who take so much pleasure and pride in being Ponjekars!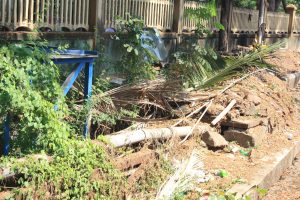 But who would like the St Inez Creek in its present condition re-named after them??? We hear any number of stories of how farmers have cleaned up areas, water bodies, brought their degenerated and dismal villages back to life and along with it their happiness anew. But in the case of Panjim nobody really seems to care about sick, diseased and dying water bodies taking a toll on the environment as well as human health.
The woes of the St Inez Creek continue relentlessly with malaria outbreaks at regular intervals when the heat builds up (like this year in the month of April) and monsoon time. Real estate projects are big-time encroachers along the St Inez Creek and they go full speed ahead with not one of the worthies honoring the CRZ rule of a 5-metre setback/buffer zone (as per Town & Country Planning rules). The St Inez Creek is a water body falling under the Coastal Regulations Zone, for it is influenced by sea water and tidal flushing even though it is so deeply silted that it is in dire need of de-silting.
No fines are in place to stop people from dumping garbage in the creek – perhaps it is in the DNA of Indians to treat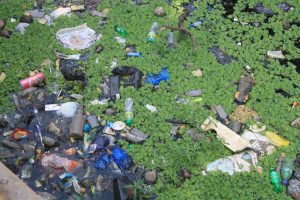 every public space outside their home as dumping grounds for litter, water bodies being particularly tempting. At the GSIDC, the head honchos prefer to spend development funds they get under various Central schemes on building fancy jetties which few use!
Apparently there is a long-pending some `80 crores GSIDC project, but it has failed miserably and now one is left with these iron poles at various points of the creek. There was talk that these would be strung up with 8-foot high green netting to prevent people from throwing their garbage bags into the creek! A ludicrously  impractical failed mission and how much public money flushed down the creek.
ASK CCP mayor Surendra Furtado about the St Inez Creek and he prefers to shut up in traumatic memory of an incident which happened a year ago on Sunday, July 26, 2016. After some coaxing he relents a bit in his mayor's office and confides that last year a Colva party (Caesar and Dizzy Fernandes of Kafmar Environmental Services) had come to him with a plan to de-weed the Tonca/Panjim Fire Brigade stretch of the St Inez Creek.
He raised about `15 lakhs from CSR funds courtesy Caculo, Magsons, Anil Khante, Kamat's, Model's (all keen to see a cleaned up St Inez Creek) and operation de-weeding commenced with the use of an amphibian de-weeding and cutting machine installed on a raft.
It seemed like a promising venture to de-choke the creek. "After they'd cleared a patch, I decided to take some media people out to inspect how well it was working and whether it was worth encouraging further…" Alas, that's when tragedy struck and the overburdened raft turned turtle, tossing some of them, including the mayor, into the filthy waters of the creek!
While he became the laughing stock of the town, no one gave him any credit for at least trying to do something to sort out the St Inez cesspool, remembers mayor Surendra Furtado bitterly. "I suffered and various people made fun of me. It was all over the internet because news today goes global. No one enquired to find out if those of us who fell in the creek were okay!" Mayor he may be, but this fracas has made him lose interest in solving the St Inez Creek's many compounded problems. Let the highly pedigreed GSIDC (which controls the funding of the old Panjim Municipality which is the present Corporation of the City of Panaji) do whatever it wishes at its own whims and fancies.
With this kind of governmental attitudes is it any wonder that the capital city of Goa, Panjim or Panaji, has now slipped down to 90th position amongst 434 cities reviewed by the Swachh Survekshan 2017 (part of Narendra Modi government's Swachh Bharat Abhiyan or Clean India Mission)? From the sound of it the GSIDC prefers to spend all the funds it gets under Central schemes like the Jawaharlal Nehru National Urban Renewal Mission (JNNURM) or AMRUT on building fancy jetties which rusticate for want of usage.
Nobody up there thinks the cleaning up and restoration of the St Inez Creek is central to any futuristic smartening up of the city of Panjim. It is too difficult to clean up the ganda nallah of Panjim and they have all washed their hands off the idea or so it seems. The "dirty boys" of BJP politics are CCP Commissioner Sanjit Rodrigues (who can't enforce anything and has become cynical), MLA Sidharth Kuncalienker, who has been heard saying the creek is a lost cause and prefers to regularise migrant encroachments along it to nurture his vote bank, and last but not least of all, Manohar Parrikar, the lord and master of Panjim, who seeks a return as Panjim MLA for the sixth time (to continue as MLA and chief minister of Goa for better or for worse).
THIS then is the sad saga of the St Inez Creek. Perhaps it is in the fitness of things to re-name the creek as the  Manohar Parrikar Creek! Perhaps then its lost cause status may become a fast track status come this monsoon in Panjim! Remove the worst of the encroachments, levy fines for dumping garbage in the creek, de-silt it to flush garbage out to sea and set its waters free to flow anew, and finally develop it into a happy place all along its 3.7km or two mile length in a time frame. Education of residents old and new can go a long way towards restoring Panjim as a "city" worth living and breathing in once more. For who doesn't want to live in city where health is mirrored in the quality of its water bodies?