CIG TRICK: Rajinikanth is famous for a cigarette trick where he tosses his stick of tobacco in impossible directions and catches it in his mouth
After the 'Mallu' MG Ramachandran, and the Mysore Iyengar, Jayalalithaa, it may now be the turn of the bus-conductor from Bangalore to become the chief minister of Tamil Nadu
By Ali Peter John
ON the evening of May 19, as the thalaiva (legend) Rajinikanth was standing before a crowd of his admirers dressed in his usual style — an ordinary T-shirt, jeans and chappals, with his bald pate showing, his strands of grey and black hair flying according to the swaying of his moods — asking his people to prepare for a war to revamp the way the political game was being played by politicians, it sent shock waves not only across Tamil Nadu but all over the country and raised several eyebrows and hackles. I, who have known the thalaiva for more than 30 years, was inspired to ask myself the following questions.
Who is this Rajinikanth? What is this man called Rajinikanth? Why can this man called Rajinikanth do what most other human beings cannot even think of doing? How has this humble man who has gone beyond humility in his life, become a legend beyond legends during his life time? Why do millions of his admirers, and even worshipers, treat him like a God on earth? Why is he so down-to-earth when  people have taken him to a place that can go even beyond the highest peaks of success? Why do people pour gallons of milk on his cutouts and huge posters all over Chennai at the time of the release of one of his films?  Why do people in a far away country like Japan worship him in the same way as people in Chennai and other parts of India do? Why is he a star who has gone beyond all description? Why has God been so kind to Shivajirao Gaikwad, the unknown man from Kolhapur, who became a bus-conductor in Chennai and then become a God in the same place?
These are just some of the questions that keep coming up every time I think about Rajinikanth, a very ordinary man I know, but who I also know is one of the Creator's most extraordinary creations!
As I keep waiting for answers to these questions I go down memory lane and remember my encounters with him.
FIRST MEETING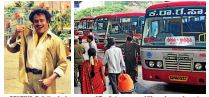 THE first time I met Rajinikanth was at the Shanmukhananda Hall in Mumbai. He was not the thalaiva he is now, but he had made it as a star and was accompanied by the upcoming singer, S. P Balasubrahmanyam. I was by some stroke of good luck sitting with them as I had the seat of a friend who could not attend the function. Hardly 20 minutes into the awards function, I could see both the men feeling restless until Rajinikanth looked towards me and said, "Is there a place somewhere close by where we can have some good country liquor?" I was a past master in such things and I said, "Try Dharavi, it is only five minutes from here". They quietly excused themselves saying that they had to meet a very important friend at Kings Circle and would return in half-an-hour. When they came back, they thanked me profusely and Rajini in his own style of speaking Hindi said, "Majaa aagaya brother. I will always remember you". It was only I in the whole crowd who knew that they had a couple of drinks of the country kind. To make sure that they didn't get caught they avoided making any speeches on stage.
Rajini had signed his first Hindi film and was staying at the 'Sun-N-Sand Hotel' and told whoever was his host to find out where I was and invite me over to the hotel the same evening.
EARLY STRUGGLE
IT WAS in one of the streets of the hotel that we met and Rajini told me all about his days as Shivajirao Gaikwad in Kolhapur, his taking a train to nowhere without  a ticket and not even knowing that he had landed at Madras Central Station from where his struggle began. He kept drinking and told me about how he wandered around trying to catch the attention of anyone who was interested in seeing his talent as an actor. He also told me that by acting he meant only all the gimmicks he had picked up from Shatrughan Sinha when he was a popular villain.
He had made sure of his living in Madras by taking up a job as a bus-conductor and in his free time, he took part in street plays and in travelling theatres in Tamil. He had soon grown very popular and it was the well-known director K. Balchander who was known for discovering new talent like Kamal Hassan, Sridevi and Jayaprada among many others who reached the spot where Rajini was performing and decided to cast him in a film. That was the beginning of Rajinikanth,  a name given to him by K. Balchander.
MEETING ANEW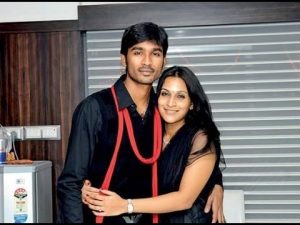 HE HAD now become the thalaiva and I thought he would forget me. Who was I to be remembered by the thalaiva of Tamil Nadu? I was in Madras to cover the shooting of a film and was staying at the Taj. One morning I received a call and the voice on the other side said, "Hae Aali, hamara shahar mein aakar humko phone nahi karta hai. Kya humko bhul gaya kya? Aaj sham ko paanch baje taayar rehna, main aata hai, tumko hamara shahar dikhayega". How could I say no to an invitation like this? I was ready at 5 pm when the telephone in my suite rang. It was his voice that said, "Neeche aaja, main khada hoon". I rushed down, expecting to see a big, posh car, but instead I heard the honking of a car and saw an old and ramshackle Fiat car with Rajini himself  at the wheel. I sat in the seat next to him and he said, "Bolo kidhar jaaneka hai?" I told him I knew nothing about Madras and he said, "Chalo tumko Mount Road dikhata hai". I didn't want to disturb him while he was driving but he kept talking to me about my life and my life in "Screen", the weekly I worked for, and before I could say a word, we had reached Mount Road. It was more crowded than the Flora Fountain (now known as Hutatma Chowk) and was known as the heart of Madras. All was well till a young beggar on wheels happened to have a glimpse of him and shouted, "Thalaiva, thalaiva", bringing the traffic to a standstill. I was literally scared seeing the crowd and asked him what would happen now.
He noticed I was looking visibly scared and said, "Worry nahi karneka" and brought down the glass pane of his Fiat and raised his hand towards the crowd and within minutes the traffic moved and the crowd dispersed. I told him I would prefer to sit with him in some hotel and talk to him. He drove me to the Chola Hotel and took me to a particular corner of a bar. It was one of the senior waiters who told me that this was Rajini's favourite drinking place every evening from seven onwards until his wife, Lata, came and took him home. The same scene repeated itself that evening too, but he told Lata (she was a journalist who had gone to interview him once and the two fell in love and got married at a very simple ceremony) to see that I was dropped safely at the Taj.
Talking about his drinking habits reminds me of a press conference addressed by him at the International Film Festival when it was held in Madras (it was still to be named Chennai). A female journalist from the U.K stood up and asked him, "Mr Rajinikanth, how do you prepare for your next day's shoot? " And Rajini laughed aloud and said, "What preparations, Madam, morning getting up and going for shooting, working whole day, coming to Chola and getting drunk and going home, having good dinner and good night. Going to shooting again in the morning. Where is the time to prepare?" Rajini was known for speaking out his heart.
MEETING DEV ANAND
ONCE when I had to accompany Dev Anand to Chennai for a function which was sponsored by my weekly, Dev Saheb, as I and everyone in the industry called him, made sure that I had a suite next to his. There was a big clamour among all the big names of the Tamil film industry to have a darshan of Dev Saheb and he had given me the permission to take a decision on who he should meet. One of the first requests came from Kamal Hassan and Dev Saheb in his own style said, "Call him over. He is a great actor, I would like to meet him ". The two men had a long meeting and even decided to work together.
The next man I had to say yes to, even without asking Dev Saheb, was Rajini. He landed at the Taj in a Fiat again and in the same kind of clothes that I had always met him. He literally ran up the stairs and reached my suite first and I led him to Dev Saheb and took him by surprise. Rajini touched Dev Saheb 's feet and then sat at his feet and refused to sit in a chair. He was finding it difficult to make any conversation with the legendary Dev Anand who he was seeing for the first time. Dev Saheb told Rajini about the public reception that was being held for him and Rajini kept quiet. The evening saw the entire ground packed with people to see who this Dev Anand was and some of them even cast aspersions on all Hindi film stars. Then Rajini gave the crowd a big surprise when he landed at the place in his Fiat. He ran up to the stage where Dev Saheb was already sitting and fell flat at his feet and got up only to tell the crowd about the greatness of Dev Anand and the people for whom Rajini was God wondered how their God could fall at the feet of another God and that too from Hindi cinema. But Rajini's gesture and his speech silenced them all.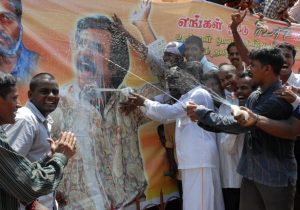 I was a regular at all the Rajini's film shootings in Hindi — films likes "Geraftaar" and "Hum". He was a great fan of Amitabh and called him "guru" and "sir" or "saheb". Their friendship grew stronger and became a family affair. The two were seen at all their family functions. Amitabh was the chief guest at the muhurats and release functions of the films of Rajini, and Rajini reciprocated his gesture.
STILL THE SAME
THE last time Rajini was in Mumbai was when Amitabh arranged a grand felicitation of the music-director Ilayaraja who had completed one thousand films as a composer, the last film being the Amitabh- starrer "Shamitabh". There were other big stars like Kamal Hassan, Sridevi and almost anyone who had anything to do with films. The rest of the guests were all dressed up in formal suits, but Rajini was Rajini dressed in a much better way, this time with proper trousers and with a good shirt tucked in and wearing leather shoes and with his hair dyed.
I had no reason to believe that he would remember me after so many years and after his being officially known as thalaiva and was walking away in my move to get out of the huge crowd when I heard a voice shouting out my name, "Hae Aali". I was surprised to see that it was the same Rajinikanth I had first met at the Shanmukhananda Hall in Mumbai 30 years ago.
People like Rajinikanth never forget and never change. But will the wild and dirty world of politics change him? That is what I am waiting to see when he officially enters the world of politics and declares his war to purify the dirty world of politics in Tamil Nadu and may be show the way to other politicians to wage similar wars if India has to be saved.
Mumbai-based Ali Peter John is a veteran film journalist who worked for Screen, the film weekly of the Indian Express Group, for over 40 years, and has seen the highs and lows of tinsel town.
RAJINI'S BRIEF BRUSH WITH POLITICS
RAJINI was never in favour of joining politics or even being close to any politician. However there was an incident that occurred when Ms. J. Jayalalithaa, who was his neighbour at Poes Garden in the posh area of Chennai, had come into power as the chief minister after the death of her mentor, M. G Ramachandran.
The story goes that one night when Rajini was returning home in an inebriated state, he was uttering some words which were not taken lightly by Amma who made it an issue. Although Rajini did not say a word that night, somewhere in his heart he had decided to teach Amma a lesson. He started by openly supporting a party that was an ally of the DMK (the main opposition party). He then left the country and sent a message to all his 2,000 and more fan clubs, and to all those who worshipped him, that Amma should be defeated in the upcoming elections to the Assembly, come what may. His word was command for the people and Amma not only received a bad drubbing in the elections but had to sit in the Opposition for the entire term.
Will Rajini's words have the same power now that he seems to be all set to enter politics as a force by himself?