JOHAR & DEV BOREM KORUM MOMENT! At the Jharkhand Art & Film Festival 2017 Jharkhand's Minister of Art & Culture, Amar Kumar, leads the lighting of the inaugural lamp along with Goa Minister of Art & Culture Govind Gaude, and Jharkhand and ESG dignitaries
GLIMPSES OF THE 3-DAY JOHAR JHARKHAND FESTIVAL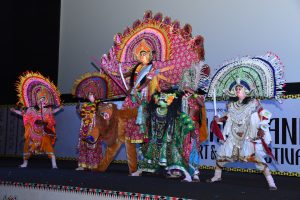 ONE of these days make it to Jharkhand, my dears, before it disappears! You may or may not know it, but last week definitely belonged to the folk from Jharkhand in Goa and what a mesmerising colourful scene they made at the INOX complex where courtesy Prime Minister Narendra Modi's EK Bharat Shreshtha Bharat initiative, the Goa government along with Goa Tourism and Entertainment Society of Goa had rolled out the red carpet to say "Johar!" That's 'hello' in Jharkhandi in case you don't know.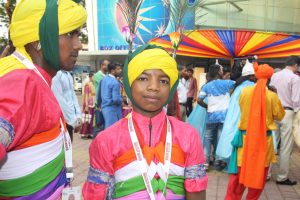 It was a mélange of films, documentaries, art and crafts also theatre, tribal dancing from Jharkhand and yes, also Jharkhand's cuisine which is very interesting. What do you know about Jharkhand? I must confess I knew very little till last week. It was a part of the state of Bihar but acquired its new independent identity as the 28th state of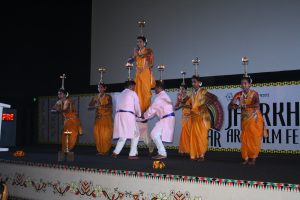 India sometime recently (November 15, 2000). The old south Bihar is mostly heavily forested plateau land (a veritable pristine wilderness) and yes, there's a lot of tussle going on between those who want to take over Jharkhand to exploit its rich mineral resources. I'm told Jharkhand is the hotspot for mining in India for there is everything here from iron ore, manganese, copper… and even uranium.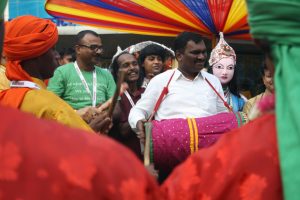 Now do you understand why so many political and business eyes are on Jharkhand? There's a long standing tribal movement which doesn't want "progress" and "development" in Jharkhand. There are something like 32 tribal communities  (some quite primitive) and some or most don't want to abandon their sustainable, if difficult, lifestyles for perfectly understandable reasons. Who wants to exploit who and why? It's the same old narrative of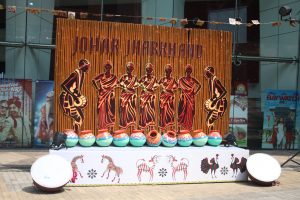 urban industrialisation in the sub-continent. Let's say Jharkhand is a new chapter where a lot of caution is advisable in the larger cause of protecting air, earth, and water — the three primaries of life on Earth.
Jharkhand has been in the news recently for all the most distasteful reasons (like upper caste Thakurs wanting to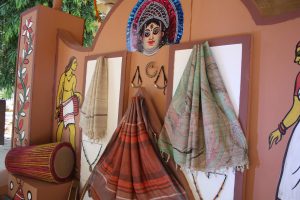 "finish off" the rights of tribals). But to stay with Jharkhand in Goa I couldn't resist going out there at the INOX complex on all three days from May 25, 2017. There was a long-drawn out inaugural evening showcasing a whole lot of dances from mardana jhumar and janana jhumar to various kinds of chhau dancing which is now recognized by UNESCO as a heritage dance form. Chhau originates in Saraikela district of Jharkhand but now there are several versions like mayurbhanj chhau (Odisha), purulia chhau (West Bengal) and singua chhau of Khunti district (Jharkhand). Music and body language alone sometimes recounts a story of old, and the costumes and masks are exquisite.  Manbhum chhau is a martial art form where the artistes/actors run, jump, leap, somersault and do battle vigorously with swords – say in very arena or akhada style (all heavily costumed), very skilful and ornamentally riveting.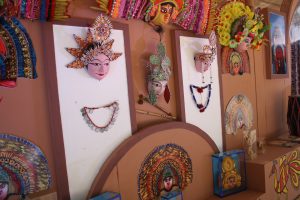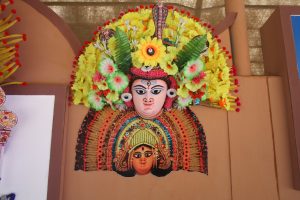 (Sigh) I missed a lot of it and am sorry especially about not being able to make it for the films  Gadi Lohardaga Mail, Lohar Garam Hai, Edpa Kana, Naachi Se Baachi   and The Lost Behrupia. I daresay for want of better publicity and public-friendly scheduling, there wasn't much of an audience for these treats from Jharkhand which were largely unattended and went lightly noticed in the media. The extravaganza  remained by and large one of those  official and political-driven affairs with only various government functionaries exchanging calling cards and discussing how to promote more tourism between Jharkhand and Goa!
I dare say quite a few Jharkhand natives are trekking to
Goa in search of a livelihood. Things must be pretty grim in Jharkhand for small folk.
This is to say if you're going to Jharkhand for your next holiday, the places to visit from Ranchi (the capital) are some of the temples (many are historical) and wildlife sanctuaries full of waterfalls, bird-life, and wildlife. Don't forget Jamshedpur — Tata Steel is here, it's the world's 6th largest steel company.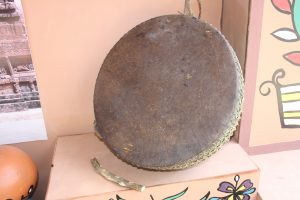 If you're nature's child visit Jubilee Park at the confluence of the rivers Kharkai and Subarnarekha in the heart of the city (there's a zoo located here) and catch the laser show of something like 96 water jet combinations (a show inspired by the one at Sentosa Island, Singapaore). Better still go watch wild elephants frolicking in the rivers and waterfalls of Saranda Forests in the West Singhum district of Jharkhand. You must visit Jharkhand one of these days before saying goodbye…er…cruel world!
Text & Pics by Tara Narayan