MISCHIEF: At one end, the Sangh Parivar and others deliberately spread false news to divide communities and create tensions between not only the majority and minority communities, but also the Dalits and the upper castes. At the other end, there are agencies spreading fake "good news" to showcase non-existent achievements!
Social media is full of fake news planted by fanatics to create tensions between various groups. The basis for the tweet of the Gujarati actor MP against Arundati Roy, the famous author, was false news. Similarly much of Arnab Goswami's reports are prime example of fake news
By Adrija Bose
RUMOUR–MONGERING has always been around but an organised, US-style fake news explosion on social media has come to India.
After all the brouhaha over BJP MP Paresh Rawal's tweet saying writer Arundhati Roy should be used as a human shield, it turned out that Rawal was also a victim of fake news.
In his tweet, Rawal had said, "Instead of tying stone pelter on the army jeep tie Arundhati Roy!" He was referring to an incident in Kashmir, where a civilian was tied to an army jeep during the elections there. Rawal's tweet was outrageous. And it was based on a nonexistent interview Arundhati Roy supposedly gave during a recent trip to Srinagar.
As the Wire pointed out, the tweet was based on a post on the 'The Nationalist' Facebook page saying, "70 lakh Indian Army cannot defeat Azadi gang in Kashmir: Arundhati Roy gives statement to Pakistani newspaper!"
Roy told the Wire that she had not been to Srinagar recently nor made any statements about Kashmir.
This isn't new. What we are calling 'fake news' is misinformation that people fall for. With social media becoming so mainstream, we have a problem.
While Facebook has promised to up its game to fight the 'fake news' problem, there are two websites in India that have emerged recently, trying to separate the real news from fake news.
AltNews.in and SMHoaxSlayer are the two sites trying to perform this challenging task.
Here are 10 instances where the two news sites busted myths and falsehoods being passed of as news.
Madhu Tehran didn't say she had issues with 'Baahubali'.
RECENTLY, a WhatsApp forward suggesting that Newslaundry's Madhu Trehan had an issue with the film 'Baahubali' for not having any Muslim characters found its way on right-wing news sites and social media. Trehan kept getting trolled. Alt News wrote a piece pointing out that Trehan had never said any such thing.
Jean Drèze is an Indian citizen
A TWEET by the Swarajya columnist Shefali Vaidya said that Jean Drèze, a foreign national, was a member of the National Advisory Council in the UPA government. The tweet went viral but its allegations weren't new. Last year, Dreze, a respected development economist and activist, had to write a letter clarifying that he's an Indian citizen. This, despite living in India for 37 years and being a citizen of India since 2002. However, a year later, the fake news is still doing the rounds.
No Ambani's photo in Modi's office
A PHOTO of Prime Minister Narendra Modi sitting with Sachin Tendulkar has been doing the rounds on social media for a while now. The strange thing about the photograph is that there's a framed picture of the Ambanis seen hanging on the wall of the Prime Minister's office. Photoshop, of course. Smhoaxslayer, which reportedly busted over 1,300 fake forwards on WhatsApp pointed this out and also shared the photo that was actually tweeted by Modi, sans the Ambani photograph.
It wasn't Gurmehar Kaur in the video that was doing the rounds.
WHEN Gurmehar Kaur, a student of Lady Shri Ram College for Women, was being trolled for protesting against the student group ABVP, a fake video started doing the rounds. Kaur was initially being trolled for a campaign she had done when she was in school. People started sharing screenshots of Kaur's campaign in which she was holding a placard that said, "Pakistan did not kill my dad, war killed him. It took me a while to know, but today I do. I have learnt to let go of my hate." Soon thereafter, a video of a young woman singing and dancing in a moving car with her friends was shared on social media, with the claim that the woman was Kaur. Many people began questioning her character. It wasn't Gurmehar of course, and the video was old.
No, your phone won't explode by your taking a call.
A NEWS piece that went viral a couple of days ago said that taking a call from the number 777888999 will cause your phone to explode. Yet again, it was a WhatsApp forward that had someway found its way into some news sites. The forward, with its ridiculous assertion, was obviously fake. Smhoaxslayer pointed out that the photo that was being shared in the forward was two months old. The nine digit number didn't exist. Moreover, there's no evidence to show that a phone can explode simply by receiving a call on it from a particular number.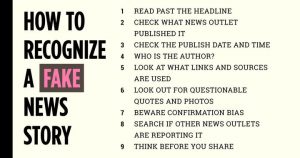 Pankaj Jain, a 39-year-old from Mumbai, who started the website Smhoaxslayer said in an interview, "I'm blessed with the sixth sense, that is common sense, which is on the verge of extinction in country, thanks to people who forward or share stupid messages which defy science and common sense — like believing in a photoshopped image of god in the clouds."
Nostradamus didn't predict Modi's rise. Nope.
IN ANOTHER instance of fake news, one François Gautier claimed to have chanced upon some hidden manuscripts written by the medieval seer Nostradamus that prophesied the rise of Narendra Modi — 'Narendrus' — back in the 16th century. Gautier's assertion was published as a blog by the Times of India. Soon thereafter, Gautier's 'findings' were ripped apart. He had said that an old trunk was discovered in 2012 that had the manuscripts on Modi. Alt News did a quick search and found that the reference to "old trunk" had been found one too many times in the books that Gautier had authored. So he had discovered the trunk in his 2009 blog titled 'Nostradamus and Saffron'. And, then again in his 2014 blog titled 'Nostradamus and 2014' elections. He then discovered it again in 2017. Every time, the contents of the manuscript just changed.
No GPS chip in new currency notes.
AT THE time of the currency demonetisation, TV channels and newspapers had carried stories on how the new `2,000 notes had a GPS chip embedded in them. The notes had apparently been designed to ensure that Narendrus aka Narendra Modi wins the fight against black money. Later, the RBI had to step in and clarify that no such advanced features had made their way into the new currency notes.
Guatemala mob lynching video passed off as Marwari woman being beaten up by a Muslim man.
A TWO year old mob lynching video from Guatemala was being passed off as a video showing a Marwari woman being murdered by a Muslim mob. The accompanying text said that the woman was beaten up for refusing to wear a burkha. Alt News's Pratik Sinha decided to bust the myth. Using a few digital tools, he managed to zero in on the source of the video. Turned out, it wasn't even from India.
"We are seeing two things. There is an underground propaganda, where unverified content floats around on informal unregulated channels of social media. And then we have overground propaganda where well known news organisations have begun pushing news which fits certain politics," Sinha told the Wire in an interview.
'Amazing' Rajkot bus stop picture was shared even before the bus stop was constructed.
EVEN before the Rajkot bus stop was built, people started sharing photos of it on social media. This included BJP MP Babul Supriyo, HV Goenka, chairman of RPG Enterprises, one of India's largest business groups and Mohandas Pai, who was formerly on the Board of Directors of Infosys. Turns out, they had all just boarded the propaganda bus. The foundation stone for the actual Rajkot bus stand was laid as recently as 8 April.
That was a Bangladeshi video. Not a Muslim killing a Hindu man in Bihar.
ON THE same lines as the viral Guatemala video, another viral video purported to show a Hindu man being killed by some Muslims in Nawada in Bihar. The text accompanying the video said: In Nawada, a Hindu brother is being brutally killed by Muslims. This incident happened on the 6th of this month. We now know whose fault it is. Share this video so much that it reaches Narendra Modi. If you're a true Hindu, then forward it pronto… Jai Shri Ram. Needless to say, fake news again.
(Editors note: Another set of fake news involves UNESCO declaring everything in India to be the world's best. So whether you've heard that Unesco declared that Prime Minister Modi is the best Prime Minister, that the 'Jana Gana Mana' is the best national anthem, or that the new Rs 2,000 note best currency in the world, you can stop celebrating — its all fake news once again!)
Courtesy: Huffingtonpost.in