EXCUSE: Among the alibis of the Hindutuva Brigade for filing hundreds of criminal cases against MF Husain from Kashmir to Kanyakumari was his depiction of Hindu gods and goddess and epics like the Mahabharata
ALI PETER JOHN reminisces about one of our most famous painters
WHAT did we give one of the most illustrious, noble and gentle geniuses of our country after all that he had done for the country and having done mother India proud? We gave him devilish, fiendish and heinous threats. We threatened to cut off his fingers, chop of his hands and kill him, with prices for those "noble" acts quoted by men and women who run slaughter houses for human beings in India.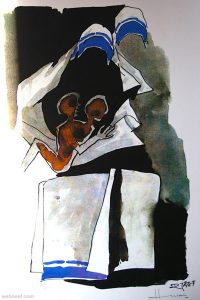 The highest courts of the land had found him innocent and exonerated him of what his enemies called his "crime", yet he had people chasing him — people who had the courage to defy all the laws of the country and run their slaughter houses — and no one, no fighters for the freedom of expression, no forces of any government at the state or the central level, and no vociferous voices which rise only when they feel assured of a place on page 3 (even if it is available for a heavy price to pay), had the courage or the time to fight for a man who was one of the greatest assets of India.
Yes, I am talking about Maqbool Fida Husain, the Pandharpur-born Indian the world recognizes and salutes as one of the greats of this century, while we only thought of drawing his blood and hungered for his life.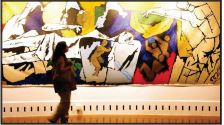 Husain was fearless in the face of all odds, but his family and friends and admirers cared for him and his life and pleaded with him to flee the country of his birth, his motherland. Husain lived in forced exile in Dubai for two years, where he was treated like royalty by the Sheikh of Dubai. People respected him wherever he went. At 97 he was busy working, painting the history of royalty in Dubai. He travelled in Bentleys and other classy cars which our film stars could only envy. He was provided with all the luxuries of life. But he had the heart of a true Indian, the heart of a sensitive artist who craved and pined for the burning hot streets of Mumbai on which he walked bare feet; for his places of work, the Pundole Art Gallery, the Jehangir Art Gallery, the Sea Lounge of the Taj Mahal hotel, the Irani hotel in Worli, Mumbai and the Adhaar Udipi hotel next to the domestic airport in Mumbai, where he sat with his feet up on wooden chairs and benches and sipped the kind of tea (which he said he could never find anywhere in the world); for the crowds and the madness of places like Mohammad Ali Road, Bhindi Bazaar, Null Bazaar and the slums of Andheri where he visited some of his workers who had served him in his mad pursuit; for the parapet at Marine Drive where he sat in the rain and munched on steaming hot "bhuthas" (maize) and the Swati Hotel at Grant Road where he swallowed any number of "pani puri" and finished of plates of "sev batata puri".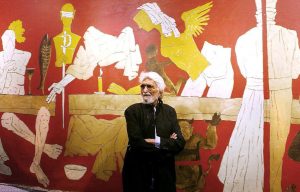 BUT the one thing he missed most was the film industry of Bombay, with which he had an association for more than 75 years. Husain started his career as a painter when he worked as a poster painter for films at a studio under the Mahalakshmi bridge. He took pleasure in watching the films of Dada Saheb Phalke, Dada Saheb Torney and V. Shantaram. He admired the beautiful heroines Ruby Myers (Sulochana), Maya Devi, Durga Khote and the muscular heroes of the time like Master Vitthal, Prithviraj Kapoor, K.L.Saigal, Mazhar Khan and later heroines like Madhubala, Meena Kumari and Nargis and heroes like Dilip Kumar, Dev Anand and Raj Kapoor. And who can forget his "divine madness" for Madhuri Dixit, whose film, "Hum Aapke Hain Koun" he saw more than a 100 times, sitting in the same seat at the Liberty Cinema where the film ran for five years?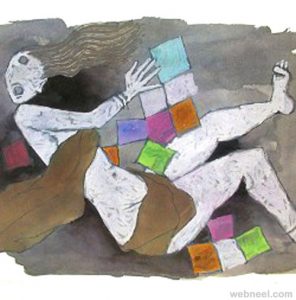 He always nursed a parallel passion to make films. He directed his first short film "Through The Eyes Of A Painter" which won him awards at various international film festivals. He proved his passion for films when he built "Aaina Khana" in Hyderabad where he stored memorabilia from films through the years. He kept in touch with films and expressed the desire to do something for Raj Kapoor's "Henna". He wanted to paint the backdrop while the credits of the film ran. Raj Kapoor died, but his son Randhir Kapoor, who took over the making of "Henna", remembered his father's promise to Husain, and saw to it that Husain did the painting for the titles of the film.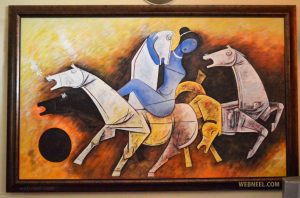 His passion for films reached a new high when he saw Madhuri in that memorable film "Hum Aapke…". Madhuri became his muse and inspired him to make his first feature film, "Gaj Gamini" which was an artist's tribute to the Indian woman he saw in Madhuri Dixit. He then directed "Meenaxi – a Tale of Three Cities" with Tabu in the main role. He had plans to make a comedy about three young women, one blind, the other deaf and the third mute, for which he had signed actresses like Urmila Matondkar and Sonali Kulkarni after paying them the kind of money they had never earned in their entire career.
He was also fascinated by Amrita Arora after seeing her performance in "Vivah" and painted her the way he saw her. Husain also made his work immortal when he sought the permission of Yash Chopra to paint the walls of his Yash Raj Studio with a wall size painting depicting his vision of the history of Indian Cinema, which he did at the age of 86.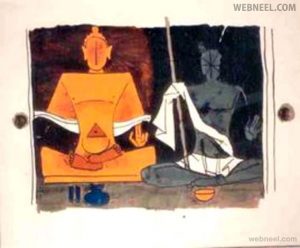 He further showed his love for Hindi film stars when he painted special pictures in the homes of his favourites like Dilip Kumar, Dev Anand, Raj Kapoor, Shabana Azmi and Javed Akhtar, and Raj Babbar and his wife Nadira for whom he painted an entire wall in their house in Juhu,"Nepathya".
He played the royal host to all the stars and filmmakers who visited Dubai, and then Qatar, where he had accepted citizenship, but often expressed his heartfelt desire to come back home and make at least one more Hindi film. The butchers of the slaughter house did not allow him to fulfil any of his wishes. He finally died a broken-hearted man with both his passions, painting and films, lying incomplete, all because of the fear instilled in him by the master butchers of the dirtiest slaughter houses.
MIRACLES OF MF HUSAIN
THERE are many scenes and scary happenings that happened in Mumbai during the four days that will be remembered by all those who have survived to remember them.
One of them is related to Maqbool Fida Husain. The iconic Taj Mahal hotel has many reasons to be proud, but the most prominent is the huge wall-to-wall painting done by Husain which catches the eye of anyone who enters the Taj. It forms the backdrop of the reception counter where people from all over the world first reach and are amazed by the strokes of genius on the wall. Anyone who knows the basics of art stands still for moments or even minutes together and admires it, trying to read meanings into it. Those who don't know or have never heard of the name behind the masterpiece ask for the name of the creator and go away with awe and admiration written all over their faces.
The Taj Mahal was under siege for four horrifying days — the main target of terrorists. All they had in their wild and wicked minds was murder, mayhem and destruction of as many people and as much as possible. Thank God for some of our brave men in uniform — the damage was not as destructive as it could have been. There was fire every where. The sound of bullets firing could be heard every day, causing endless destruction and death without any reason fathomable understood by normal human beings. The bullets were so powerful that they could even make holes in the hundred-year old strong walls of the Taj. Thankfully the greatest accident of humanity at the Taj came to an end, and Mr. Ratan Tata and his men went around the Taj to see the destruction. They stopped stunned when they came to the painting of Husain. There was not a scar, a scratch or a mark to show that the painting had been damaged in any way whatsoever. Husain's labour of love turned out to be one of the greatest miracles of modern time.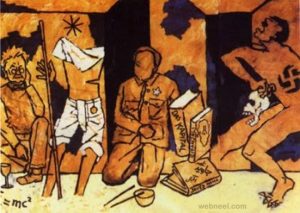 This was not the only time a miracle like this had happened to a Husain painting. Some years ago, Madhuri Dixit's manager, Rakesh Nath's apartment caught fire, due to a short circuit when the entire family was asleep. The family would have been roasted alive if it was not for a servant who smelled the first stench of fire and woke the whole family which ran down the steps for safety. Every thing in the hall of the apartment was damaged beyond redemption except a painting of Mother Teresa done by Husain and gifted to the Nath family and a life -sized statue of the Sai Baba of Shirdi. Neither the frame of Husain's paintings nor the silken cloth over the head of Sai Baba was touched by the fire.
This kind of miracle has also happened with Husain's paintings every time his museum in Ahmadabad or in Mumbai have been vandalized or ravaged by 'keepers of Indian culture'! Their wild acts have not been able to touch any of Husain's paintings.
The late playwright Vijay Tendulkar placed two paintings presented by Husain in his own private study. Only Tendulkar and his daughter Priya knew the value of the paintings. For Tendulkar's wife and the servants who did all the cleaning they were an endless source of nuisance until an income tax raid on their house found Husain's paintings as the only valuable things in Tendulkars's house. From that morning Tendulkars's wife cleaned them every morning with her own hand. Their house was even burgled one night and the thieves took away every thing, including Tendulkar's pens. The only things they left behind were Tendulkar's treasure of books and the paintings of Husain —  which they thought worthless!
It also happened at the bungalow of Raj Babbar. The wall on which Husain had painted showed signs of some damage because of seeping in of water, but nothing touched even a line or a dot of Husain's painting. Can these happenings be just accidents? Or are they pure miracles? I leave you to judge.
Mumbai-based Ali Peter John is a veteran film journalist who worked for Screen, the film weekly of the Indian Express Group, for over 40 years, and has seen the highs and lows of tinsel town.