IGNITING THE MINDS OF GOVERNMENT SCHOOL CHILDREN: (top) Aam Aadmi Party's Atishi Marlena Singh, educator and progressive politician in the making shows the way at the JCI Mapusa symposium on education; others in the pic are Goan educationists Padmashri Dr Suresh Amonkar and Prabhakar Timble, (above) media interaction after the meet at Bogdeshwa Temple conference hall in Mapusa
By Our Special Correspondent
WOMEN like her are like a fresh breathe of air! Atishi Marlena. Atishi Marlena is the former advisor on Education Reform, Government of Delhi. She is the heart and soul behind the transformation of primary government education in Delhi schools. It took some simple straight talking accompanied by a before-and- after slide presentation by the visiting educator and Aam Aadmy Party representative, to win the hearts of the audience which had turned up to hear her speak at a JCI function at Bogdeshwar Hall in Mapusa on Gandhi Jayanti day on Oct 2, 2018.
Atishi is the woman who has played a key role in turning around a stagnant public school education system in Delhi to enviable status today. Plus, she added, "We have transformed the nature of government education in Delhi and the government gets a revenue of `50,000 crore instead of `33,000 crore now!" It is a story worth recounting for inspiration value in the rest of the country. For how can any government resist the idea of more revenue and that too over the table for all to see!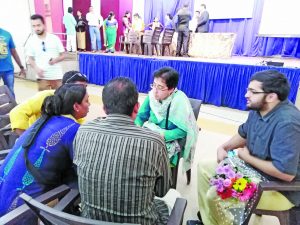 But the real story is not the Delhi AAP government making over a moribund, dismal infrastructure for public school education (so much so that it is being noticed abroad too) but that it has through dint of sheer caring and hard work for the first time in the history of education, changed the mindset of educators in Delhi (including school principals, teachers, parents, all stakeholders public and private).
For the last three-and-a-half years it has been reform with a capital R and now the parents of the children of a lesser god or so to speak, no longer think sending their children to a government school is futile or a matter of shame, declaration of poverty…but the comforting thing to do. For now their children have a future to look forward to, and more: Delhi government school children are beating private school children in exams and that's good news.
It was a pretty exhausting and a talk like no other heard in a long while. Policy is not "rocket science" said Atishi Marlena, "the real challenge is in implementation." That the AAP government has managed to do this in so short a time what the country's government hasn't been able to do in 70 years is very definitely something to feel happy and rewarded about.
Yes, one heard about it and saw in the slide presentation that apart from proper schools with well-equipped classrooms, fans and lights which work (no big fat black spiders clinging to corners and dust on the floor!)…water in taps, in toilets — say a conducive working education environment, is in place in Delhi public schools and children feel like going to school to learn now. They feel proud to be government school students and that's a long, long way to come.
That Atishi Marlena is dynamic and a hand-on person is clear. The audience break into spontaneous applause as she recounted one of her most engaging stories in the field of public education in recent times. Turning a one time sorry story of education into a winning story for the times is just "simple common sense," she said, and the key to this is caring and caring enough to do everything necessary. Nobody cared until the AAP government came along to shake up the old status quo of believing that nothing can change in a government system.
When they started out in 2015, "We found that children couldn't read and write after eight years of education! That was the reality of government schools…and yet parents told me dil pe pathar rakh ke bache ko school bhejte! They want their children to be educated. They send their children to government schools because they have no choice."
Both Deputy Chief Minister of Delhi, Manish Sisodia, and the rest of them started out with determination to make a clean sweep of a dead-end education system… and today the tide has turned and everyone is smiling proudly, confidently, with the thought that we can do it! It's been more than three years of fighting uphill for change for the better, "Our teachers go abroad for exposure to ways of teaching, they now focus on teaching (as opposed to doing government jobs like elections duty)! We have teachers training centres for some 25,000 teachers…the atmosphere has changed."
The government school children of Delhi may have once upon a time thought that only children going to swanky private schools have a future to look forward too! Today these same children walk a little more upright with pride and think they too can go places if they work hard. It's a sea change in attitude vis-à-vis public education. It's a story of where there is a will, there's always a way.
The system didn't change for so long not because there was no money or no policy-making, Atishi enlightened, it didn't happen quite simple because nobody cared in a defeatist attitude! Every elections, she observed, our politicians come around playing their cards with material gifts, "But now they must know that what the people want is improvement in education, better hospitals…" If they want to retain their seats of power they better deliver. It is up to we, the people, to make a government responsible and accountable, "If you want a better country, high quality education, healthcare…we have to demand it!"
And that is just the gist of what this sensitive woman recounted to make many in the audience take a second and third look at her to appreciate what AAP has achieved collectively in Delhi. Especially when she recounted the case of how a teacher started taking a new interest in a student's background unfamiliar to her, "This teacher thought a student's parents were not interested in the education of their child. Then at a teachers-parents meet she learned from the mother that the father washed cars from 6 am to 8 am and then from 8 am to 8 pm worked at selling vegetables!"
Children who go to government schools are children from a less privileged, affluent background, but parents rich or poor want to do their best by their children and equip them with qualitatively better education. Delhi education now has some of the most successful teachers-parents interactions and "parents turn up wearing their best clothes!" She is one caring woman is Atishi Marlena. A strong woman who quietly suggests that it is adult attitudes which make us look down condescendingly on those from less privileged backgrounds and our governmental systems have kept that status going for years on end.
Others who spoke at the symposium of sorts on the subject of "Future of Education Through Education" were Padmashree Dr Suresh Amonkar, former chairman of Goa Board, Prabhakar Timble, educationist and former State Election Commissioner, Goa, Anand Bhaidkar, councilor, MMC, and president of Bodgeshwar Temple Committee.
Mr Timble equated freedom with education and capability, and spoke humorously about how today it is education, science and technology which is driving us… perhaps into a "mobile culture." In an ever-changing world of knowledge, education must show us the way to peaceful living. Dr Suresh Amonkar appealed strongly for retaining our roots and identity in our mother tongue, not getting lost in chasing English even in kindergarten education! Both speakers spoke eloquently at length and had much to offer for thought on the subject of what defines education and where it should take us. To a happier place primarily.