Nisargopachar Ashram, as Gandhian as you can get! Haven of neem trees and down-to-earth food
BY TARA NARAYAN
Eating is Fun / Eating is Yuck! – A variety food column
IT'S a scene from a Portuguese film I once saw which is haunting me, where this woman who has made a mess of her life confesses to her old father, "Papa I don't know how to live!" Well, most of us don't know how to drink and eat either and that comes along with not knowing how to live because our mod con civilization has addled our brains with dreams of the good life. So we chase the good life and we chase the good life right or wrong and feel virtuous until bang, something terrible happens to body beautiful….long after something terrible has happened to our mind, heart, soul and the rest of it.
Funny, I found myself telling my very rich useless friend recently, me being tart for a change, "Forget your stupid dreams of fixing your non-existent insecurities…I live in nightmares and am happy about it for at least then I know my life is not a straight line like yours very definitely has been and is!" What do I mean? She huffed and I told her go think about it and leave me alone.
But to stay with dreams of living the good life it is true at least that a lot of life revolves around what we put in our mouth by way of drink and food and there's enough research to tell us that when we chase the good life so mindlessly, heartlessly, soullessly…sooner or later we will be sick from the inside out first and then outside in too as in various manifestations of a body which no longer works in the pink of health, but in 50 shades of grey illnesses or so to speak!
Are we all going to die of cancer? I was asking myself for that's where most mod con types are inching slowly or quickly….is there some cancer growing in all of us who live sedentary, safe, straight line lifestyles? There is cancer in every home today and the cancer doctors are rolling merrily to the banks with their chemotherapy injections costing a lakh plus, plus. If life were merchandise, the rich would always live and the poor die!
What wouldn't I give to go away somewhere to an old Gandhian naturopathy institute like the down-to-earth Nisargopachar Ashram at Urulikanchan near Pune. I remember visiting a friend there and fell in love with the neem trees in thick bloom and the grape vineyard — simple meals with sprouts and cut carrot-cabbage salads, millet roti with desi ghee and chunk of jaggery, deliciously cooling buttermilk, dairy milk, green chutney…lots of garden grounds quietude, and the non-invasive treatments of massages, hydrotherapy, mud therapy, etc, which made me feel so superlatively on top of the world later, lost some kilos too!
I also remember taking my mother and foi to Dr Modi's Karjat Health Resort on one occasion and they felt so much better afterwards. It's run by a couple on sparten lines and the sparten meals are terrific! Then again is the Niketan Naturopathy & Yoga Hospital or Swargashram still there in Rishikesh? Rishikesh is a good place to spend a month by the river ganga to feel refreshed and invigorated. There's NIM or National Institute of Naturopathy in Pune; Lonavla has the Naturopathy & Yoga or Kapol Sanitorium. Kaya Kalp is in Kangra (Himachal Pradesh).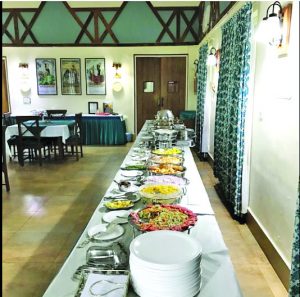 I rate these naturopathy institutions or ashrams on par with sanitariums where a certain discipline of right drinking, eating and living is imposed on you, and after some time one imbibes it automatically to realize how much better and happier one is. Feel like a new human being and long may that feeling last! At least you would have learned a lot of things worth knowing.
If you have money to burn many old favourites are the Jindal Naturopathy Institute in Bangalore (famed for its weight loss programs, remember obesity is pretty much where the foundation of bad nutrition begins). Or better still spend some time at Dr Issac Mathai's International Holistic Health Centre or Soukya of recent vintage which became famous after Prince Charles and Camille visited it. There is….(sigh)… Ananda in the Himalaya which I hear a lot about from my well-stacked relative and friends.
I WOULD say skip the high-end posh places in favour of down to earth Urulikanchan or some of the Ayurveda/Allopathy hospital complexes down south in Kerala. Hey, Sadhguru Jaggi Vasudev has his Isha Yoga Centre somewhere near Coimbatore but it's more of a yoga/spiritual retreat place, but the food they serve here is worth studying and picking up. Gujarati friend of mine waxes lyrical over the Navjivan Nature Cure oasis in Kutch and the Nimba Nature Cure place near Mehsana, both in Gujarat, but she also adds, "The Kutch place is usually booked up by foreigners! They all want foreigners instead of Indians unless they're NRI Indians from abroad, they're different from Indian Indians!"
Well, this is to say if you're feeling lost vis-a-vis what you're putting in your mouth (and what you're feeling and thinking) and it's impacting your body beautiful and state of mind…. it helps to go learn how to do it all over again from scratch at many of these naturopathy/Ayurveda/Yoga retreats in the country. Do you know there are something like 30 Gandhian-styled healing retreats in the country? Sure, commerce is creeping in but the original Gandhian ashram places still retain their sensibility and sensitivity and are great learning places. Go find them if you're not in the mood to say goodbye cruel earth right away!