At the AYUSH International Conference for Yoga: A call for making yoga part of modern healthcare. One of the inaugural highlights was the release of a book on Indian classical dances, doing the honours on stage are authors Shovana Narayan and Anita Dua with Sri Ravi Shankar, Shripad Naik, Secretary Vaidya Kotecha (secretary, Ministry of Ayush), Dr H R Nagendra (chancellor of SVYASA University), PK Pathak (additional secretary, Ministry of Ayush), Dr Dinesh Katoch (advisor, Ayurveda) and others
BY TARA NARAYAN
Is it all about putting one foot back into our gloriously scientific ancient Vedic times yet raking in the loot in modern times? The question came up at the International Conference on Yoga for Public Health from Nov 12 & 12 at the Kala Academy in Panaji
FOR a moment there I couldn't make out if it was a conference to clue us up about the wondrous efficacy of India's ancient traditional systems of preventive and curative healthcare — like Ayurveda (with its several schools of yoga) — or about India's traditional dancing which presumably also offer healthful benefits! The 4th edition of the AYUSH International Conference on Yoga for Public Health Care at the Kala Academy, Panaji, on November 12 & 13, 2018, got off to a dancing start with the release of a book titled `Illuminating Indian Classical Dances Through Yoga' by Shovana Narayan (celebrated Kathak dancer) and Anita Dua in the presence of Sr Sri Ravi Shankar (founder-president of Art of Living), Union Minister of AYUSH Shripad Naik and teleconferencing with Union Minister of Commerce & Industry Suresh Prabhu in Delhi. Also present were several familiar and not so familiar yoga experts from India and abroad.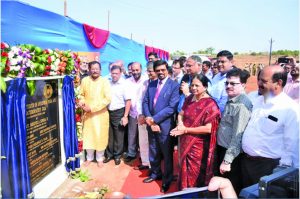 The sumptuous coffee table book dedicated to India's classical dance forms are apparently rooted in yogic asana and mudra as detailed in the eight-fold path of Patanjali's ashtanga yoga. Undeniably, one has a choice of dancing and/or yoga for healthcare by a little stretching of imagination. As AYUSH conferences go from looks and sound of this one for the first time in Goa, yoga is travelling from place to place at home and abroad and are jamboree sessions with hundreds of invited and interested delegates from all walks of life.
Even before the conference could get under way, the free delegates registration closed at the venue and turned into an information desk only. No fresh registrations were admitted for money or for love! By one estimate there must have been over 700 delegates eager to catch up with the goings on by way of learned research papers presented by various masters of Ayurveda (including yoga) testifying to how lifestyle modifications by way of dietary changes and the inclusion of yoga practice can very definitely improve the quality of life of Indians.
Diabetes is reversible and so is coronary heart disease. Stressful hypertension too may become a thing of the past. The problem is not in enthusiastically advocating and endorsing the very real virtues of preventive healthcare in learning and practicing the principles of Naturopathy, Ayurveda, Homeopathy, Unani or Siddha medicine, but why do we get so carried away that we lose sight of the fact that it is really public funds which are being used to reap health and wellbeing? For whom? For khaas aadmi or aam aadmi first?
AYUSH (acronym for Ministry of Ayurveda,Yoga & Naturopathy, Unani, Siddha and Homoeopathy) was established to revive and promote the alternate systems of medicine (presumably marginalised or side-lined if not outright banned from mainstream Allopathy). Ever since Prime Minister Narendra Modi managed to persuade the world community to adopt June 21 as International Day of Yoga at the 69th session of the United Nations General Assembly in 2014, all out efforts have been on to popularize the practice of yoga and patronize Ayurveda in the country.
It's been a string of yoga celebrations with thousands of participants testifying to yoga for holistic health, yoga for body and beyond, yoga for wellness and at the 4th International Conference at the Kala Academy early this week the theme was yoga for public health. In his inaugural speech of welcome AYUSH Minister Shripad Y Naik described yoga "as essentially a spiritual science and a way to be closer to god."
He said yoga had benefits for all and the practice went beyond physical posturing (referring to yogasana) to still the mind and control breathing. Yoga prevents diseases. He observed that in the USA alone some 20 million practice yoga with a growth of 5% annually, "Yoga is an alternative adjuvant treatment." In India's "epidemics of disease" such a drugless system of treatment would be a boon if practiced in every home! That is the flagship mission of AYUSH and as a matter of fact in the last four years more than 10 crore patients have benefited from yoga programs. Yoga is going places in modern India although we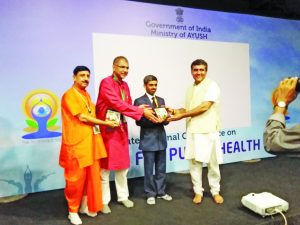 don't know what percentage in rural India have taken to practicing yoga.
In his turn chief guest Gurudev Sri Sri Ravi Shankar blessed the audience and said that in the old days the common people thought that yoga was only for the yogi sages who lived reclusively in some quiet secluded place. He established his The Art of Living in Bengaluru (a very successful movement which has now spread in the country and globally) it was with the aim of spreading the message that yoga is for everybody's benefit, "lighting a lamp in every heart." The best yoga practitioner, he smiled is a baby, watch an infant, "Child is a yogi!" Yoga should be in every home because its practice prevents disease and brings happiness. The Art of Living is primarily based on a set of breathing techniques which reportedly boosts fitness and improves the immune system.
Like Baba Ramdev of Patanjali, the Art of Living movement too has expanded into retailing everything from guidebooks to living yogic lifestyles to yoga mats, incense sticks, essential oil soaps, health foods, yogic garments and t-shirts and what not…all in designer plastic packaging of course. Surely, any kind of moral and spiritual rejuvenation should go hand in hand with eco-friendliness for the larger cause of sustainability and decreasing the human carbon footprint on the good earth which nourishes all creatures small and big? A host of consumer products were on sale at the venue along with other yoga institutions like the Yoga Institute of Santa Cruz in Mumbai which too has expanded from humble yoga beginnings to several branches now, one very recently opened in Goa's Chorao Island.
The two-day AYUSH conference saw the presentation of several scientific papers and amongst those present to listen in were some remarkable yoga teachers like Dr H R Nagendra (chancellor of the famous SVYASA University in Bangalore and a close friend of Prime Minister Narendra Modi from all accounts); other names associated with SVYASA were Dr R Nagarathna (dean and medical director, Arogyadhama) and Dr Alex Hankey (professor at SVYASA) who chaired a lively session on geriatric health in Ayurveda. Dr Shirley Telles is Patanjali Yog Peeth's director of research in Haridwar. Dr I V Basavaraddi (director, Morarji Desai National Institute of Yoga, New Delhi) is a familiar face at all the AYUSH conference and very popular with students and lay people, the MDNIY students and faculty always put up a useful stall with excellent literature on yoga and the courses offered by the institution. A one-time Gandhian institute, it was taken over by AYUSH for upgradation.
India has many reputed names or brands if you like in the field of Ayurveda and yoga excellence for both aam aadmi and khaas aadmi! Dr Mukund Vinayak Bhole came from Kaivalyadhama in Lonavla, a former joint director of research, in his paper presentation at one of the sessions laid stress on the importance of integrating the concept of the working with prana-apana vayus" while imparting yoga training to health workers in yoga. An interesting insight came from Dr Geetha Krishnan (consultant, traditional medicine, WHO-Geneva) who said that WHO is taking the traditional medicine systems of the world seriously and has several strategies to help breathe fresh life into these systems on which large sections of people depend for any kind of day-to-day healthcare.
The two-day deliberations saw sessions covering yoga for women's issues, preventive medicine, geriatric care, diabetes, cardiac rehabilitation, palliative care, mental health and more. The sum total being yoga is something an hour's practice of which daily can be of enormous benefit to anyone seeking healthier parameters in life be it in preventive or curative realms.
I must confess listening in to some of the paper presentations made me think that several of the undoubtedly scientific paper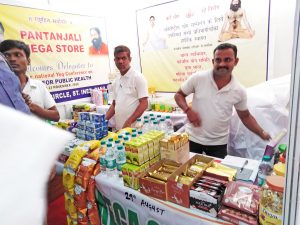 presentations were in a sense to prove the efficacy/superiority of yoga and Ayurveda over mainstream Allopathy! A curious thought considering that the world over today Allopathy doctors are seen in league with multibillion dollar pharmaceutical giants selling prescription drugs (a synthetic drugs industry) right, wrong or ugly. Never mind that many from mainstream medicine itself now acknowledge the very real benefits of preventive healthcare enshrined both in the practice of yoga and patronizing Ayurveda's herbal prescriptions of oils, powders and liquid concoctions. Ditto for other traditional systems of medicine the world over in societies exposed or still not exposed to the nitty gritty of modern-day ills rooted in endless urbanization and industrial pollution of air, earth and water.
In the countries of the West today the alternative systems of medicine are recognized and listed in hospitals as adjuvant therapies with a role to play in healing before or post-treatment routine be it through surgery or alongside drug therapy. Needless to say such enlightenment has yet to reach the shores of Indian hospitals, although our honorable AYUSH minister, Shripad Naik, is working on it. There is also the matter of weeding out the sincere and genuine from the quacks or fake who hope to climb on to the AYUSH bandwagon for funds!
Everyone knows that AYUSH is flush with funds with the government of Narendra Modi keen to conquer the rest of the world with yoga and Ayurveda (perhaps even before it may conquer its own countrymen and women). The AYUSH budget is something like `5,000 crore and hopefully only a fraction of it is going towards acquiring institutions like the All India Institute of Ayurveda, Yoga and Naturopathy at Dhargal in Pernem, Goa, the foundation stone for which was laid ceremoniously on November 13, 2018, by Governor of Goa Mridula Sinha in the presence of AYUSH bigwigs and State government ministers Vishwajeet Rane and Manohar Azgaonkar. It's left to be seen whether the institute will be yet another white elephant! It's slated to be a full-fledged Ayurveda Hospital offering real value to the people of Goa seeking economical preventive and curative healthcare for their children and family members.
At a press conference preceding the yoga for public health conference, AYUSH Minster Shripad Naik did mention that yoga will come down to the common man freely for there's a scheme in the pipeline to create a 100 outdoor yoga parks in the country and Goa is to get five of these parks! That would be a nice dream come true for Goans and perhaps while going for an early morning walk in Panaji one may then feel like joining one of the yoga sessions. Much like one may see groups of citizens in happy engagement with tai chi to the sound of music in south-east Asian landscape.
Which reminds one that is not true that only India has ancient traditional healing systems of preventive healthcare or of the fitness or wellness kind. All we need to do is look eastwards at Japan's happy geriatric lifestyles and what the Japanese government offers its people by way of pristine gardens to soothe away angers, stresses and anxieties to woo wellbeing of an enviable kind. It's anyone's guess of course whether the people of India want the primary infrastructure for wellbeing like roti, kapda, makaan, pani, bijlee and sadak…before or after the promised AYUSH yoga parks. The AYUSH conferences offer a lot of food for thought both in material and immaterial pathways!
'You're a yogi if you eat only one meal…' —Dr Alex Hankey
EASILY he was one of the most forthcoming and genial of distinguished delegates at the 4th AYUSH International Conference! After chairing the session on Yoga for Geriatric Population he was happy to talk to media people who quizzed him with all kinds of questions ranging from the personal to the not so personal. For the last seven years at least he has been "distinguished professor" with guruji in Bangalore. Who is guruji? You don't know? Everyone knows guruji who is chancellor of SVYASA University — Dr H R Nagendra!
From the sound of it they are good friends of many years and Dr Hankey is on the faculty of the Swami Vivekananda Yoga Anusandhana Samsthana (declared as deemed-to-be University under Section 3 of the UGC Act, 1956). He said he was attending his first AYUSH conference as an invitee. Jokes that he is an Englishman with American inputs in his life but "I don't know who I am anymore…honorary Indian maybe or something like that and they keep telling me I may have to marry an Indian woman to stay on in India. But please don't write anything to get me into trouble now!" After all he is pushing a young 70 years plus, plus. Do I already know something about him?
Yes, he worked for his PhD from MIT. And it is true that after his mother passed away when he was 10 or 11 years old he took to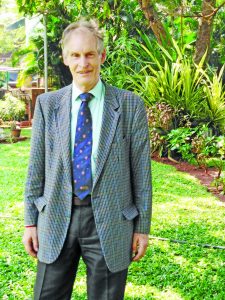 meditating because he missed her so much …later on he met his guru who was also the music group Beatles' guru, that is Maharishi Mahesh (who one may say was really the one who took meditation to the west in the 1960s). He was formally initiated into the Adishankar system of transcendental meditation perhaps some time in 1969 and after that there was no turning back.
With some impeccable influences Prof Hankey says, he has been teaching meditation from the time he was 25 years old. Came to India to find out more and somewhere along the way met Dr H R Nagendra in Karnataka who promptly offered him a job, "I took the job and went away but kept coming back…for the last seven years I have been distinguished professor there! You may say I am a foreign resident of India and my home in Suffolk in England is called Maharishi Peace Palace." Since 1973 he has been teaching Vedanta or Vedanta Science and is probably more familiar with Sanskrit than many Indian scholars.
Does he see himself as a yogi? He smiled at the question and mused, you know it's a long, long way from being "a yogi to bhogi to rogi, you may be yogi only if you eat one meal a day, eat two and you're a bhogi, eat three and you're a rogi!" What's his diet like then? He looks for "herbal things like fresh aonla and giloy juice in the morning…maybe some turmeric and honey mixed in it!" That's very good for building up one's immune system. Lunch, he may eat anything and occasionally if he feels like it he indulges in a hearty meaty meal, "For dinner I may have a glass of warm milk." That's all? Anyone can see he is not exactly on the side of fat!
Well, he is frugal and with that Dr Alex Hankey guided me into taking a picture of him on the green lawns of the Kala Academy with the sun on his face. All Englishmen love the sun of India, he had a grandfather during the Indian Raj days who used to come out on inspection checking in the armed forces in India…but that history has to be dug out. Interestingly, out in Gujarat a long time ago he had met the younger Narendra Modi, "I remember Maharishi saying this man will do great things for India!"
On the subject of Ayurveda and yoga, he has no doubt that the world must go in for integrated medicine and this would be of great value to the quality of life globally, "It is true that modern civilization has created many problems which we are not equipped to solve like our chronic diseases which are part of aging…in the West today every old person who does not die of heart attack is suffering from serious sickness in their last few years when they're in intensive care, bed-ridden maybe…it's a huge expense, a fortune for their family."
In India he noticed that many Indians will do at least a one-day fast a week and "there are the ekadashi fast. Even a one-day fast restores balance of the system in the body." He met a professor at the Manipal Hospital who had come up with this mathematical model of biochemistry which proved the efficacy of fasting for better health, "Many studies have indicated the benefits of a restricted diet." It is really a story of eating less for a longer life span and this has been proved over and over again by laboratory tests on fruit flies and mice! A sattvik diet and meditation are the ticket if you want to live long in wellbeing.
His concluding advice to me was that one of these days I should go with his friend Rashmi Shetkar to catch up with the spiritual guru Madhav Ananda in Pune, who teaches a form of samadhi meditation called sohum, part of the Vedanta advaita tradition…and yes, if I want him to write his autobiography chapter by chapter, he will do it for my publication! It's something to discuss another time. Since it was getting on lunch time it was time to say au revoir to Prof Alex Hankey, disarming delegate at the AYUSH conference and no mean professor of the Vedanta sciences and its applications for a more progressive society in India and globally.