The politics of queues! Those with tickets have to rush to make it on time while those without tickets (rush queue) play the waiting game; (inset) group of late ticket-holders who didn't make it in time for the film `Guilty' at Kala Academy, told to cool their heels in the rush queue or find another film to see!
BY TARA NARAYAN
Joy of cinema is very much evergreen, alive and kicking but at this 49th International Film Festival of India there were more hopeless scenarios than usual and this did bite into the joy of cinema if you let it! By ardent IFFI-goer Tara Narayan
WELL, one must always see the positive side, forget the negative! But before I do that I will say this 49th International Film Festival of India was the messiest with the most hopeless scenarios ever I've experienced as a media delegate since the beginning of IFFI in 2004 in Goa. I am not the only one saying so. Go take a vote amongst the 7,000 odd delegates who registered at this year's IFFI to catch up with some inspirational cinema.
Ask Jerry Viegas, ask Ramita Gurav, ask Kamal Waghdhari and Vijay Waghmare from Nagpur, ask filmmaker Arvind Sivakumaran, ask Alexander N Thomas from Calicut, Kerala, who confided, "I think 40% of delegates are from Kerala and imagine these ESG fellows asking us to go back to Kerala if we don't want to stand in the rush queue because we are a few minutes late for a film with our tickets…" We can take out tickets back to Kerala? Ha, ha, ha, all of us in the ousted group of ticket holders but latecomers had to laugh over that one.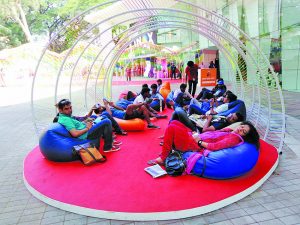 So much for damage control. Who was it who told the delegates from Kerala to go back to Kerala? Will we never get it right, ask some of my IFFI friends from Mumbai, although the budget for IFFI is enviously several times more than that of the other noted state film festivals in India? What's the Goa IFFI budget? Nobody is telling but the grapevine is pegging it at Rs 5 crore.
ANNUAL BREAK
IFFI is my annual break or even holiday for inspiration to live! It is vital joie de vivre of cinema and I try to see as many films as I can which come recommended by some of my dear friends coming to Goa after the Mumbai film festival MAMI…some of them missed a film they wanted to see at MAMI, so they come to IFFI Goa to see it! For example, my friend Shilpi, who came specifically to see the Japanese Hirokazu Kore-eda directed film `Shoplifters', confided, "Cinema is junoon for me so I came to see this one I missed at MAMI!"
Things started out fine and second day onwards one noticed that the anaconda queues were back at IFFI 2018 with vengeance and it's the rush or ticketless queues which snaked away into convoluted lines. If you had a ticket for `Guilty' at Kala Academy at 3 pm but didn't make it there to your seat at 2.45 pm sharp — if you're one teeny weeny micro second late — the tough guys at the gate cracked the whip like they wanted to punish you! The massive door shut like the rock of Gibralter. Ticket holders found themselves left out cold for being a little late; it was, "Sorry, if you want to see the film you may go and stand in the rush queue" (which may be one metre long).
Why? So that the folk perspiring and slumming it out in the hot afternoon sun in the rush queue may be allowed into the cool interiors of the Dinanath Mangeshkar Kala Mandir before ticket holders coming in late! A heated fight of words back and forth broke out. The number of late ticket holders increases and they are told to go join the rush queue, instead of taking the advice they argued, shouted, howled, pleaded, appealed… said sorry a zillion times for being late "but please, please let me go in this one time." None of it worked. Rules are rules, they're there in black and white at the back of every ticket, just read it and quickly go and stand in the rush queue and take your chances to see the film,or go see another film.
NO EXCUSES
NEXT to me was senior citizen, Asha Rane, she pleaded, "I told my husband to hurry and stand in the queue with tickets while I parked the car and came…he is already in the auditorium, please let me join him at least." At least let her go in! I shouted at an adamant Nagnath Chari in charge here to deal with latecomers. A little later they allowed her to go in the auditorium but it was nothing doing for the rest of us in the latecomers group, even for media delegates. The great punch line was, "There are no more seats in the auditorium."
Much later my friend Nigel Britto told me he had managed to persuade someone to let him in and there were several empty seats going a begging next to him right up in the front rows. I think that's what pissed most of us off. We thought we had tickets and even if we were a few minutes late we should have been allowed in the auditorium along with the rush queue folk, after all there are two entrances and the Kala Academy audi is a 1,000 seater anyway. There is no real reason to punish latecomers with ticket in hand. And why should the rush queue have priority over ticket holders? Why bother to stand in a queue to book tickets in that case, might as well make it a first come, first serve rule for all who wish to see a film.
(Sigh) There was no appealing to common sense or justice. Some tore their tickets to bits and flung them in the face of those doing their job with meticulous efficiency at the auditorium entry point! Later, much later, I must confess I was appalled and ashamed of my own behavior for not realizing the importance of being there ten minutes before the start of the film (yes, it was 10 minutes and not 15 minutes as was being bandied about by those who thought they were in the know, I was totally at sea). Never in my history of seeing films at IFFI have I actually shouted at anyone doing his/her job as instructed by the higher ups. It's better to be early than late to fight over a film!
FILMI BLUES
TURNED away from seeing 'Guilty' and with ticket still in hand, I went and whiled away time brooding and stuffing myself with the junk food of patties and samosa at the Kala Academy canteen.
UKRAINIAN FILM 'DONBASS' GETS GOLDEN PEACOCK
WINNING is one thing but the prize money which comes along with it may be sweeter! Some say IFFI award money is small in comparison to festivals abroad, but then again it all depends on the film and the film producer who believed in a storyteller's story and the director who visualized the story. This IFFI it was the Ukrainian film 'Donbass' which won the Golden Peacock award (`40 lakh). The film is about separatist groups engaged in armed conflict as a way of life in eastern Ukraine, here the fine ironies lie somewhere between killings, robberies, fake identities.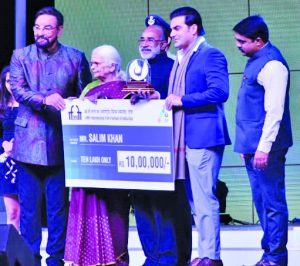 Silver Peacock (`15 lakh) for Best Director went to Lijo Jose Pellissery who directed the Malayalam film Ea.MaYau. The film is set in a small coastal village in Kerala called Chellanam is about a loving son who wants to give his dead father a fitting funeral but comes up against all kinds of reactions and obstacles to the idea. Silver Peacock for Best Actor (Female) goes to Anatasiia Pustov for Ukrainian film `When the Trees Fall'. The actor was all aflutter she acknowledged her joy in a video screening. Silver Peacock for Best Actor (Male) was accepted by actor Chemban Vinod for his role in 'Ea.MaYau'. Director Praveen Morchhale accepted the ICFT UNESCO Gandhi medal for his much noticed Ladakhi film 'Waking with the Wind.' French film `Los Silencios' was also nominated under this category and it received a special mention. Centenary award for Best Debut Film of a Director goes to Alberto Monteras II for his Filipino feature film `Respeto,' Milko Lazarov's 'Aga' won a Special Jury award while films 'Volcano' and 'To Let' received special mention. Award price money ranged from `40 lakh to several `10 lakh awards. The awards presentation ceremony concluded the evening with a special vote of thanks by Union I & B Minister Rajyavardhan Singh Rathore who insisted in saying it graciously in mugged up Konkani!
IT'S GOODBYE TO IFFI TILL NEXT YEAR!
The 49th International Film Festival of India came to a close on high and low notes with some footnotes…
By Our Special Correspondent
The 49th International Film Festival of India and 14th edition in Goa came to a happy close with several footnotes promising a bigger, better golden jubilee IFFI next year at the Dr Shyama Mukherjee Stadium at Bambolim on November 28, 2018.
Ailing Chief Minister Manohar Parrikar's absence was felt with Town & Country Minister Vijai Sardesai trying to make up for the chief minister's absence. The minister praised and thanked the chief minister for his gift of IFFI so that it could encourage and improve the benchmark of cinema in Goa. He renewed the promise that Goa is the best home for such an international event as IFFI. He said that there is no better place for IFFI to drop anchor than Panaji which is nestled on the banks of the river Mandovi and has quaint past architecture and a personality of modernity.
In Goa, he said, "We celebrate life, our art, our culture, our food and therefore millions of tourists come to our state…" Tourism and film festivals make for a good mix and Goa would like to encourage films, film makers, students of cinema, writers, professionals so that it may find a place for itself nationally and internationally.
Present for the ceremonial IFFI function with its prizewinning award announcements and presentations were a host of film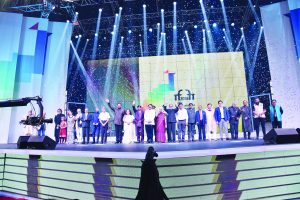 and filmi fraternity, VVIP and VIP invitees comprising of political dignitaries, crème de la crème of Goan society, organizers DFF-ESG-PIB officials, electronic and print media from home and abroad. Amongst the highlights of the evening was the special IFFI lifetime achievement for legendary Hindi film scriptwriter Salim Khan whose son Arbaaz Khan accepted the award on his behalf with internationally popular filmstar Kabir Bedi praising the invaluable, pioneering scriptwriting of the Salim Khan-Javed Akhtar duo, which built the future careers of several film stars including Amitabh Bachchan. Mr Bedi said that most of us tend to see cinema as essentially audio-visual but that would not be possible without those who write the stories.
While accepting the award for his father, Arbaaz Khan read out a touching tribute by Salim Khan, to quote some of it, "I want to thank IFFI, Information & Broadcasting Ministry, Government of India for honoring me with Indian Personality for Lifetime Contribution to Indian cinema. I dedicate this award to Indore, my birthplace, and Mumbai, my workplace, and film industry which has given me everything. I would also like to thank Javed Akhtar without whose contribution it would have not been possible."
An eloquent Union Minister of State for Tourism KJ Alphons recounted how in his village in Kerala he used to see films seated on the ground, he was a film lover and, "I could afford 25 paise to see cinema. Even in those days everyone thought politicians were evil…but I decided to be an independent MLA in Kerala and didn't need tons of money, I spent Rs9 lakh to be MLA!" Mr Alphons was all praise for Indian cinema which he pointed out is also popular in several other countries, "Nowhere in the world can you find films being made on sanitary pads, toilets! It is Indian cinema which is making new decision makers and creating a mark…"
Mr Alphons described IFFI as a celebration of happiness over seven days with 144 films from 68 countries, he appreciated the exchange of new ideas and plans, "Cinema can show the world how to survive!" He also urged everyone to visit his home state of Kerala and admitted awareness of the bit of unpleasantness to do with delegates from Kerala at this year's IFFI, but disarmingly commented, "Nothing is perfect. We cannot make such mistakes, let us be forgiving and let's cheer, let us celebrate happiness."
Dignitaries present on and off stage included Union Minister of State for AYUSH, Shripad Naik; Union Minister of State for Tourism K J Alphons; Governor of Goa Mridual Sinha; Amit Khare (secretary, Ministry of & & B), VP Singh Badnore (governor of Punjab); various jury members and visiting film stars from India and abroad, and many others to lend a glamorous touch. Not forgetting the energetic dancing presented on stage by the XIX dance group.
Altogether it was a smooth IFFI 2018 closing ceremony with limited entertainment, glitz and glamour. It started and finished off on time for anyone in the audience to return to Panaji to catch the closing film, a German film titled "Sealed Lips" (directed by Bern Baulich) which was screened at all the four auditoriums of INOX and at the Kala Academy.