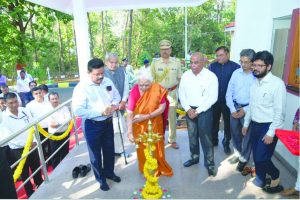 At the launch of Raj Bhavan Darshan historic tours…Governor Mridula Sinha does the honors along with Tourism Minister Manohar Ajgaonkar, GTDC Chairperson Dayanand Sopte and other officials;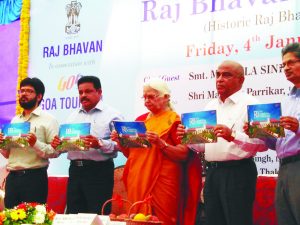 The release of a GTDC brochure listing Raj Bhavan sights and do's & don'ts for tourists;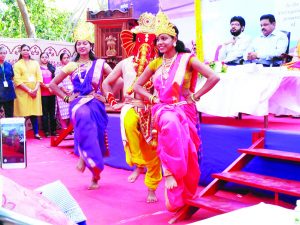 Performing a Ganesh vandana for the inaugural occasion;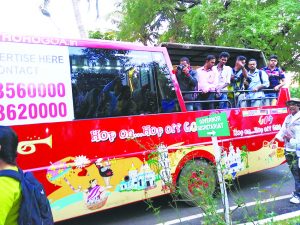 In high spirits…on hop on, hop off bus tour
It was a truly green letter day for Goa and the Tourism Goa when Governor of Goa Mirdula Sinha agreed that it is a good idea to throw open the gates of the 86 something acres of the historic Raj Bhavan to tourists three days a week…
By Tara Narayan
IT should have happened earlier! One couldn't help thinking this last Friday, January 4, 2019, as one rejoiced with a whole lot of folk including tourism stakeholders, Goa Tourism Development Corporation (GTDC) employees, school children, media people for a festive occasion. Goa's Raj Bhavan, where various governors of Goa have lived life king size or queen size post-Independence, is now open to the common people of Goa and tourists from home and the world over.
It was truly a green letter day although present Governor of Goa Mridula Sinha may perhaps say, it's a saffron letter day! Making an interesting confession in her talk on the occasion she observed that before she came to Goa she was in two minds about what kind of a place Goa would turn out to be, most folk have a totally outdated idea of Goa as a state to "eat, drink and be merry!"
After coming here she learned that there is another side to Goa and it is time to let people see what a wealth of heritage and culture Goa has. This needs to be focused on and showcased. In this respect she was happy to thrown open the extensive, well-maintained grounds of the Raj Bhavan estate (something like 80 acres of forest and landscaped land) for the people of Goa to visit and take pleasure in.
It is not all carte blanche of course. There are rules and regulations and one may take a tour of the heritage charms of the Raj Bhavan only for an hour-and-a-half on Fridays, Saturdays and Sundays; the two conducted tours on respective days are timed at 2.30 pm and 4 pm in the afternoon going into evening…all bookings must be made online at the Raj Bhavan website and police verification is compulsory. After that groups of maximum 50 people or less are free to take in the Raj Bhavan sights with a few restrictions. Cost Rs 300 per person (children free).
It is truly a joy to spend some time at the Raj Bhavan estate to imbibe some of Goa's Portuguese colonial history, take in the grandstand views overlooking the confluence of rivers Mandovi and Zuari and the Arabian sea beyond. We were very privileged to have with us one of Goa's most erudite and hands-on historians, Sanjeev V Sardesai, who enhanced one's understanding of the old Cabo dos Palacio and new Raj Bhavan. The whole area on a rocky outcrop was called Cabo during Portuguese times when it served as a natural outpost to keep an eye on the movement of allied and enemy ships approaching the two major rivers of Goa, namely Mandovi and Zuari.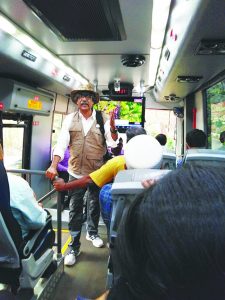 Goan historian Sanjeev
Sardesai, a fund of information
Detailed history takes us back to 1540 when the eighth Portuguese Governor D Estevao da Gama created a facility at this strategic rustic spot and a year later a small shrine was constructed dedicated to Virgem Nossa Senhora do Cabo or Our Lady of the Cape to act as marker for sea borne vessels sailing in and out of the harbor. Then came Viceroy D Matia de Albuquerque (1591-97), an ardent devotee of the chapel, and he had a much finer chapel built at his own expense. He handed the chapel over to the Reformed Franciscan priests known as Recollects, with the condition that if they leave the place than the chapel be handed over to the Goa Archdiocese.
Later came a convent attached to the chapel and stones from a quarry nearby were used to build it. The convent was completed in six months and it opened on July 14, 1594 on the Feast of Saint Boaventura. Interestingly, the old stone quarries still stand and the pits here supplement water used for the maintenance and upkeep of the Raj Bhavan's garden lawns, as also other uses.
Sanjeev Sardessai says it is important to note that the old convent and chapel were not attached but placed apart from one another (as per records of Antonio Bocarro, keeper of records of the then State Archives of Goa and in 1633 the Nossa Senhora do Cabo was at the top of the hill, while the fort was on the hilly slopes between the main gate and the river Mandovi.
Later on the first Portuguese governor general to officially reside at the Palacio do Cabo as the old convent came to be called was Governor Jose' de Freitas Ribeiro in 1918 and the last was courageous and humane  Manuel Antonio Vassalo de Silva (the governor who defied  orders of Portuguese dictator Oliveiro Salazar to destroy Goa and fight to the last man!).
The first Indian to reside here after Liberation of Goa on  December 29, 1961, was C-in-C of Operation Vijay and then came the then nominated military governor of Goa, Daman & Diu Gen Kunhiraman Palat Candesh. The first  Lt Governor of Goa, Daman & Diu to reside here since June 7, 1962, was Shri Tumkur Shivashankar; the second Lt Governor was the late Shri Mulk Raj Sachdev who took charge on September 2, 1963; he died of a massive heart attack on December 8, 1964, on Panjim Church Feast day, he was given his final rites on Miramar beach where his mausoleum is.
The last Lt Governor of the Union Territory of Goa, Daman & Diu as of May 29, 1987 (Goa Statehood Day) was Dr Gopal Singh, and he was the first governor of Goa, the 25th State of India, from May 30, 1987, many  Goan old-timers remember this distinguished governor's tenure to this day. Come to think of it Mridula Sinha is the first woman governor of Goa to reside at the Raj Bhavan and to her goes the credit of adding many facets to life and times at the fascinating historical and heritage estate of the Raj Bhavan, including an Aushadi Vatika or medicinal plants herbarium…walking trails here offer close up introduction to the State tree of Goa called matti or crocodile bark tree (Terminalia Tomentosa), there are also familiar trees of coconut, cashew, mango… a rare chandan tree (a protected tree).
It's a pity there is no dawn tour for bird lovers to listen to the orchestra of birdsong which the governor herself said she has become addicted to…(sigh)… it would be nice to spend a weekend at the Raj Bhavan estate! Lucky are the 600 odd employees who work and live here at the Raj Bhavan Estate – a protected and cherished haven of peace and tranquility like no other in Panaji.  It is reported that Governor Sinha has started a dairy farm for fresh organic milk but this is not included in the itinerary of the Raj Bhavan Darshan ( as the newly introduced tour is called in GTDC literature available at the Visitors Office set up here); but the itinerary offers a sufficient number of places to visit and remember long afterwards with a sense of wonderment.
Do make time for the walking trials like the 150-175 meters along a precipice that overlooks river Zuari and Mormugao Port visible in the far distance, it is further down this trail that the ancient port of Gopakapattan existed at Goa Velha and which was the second capital of the Kadamb dynasty. This walk ends near the Raj Bhavan beach. For nature's children the Canon Point is yet another peaceful, picturesque place to sit and muse over life and times gone by.
This is to say Governor of Goa Mridula Sinha has truly won the heart of Goans with her generous gesture of throwing open the gates of the Raj Bhavan in the interests of education and enlightenment about Goa's past, present … and whatever the future holds may it be blessed by the Chapel of Nossa Senhora Mae de Deus in the name of all those who've lived and passed on in the annals of Goa's many splendored history!
---
RAJ BHAVAN DARSHAN OFFERS…
There's a helipad but it's of no particular interest to tourists.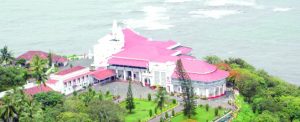 Raj Bhavan Gardens with their twin conifer trees swaying and greeting each other high up in the air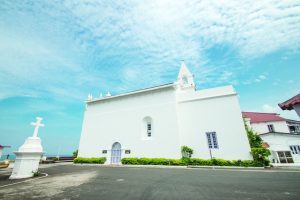 Raj Bhavan Chapel, also Nossa Senhora Mae de Deus Chapel dating to the early 1600s when a Franciscans' convent stood here which was 100% vegetarianism! Don't miss out on the gravestones and relic niches in the chapel including that of Dona Paula Amaral e Souto Maior, wife of D Antonio Souto Maior, a landlord in the local village and after whom Dona Paula acquires its name (and not after some non-existent modern day legend popularized by Hindi film Ek Dhuje Ke Liye). It's a most historical, interesting chapel, still active on special days when one may attend mass here along with the local Christian community.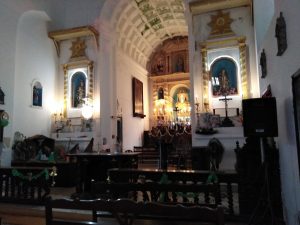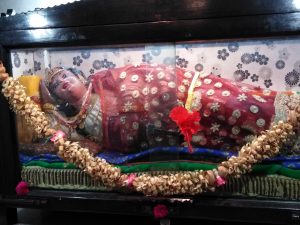 There's a Mini Goa Anthropological Museum,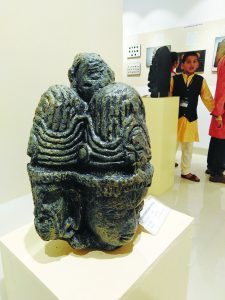 An exhibit at the Raj Bhavan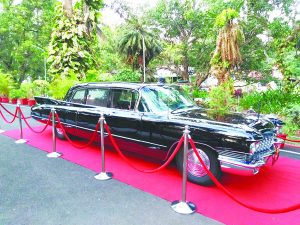 Cadillac! Everyone is fascinated by this half a century vintage limousine, it was acquired in 1959 during the tenure of the last Portuguese Governor General Manuel Antonio Vassalo e Silva, brought into Goa actually for the use of the visiting Prince Aga Khan. Post-Liberation the car's first driver Yusuf Shaikh drove the governor general in a final ride to the airport, it was time to say goodbye to Goa!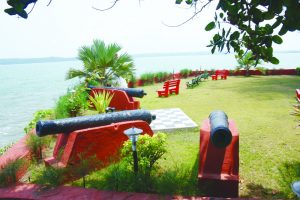 Canon Point, a most stunning location where one may linger till sunset, from here one sees majestic Fort Aguada across the river waters and Reis Magos Fort at Verem, also Miramar beach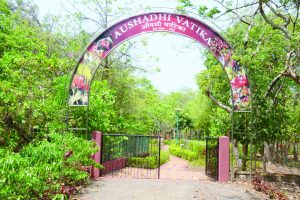 Aushadhi Vatikar which is a medicinal herbarium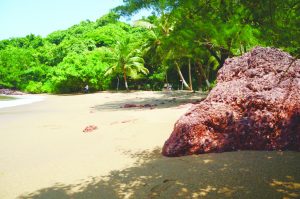 Raj Bhavan Beach is accessible via a very steep of stairway of 105 steps.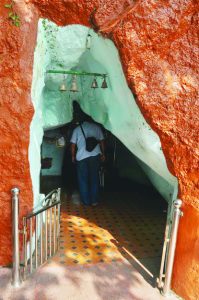 Grotto dedicated to the story of Saint Paulina. It is said that Dona Paula, the wife of Portuguese fidalgo D Antonio Souto Maior was named after a saint. Saint Pauline was a widow of a Roman senator and a follower of St Jerome, she followed him to Palestine in 383 AD and on returning to Bethlehem erected a monastery under St Jerome's direction (a feast is celebrated in remembrance every August 2).
(Postscript: For all these information and more I'm indebted to historian extraordinaire Sanjeev V Sardesai, who in response to a query while doing this tour, just so very generously handed me his own neatly typed notes and said you may take this home!)