On the day that Ribandar took a step towards uninterrupted power supply by initiating a Rs 63 crore project to shift electricity cables underground, the locality plunged into darkness. The reason; a government department haphazardly dug up a road and damaged underground power cables. 
Residents complained that around 6 pm, parts of Ribandar lost power supply and power returned only at 9.15 pm.
Incidentally, power minister Nilesh Cabral unveiled the foundation stone for the conversion of overhead to underground electrical network project. It is my responsibility to provide the wires and meters," Cabral said.
Besides this, installation of 40 11KV ring main units and 22.50 kms of 11KV high tension cables, 66kms of 1.1kV low tension power lines and 180 kms of 1.1KV consumer power cables will be undertaken.
The project will be implemented in Mala, Cortim, Patto, Altinho, St Inez, Tambdi Mati, Miramar, Campal, Tonca and the whole of Ribandar." Work should be done at a fast pace. The project is being undertaken by Imagine Panaji Smart City Development Limited (IPSCDL) and has been awarded to Shalaka Infra-Tech Pvt Ltd.
Former Panaji MLA Sidharth Kuncalienker said that the project would commence in three days and would be completed as per schedule. As part of the project, 36 630/400KVA compact substations with SCADA compatibility will be installed in Panaji and Ribandar, while the existing double pole structures will be dismantled.
---
PROTECTED POLICEMAN?
ONCE again a video of Reserve Police constable Amjad Karol has gone viral for all the wrong reasons. Karol, who was allegedly drunk, apparently abused activist and president of 'Life is Beautiful' Ashley Noronha, outside the cabin of the Porvorim PI on Thursday. The constable has earlier three criminal offences registered against him and he continues to embarrass the police department with his alcohol-related aggression.
In 2014 he beat a destitute woman mercilessly and stripped her in public. Later he trespassed into a senior citizen's property in Pilgao, threatening her with dire consequences. In yet another incident he assaulted a man with a spade which resulted in him having serious head injuries.
A few years ago Karol even dared to barge into the North District office at Porvorim demanding to know the status of two ongoing disciplinary enquiries against him!
Given the apparent lack of action against him despite these very public offences, the question everyone is asking is Quis custodiet ipsos custodes — who will police the police in Goa?
---
TAKING ADVANTAGE OF JOB SEEKERS
The Crime Branch (CB) arrested Andre Rodrigues of Porvorim and Vijay Tulsiani, living in Tonca-Caranzalem, on Wednesday for running a fake recruitment agency. As many as 50 passports from aspiring job seekers were confiscated from them.
The arrest was based on a complaint by Nilesh Wagh. A preliminary inquiry ascertained the allegations were true after which a trap was laid and the two men were arrested. The accused would allegedly charge Rs 1 lakh in cash from each job seeker taking advantage of aspirants hoping for a better life abroad.
The investigation team is now in search of their accomplice who has been identified as Clifton from Socorro, who is allegedly camping in Dubai.
Tulsiani allegedly also ran another recruitment agency called Talent Hunt.
---
Mining DEPENDANTS MARCH
Mining dependents today marched on the residence of BJP State President and Rajya Sabha MP Vinay Tendulkar at Ponda to demand early resumption of mining in the state.
Irked as Tendulkar was not available for a meeting at his residence, the protestors squatted in front of the MP's house and demanded that BJP office bearers should come and meet them in the absence of Tendulkar.
The agitators were accompanied by Goa Suraksha Manch leader Subhash Velingkar. The mining dependents condemned the inaction by the three MPs from Goa and warned of blocking the highway at Keri -Sakhali on January 21, if an appointment with PM Modi is not sought by then.
Goa Mining People's Front (GMPF) president Puti Gaonkar told reporters that Union Commerce Minister Suresh Prabhu has arranged the meeting with Shah on January 13 in New Delhi.
---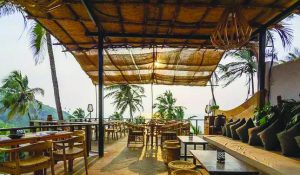 ANTARES: A fire broke out at Vagator restaurant Antares. Luckily no one was injured, however, the fire caused extensive damage to property. The restaurant is famous because although owned by a Delhi-businessman, it is managed by MasterChef Australia contestant Sarah Todd