'Carnaval' is here… Tourism Minister Ajgaonkar says please eat, drink, be merry but don't do drugs! Seen here with Tourism Director Sanjiv Gadkar (left)
Tourism Minister Manohar Ajgaonkar is in a merry mood…
LIFE has its moments, my dears, and sometimes it's fun to write about a press conference too! I've just returned from a press conference announcing the carnival ("carnaval" this year after the original Portuguese pronunciation) and it was a treat to see a merry Tourism Minister Babu Ajgaonkar swaying to this year's carnival or "carnaval" song courtesy Queeni Fernandes and Mukesh Gatwall (lyrics by Rocky Nazareth and Mukesh) towards the end of the PC at Paryatan Bhavan.
The minister urged Goans and tourists here for the carnival to eat, drink and be merry ("anandam, mojem korun") and be sure to drink the state liquor of feni and eat Goan fish curry-rice! This year's carnival dates are March 2 to 5 and during these days the state will be in carnival mode with its parade of floats, music and dances, a veritable street fun-fair in Panjim on March 2 (March 3 the parade goes to Margao, March 4 to Vasco, Ponda, Curtorim, and March 5 to Mapusa, Morjem, Shiroda). He urged media people gathered to spread the word that although having fun is okay please do it in the spirit of "our traditional sanskriti and parampara" and yes, Governor of Goa Mridula Sinha is all set to sign the bill to fine all irresponsible liquor drinking in public.
Once the bill is passed and you're caught drinking alcohol on a beach or any public place you may be hauled up by spying police! Fines will go from 2,000 to10,000 if it's group drinking in public. Keep this in mind if you're getting into a carnival mood real or fake this weekend. A media person said young tourists are known to fill liquor into their bottles of Coco-Cola or Limca and it is a happy story of swigging away while enjoying the carnival scene-scenery…but the minister shrugged off the suggestion. Rules must be observed and any irresponsibility will be punished, "It is in our Goenkarponn culture to khao, piyo anni majja kar but stay within the limits!" After all Goa has won the India Today award for best beach (Palolem beach) and it is No.1 in India as holiday state…in turn we must all be proud and not the spoil the name of Goa.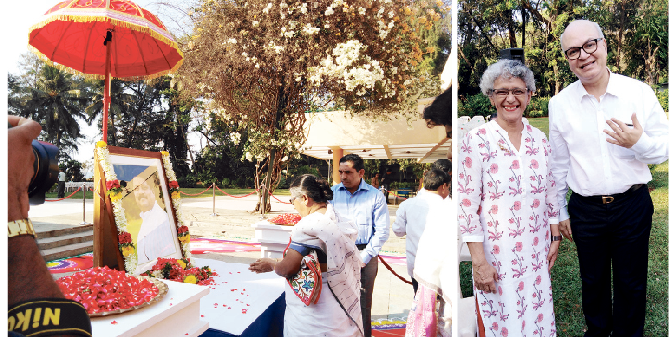 From the gist of what he said it sounds like it is a political decision to turn festivals of whatever religious denomination into tourism events so that they may yield revenue for the government! After all it costs Goa Tourism to put into place carnival or festival infrastructure (never mind that it is sourced out) — then there are the prizes in lakhs for festival exhibits and competitions, supportive security to be organized by police/security people.
Amongst the attractions at this year's carnival is a musical troupe from Zambia and according to GTDC director Sanjeev Gadkari, the Minister of Tourism from Zambia is also on an official tour to take in the carnival of Goa this year. Needless to say the carnival which has quite a fascinating history courtesy over 400 years of Portuguese colonial rule in Goa does bring in tourists from home and abroad. Curiously enough the carnival got a boost after the Liberation of Goa in 1961 and has steadily become a popular event on the tourism calendar.
We know the carnival traces its roots in Roman and Greek history and is widely perceived as Bacchanalian partying (to do with the Roman/Greek god of agriculture, wine and fertility, Bacchus/Dionysus and hence the alcohol drinking, uncontrolled behaviour, etc), something the people engage in preceding the abstinence of Lent for 40 days. For Christians or Roman Catholics the four-day carnival revelry begins on Fat Saturday and ends on Fat Tuesday (Shrove Tuesday) before Ash Wednesday which is the first day of Lent. Was there a King Momo somewhere whose edict went out to the people of his kingdom to drink, eat and be merry, and the idea caught the common people's imagination everywhere? Anyway, this is also to tell you that King Momo at this year's Goan carnival is William Anes who was selected by the Carnival Committee.
For most of us of course carnival is just another festival to celebrate springtime and its joi de vivre in the air…the dhak or palash trees are blooming out in the countryside and so are the African tulip trees. For Hindus it's fasting for Shivratri (celebrating the marriage of Shiv-Parvati) and feasting for Holi (there's several mythological stories associated with this festival). This feasting-fasting or fasting-feasting idea is a common phenomenon across the world in religiously driven cultures! Or seasonal Mother Earth-driven festivals of creativity in nature.
If you're asking me my dears, India is such a smorgasbord of plenty vis-à-vis religious cultural diversity that it makes sense to study all and select which of life's religious/spiritual adventures is worth celebrating to fit in a context of harmony and goodwill for all. Wish all our festivals and celebrations would become eco-friendly as soon as possible though! Strictly so and not just in meaningless token gestures. Sorry, my dears, I'm against all firework shows, all releases of balloons in the sky, gun salutes, sale of plastic memorabilia. It's high time we grew up and stopped torturing and crucifying our air, earth and water in the myriad ways in which our mon con civilization doing currently…for pleasures of doubtful or dubious value.
SINCE I was unable to make it for either of the two political goodbyes in Goa vis-à-vis late Francis D'Souza, or the larger than life bon vivant Vishnu Surya Wagh, both of whom I had a soft corner for (never mind that both were consummate politicians, one a gentleman from the old school of politics and the other an angry rebel refusing to toe any lines of authority laid down)…I knew I had to go at least to the condolence meet or Sharaddjanali organized for Vishnu bab (Goa's former deputy speaker and Kala Academy chairman) on the lovely green lawns organised at the Kala Academy in Panaji on February 24, 2019.
Can't help thinking while Francis bab lived his life, Wagh really should have lived some more for it was always a treat to listen to him, I also think he deserves the Sahitya Academi award for his collection of poetry Sudhir Sukht (which he was most arrogantly and unfairly denied).
It was heartening to know how many friends he had for it was a very packed shraddanjali with Minister of Art & Culture Govind Gaude very much there with many others who appreciated the life and times of the prematurely gone with the wind Vishnu Surya Wagh (he was 53 years, too early to go).
Perhaps he was better accepted as a compelling voice in literature in Maharashtra than Goa because so much of his writing was in Marathi. Don't forget it was Goa's first chief minister, Bandodkar, who made sure education in Marathi reached his Bahujan Samaj people post-Liberation in 1961, so the lesser offs in life are less lesser off in Goa at least regarding education). This is to say it was rather a sad if nostalgic evening with various friends and associates recounting their memories of friendship and dealings with Vishnu Surya Wagh.
There was Isabel Santa Rita Vaz sitting next to me as also Justice Mahesh who said Vishnu bab was a terrific storehouse of talents, an exemplary cartoonist, a fine mimic with a great sense of humour. Isabel said he was her student as a young man at Dhempe College and he was always the students leader even then, "he must have written more than 60 plays in Marathi!" Speakers on the rigged dais of sorts included Minister Govind Gaude of course, followed by Kalpana Vandekar (read his poetry praising his use of words with flair), Devidas Amonkar, Kishor Naik Gaonkar, Ajay Vaidya was lost in tears as he recounted how Wagh differentiated poetry from song…Aires Rodrigues eloquently, "Vishnu was always the activist and rode his tiger till very end, he was multi-lingual, multi-talented, extremely knowledgeable…he has gone but will live forever amongst us who are Goenkars at heart." Wagh was a true blue Goenkar!
And one theatre colleague who wishes to remain anonymous but with whom I later got talking to, had this to say, "I acted in two of his plays and noticed how he was always conscious of those he worked with and especially the small folk, he related to them by name."
(Sigh) I am sorry Vishnu bab is no more. He deserved much better. One of the speakers most thought-provokingly asked if he should have stayed out of politics – seeing how politics has a way of turning our politicians into scoundrels!
On that note it's avjo, selamat datang, poiteverem, au revoir, arrivedecci and vachun yetta here for now!
— Mme Butterfly