HARD WORKER: Although originally seen as an "outsider" as he did not belong to the Rashtriya Swayamsevak Sangh, Nilesh Cabral has slowly and steadily risen in the ranks of the BJP and has made his mark at every task assigned to him, including his previous stint as Chairman of the Goa Tourism Development Corporation
BY GARY AZAVEDO
In an exclusive interview with Goan Observer, Cabral lashes out at Union Mines Minister Tomar for being insensitive to the woes of the Goan mining dependants!
Expressing full confidence that Prime Minister Narendra Modi will find an immediate solution to the present mining imbroglio crippling the State's economy while also severely affecting the livelihoods of thousands of dependents upon this industry, Power Minister Nilesh Cabral on Tuesday accused the Union Mines Minister Narendra Singh Tomar of being ignorant of the 'pulse of the people' impacted by the Supreme Court ban on mining activity in Goa as he was elected as 'a nominated Rajya Sabha MP.'
In an exclusive interview with Goan Observer, Cabral said, "There are ministers in the Centre who are not elected but nominated in the Rajya Sabha and are working so they do not know the pulse of the people… when people are elected to the Lok Sabha or the Legislative Assembly, they know the pulse of the people. Whereas some ministers at the Centre are nominated to the Rajya Sabha so they do not have to go to the people and so they do not know how to take decisions.
"But I am sure and confident that Prime Minister (Modi) will find a solution (to the mining issue). Regarding the issue not getting resolved, there is a BJP government in the Centre and state so I feel the issue will be resolved and I will pursue the matter with my government at the Centre to resolve it at the earliest.
"The Congress government is not going to resolve it. If tomorrow people decide…BJP is going to come to power in the Centre and if people do not re-elect our two BJP MPs then again we will face problems as there will be a lot of resentment. People have to re-elect the BJP as only we will be able to resolve it. As right now it is not the government that has stopped mining activity. It is the Supreme Court decision which has stopped it…that is the difference. That is why we have to find a legal way of recommencing it — which takes time and is not as easy as it looks…
"I have wound up my mining business. See, I am a mining engineer. I am an engineer by profession and I know the ins and outs of mining. I was an entrepreneur before coming into politics. People today say that because Nilesh Cabral is in mining that he is supportive… but I never owned any mines. I was a raising contractor for different firms. Now work is not there. Before becoming a politician, I had a fleet of barges, trucks and heavy machinery and had all types of mining work. I have disposed of it. Now, I am going to dispose of the last lot of eight to 10 mining trucks in this month, then I am never going to work on mines again so people do not make the presumption that I am fighting for the people because I have a mine. I do not have a mine. I am an operator. I am a raising contractor.
"I have not taken work because I am a politician. This is there for the last 15-20 years so my business empire has grown. Is it my mistake that I am fighting? So now what I have decided I've done. I sold my barges. I sold my machinery and I sold a lot of my trucks. A few trucks that are remaining I am going to sell in the next few days. Then still I will fight, but I never want to do mining business anymore," remarked Cabral.
BJP forever…
The two-term BJP legislator from the hinterland Curchorem constituency in the Southern mining belt further vowed to continue to remain with the BJP despite his supporters urging him to contest the forthcoming polls as an Independent legislator. The BJP MLA Cabral said, "Today, the BJP party has issued me a ticket and I will stand by the BJP. I am not going anywhere. My political career started with the BJP as an MLA. My career before that is not important. My political career started with the BJP and will end with the BJP. If tomorrow, I decide not to contest an election, I will not contest any election. I will not leave my BJP party and go to any other party, neither contest as an Independent. People of my constituency are forcing me saying 'you do not require any party ticket'. You can see from the last election…all around me, candidates lost. I was elected by a higher margin. Of the 21 MLAs, 12 of us got elected by a higher margin than last time. 9,000-10,000 votes was my lead so people are telling me that. But I told people that ultimately Nilesh Cabral is important for you, you work with Nilesh Cabral, you will get the work done."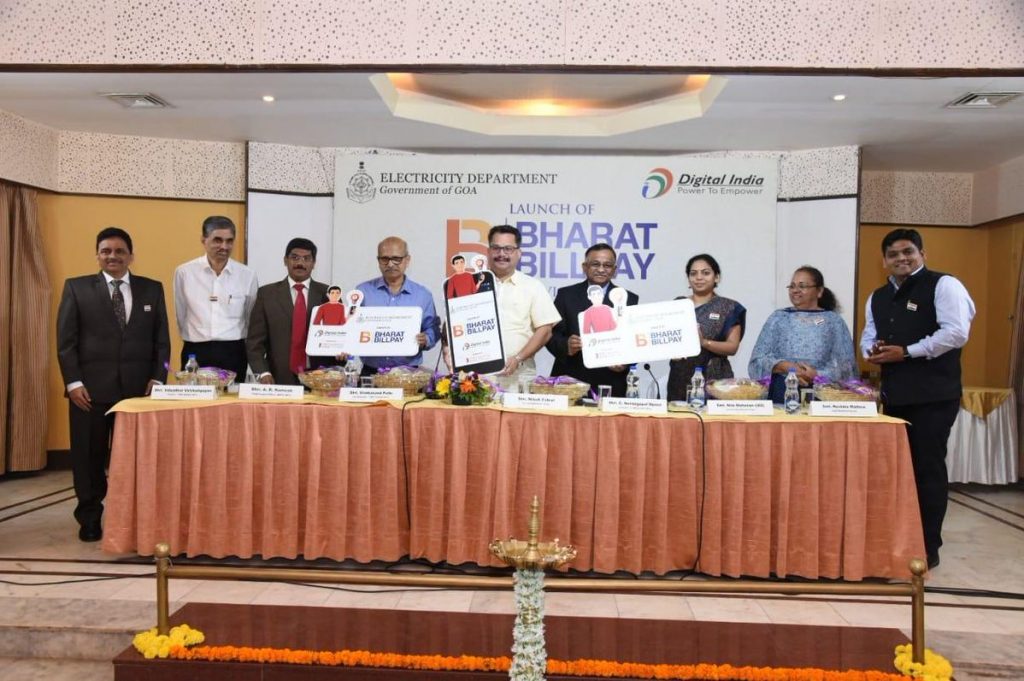 Recharging defunct power department
Power Minister Nilesh Cabral further spoke of the ambitious plans that he has in store of revamping his power ministry as well as the portfolios of Law & Judiciary and Legislative Affairs.
"My (power department) store was defunct. There was no material in the (department) store. Today that material is abundant and people are not facing problems. There was no service wire. If the service wire connections were to break, people were told to buy (the wires). Now, I have told people of Goa to call me if anybody asks you to buy meters or service wire. I have told everybody in Goa that people should sms me that these people had told me to buy. No service wires, no meters…all these things we bought…there were no conductors bought for new connections and they were giving connections by service wires. Service wires were small and they used to break. Now, there are a lot of conductors. Pending connections of all these years are being given fast. Now if anybody's pending connection is there with me and if they have paid the money, just give me a sms with the receipt number and I will see that the connection is done. There were no poles in the department. Now there are ample poles in the department purchased through Goa Handicrafts. So this is the improvement I have done in my power department," said Cabral.
Power problems? SMS 9822103292
"Second improvement that I have done is resolving the problem of LEDs that were not working. If you see now, LEDs are working everywhere. The system is working fantastic. I've told the people of Goa to just sms me the pole number where the LED is not working and I will attend to that personally so I have become a call centre of my department right now, which I like to do. People give — and I will show you — fantastic reviews that I have got through smses. Things are getting done immediately so my department has now started functioning well.
Within the next four months, I am focusing on Navelim and all other areas (in Salcete taluka) for the 11 KVA underground cabling. Since the wires have become brittle, tenders have been formulated for focusing on underground cabling of main 11 KVA lines. These 11 KVA lines have 25, 30, 35, 40 transformers so if the wire snaps in one place, all 40 transformers are hit, so my focus is now to strengthen the 11 KVA by making it underground cabling and removing the overhead lines. So in the next one year, you will see a lot of changes, approvals on the underground cabling for 11 KVA. Then afterwards, I will go for the ST LT lines but LT is not my focus. My focus is the 11 KVA lines," said the Power Minister.
"I am having problems everywhere. In Calangute-Candolim, people are shouting…In Verla-Canca, now line is being drawn, people are stopping. Under the Telegraphic Act, we are empowered to put the line anywhere, we do not have to give compensation also… this is the Act of the government, I cannot do anything so I have taken police protection and we are going to put that line. People, on one side, are saying there's no power. Power cannot be drawn by antenna…yesterday I was going through an article wherein an American firm is providing power without a conductor but that development will take another 20 years. If that happens, then there is no need of conductors, you have to give the instrument only and automatically power is generated," said Cabral.
Rebate for online bill payments
"There was another issue of billing. See, people do not understand billing. I have made that billing system — it takes some time, it is a new system, I understand, but people react in such a way that I have finished them. From morning, they used to take payments from 10 o'clock to 12.30 pm which I have stopped. Now 10 am to 1 pm and 2 pm to 4.30 pm, cash is being taken in every department that nobody is saying. I have also started a good online system. I am also encouraging online payments now. My file has gone for 1% rebate. If your bill is 1,000, then you will get back10 if you pay online. So people should go online and pay directly. I pay my bills online and I never faced any problems," stated Cabral.
"People do not know where to go. Our Bharat Bill Payment system is an online system that it is good and slowly other banks are coming to that system. Now why I did that is because what used to happen in banks where they used to take the bills, they used to do the scroll from the 1st to the 30th and on the 1st of the next month, they used to do a DD (demand draft) and give the scroll. Then my people (Electricity Department staff) used to feed the details. They used to take another seven to eight days to feed the details, so what used to happen is the bill was generated in the monthly cycle and sometimes even if they had paid, it would show unpaid because the bank had not given it on time so people would fight…," clarified the Power Minister.
"Now, under the Bharat Bill Payment system, there is no scroll — just direct online payment that will be reflected in the next bill. The banks that were accepting electricity bill payments were not online-friendly banks. They did not have good computer systems in their premises. They used to accept the bill payment manually and enter it into a list manually. Let's say if the bill was paid on the first of this month — February — and it gets over on 28th, they used to take 28 days, they used to write the scroll and on the third day, they used to send the money in the form of a DD and the scroll, then my people (Electricity Department staff) would take six to seven days to feed that entire scroll and by that time, the next bill would be generated. This delay meant that after paying also, it would show pending balance.
Now the online system system is operating differently for people to pay online. Now more banks have come online. They (cooperative banks) were not ready to do this… Now I am forcing them to do it, but it will take me some time.
For all small banks, I am making a system wherein they enter at their end and automatically it comes to my (Department) account at that time only…
If people go online, they will get 1% rebate from the next month of the financial year. So if it's a bill of 100, then 1% is one rupee and if it's1,000 then `10. I am giving them a rebate of 1%, but this is only for LT consumers not for high end consumers. I am going to implement it (online system) and if it is not successful then I will make it 2% because I want people to make their bill payments online. Not queue up and pay…," informed the Power Minister.
'Postman' of the Judiciary portfolio
"Now, my other portfolios include Law and Judiciary and Legislative Affairs. As regards law, I am just a postman as I have got no say in it. I function just like how an aided school works. What does an aided school do? Everything they do, they just send the invoices asking to pay the money. In the same way, for (my portfolios of) Law and Judiciary, I am a postman of the department of courts where they do all the work and they send me bills for payments. That is my plight and I have little work there… but still I am trying to bring about some improvements which I will not tell you now but next time. Regarding Legislative Affairs, the Bills which are passed in the Legislative Assembly that is my only role and I am sending that immediately," said the Law and Judiciary Minister.
"In Law, I have got the Registrar and the Sub-Registrar offices that fall under my purview. I have made it online so people can sit at home, scan their documents and get an appointment date online, go at that time and within 15 minutes, they have completed their task. Initially, I had a lot of problems. Now, it's successful and people are praising me saying, 'it's very good' because it's an online system. Now only thing left is online calculations. Since it's a Revenue section, currently they are calculating individually so I am forcing my ministerial colleague, honourable Revenue Minister Shri Rohan Khaunte to put up the rates. If he (Khaunte) is not going to put up then I will go ahead with the existing rates online. I will derive my own rates and put them up," said the Law and Judiciary Minister.