We are all in it together! To fulfil late Chief Minister Manohar Parrikar's dream of a modern Goa… (left to right) South-Goa Lok Sabha candidate Shripad Naik, BJP President Vinay Tendulkar, CM Pramod Sawant, Prime Minister Narendra Modi, South-Goa Lok Sabha candidate Narendra Sawaikar, Deputy Chief Minister Manohar Ajgaonkar and Mauvin Godinho
BY GO TEAM
It's all a numbers game in blaming one another in today's farcical animosity-fuelled race to be in power forever in India's dynastic politics!
It was an election rally like no other and never has fear been so palpable by security concerns because the main speaker was visiting Prime Minister Narendra Modi! The numbers were obviously trumped up with sheer brute majority at the BJP-organised public meeting for Prime Minister Narendra Modi at the Dr Shyama Prasad Mukherjee Stadium in Panaji on April 10, 2019.
The 4 pm scheduled public meeting really commenced by about 6 pm when Prime Minister Modi walked in attired in angelic white kurta-pyjama. By the end of his almost hour long speech it sounded like he had come to conquer the already conquered and had most everyone in the audience screaming their lungs out testifying to being fellow chowkidar (translating to patriotic security officers in Hindi?) in their respective professions in the run-up to the Lok Sabha elections kicking off on April 11.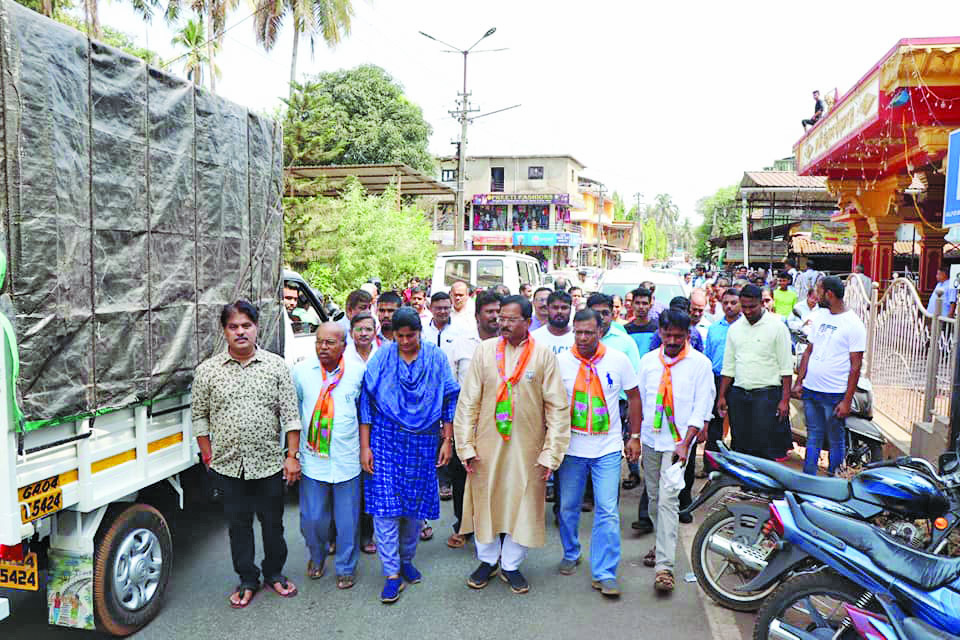 The prime minister was all praise for former Defence Minister of India and Chief Minister of Goa Manohar Parrikar, promising to help resolve all Goa's issues ranging from the renewal of mining to boosting tourism. But he urged, first be sure to press on the lotus symbol to vote the BJP back to power again in the ensuing elections! In colourful analogies he spewed fire and brimstone on the "dalali" (middlemen in defence deals) Opposition Congress party and said Rahul Gandhi is now paying the price for his "pitaji ka paap" in Bofors scam.
Prime Minister Narendra Modi vowed, "na khaoonga na khaane doonga!" Clearly a familiarly rhetorical Modi speech with cues and questions to which faithful trolling groups in the audience responding with noisy cries of "Phir ek baar Modi sarkar!" And intermittent chanting of "Modi, Modi, Modi!" The jam-packed audience within and without was clearly made of bus-loads of BJP fans brought in from Canacona to Bicholim and all corners of Goa by Goa's loyalist BJP politicians (even if some of them had only recently hopped over the fence from Opposition to ruling BJP).
It was a fully charged up public meeting preceded by mind-boggling security fears with even camera bags and cameras of media people given a thorough last-minute check before the arrival of the prime minister. For a change the media was given space right up front of the stage but media representatives had to apply for a security clearance pass two days in advance before the public meeting organised by the BJP office. Last minute media people who came in from out of Goa recounted having a tough time traipsing around from BJP office to Police Headquarters in Panaji, to GRF Administrative offices up at Altinho.

Goa Chief Minister Pramod Sawant played a low-key role on stage, praising all his Cabinet colleagues in a brief speech. Various Goa Cabinet speakers spoke lengthily about the visionary qualities of the late Manohar Parrikar and how he is responsible for today's modern Goa. Prime Minister Narendra Modi's strongman leadership qualities also came in for considerable extolling. BJP politicians speaking at the meeting before the arrival of the prime minister were Shripad Naik, Narendra Sawaikar, Michael Lobo, Mauvin Godinho, Vishwajit Rane, Babu Ajgaonkar and others with a few exceptions like Laxmikant Parsekar who presented a picture of glum dejection on stage.
If out of security concerns the BJP public meeting was organized at the venue of a "safe" Dr Shyama Prasad Mukherjee Stadium at Bambolim, then it was a scene of frustrating bedlam post-7 pm after the meeting was over. Long after Prime Minister Narendra Modi had come and gone by helicopter, masses of people could be seen squatting on the concrete pavement kerbside outside on the main Bambolim road, patiently awaiting transportation to get home possibly by midnight.
If khaas aadmi four-wheeler owners had better organized parking space, aam aadmi two-wheeler owners had a tough time finding a space to park their vehicles in stony, thorny wilderness. Once that was done one had to join one of the queues for on-the-spot security clearance at flimsy check posts — men and women were separately frisked behind a rudimentary curtained cabin before allowed to enter the stadium premises through allotted entrances.
For all the hype around such mega public meetings for the common man it is also chaos, breathing in dust in the air, honking buses struggling for first right to move and darkness falling all around. Nobody in their right mind would go to a political rally if not very well paid to do so! Surely in our technologically advanced times it makes more sense to stay at home and watch on television the unfolding drama of hate-filled political battles, arguably at their lowest in India currently. Will India still have any pretensions to being a democracy after the 2019 elections?