BY STEPHAN DIAS
All my knowledge and expertise tells me one thing — without the River Mandovi there cannot be Panjim, and therefore to keep this city healthy we need to keep the Mandovi river healthy.
Hearing unsettling rumours about construction going on at the Captain of ports jetty I went there on the morning of May 8 to do a little research of my own and despite restrictions by security guards I managed to survey the area and click some photos.
Huge columns of nearly 50 mtrs height are being erected into the seabed over the past months with the help of huge caterpillars and cranes etc to accommodate docking casinos, their supply boats and other passenger ships and trawlers. There is also a hotel/restaurant coming up here, backed by Babu Ajgaonkar's son apparently.
All this construction is coming up within 50 mtrs of High Tide Line ( HTL) of the coastal regulation zone (CRZ). I am surprised such activities were allowed unchecked by government agents and agencies such as the Captain of ports, GSIDC, GSPCB, Goa State Biodiversity Board, CCP, and the GCZMA (which should be protecting the CRZ).

I was appalled to see about 50 non-Goan workers, working in terrible conditions. I saw a few of them urinating in the 'toilet' there, which consists of metal sheets on three sides. Another worker was defecating nearby. Clearly sewage and waste disposal is not a concern for them! Let it all flow directly into the Mandovi, bypassing rules, regulations, sewage trucks, sewage treatment plants etc. After all most waste gets illegally dumped in the Mandovi anyway via the St Inez creek. Here they found a shortcut.
I wonder how the health department is keeping mum and not getting involved with tourists and workers openly defecating and urinating near the jetty, a stone's throw away from heritage buildings such as Customs House and Old Court buildings nearby, some with families still residing there.
According to residents of the area, work is progressing in flagrant violation of SC norms prohibiting work from 10 pm to 6 am in the morning.
The tide was out when I was there and there were dead crabs and other shellfish visible on the seabed. The river is dying and dead fish and decaying algae are blooming — spreading the 'fragrance' of dead fauna and human waste — but the work continues full swing.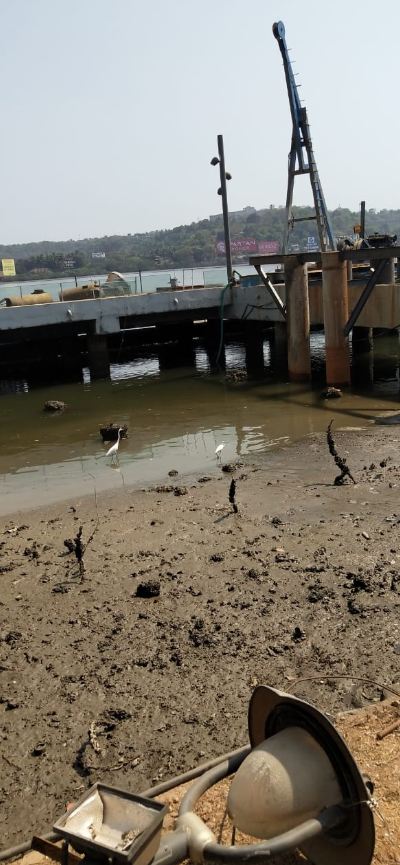 I write this sad story as the present candidates who want to represent us for the Panjim seat have not even visited this site as per sources. I have walked on this jetty freely even as recently as the '90s. But now only paying tourists can access these areas. Goans have become outsiders in Goa.
The foundation stone proudly says it was laid under the 'visionary guidance' of former CM Manohar Parrikar. He can no longer look into this matter, but the others named — Jayesh Salgaonkar, Deepak Pauskar, Sidharth Kuncalienker, Govind Jaiswal and Capt. James Braganza — should be ashamed!
The deleterious effect of this so-called human development on the ecosystem is already apparent in our lifetime. Health problems are on the rise — asthma attacks, failing kidneys, strokes, heart attacks, etc. The lifeline of Goa, the Mandovi River, is dying — poisoned by greed. Our children will pay the price.
The Panjim bench of Bombay High Court should take cognizance of these violations carried out by GSIDC and should bring a stay order and halt or (abandon) the work on the project.