Considering the threat that discarded fishing nets and fishing nets and fishing gear pose to marine life, WWF-India is undertaking a study and trying to map stretches of Goa's coast which have a large quantity of ghost gear with the help of the fishing community.
Programme director WWF-India Sejal Worah, during a seminar commemorating World Environment Day on Tuesday, showed participants a picture of an eel that strangled to death after being caught in a discarded fishing net.
"The tonnes of discarded nets and floating pieces of debris can be lethal in the ocean. This gear actually catches fish while floating around. We are therefore losing fish because of ghost catch," she said.
A small experiment conducted in Kerala recently resulted in the fishermen pulling out 800kg of floating nets and debris in a single month.
"We aren't going to start collecting ghost gear immediately unless we're sure how to dispose it. We don't want it to just pile it up on the beach," she said, adding that WWF-India is talking to industries asking them whether they can take back the nets.
"When the nets disintegrate the microplastics are eaten by fish and the fish are being eaten by us. This is also a health problem. It's more complex," she said.
The study project, which is in its initial stages in Goa, will first involve collecting data and mapping of ghost gear hotspots and will also involve the fishing community.
Chief Minister Dr Pramod Sawant has said that the Government will lay thrust in creating awareness on safeguarding the environment especially among children and youth who are the future of our nation.
Speaking at the environment day event (in commemoration of World Environment Day, globally recognized on June 5) and book launch hosted jointly by the forest department and world wildlife fund at a function held at Goa Science Centre Auditorium, Miramar, Panaji, the Chief Minister said world environment day is an appropriate occasion to understand and broaden our knowledge on environmental problems and concerns.
Chief Minister Sawant said Goa's forest cover is a healthy 60% of our geographical area. But we still need to look at problems that are beyond our borders. The list is long. We have reducing tree cover, polluted water bodies, global warming, green house gas emissions, volatile organic compounds and acid rain, ozone layer depletion by chloro fluoro carbons, melting glaciers and the Artic ice cap, increasing flash floods, landslides and drought and air pollution.
He pointed out that the rivers of Goa are unique. The fresh water rivers meet the sea inland, and therefore have an intertidal overlap. He spoke about the sustainable development carried out by the Goa government.
He stressed that under the visionary leadership of Prime Minister Narendra Modi and emphasis on infrastructure of Shri Nitin Gadkari, the government of Goa is building highways, jetties, airports and other infrastructure. However, there runs through it all, a common thread of sustainable development. 'We are working with nature and not against it. Exactly as our forefather did with Khazan lands'.
He further said that reducing vehicle usage and car pooling can be done at the individual level, while the government can concentrate upon infrastructure to ease congestion. The introduction of mass and rapid transport system is the next step. Harnessing green technology for CNG run buses, introducing biodiesel and electric buses would be the correct completion.
He said the solid waste management plant at Saligao is the pride of Goa. This is the place where we receive waste, segregate it and break it down into its component parts. By September 2019, Goa is committed to achieve open defecation free or ODF status. This is in line with our commitment to the Swatchh Bharat Abhiyaan, he added.
Earlier Chief Minister Sawant presented the prizes to the winners of various competitions organized in connection with World Environment Day.
Dr Sejal Worah programme Director, World Wildlife Fund gave presentation on Biodiversity. Shri Subhash Chandra, Principal Chief Conservator of Forest welcomed and Chief Wildlife Warden proposed the vote of thanks.
MUCH NEEDED RELIEF; BUT SCOPE TO IMPROVE
Report & Pics: Stephen Dias
Newly elected Panaji MLA Atanasio Babush Monserrate inspected the Panaji market along with Panaji Mayor Uday Madkaikar last week and was quick to step in to provide fans, reportedly at his own cost.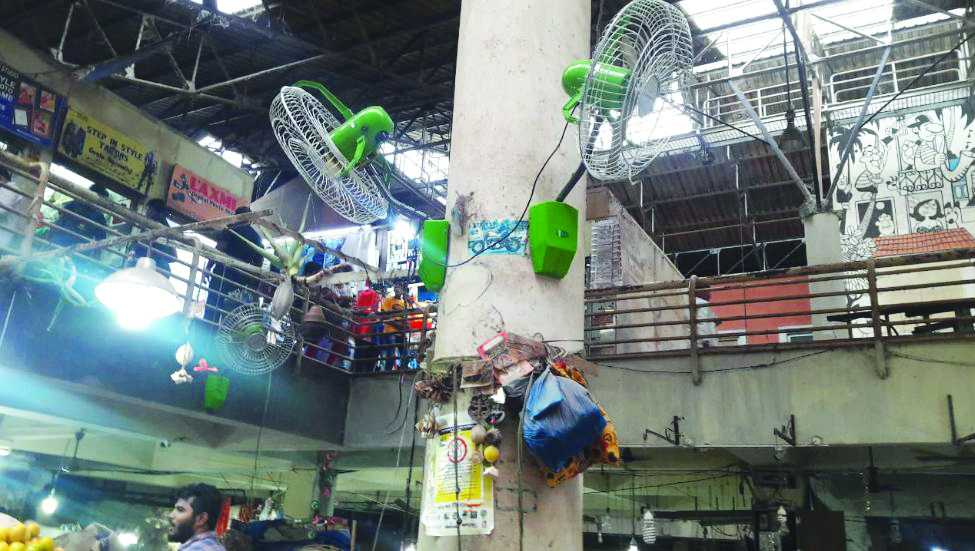 A wonderful gesture no doubt but vendors had several suggestions for improvement. Speaking to them on June 5 I found that not everyone was happy. The vendors complained about the person/firm who did the installation as a couple of fans were not working. Some of the vendor ladies told me that Babush had come to inspect the market in the morning and the story was same. Some fans were not commissioned, a few are not working and one was making noise and seems to be about to fall down. Babush was asked to give instructions to do proper wiring with a centralised meter with a main switch board — not individual — to minimise chances of misuse and quarrels among the vendors.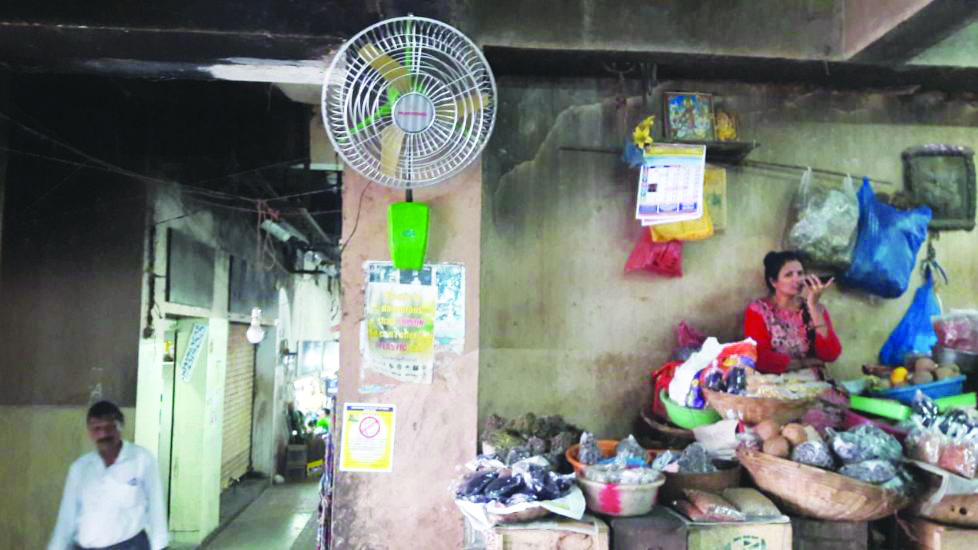 Still despite these minor hiccups this is no doubt a well-intentioned gesture in the right direction and many smiles could be seen.
VALET PARKING TO EASE PARKING PAINS?
Panaji city MLA Babush Monserrate has asked the Police Department to enforce valet parking at the multi-storey pay parking facility of Goa Tourism Development Corporation (GTDC).
Rolling out a plan for the Transport Department, the police as well as the Corporation of the City of Panaji (CCP) to decongest the of traffic chaos, Babush demanded enforcement of the existing laws and introduction of better mechanisms in handling the traffic situation of Panjim city.
Babush said, "One of the biggest problems is entry of heavy commercial vehicles in the city after 9 am. They then remain parked throughout the day inside the city near the market place. Police will have to enforce the entry and exit timings for these vehicles strictly and not allow these vehicles to be parked on public spaces."
He further said that the private transport buses, which are parked within the city after dropping their guests, will also be made to park outside the city area.
Stating that the DB Road gets congested due to parking of taxis operated by casinos and private vehicles of guests at the casinos, he said "I asked the department to call for a meeting of the stakeholders and all the casinos and implement valet parking by them at the multi-level parking facility of GTDC. This way people will get space to park their vehicles."
Babush also asked the CCP to implement pay parking in the city "to send a message to the people that every minute counts and space is important. One cannot leave the vehicle at one place for the whole day unnecessarily."
CCP Mayor Uday Madkaikar said the CCP's pay parking plans are ready and will be finalised on June 14. Initially pay parking we will be implemented only on DB Marg, 18th June Road and MG Road.