50 YEARS OF MARITAL BLISS: Snehlata and Aravind Bhatikar celebrate their golden marriage anniversary and his 80th birthday with fanfare…seen above are the happy couple cutting cake with grandchildren Nina and Mira at their sides, also son Yugesh; elsewhere golden oldies like freedom fighter Nagesh Karmali, Neelatai Dempo with young Nina Bhatikar; the Dr Manoharrai Sardessai's family… daughter-in-law Sarita, grandson Saras, Suhastai, son Umesh pose for a pic with Rajan Narayan (right).
BY TARA NARAYAN
AFTER all these years, my dears, I keep realizing that there is Hindu Goa and there is Catholic Goa, both having fascinating stories of their own to tell! It was Snehlata and Aravind Bhatikar's big day on June 8, 2019, and I can't think of a better raconteur of stories then Aravindbab (one of our timeless bureacrats, who chose to retire in Goa instead of going to higher up places elsewhere). Snehlata, whom most of us call just Lata, USA-based son Yugesh and daughter-in-law Veda, were present at this jumbo quintessential Saraswat Brahmin dinner evening. It was a double celebration being Aravindbab's 80th birthday and his and Lata's golden jubilee marriage anniversary.
A big banner was up at the Taleigao Community Hall announcing "50 Years of Marital Bliss" and it made me smile. In this time and age who can claim 50 years of marital bliss?! I cracked a joke with Aravindbab while greeting him and Lata, and saying for me marriage has only been "18 years of kit-pit-ing and marital bliss remained a perennial rainbow on the horizon!"
No, no, Aravindbab exclaimed, my marriage is more like a Kit Kat marriage (as in the popular chocolate)! In any case most marriages become quite kit-pit mundane affairs after the early years of child-rearing, steeped in responsibilities and accountabilities, regardless of whether we live up to them or not. Marriage is marital bliss in so much as how a couple seasons, weather and endure one another. Well, after that I felt much reassured, and looked around at the decorously dressed up table-chair arrangement filling up with familiar faces of the Saraswat Brahmin community, many from down south Goa.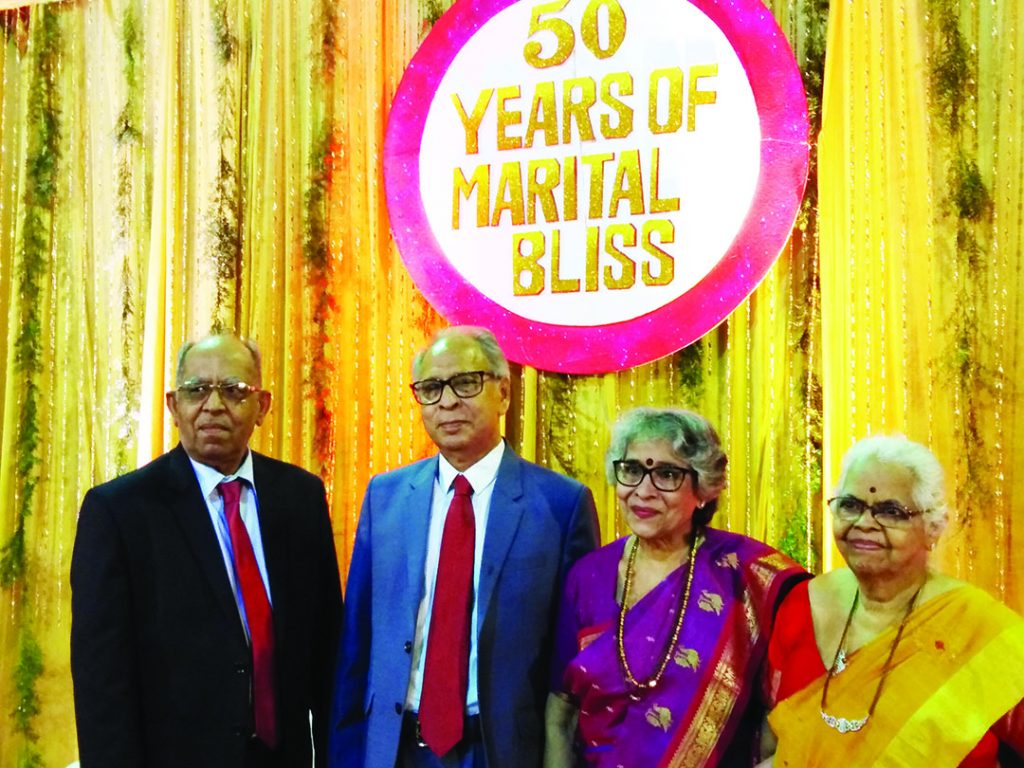 It turned out to be a bit of a political evening with Subhashbab (Velingkar) of Goa Suraksha Manch reminding everyone about the importance of growing up and schooling in one's mother tongue and his argumentative friendship of old with Aravind Bhatikar, who in case you don't know has written a book on mining called the 'The Rudderless Democracy' published in 2015 by Yugved Publications. Konkanimogi Uday Bhembre also toasted the Bhatikars with a few wishes of long life for each other, etc. Wish the toast mistress had thrown open the floor to the gathering for anyone to come up and add their two bit to add a dash of panache and pizzaz but it did not happen.
Yugesh Bhatikar thanked everyone for coming and in a few refreshing words thanked his father for letting him lead his own life, go wherever he wanted, and what a wonderful, resourceful, no nonsense loving mother he has in Lata Bhatikar (a counselor in her own right).
Well, the cake was cut up on stage and photographs taken, when early dinner was announced I was happy to see that the Prakash Chanekar's (Bicholim-based caterer) menu included amongst the usual Goan Hindu spread steaming hot polle to go with mustard-tempered green chili-redolent batatachya bhaji…. I find the soft rice batter polle a better option to bread or white rice any day. There was fried fish of course, and several other live station dishes including a delicious aubergine fry in creamy sauce, there was an interesting mayonnaise-laced green peas salad I liked, etc. I think I feasted on the polle, fried fish and green peas salad only!
These SBG celebrations are full of relatives greeting one another and it was amusing to see Mauzobhai who was sharing some talk with the hubby hurrying up every now and again to go greet "all my cousins!" That's why I always think everyone is related to one and another community wise in Goa. It's always a special moment for me say hello to some real vintage time niz Goenkars like the most graceful matriarch of them all Neela-tai Dempo (she is beautiful because she does yoga and goes for a walk daily!), gregarious freedom fighter Nagesh Karmali and I got talking to Mrs Suhasbai Manoharrai Sardessai who had come with son Amit, daughter-in-law Sarita, grandson Saras.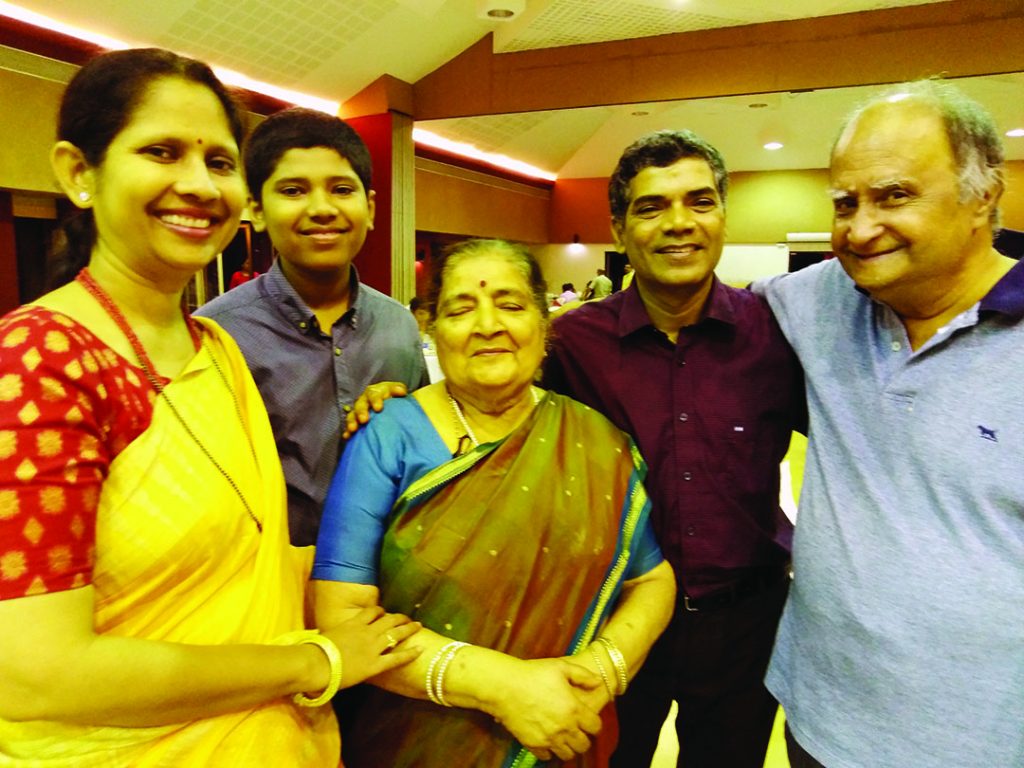 I tell Mrs Sardessai that I first took a shine to learning Konkani because of her distinguished husband's famous poem on frogs titled "Bebeanchem Kazar" ("The Wedding of the Frogs") translated from the original Konkani into English by John Carneiro. A more eloquent and lyrical poem in Konkani would be hard to find. Konkani writer and playwright Pundalik Naik who was present at the celebration calls the poem a ballad though because it has "withstood the test of time." Our children should really learn it in school instead of "Humpty Dumty," "Jack and Jill" or "Ding Dong Bell" — English nursery rhymes which have nothing to do with our life and times and where we are coming from!
This is to say some of my favourite folk from down south Goa were there and I guess these gatherings remind one who's still around with a twinkle in the eyes to gather more stories of Hindu Goa…happy birthday Aravind bab and many more!
Van Mahotsav
FINALLY, the van mahotsav season is here and may there be more rain in Goa (even if it is all going waste into whatever rivers still exist)! Chief Minister Pramod Sawant's government is on a celebration spree urging more Goans to plant medicinal and herbal plants and trees. Which is something to rejoice over of course. Did you know that the first van mahotsav celebration was started by Dr K M Munshi, Union minister for Agriculture & Food way back in 1950 to focus on the importance of conserving forests and planting trees to reap the rewards of abundance of water and food?
Anyway, the Goa government is celebrating its 68th van mahotsav for the next two months and this is to tell you the Goa State Medicinal Plants Board has published an interesting booklet, "Some Important Medicinal Plants of Goa." The Board was established in 2003 as part of the AYUSH mission and has since been trying to research and document the wealth of Goa's biodiversity in forestry, agriculture, marine and riverine fisheries and much more…some 191 Biodiversity Management Committees at village panchayat level exist and they have come up with comprehensive information on local biological resources, their medicinal or any other traditional knowledge associated with them.
If you want to buy any medicinal plants to grow and reap the benefits of, you may visit your nearest plant nursery attached to Goa Forest Department premises between 10 am to 6 pm. They're under instructions to sell medicinal/herbal saplings and plants to citizens for nominal 10-15! Why not free?
Here's your chance to go buy tulsi, neem, sandalwood, rennet or ashwagandha (for longevity!), aloe vera (best moisturizer of them all and all purpose healer), stevia (drop a few leaves in your tea for natural sweetness), various chafa including son and nag chafa…grow a black pepper vine, a pomelo tree, or cinnamon, ottam, awla, shatavari, ganjan, sitafal, dhoop and dhoop tulsi, bramhi, kokum, curry leaf, panfuti, noni, insulin plant, pimpli, shikakai…the list is long for the good mother earth is ever so generous with her bounty if we love and respect Her.
Where to go? Goa Forest nurseries in Panaji down the Campal promenade, or make a trip out to remote nurseries at Valkani in Sanguem or Ghotmol in Usgao! It would be nice driving out to whatever countryside is left in Goa. Happy van mahotsav! On that note it's avjo, poiteverem, selamat datang, au revoir, arrivedecci, vachun yetta here for now.
— Mme Butterfly